notubes.com
Tubes vs. Tubeless and $500.00 Burning A Hole In Your Pocket
Over the past month, we have put up two polls here on Bike198 to find out how you are running your tires and what the hell you would do with an extra 500 bones in your pocket to blow on bike parts. Let's take a look at how you guys answered as I attempt to dive into the brain of my fellow riders and interpret the results.
Tubes vs. Tubeless…What are you running?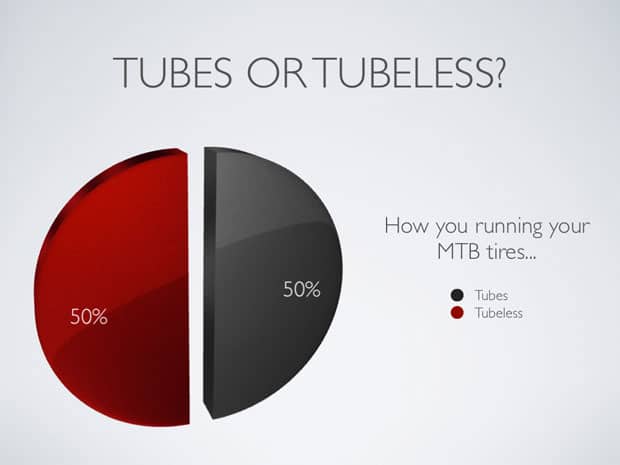 When asked the question on what you guys are running…tubes or tubeless…on your mountain bikes, it was literally a 50/50 split. Tubeless ended up winning out by 1 vote which is statistically irrelevant. This is a statistic that I think is favoring tubeless and UST systems over time. If I would have asked this same question 2 years ago, I think the split would be in favor of tubes by a large margin which shows that more riders are starting to run tubeless systems on their mountain bikes.
Tubeless systems (like Mavic UST and Notubes.com Stans) have many advantages on the trail.
Fewer flats due to the inability to pinch flat.
Increased grip due to the ability to run lower pressures and typically thicker sidewall tires.
Decreased rolling resistance because there is no friction between a tube and the tire.
Lighter weight when used with smaller tires…again…no tubes.
While there are distinct advantages on the trail, UST and Goo based systems still have disadvantages like having to mess with the goo or having tires that are a lot harder to get on the rim. Personally, I stick with tubes purely because I change out tires too often to mess with the goo on a regular basis on my Stans Flow rims.
Given all of the positives and negatives associated with running tubeless systems, I really think we are seeing more riders on tubeless for 2 main reasons.
Increased factory bikes getting spec'ed with tubeless.
Availability of tubeless rims and tires.
Much like the 29er movement, the tubeless tire on mountain bikes could not gain real traction in the market without a lot of options for riders in the aftermarket…and more importantly…coming spec'ed on brand new bikes. If you look at the showroom floor right now, the majority of the bikes are at least coming with rims that are ready to convert to tubeless if they are not already running without them. As riders buy new bikes and get used to the system right off the bat, I think we will continue to see tubeless take over the tubed world we have ridden in for so long.
If You Had $500.00 Dollars To Blow On Mountain Biking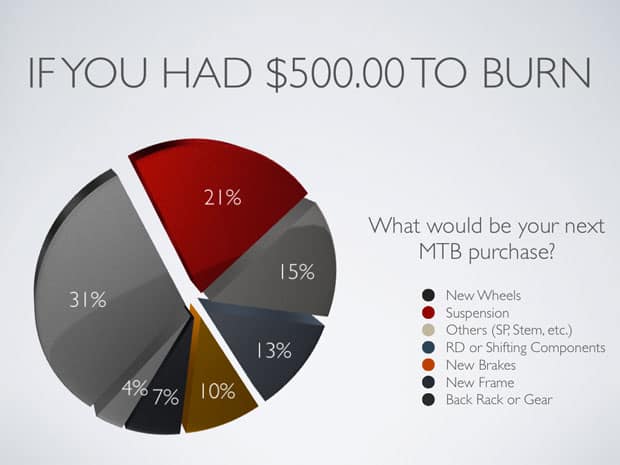 First, I have to say this poll question all started with a pet peeve of mine that goes on in the bike industry amongst riders and manufacturers. I have found…that typically…the first thing that newer riders want to do is throw money at upgrading the rear derailleur to the latest and greatest from X.0 or XTR regardless of what is kitted out on the rest of their bike. The rear derailleur is a "bling" item that is readily visible to the rest of the riding world at the trailhead, but spending a massive amount of money ($200.00+) on that upgrade rarely…if ever…makes a performance difference on your bike when you add everything up and hit the trail.
Bike manufacturers know this little secret in the industry and that is why you see XT rear derailleurs on Deore kitted out bikes all of the time. They know that a flashy rear derailleur will close the deal even when the wheels on the rig couldn't even be above $100.00. In the retail/bike bling market…most riders look at the RD.
Given that, I was expecting this poll to swing a different way…but I was wrong. When asked what you guys would do with an extra 500 in cash to blow on mountain bike components, the majority of you went straight for my favorite upgrade! WHEELS!
Your Most Important MTB Upgrade
By far, the best upgrade you can make to your mountain bike has to be a good set of hubs/rims built up by a quality builder. Your wheels directly determine how your bike will act on the trail as they are the link between dirt and the rest of your components including your body. With a better set of mountain biking wheels, you will be able to hold lines better, save more energy (rotational weight is the most important to save and results in the biggest impact in your riding) and put the power to trail faster with faster engagement.
After that…I look towards suspension and brakes as my next upgrades given the rest of the bike is functioning properly.
So there you have it…your poll results…what do you think?
Poll: Do You Run Tubes Or Go Tubeless In Your Tires?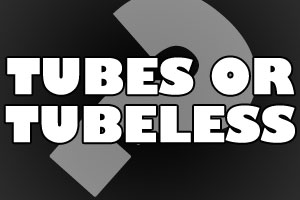 Gone are the days of 1.8 tires filled up with 50 psi just hoping that you do not pinch flat your tubes and have to tear the tight tires off the v-brake rims. With wider and lighter tires, wider and lighter rims and a wide variety of different options for mountain bikers, you can enjoy the benefits of more rubber in more ways than ever.
Running a set of tubeless tires used to mean heavy rims and heavy tires, but with systems like the NoTubes.com rim and sealant, many mountain bikers in the lighter categories are finding weight benefits as well as on trail ride benefits of ditching the tubes in favor of tubeless systems. Now…anyone from sprint xc racer to full on DH can get more traction and better rolling resistance with tubeless systems. However, this does come at a price as installation and removal can prove to be a pain with everyone's favorite white goo.
With all of the options on the market today…are you running tubes or tubeless?
[poll id="27"]
Hit up the comments section below and let us know why.
NoTubes.com – Stan's ZTR Flow Rim Review
When it comes to any wheel build for your mountain bike, the rim and hub choices are your most important decisions outside of picking a quality wheel builder. With all of the options out there from DT Swiss, Mavic, NoTubes.com, Sun Ringle and others, it makes picking that perfect rim for your riding style and budget a difficult one. NoTubes.com has several choices available, and this Stan's ZTR Flow is their heavy duty trail rim out of the lineup.
What does NoTubes.com say about the Flow?
From NoTubes.com
A great rim for all mountain, heavy duty trail use as well as slalom, mountain cross, or Super-D events
Welded joint
Black anodized finish
FEA optimized center arch for added stiffness
Can be used with or without tubes
ISO – 559 x 22.6; ERD – 536mm; Weight – 470g

Bead Socket Technology

By eliminating the bead hook and lowering the sidewall by 2-3mm we reduce the weight of the rim. Some of this material can be used in the center part of the rim making it stronger and stiffer.
The curve of the rim sidewall is the same shape as the bead of the tire so they fit together like a ball and socket joint. This design will help reduce the strain on the tire bead while creating a tighter seal.
By lowering the sidewall of the rim we also reduce the mechanical leverage the tire has on the rim. This will make the rim stiffer and last longer by eliminating flexing that can cause cracking.
With these short sidewalls the tire should not hit the rim and pinch flat as often as standard rims, either with or without tubes. This design will allow you to run lower pressures and use 4mm more of the tire than ever before. The tire will have larger air volume giving you better traction.

Yellow Spoke Tape:

The ZTR Flow, like our other rims is fully compatible with the yellow tape and valve method for tubeless use. The Flow rim however uses a 25mm wide yellow tape as opposed to the 21mm tape used in the many of the other rims.
Most riders elect to use the thin 5g yellow spoke tape and no rim strip. All wheelsets built by NoTubes will have the yellow tape and valve installed as standard practice. The tape and valve method creates a lighter wheelset and the rim design will allow you to run extremely low pressures with very little or no burping.
NoTubes.com Stan's ZTR Flow Rim Review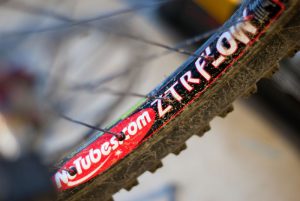 Let me start by clearing up a very simple fact. The performance of a rim can vary greatly depending on the wheel build. There are certain basic mounting characteristics that can be compared between models/brands, but…for the most part…even the best of rims is going to feel terrible on the trail with a substandard build quality. I highly suggest using a reputable company or wheel builder when shopping a custom wheelset for your mountain bike. For most of my NoTubes.com based wheelsets, I used John Kovachi at Kovachi Wheels. For those of you that haven't heard me mention his name before, he has been around since the days that it was only him and Mavic doing wheel builds at NORBA races. I do have one other NoTubes.com Stan's ZTR Flow wheelset that is a 29er Industry Nine build.
Stan's ZTR Flow Rim Width
The NoTubes.com ZTR Flow rim provides a very wide platform at in a light weight configuration. The 22.6mm inside width is wider than the counterparts from DT Swiss (5.1d) and Mavic (823/721/321). This wide rim width allows tires of all widths to have a wider, flatter footprint that equals more traction as the tread engages the dirt, rocks and whatever else you are thrashing around on the trail that day. As tires manufacturers continue to push the envelope on wider and lighter cross country tires, this is going to become increasingly important and you will see more manufacturers going to for wider and lighter rim choices. This wider footprint also allows you to run slightly lower pressures that also result in more traction.
Stan's ZTR Flow Rim Weight
Weight is another area that the ZTR Flow rim is ahead of the competition. At only 470g, th ZTR Flow is one of the lightest trail/heavy duty (non-dh) on the market. The comparable rims from the other manufacturers are in the high 500′s (Mavic quotes 450g on the 819, but that does not include the required eyelets for each spoke.). With the light yellow rim tape, you can build up a very stiff, trail duty ready wheelset that can be run in both tubeless and tubed formats. The ZTR Flow rim's weight actually makes it so that running tubes is not a weight issue like it is with other tubeless rim styles.
Stan's ZTR Flow Stan's Tubeless System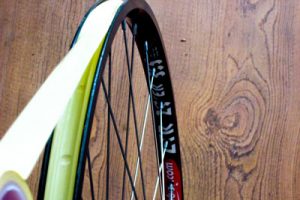 To run this rim tubeless, you have to use the supplied valve, yellow tape and Stan's goo. This can be a cumbersome project if you are not used to the system, but it is pretty straight forward. Unlike traditional Mavic UST systems, the goo is required to secure the bead and prevent leaks. There is a video on NoTubes.com that illustrates why they think their system is the best, but in my experience…the tubeless system can be temperamental depending on the tire and some manufacturers do not recommend using the goo with their rubber compounds. For those that do run these rims tubeless without issue, it does provide an extremely lightweight tubeless option.
I run the yellow tape in place of the rim strip for my tubed applications. Its low weight and easy application make it an easy decision.
Overall on the Stan's ZTR Flow Rim from NoTubes.com
The ZTR Flow rim has become my new go-to rim for several reasons. The rim is wider and lighter than its competition allowing for better results with a wider range of tires. While you can run this set tubeless, its weight is low enough to run tubes, and I change out tires too often to worry about goo based tubeless systems anyway. The rim, when in the right hands of a capable builder, builds up a stiff wheelset that is ready for heavy trail duty but still light enough for all day epics. I wouldn't recommend this rim for dh specific runs, but if you are looking for a wide, lightweight option for your trail bike (up to 6.4″ of travel), then the Flow is an excellent choice. I have had zero issues on the trail with any of my Flow based wheelsets.
Good Stan's ZTR Flow Rim
Very wide profile (22.5)- Lower pressures, more traction, wider/flatter tire contact with trail
Stiff wheel build
Available in 29″ (32 and 36 hole) and 26″ wheel sizes
Lightweight for a trail ready rim (470g) capable of use on bikes ranging from hardtail to 6.4″ rear travel
Tubeless ready – Tape and tubeless valve included with every rim/wheelset
Bad Stan's ZTR Flow Rim
Cumbersome tubeless system based around the Stan's goo
No eyelets at spoke insertion – Eyelets provide a stronger joint and prevent spoke wear by getting rid of the sharp edge.
Additional Note: If you are trying to decide between the Arch and Flow from NoTubes.com, go with the Flow. The weight difference (50g) is not significant enough to make up for the advantages of the wider rim (3.5mm).
Kenda Racing Team Update – Mary McConneloug and Michael Broderick
Kenda Racing Team Update
Mary McConneloug and Michael Broderick
From Kenda USA: 1/26/2009
Two Time Olympian Mary McConneloug and teammate Michael Broderick will continue managing their custom-tailored race program racing under the title name: Team Kenda-Seven-NoTubes.  The duo is thrilled to announce the continuation of their race program under this title sponsorship and is proud to step into the 2009 season backed by three of the most outstanding companies in the industry.
"Kenda Tires has stood with us through a vast transition from our pure grass roots to the program that we have come into today. Mike and I are thrilled to be signing an unprecedented second four- year contract with Kenda that will see us through the 2012 season.   Kenda is renowned for its outstanding tires as well as for its flagship role in providing support to the U.S. mountain bike scene as a whole.  We look forward to helping maintain Kenda's #1 tire manufacturer status in the US while taking aim at expanding Kenda's presence in all the places we travel and race.   It is a huge honor and opportunity to continue representing this great company."
"Long-time sponsor, Seven Cycles continues to provide the core ingredients  of what we consider to be the finest race bikes on the planet.  Our stunning, custom- built  Seven frames are dreamt-up, engineered and hand-crafted  at one of the most soulful, thought-forward factories in the industry.   A telling testament to Seven's quality is their ability to craft an ultra high performance frame that is durable enough to compete at two consecutive Olympic games and on both occasions (four years apart) offer a feeling that we were going into the races with a significant equipment based advantage.   At Seven Cycles, this elite level of performance and durability is the standard with everything they produce. "
"Mike and I are proud to announce the addition of NoTubes as a title sponsors for 2009.  We have a long history of working along side NoTubes and it is a great honor to have them with us as a core supporter.  NoTubes brings a unique unrestricted perspective that has time and again been a catalyst for a pure innovation, bringing- about revolutionary things others said could not be done. NoTubes is responsible for creating some of the most sought after products in the bike racing world. Working with them as a title sponsor will allow us to pull all the stops with regard to going fast on the bikes."
"We look forward to showcasing the outstanding products and technologies that all three companies bring to the table.  We are happy to be able to develop a program with companies that are so well equipped to offer us the tools we need for ultimate race performance.  It is especially rewarding to be utilizing products that we believe in and that we feel can also positively influence just about anyone's cycling experience–no matter what you are using your bike for."
For 2009 Team KENDA-Seven-NoTubes will focus on an international competition schedule including the World Cups, World Championships, Continental Championships and domestic races throughout Europe and other points abroad.  On the domestic side the team will be present to defend Mary's national title at the US National Championships as well as attend several races in the ProXCT and Kenda Cups.
Thanks again for your interest and support in what we are doing. Best wishes for 2009 and beyond!