When it comes to any wheel build for your mountain bike, the rim and hub choices are your most important decisions outside of picking a quality wheel builder. With all of the options out there from DT Swiss, Mavic, NoTubes.com, Sun Ringle and others, it makes picking that perfect rim for your riding style and budget a difficult one. NoTubes.com has several choices available, and this Stan's ZTR Flow is their heavy duty trail rim out of the lineup.
What does NoTubes.com say about the Flow?
From NoTubes.com
A great rim for all mountain, heavy duty trail use as well as slalom, mountain cross, or Super-D events
Welded joint
Black anodized finish
FEA optimized center arch for added stiffness
Can be used with or without tubes
ISO – 559 x 22.6; ERD – 536mm; Weight – 470g

Bead Socket Technology

By eliminating the bead hook and lowering the sidewall by 2-3mm we reduce the weight of the rim. Some of this material can be used in the center part of the rim making it stronger and stiffer.
The curve of the rim sidewall is the same shape as the bead of the tire so they fit together like a ball and socket joint. This design will help reduce the strain on the tire bead while creating a tighter seal.
By lowering the sidewall of the rim we also reduce the mechanical leverage the tire has on the rim. This will make the rim stiffer and last longer by eliminating flexing that can cause cracking.
With these short sidewalls the tire should not hit the rim and pinch flat as often as standard rims, either with or without tubes. This design will allow you to run lower pressures and use 4mm more of the tire than ever before. The tire will have larger air volume giving you better traction.

Yellow Spoke Tape:

The ZTR Flow, like our other rims is fully compatible with the yellow tape and valve method for tubeless use. The Flow rim however uses a 25mm wide yellow tape as opposed to the 21mm tape used in the many of the other rims.
Most riders elect to use the thin 5g yellow spoke tape and no rim strip. All wheelsets built by NoTubes will have the yellow tape and valve installed as standard practice. The tape and valve method creates a lighter wheelset and the rim design will allow you to run extremely low pressures with very little or no burping.
NoTubes.com Stan's ZTR Flow Rim Review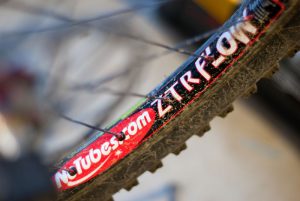 Let me start by clearing up a very simple fact. The performance of a rim can vary greatly depending on the wheel build. There are certain basic mounting characteristics that can be compared between models/brands, but…for the most part…even the best of rims is going to feel terrible on the trail with a substandard build quality. I highly suggest using a reputable company or wheel builder when shopping a custom wheelset for your mountain bike. For most of my NoTubes.com based wheelsets, I used John Kovachi at Kovachi Wheels. For those of you that haven't heard me mention his name before, he has been around since the days that it was only him and Mavic doing wheel builds at NORBA races. I do have one other NoTubes.com Stan's ZTR Flow wheelset that is a 29er Industry Nine build.
Stan's ZTR Flow Rim Width
The NoTubes.com ZTR Flow rim provides a very wide platform at in a light weight configuration. The 22.6mm inside width is wider than the counterparts from DT Swiss (5.1d) and Mavic (823/721/321). This wide rim width allows tires of all widths to have a wider, flatter footprint that equals more traction as the tread engages the dirt, rocks and whatever else you are thrashing around on the trail that day. As tires manufacturers continue to push the envelope on wider and lighter cross country tires, this is going to become increasingly important and you will see more manufacturers going to for wider and lighter rim choices. This wider footprint also allows you to run slightly lower pressures that also result in more traction.
Stan's ZTR Flow Rim Weight
Weight is another area that the ZTR Flow rim is ahead of the competition. At only 470g, th ZTR Flow is one of the lightest trail/heavy duty (non-dh) on the market. The comparable rims from the other manufacturers are in the high 500's (Mavic quotes 450g on the 819, but that does not include the required eyelets for each spoke.). With the light yellow rim tape, you can build up a very stiff, trail duty ready wheelset that can be run in both tubeless and tubed formats. The ZTR Flow rim's weight actually makes it so that running tubes is not a weight issue like it is with other tubeless rim styles.
Stan's ZTR Flow Stan's Tubeless System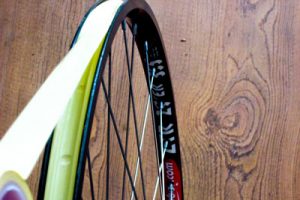 To run this rim tubeless, you have to use the supplied valve, yellow tape and Stan's goo. This can be a cumbersome project if you are not used to the system, but it is pretty straight forward. Unlike traditional Mavic UST systems, the goo is required to secure the bead and prevent leaks. There is a video on NoTubes.com that illustrates why they think their system is the best, but in my experience…the tubeless system can be temperamental depending on the tire and some manufacturers do not recommend using the goo with their rubber compounds. For those that do run these rims tubeless without issue, it does provide an extremely lightweight tubeless option.
I run the yellow tape in place of the rim strip for my tubed applications. Its low weight and easy application make it an easy decision.
Overall on the Stan's ZTR Flow Rim from NoTubes.com
The ZTR Flow rim has become my new go-to rim for several reasons. The rim is wider and lighter than its competition allowing for better results with a wider range of tires. While you can run this set tubeless, its weight is low enough to run tubes, and I change out tires too often to worry about goo based tubeless systems anyway. The rim, when in the right hands of a capable builder, builds up a stiff wheelset that is ready for heavy trail duty but still light enough for all day epics. I wouldn't recommend this rim for dh specific runs, but if you are looking for a wide, lightweight option for your trail bike (up to 6.4″ of travel), then the Flow is an excellent choice. I have had zero issues on the trail with any of my Flow based wheelsets.
Good Stan's ZTR Flow Rim
Very wide profile (22.5)- Lower pressures, more traction, wider/flatter tire contact with trail
Stiff wheel build
Available in 29″ (32 and 36 hole) and 26″ wheel sizes
Lightweight for a trail ready rim (470g) capable of use on bikes ranging from hardtail to 6.4″ rear travel
Tubeless ready – Tape and tubeless valve included with every rim/wheelset
Bad Stan's ZTR Flow Rim
Cumbersome tubeless system based around the Stan's goo
No eyelets at spoke insertion – Eyelets provide a stronger joint and prevent spoke wear by getting rid of the sharp edge.
Additional Note: If you are trying to decide between the Arch and Flow from NoTubes.com, go with the Flow. The weight difference (50g) is not significant enough to make up for the advantages of the wider rim (3.5mm).