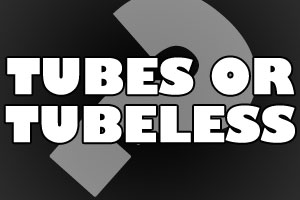 Gone are the days of 1.8 tires filled up with 50 psi just hoping that you do not pinch flat your tubes and have to tear the tight tires off the v-brake rims. With wider and lighter tires, wider and lighter rims and a wide variety of different options for mountain bikers, you can enjoy the benefits of more rubber in more ways than ever.
Running a set of tubeless tires used to mean heavy rims and heavy tires, but with systems like the NoTubes.com rim and sealant, many mountain bikers in the lighter categories are finding weight benefits as well as on trail ride benefits of ditching the tubes in favor of tubeless systems. Now…anyone from sprint xc racer to full on DH can get more traction and better rolling resistance with tubeless systems. However, this does come at a price as installation and removal can prove to be a pain with everyone's favorite white goo.
With all of the options on the market today…are you running tubes or tubeless?
[poll id="27″]
Hit up the comments section below and let us know why.