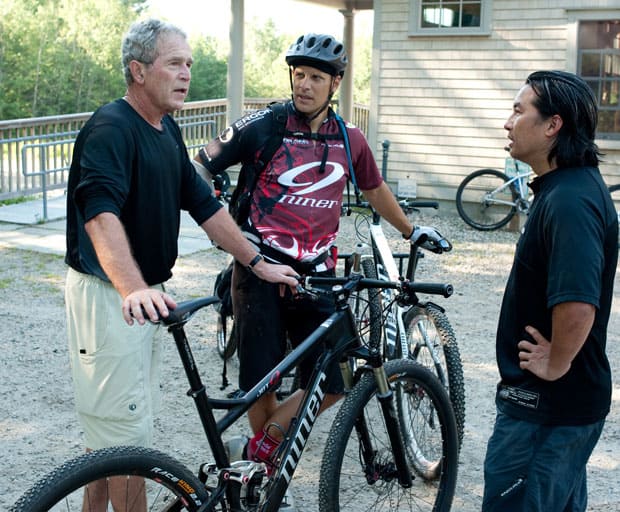 I just received a pretty cool email from the crew over at Niner Bikes. The attached press release (below) and picture (credit: C.A. Smith | casmithphotography.com) you see above is Chris Cugai and Steve Domahidy of Niner Bikes delivering a Niner Jet 9 to former President George W. Bush. President Bush has been known for his 26″ obsession, but this is his first jump into the big wheeled category and he picked a great bike to start on.
This story actually brings up a pretty important issue that needs to be addressed in the mountain biking community. One of the great aspects of riding is that I get to hang out with people from varying races, backgrounds, political views and religious beliefs…but we all hold a common ground when it comes to putting down the power with pedals. On a recent trip to the mountains, I was able to talk to a friend of mine on certain issues…some we agree on and some we don't…but at the end of the day, we are just two unique individuals that like to hang out on bikes.
Mountain biking is a common ground that has the ability to bring people together. There are very few sports in this world that have such a diverse group of obsessed loyalists that are able to set aside their differences for the love of the bike. This press release from Niner has no political affiliation. At the end of the day, it is just a couple of guys talking about the sport they love…mountain biking.
You can read our review of the Niner Jet 9 by clicking here.
Official Press Release from Niner Bikes
8/19/10 FOR IMMEDIATE RELEASE:
Niner Bikes Go Presidential
Former President George W. Bush checks out 29ers with Niner Bikes
Niner Bikes co-founders Chris Sugai and Steve Domahidy spent Thursday morning of this week delivering and fitting a Niner Jet 9 full suspension bike for Former President George W. Bush, with assistance from local Niner dealer Kennebunkport Bicycle Company.
"Most of Peloton 1, Mr. Bush's regular mountain bike crew, is on 29 inch wheels and he wanted to check them out. He asked Brandon Gillard, owner of the Kennebunkport Bicycle Company and Peloton 1 rider, if he could try a Niner. Brandon called us and of course we were stoked for the opportunity" said Sugai " It is really hard to believe that just a few years ago we were showing our first frame at Sea Otter and now we are riding with a former President of the United States"
Bush, Sugai, Domahidy and the rest of the Peloton 1 crew (as well as a full complement of Secret Service people) went for a ride on the crew's usual morning loop. "Mr. Bush is really fast" said Domahidy, "and a very good technical rider, too. He was flying on the Jet 9 and at the end of the ride said he dropped 3 minutes off of his fastest time!"
Post ride, there was ample opportunity to chat, and the group's conversation covered everything from trails, trail access and trail building to entrepreneurship in the USA. Said Sugai, "I found that he was very interested in the challenges of being a small business in the current economic atmosphere. This has been an amazing opportunity and we really have Niner owners to thank – their support over the years has gotten our little company to this point".
Niner's Jet 9 is their race-ready full suspension mountain bike. Light and fast, the frame features Niner's proprietary CVATM full suspension system, and 3" of travel. It is available in three color options and retails at local Niner dealers for $1749.
Additional information can be found here: Niner Jet 9
Niner Bikes was founded 2004 in Southern California by Chris Sugai and Steve Domahidy. The company is dedicated to the ideals of passion, commitment and 29ers only.
www.ninerbikes.com | Niner Bikes on Facebook