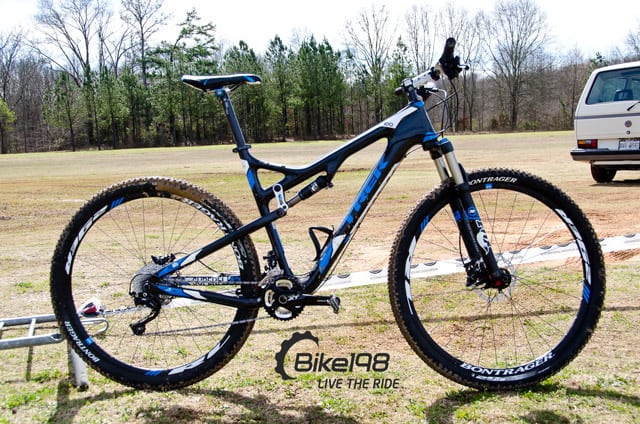 While at the SE Bike Expo this past weekend, I got a chance to throw a leg over the new 2012 Trek Superfly 100.
As many of you already know, the Trek Superfly 100 is a carry over from the Gary Fisher days. Trek brought the two brands together to essentially give them a Trek branded 29er lineup. They kept the Gary Fisher name by making it a collection, but you are basically getting the same bike as before with the Trek logo. Trek owned Gary Fisher anyway, so it really made sense from a branding point of view.
For 2012, the big change to the bike was the addition of the 142mm rear end with 12mm rear thru axle. This does a lot to stiffen up the rear end and unify the rear triangle with the front main frame. We are starting to see a lot of manufacturers go to this setup over the past couple of years. While it creates yet another variable (the 142mm rear hub width vs. conventional 135mm), anything that brings more rear end stiffness to full suspension mountain bikes is a welcomed bonus.
The bike still features the Trek Active Braking Pivot a RockShox Maxle thru axle system.
The color scheme also changed for 2012 to a raw carbon look (vs. the white previously) with bright blue accents. Personally, I am liking the darker color scheme Trek is using for their lineup this year. The Fuel EX and Remedy got the same treatment. Other than that, you get the same G2 geometry that you are used to out of the 29ers from Fisher and a host of Bontrager/Shimano components to round out the build. Weights for this Elite model (MSRP $5,249) are coming in around 26 pounds.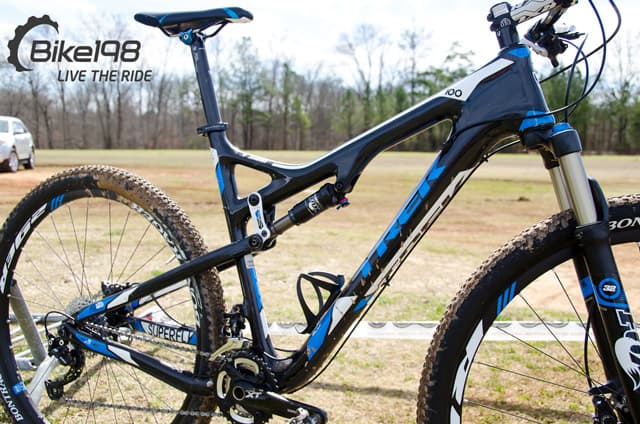 One thing to keep in mind with current Trek bikes, their sizing is a little bit different than you might be used to. I typically ride a large in just about all brands. On a 2012 Trek, I ride a 21.5 frame because it is an actual 19.5. When you go to test ride a Trek, try the one size up than you normally ride first.
The Trek Superfly 100 is a purpose built machine in all reality. While there will be a lot of enthusiast riders who buy this bike purely because they want a light 29er, the real purpose of this bike is to go fast on XC race courses and endurance events. During these events, all of your time that is made up to hit the podium is done on climbs…not the descents. So fast race machines have to be able to climb like a bat out of hell. They don't really care how they descend…just get me to the top and do it quickly.
The Superfly 100 is built to do exactly that…climb. When you get into slight rises or long ascents, the bike seems to just pedal forward with enough suspension to gain traction without robbing you of precious energy. The Active Braking Pivot does a great job of preventing unwanted pedal bob while hammering up the climb and the geometry of the bike keeps the front end planted down while tracking straight. Basically, everything you would want the bike to do while climbing…just works.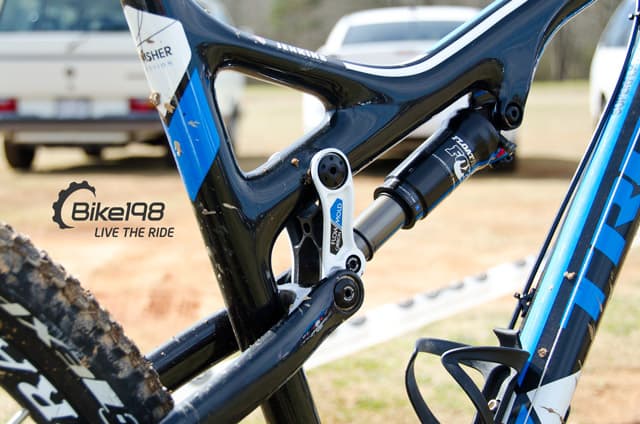 That is where the love affair with the Superfly 100 stops…at least for me. Those same stable characteristics that make the Superfly 100 such a great climber are it's downfall in tight/twisty singletrack and downhill. The suspension on the Superfly (at 25% sag) is really setup just to take enough of the edge off that you don't get super beat up on XC races. You still feel just about every single part of the trail while you ride. It is not a plush setup even when you start to let air out of the 110mm rear travel frame.
That stability you feel in the climbing is also largely in part because of a long wheelbase on this bike. That same long wheel base makes the bike hard to maneuver between tight trees and switchbacks. It is more of a sweeping turner than a pinpoint direction changer. It takes more body english and throwing your weight forward on the bike to get it to spin around.
While headed downhill, the Active Braking Pivot works as advertised by keeping the suspension active under braking forces, but the bike just isn't comfortable with the tires leaving the ground or bombing technical descents. However, I would expect this out of a bike that is essentially built to be a mountain goat.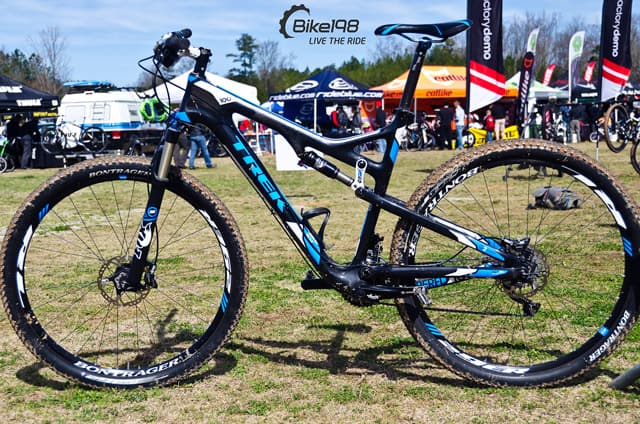 Overall, the bike is great for what it is built to be…a light XC race/endurance bike that will make up time where it matters the most…on the climbs and flats. It pedals incredibly well and makes you feel like you are faster than you are when you are pointed skyward. Throw a little bit of money at this Elite (ok…maybe a lot of money) and you could have a 23 lbs. racing monster that will get you to the podium.
Those same characteristics that make this bike such a great racing thoroughbred make it a hard sell for enthusiast riders in my eyes. If you want to have the latest and greatest light full suspension mountain bike frame, then you are probably looking right at this offering from Trek. However, I think there is more fun to be had on several other bikes in the industry (especially for this price) if you are looking to maximize your fun on the trail and not just be the first one to the top of the climb. It is not going to be confidence inspiring going downhill unless you already have some serious skills.
For my purposes, I would look into this frame if I was going to race endurance events. For fast XC racing, I would probably look closer at the Niner Jet 9 RDO as it's geometry will turn faster through tight sections of trail.