trail bike
Review: Ellsworth Epiphany SST.2 – 5.5″ Travel Mountain Bike
The Ellsworth Epiphany has been a long time staple in the Ellsworth lineup. Dubbed as their ultimate trail bike, the Epiphany got a host of upgrades with the SST.2 tubing addition that included a slightly lighter overall weight (by a 1/2 pound), curved tubes, asymmetric stays and more custom color options that even includes the rockers and bolts. The Epiphany still features Ellsworth's ICT (Instant Center Tracking) suspension design which is essentially a faux bar system with strategic pivot placement.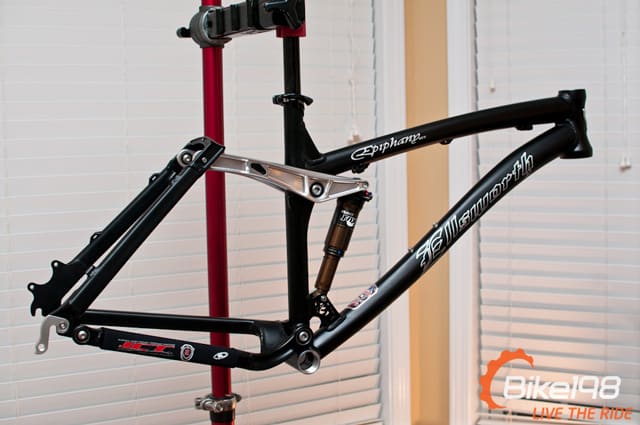 For this review, we enlisted a friend of Bike198 and obsessed bike tester, Roger Philips, to build up the bike and let us know what he thinks. A man on a mission, Roger flies out to Outerbike, attends just about every demo day and rotates bikes in and out of garage as fast as we do in search for the ultimate trail bike. He also has extensive race experience and has traveled all over the world in pursuit of the perfect section of single track.
This bike was sent in as frame only…so let's take a look at the build.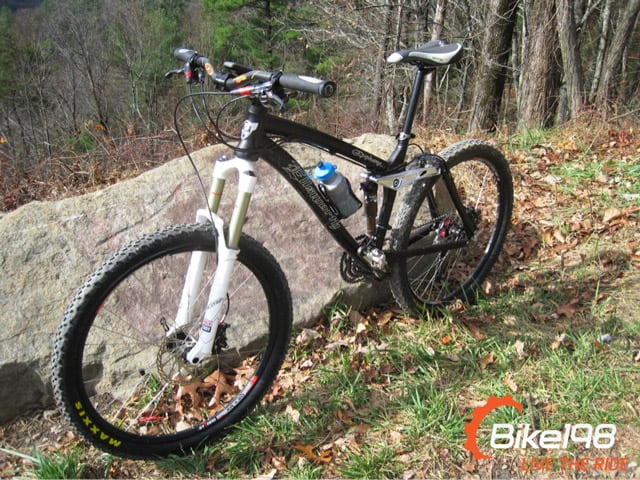 The Build: Ellsworth Epiphany SST.2

140mm rear wheel travel trail bike from Ellsworth Bicycles – Made in the USA
Riding the Ellsworth Epiphany With Roger
Let's take a look at what Roger thought about the Ellsworth Epiphany on the trails in north Georgia.
Initial thoughts:
Weight is 28 lbs even. It could be made lighter with regular grips, lighter saddle, tires and wheels. The black anodized finish looks great that doesn't chip easily like many other manufacturers painted frames. Kudos to Ellsworth for sticking to a standard threaded bottom bracket. This greatly expands the options for usable cranks and allows you to avoid the short bearing life of the press in type. If the seat tube measured 30.9, it would also provide more options for a dropper post.
Climbing:
The ICT design delivers very efficient seated climbing. It floats over rocks and roots allowing the tires to maintain traction even when you remain in the saddle. Unless the trail is very steep and muddy, any rear tire will hook up. If you have the legs, you should be able to clean any climb on the Epiphany. The 140mm Revelation front fork does not wander, and the long top tube on a medium size frame allows plenty of room to shift your weight for optimal traction.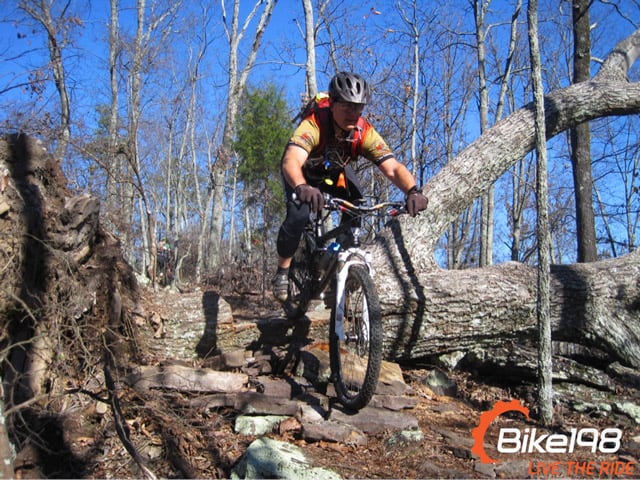 Descending:
With a 140 Revelation RLT TI up front, this bike loves to fly down rocky rooty trails. The ICT suspension is one of, if not the plushest suspension designs today and  floats over rough downhills. For a bike with 5.5" of rear travel, it doesn't get much softer than this. It's also quiet with very little chain slap. Braking late and hard into corners is easy since the suspension is always active.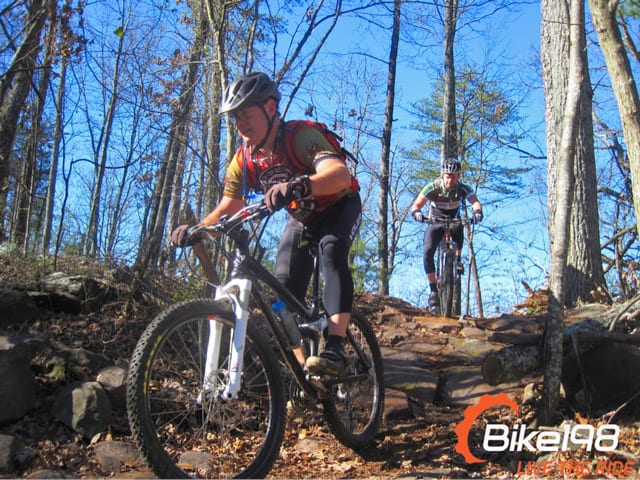 Handling:
With a 70 head angle, the Epiphany is more agile through tight singletrack than other bikes in its class. Normally, a steep head angle means it will be tricky on steep sections, but the long top tube and plush rear suspension keep you pointed straight. One downside that keeps the Epiphany from being the ultimate trailbike is its cornering. Whether riding tight or sweeping turns, the bike wants to push to the outside of the turn. It does not carve very well. Playing with the compression dampening on the fork helps, but in doing so you sacrifice some comfort. After playing with different stem lengths and handlebar rise, nothing turned it into a carving machine. When riding the Epiphany, my center of gravity feels higher than on other bikes in its class. Perhaps this contributes to the cause of this trait.
Just riding along:
The Epiphany devours technical trails. The ICT suspension eats up square edge hits and allows you to stay seated and power through rough sections. Rock gardens are easy since you have a plush rear to absorb everything and great (13.5") BB clearance to avoid pedal strikes.  Pedal strikes can big a huge issue on some other suspension designs. Sure, you can adapt your pedaling style, but in the heat of the moment on an unfamiliar trail, disaster can be one pedal strike away. Some test bikes have had a pedal dig in so hard that the next thing you know you are headed for a tree or over the bars. With the Epiphany, pedal strikes rarely occur.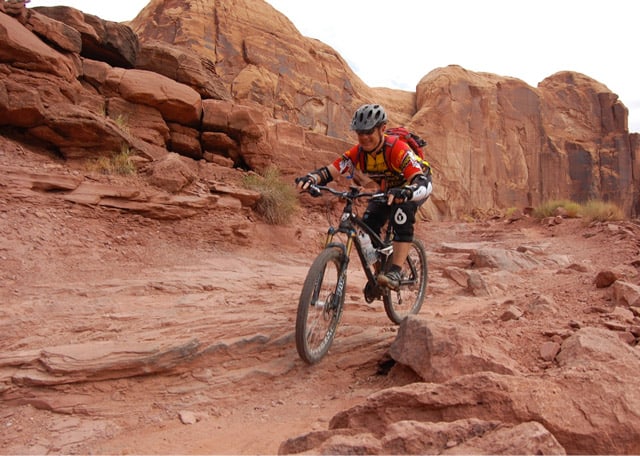 East Coast vs Moab Riding
I had the opportunity to demo another Epiphany in Moab this fall. It was set up with a Fox Talas, XT components, and Ellsworth Wheels. The new Talas with Kashima coating performs similar to the Revelation on my East Coast bike, so the focus was on how the frame performs on different terrain.  I had the bike for a week and rode a number of classic Moab trails including the Whole Enchilada. That trail starts at 11K in the high alpine and descends back down to 4K in the high desert. It has everything from leg burning climbs at altitude, to fast rocky descents with drops and ledges everywhere.
Typical Moab terrain:
Much of the climbing in Moab involves steep sections of trail with ledges thrown in to stop your momentum.  With the Epiphany and its incredible rear traction, you just sit and spin up the climb while lofting the front wheel over any ledge in its path. You can then lunge forward and allow the plush ICT suspension to absorb the impact and continue on your way. I ran the Talas fully extended at 140mm for the climbs to avoid getting that feeling of plowing into the hill you get at the lower travel setting of 110mm. Even at 140, there was very little to no wandering of the front end.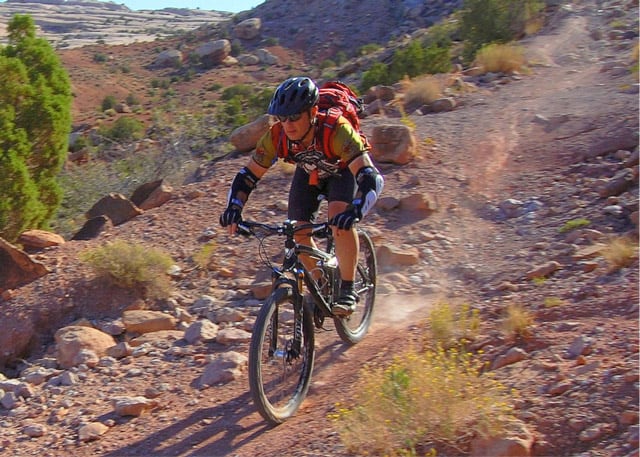 Downhill in Moab, the Epiphany is in its element. All you do is sit back and let the bike fly! The plush suspension allows you to rocket down rough sections and launch drops at will. It's stable and inspires confidence. You can use all of the braking power since there is no suspension induced locking of the rear wheel. The rear end tracks over everything.
While the tacky soil of Southeastern trails lends itself to carving on the bike, the loose rock over hardpack of Moab is not conducive to that type of bike handling. The Epiphany struggles with carving here on our Southern trails, but since you won't be doing that on the dessert trails it is a non issue.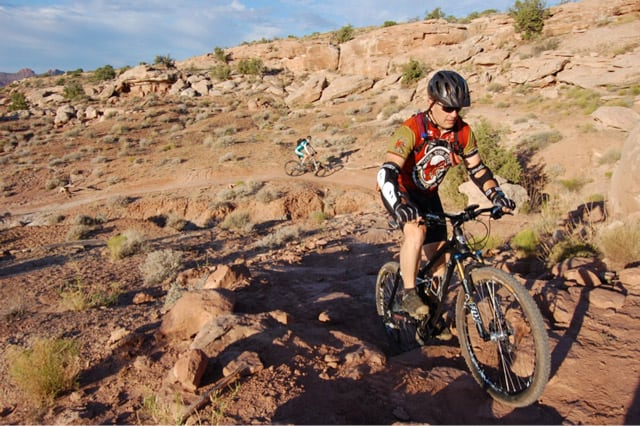 The Epiphany is one of the very best bikes available for the trails of Moab, Fruita,  Gooseberry Mesa and the like. It can climb rutted out sections with ease and bomb the downhills,  all while putting a big smile on your face.
Positives: Ellsworth Epiphany SST.2
Plush suspension that inspires confidence when gravity takes over
Impressive build quality of the frame
70 degree head angle makes for an agile climber
Fantastic pedaling efficiency while seated
Eats up technical trail
Negatives: Ellsworth Epiphany SST.2
Bike tends to plow to the outside on tight or high speed turns.
Standing while pedaling causes some suspension bob.
Ellsworth seatpost binder must be super tight to avoid post slippage.
Needs a 30.9 seatpost for more dropper post options
Weight is very good at 6.2 lbs, but needs to be in the mid to low 5 lb range to be competitive with a few of the other bikes in its class. Perhaps an Epiphany Carbon?
The Epiphany is very close to being the ultimate trail bike. It's very plush, pedals great in the saddle, climbs steep, rough, rocky trails with ease, and is a great straight line descender.   It also does not have any strange vices like unexplained chainsuck or tires rubbing the seat tube that some other brands exhibit. If only the front end were better planted in turns…then it would be perfect.
What will be the next big thing in mountain biking?
The other day, I was sitting back watching the downhill race video from 1993 remembering what it was like riding back then. My fork was a RockShox Quadra 21R with an amazing 40mm of travel via elastomers that didn't provide much of anything in sub 50 degree temps. I was on a chromoly frame with a 130mm bright yellow Control Tech stem (matched the fork) and the bike was about to get the best upgrade of the time outside of suspension…a set of XT V-Brakes.
We were on the edge of mountain bike innovation. The suspension fork was getting dialed in and manufacturers were wildly designing rear suspension designs looking for that balance between travel and efficiency. Most of the designs were complete junk back then, but we didn't care as we didn't know any better as riders. All of the sudden we were getting rear wheel travel and it was like the second coming for mountain bikers. Almost every year, there was something being released that was completely innovative for the industry from hydraulic braking systems to new materials used in frame production like carbon fiber.
The Current State of Mountain Biking
I look at today's bikes and I see a lot of progress. However, what used to be innovating is now just a race to make parts lighter. It seems we have found a plateau in the industry where everything is awesome.
The 140mm travel trail bike (which was beyond DH back in the day) has become the median as riders are finding it to be the balance between squish and efficiency.
Modern day suspensions have gotten incredibly efficient.
Riders all the way down to Wal-Mart bikes are enjoying the benefits of hydraulic braking and the option of 29er wheels.
Even the most budget of builds completely destroy bikes from even several short years ago as component groups like X.7 and SLX have completely raised the bar on performance without breaking the bank.
Full suspension bike weights for racers are in the low 20 pound range.
DH sleds are allowing riders to huck off of mountains.
Small, wearable cameras like the GoPro are even allowing us to capture all of this action for cheap.
So where is the innovation in the industry going to come from now? Are we just going to see bike brands start to offer new color schemes with slightly tweaked geometry over the next couple of years?
So what will be the next big thing in mountain biking?
Outside of electronic shifting and just adding more gears like we did with the 2×10 movement, what do we have to look forward to as mountain bikers all lusting to have the next latest and greatest thing from the bike industry? Right now, I do not see much room in the way of innovation outside of refining what we already have.
This could be a good thing in reality. It might allow for bike companies to further scale their business and help keep pricing from getting out of hand. While innovating every year is exciting, it does cause a strain on supply lines as manufacturing costs increase to keep up with the drastically changing retail environment. With some stabilization, we might be able to regroup and get really good at the core competencies of bicycle and component manufacturing.
This might also open the door for more specialty small companies to release semi-custom products that riders can use to bring the uniqueness back to their rides as we come out of a recession at the same time.
But…pretty soon…the industry will need another 'next big thing' to keep forward progress rolling. It will be interesting to see what actually materializes and how that drastically effects our trail experience. Until then, we will keep rocking out the equipment we have and continue to enjoy the time spent on the trail. After all, that is what it is really all about.
What do you think will be the next big thing in mountain biking?
Ending The Debate: 29er vs. 26" Mountain Bike
With the widespread adoption of the 29er mountain bike in manufacturing and the mountain bike community, the growing debate of 29er vs. traditional 26″ mountain bikes is getting hot amongst riding groups. If you are in the market to upgrade your current mountain bike or get into the sport, your options are wider than ever which is a good thing for the sport but can be debilitating when looking to purchase a new rig.
There is no "right answer" for every mountain biker, so let's take a look at the 26″ vs. 29er mountain bike debate and see where it shakes out in my opinion. This topic is probably the most debated in the industry, so you will find that every rider has what they think is the right answer for you (typically what they bought).
The 29er Mountain Bike: What is the big deal?
Before we get into what will work best for you, let's take a look at this larger wheel size and see how it affects the mountain bike in a general way.
What does a 29er do well?
Rolls over rocks and roots easier due to the wider circumference.
More distance covered per pedal revolution.
Higher air volume in tires smooth out ride.
The larger diameter wheels of the 29er mountain bike can create the sensation of having an 1″ more travel than the bike is spec'ed due to the larger air volume and larger contact patch with the ground. For this reason, it has become the go to size for much of the hard tail and shorter travel mountain bikes in the industry. The racing world has really embraced the larger wheels size for these benefits it brings to the trail.
What are the drawbacks of a 29er?
Large size equals larger weight.
Harder to maneuver in tight, twisty single track.
Longer travel (5.5″ and higher) 29ers feel REALLY big.
Sizing and geometry issues with smaller riders.
Larger radius needs stiff wheel build and fork to prevent deflection.
Just as with any big change, it is not all good news. While the true 29er zealots will probably tell you these things are not true, the reality is that you are adding bigger wheels to the mountain bike than traditional 26″, so there are going to be negative side affects that go along with the positive changes.
26″ vs. 29″ Wheels: Which is right for me?
When you are taking a look at the 26″ vs. 29er mountain bike, there are several personal questions you need to ask yourself as you make your decision. As with all things, there is no right answer that fits all people. How you ride your bike and how you want it to react is the most important factor when making this decision…not what your friend bought and says is the best.
So here is how I see it shake out…
How tall are you?
As the distance from your head to the ground increases, the 29er wheel size actually becomes more proportional to your size. Riders in the 6 foot and up crowd that are looking for a XC to light AM mountain bike should test ride a 29er just to see how they like it. You might find that it fits perfectly and you have finally found a bike that feels like it actually fits. Shorter riders in the 5'6″ range and lower will need to take a serious look at geometry and test ride different frames as they might find the bike feels too big or isn't able to maneuver as well. I have known shorter riders that have loved the bigger wheel size, but that is typically in hard tail applications.
Taller Riders: Yes
Shorter Riders: Maybe
How much travel are you looking for?
While the argument that a 29er "adds an inch" of travel is almost true in theory, there is a big difference in 140mm forks and 160mm forks in mountain biking. The thicker stanchions and construction make a huge difference for riders looking to get into the more technical side of riding. If you are in the market for a 140mm or 160mm travel mountain bike, a 120″ travel 29er is not going to give you that same stiffness and confidence from a bike build and component standpoint. Also, as you move up in travel the bike feels bigger and when you add in the larger wheel diameter, that gets multiplied and can hold you back in slow tech and DH situations.
However, if you are looking at lighter 130mm to 140mm travel 26″ mountain bikes and you are taller, the 120mm travel 29er might be a great option. It will roll over technical rocks and roots on most single track easier and you will still be able to keep the overall bike weight under 30 pounds in most cases.
In the short travel and hard tail mountain bike market, the 29er mountain bike has almost completely taken over.
HT and 100mm travel and under: Yes
120mm to 130mm: Yes
140mm: Maybe
160mm and up: No
What type of trails do you ride?
As mentioned before, 29er mountain bikes do take more to maneuver through tight single track. If all of your riding is filled with tight turns in trees, you will want to try out a 29er on your own local trails before making a decision. On the other side of the spectrum, if your trails are more open and rocky, the 29er wheel size can really excel and bring more speed as you can hit sections faster.
Do a lot of racing and forest service road riding? A 29er is almost a no brainer in those situations. If you don't believe me…just try to keep up with a 29er rider on a FSR. This adds up with the shorter travel and hard tail mountain bike market.
Tight and twisty: Maybe
Open and rocky: Yes
Racing and FSR: Yes
What do I personally use? 29er or 26″?
When I spec out my personal mountain bikes given trail conditions, this is how everything lays out for me personally given my specs. I would describe my riding style as technical. I like to find the nasty lines possible and make them ridable at speed. For this reason, I typically like to ride mountain bikes with big forks and more travel, but I also like to dip into the XC and race side every now and then as I have a background in those applications. At 6'1″ tall, I fall into the taller side of the sizing spectrum in between large and x-large. To fit my need to find all tech riding, I am on large size mountain bikes to keep the bike easier to move in slow tech.
Singlespeed and Hard Tails: 29er
Short Travel Race Bikes (100mm and under): 29er
Trail bike (140mm and higher): 26 inch
As of right now, I have not found a 29er mountain bike that has been able to handle what I want to throw at a 140mm travel or higher mountain bike. It has not been agile enough and the 32mm stanchion forks mated with higher radius wheels are not built to withstand the abuse. Given the specs of 29ers, I do not see this changing for me as a rider.
On the shorter travel end, there are a lot of advantages of the larger wheel size that have made a couple of 29ers the fastest bikes I have ever ridden for those applications. I doubt if I will ever go back to 26″ wheels for anything under 100mm worth of travel.
What is the right bike for you?
As you take a look at all of these specs, you have to look inward at your body type and riding style to see which wheel size will be the best option for you. There is no right option for everyone and the 29er wheel size is not going to take over the mountain biking industry like a lot of the Kool-Aid drinkers are trying to say. The larger wheel diameter does have some serious advantages in certain situations, but it also does not work for others.
The best option…test ride your top 26″ candidate on your local trail and the top 29er candidate if they are available. If they aren't, find the closest substitute. At the end of the day, you are the one making the investment in your mountain bike and you will be the one riding it…not everyone else that is trying to inject their opinion in your buying decision.
First Look: Specialized Stumpjumper FSR Expert EVO Trail Bike
For 2011, Specialized Bicycles came out with some modified versions of their popular mountain bikes and coined them with the term EVO. In the case with the Enduro and this Stumpjumper, Specialized made some suspension and component tweaks to bridge the gap between lines. Specifically, this alloy version of the Stumpjumper loses the brain shock, gets 5mm more travel in the rear (145mm), 10mm more travel in the front (150mm), a lower bottom bracket and slacker headtube angle. The addition of ISCG05 tabs also allows for a chain guide and some beefier components are spread throughout.
Some comparison stats to give you an idea of what we are dealing with…
Specialized Stumpjumper FSR Expert EVO:
Head Tube Angle: 67 degrees
Bottom Bracket Height: 338mm (13.31″)
Specialized Stumpjumper FSR Expert Carbon
Head Tube Angle: 68.5 degrees
Bottom Bracket Height: 335mm (13.19″)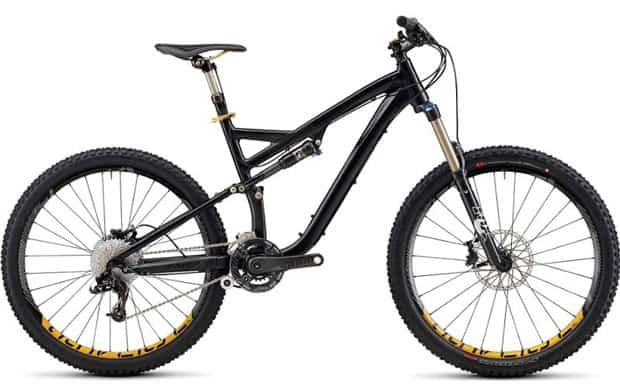 By the specs, the Expert Carbon actually has a lower BB height by 3mm, but when you add in the increased travel front and rear on the EVO, you can see how they tweaked the geometry of the EVO to get the low BB height. All things created equal, the increased travel would have increased the BB height more substantially without this geometry changes.
When we were talking with Specialized about getting in another mountain bike to review on Bike198, the EVO drew my attention immediately. Since it's release, I have wanted to get a leg over the bike that promises to be in between the Stumpjumper and Enduro in technical riding and downhill situations. Having previously reviewed the Specialized Enduro, we already know that it rips technical DH. Where it starts to struggle is on really long technical climbs where the really slack angles and gravity tuned suspension start to work against efficiency.
The Stumpjumper FSR on the other hand, is a proven trail bike for the masses. However, for more technical riding like we find in the southeast US, it wasn't quite slack enough to really let loose on the downhills like we wanted. The Specialized Stumpjumper FSR Expert EVO is that medium balance between the two and should fit my personal riding style to a T. Now we just have to get it dirty and find out.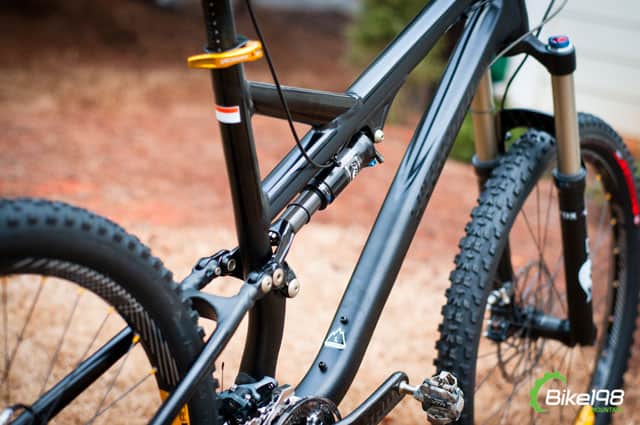 From Specialized.com
More travel and meatier spec on the EVO allows this Stumpjumper FSR to blur the lines between fast & flowy XC trail and more technical all-mountain riding.

M5 manipulated alloy frame for SJ Evo features slacker HT and lower BB with 145mm of travel, aluminum rocker link, sealed cartridge bearing pivots and ISCG O5 tabs
Custom Fox RP23-S shock features position-sensitive Boost Valve damping, low-speed compression damping with 3-way adjustable "open" and "climbing" settings – meaning, great bump performance and solid climbing efficiency
Fox F150 RL air-sprung alloy fork with 15mm thru-axle, external lockout, and rebound adjust can handle the biggest drops with ease
Roval Control AL wheelset, newly revamped for increased stiffness, with butted DT Swiss spokes and rear hub, gives riders more control to power over the bumpy stuff
Both 2Bliss Ready, the S-Works Purgatory 2.2″ front tire works in concert with the Purgatory Control 2.0″ rear tire to deliver exceptional traction for pinpoint cornering and braking in intermediate conditions
Specialized Command Post is a 3-position adjustable-height seatpost with remote lever for on-the-fly changes to riding position; 125mm travel
Component Spec Highlights: X.0 Rear Derailleur, X.9 Shifters, Avid Elixer CR SL Brakes
Built Weight as Tested: 28.20 lbs.
Video: 2011 Cannondale Jekyll – Adjustable 150mm Trail Bike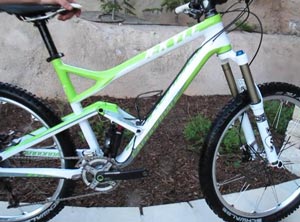 Cannondale is completely revamping their mountain bike lineup for 2011. This new lineup from Cannondale bikes is the first complete redesign since the Doral buyout, so all eyes are on Cannondale to see if they can keep the "boutique" feel going with big box backing. As part of the new mountain bike lineup announcement, the big C brought back the Jekyll.
To bring back an old mountain bike legend like the Jekyll, Cannondale knew they couldn't bring just another run of the mill trail bike to the trail. Instead, they brought a one of a kind pull shock (like the Scott Genius but a little bit different) and adjustable travel to the mix.
2011 Cannondale Jekyll – Adjustable Pull Shock
Cannondale wanted to bring a bike to the market that climbed like a cross country bike but downhilled like an all mountain monster. The result: a bike that is adjustable from 90mm to 150mm on the rear end with a unique pull shock that has completely separate damping, rebound and compression circuits for each travel level.
Check out this vid from BikeMag.com to find out more:
Now…Cannondale is not the first company to try a pull shock and definitely not the first to try out adjustable travel. Typically, bikes that try to do everything, end up riding some trail conditions ok, but they had to sacrifice too much to achieve the adjust-ability.
Personally, I can not see how a bike can change from 90mm to 150mm of rear wheel travel and do either really well. That is just too big of a switch. If the bike was 130mm to 160mm…maybe…but we live in a different mountain biking world today that we used to. We live in a dirt world where 100mm to 120mm is now the race preference outside of a hardtail for 26″ bikes, so why did Cannondale pick 90mm?
It will be interesting to see what comes of this unique ride over the coming months as more riders get a chance to throw a leg over this unique, carbon bike.
New Cannondales – Moto and Rize – And My Thoughts
With its new duo of long-travel bikes, Cannondale returns to the cross-country/trail bike battlefield dominated by the likes of Specialized, Marin and Giant. The all-mountain Moto and the trail-oriented Rize see Cannondale finally deploy its landing craft to secure a beachhead in this hotly contested arena.
But it's not a totally successful assault. On the one hand, the Moto has Cannondale though the dunes and heading for the nearest town. It perfectly executes Cannondale's System Integration idea – treating the bike as a whole rather than as a collection of plugged-together parts.
On first ride impressions, the 160mm travel Moto is a killer bike, a great all-mountain tool that can actually climb respectably and absolutely nail it on the downs and on undulating singletrack.
The Moto's not the lightest tool in the box, but for its class, the 6.3lb (2.86kg) frame weight is respectable, and is a serious piece of kit for the more gravity-orientated rider. It'll be bouncing mademoiselles on its knee by teatime.
Read the rest of this article at BikeRadar.com…

198′S THOUGHTS
I have never really been a fan of the Cannondale brand…especially now since they sold out to Dorel (parent company of Pacific/GT/Schwinn, etc.) which has a history of ruining good bikes.
My main reason for not liking Cannondale is their extensive use of proprietary parts. Their idea of treating the whole bike as a unit is a good one, but not when it comes at the expense of the users. I do not like bike brands telling me which parts I have to use. I have some issues with Specialized bikes for this same reason.
The lefty fork…I know a lot of cross country racer types love them, but I can't stand it. I rode the $6,600.00 carbon Rush with full X.0 and you could not get me off that bike fast enough. The Lefty fork felt like the elastomer forks of the olden days. It was just mushy and the brake cable routing made the cable hit the tire frequently. Not to mention, I can get handmade bikes that ride a whole lot better for a whole lot less than $6,600.
It is good to see Fox shocks back on most of their line-up, but I would have liked to see one on the Rize. I think you can get away with the lefty on shorter travel bikes, but when you get into the 5″+ range…you really need to have a more established fork. I know a lot of people will defend the Lefty…it does have a small but very loyal following. But after riding several of them, I can assure you that I will never own one
It will be interesting to see what happens to Cannondale with the Dorel buyout…we all know what they did to the rest of their "bikeshop brands."
Article on the Dorel/Cannondale deal on PR Newswire.