Pivot Cycles really made a splash onto the mountain biking scene when Chris Cocalis (former Titus fame) released their DW-Link bikes in 2007 back before DW-Link was really prevalent. Now they have a full lineup of bikes and components and their latest release is the new Mach 5.5 Carbon to replase the 5.7.
The new bike rests on 27.5 tires with 140mm of rear travel matched with a 160mm fork up front. You get all the latest carbon and boost tech along with that to make for a capable bike for a wide variety of trails.
Check it out.
Pivot Mach 5.5 Carbon Technical Conversation with Aaron Chase and Chris Cocalis from Pivot Cycles on Vimeo.
More from Pivot…
Mach 5.5 Carbon Features
140mm dw-link™ rear suspension with Pivot's mid-travel specific linkage design
Designed for forks up to 160mm travel. All Pivot complete builds come with a 160mm travel fork
5" wheels with extra clearance for larger tire sizes
Designed to fit 27.5 X 2.1" to 2.6" tires. Complete bikes spec'd with new Maxxis 2.6 Wide Trail Tires on 35mm wide rims
Features Pivot's new long and low geometry
Short 430mm (16.9") chainstays
12 x 148mm Boost rear spacing for maximum stiffness and control.
180mm rear post mount disk brake
Every size clears a full size water bottle inside the front triangle
Available in 5 sizes from X-Small to X-large
Pivot Cable Port system for easy internal routing of shifters, brakes and droppers and full Di2 Integration
Front derailleur compatible with Pivot's stealth E-Type mounting system
New ultra quiet low durometer rubberized frame protection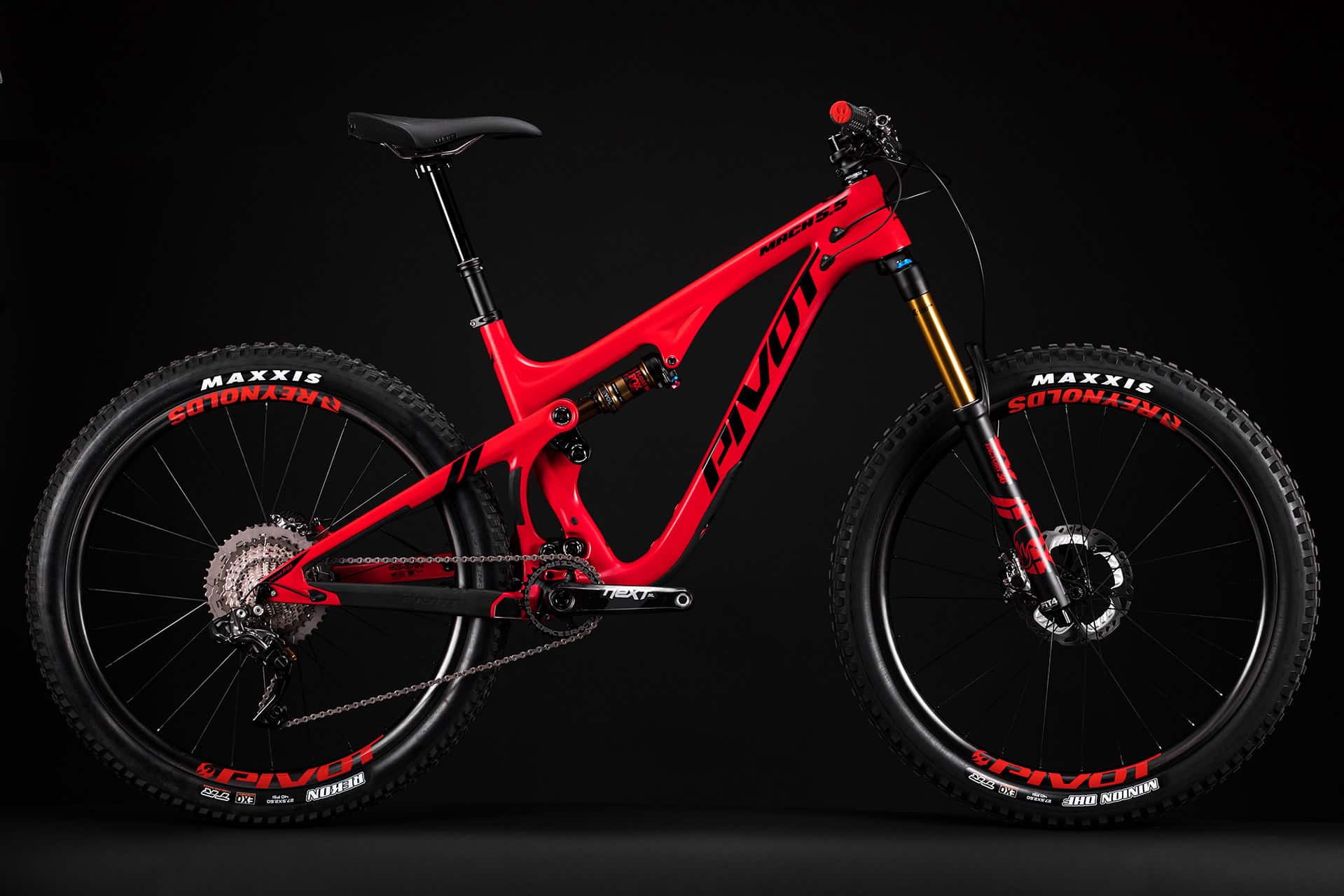 The New Mach 5.5 Carbon builds on the legacy of our renowned Mach 5.7 Carbon as the quintessential trail bike. With 140mm of dw-link™ rear travel, it sticks to and claws up just about anything, with unparalleled pedaling efficiency. On descents, the Mach 5.5 Carbon's incredible square edge bump performance and 160mm travel Fox 36 fork enables you to conquer terrain that makes other bikes cower. It's a bike that inspires you to climb while looking forward to the descents and that begs you to push your limits while putting a smile on your face.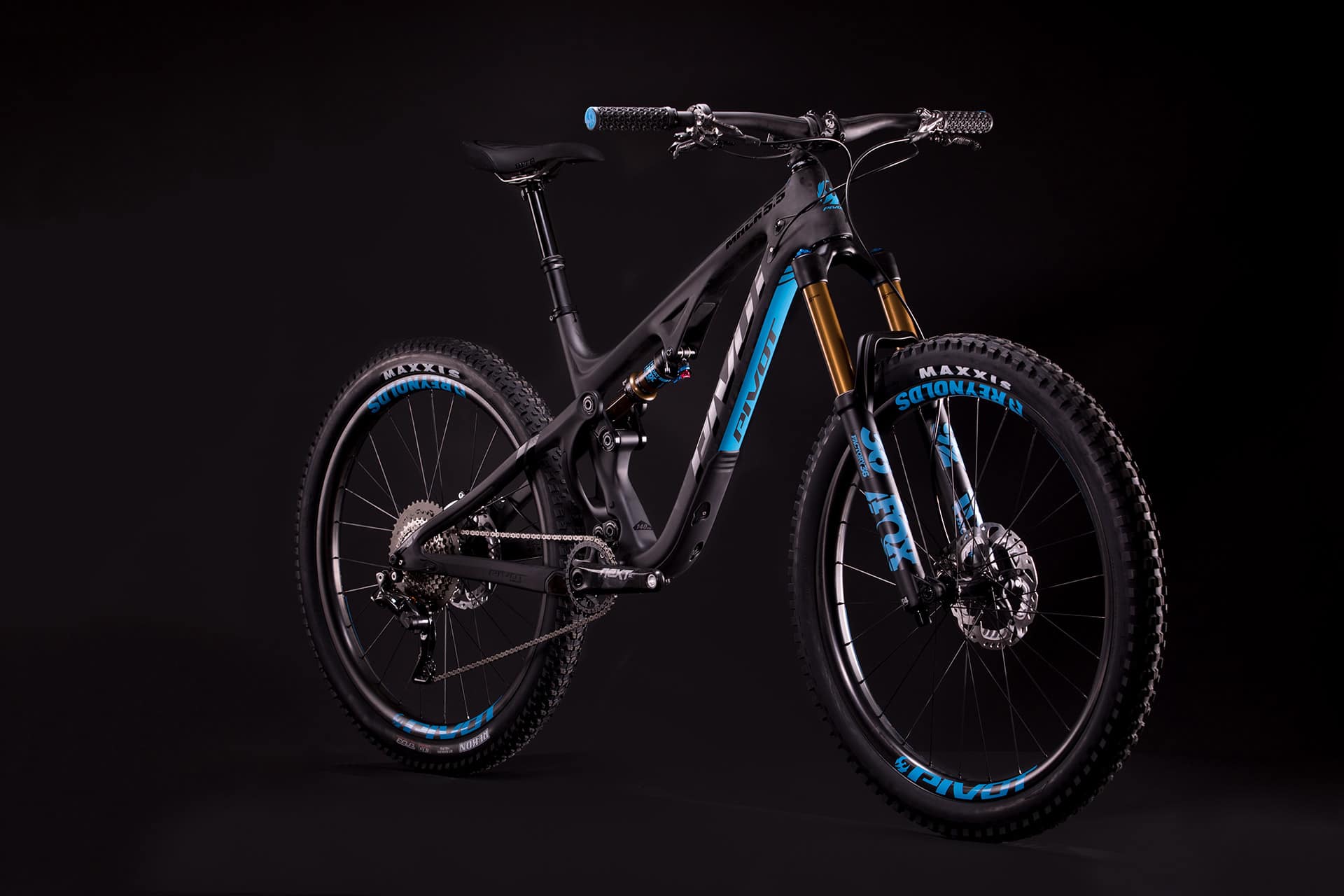 Mach 5.5 FRAME DESIGN
There are several things that make the new Mach 5.5 Carbon truly exceptional. We've evolved our mid-travel link design, by utilizing the same rear shock pivot cartridge bearing design found in our longer travel clevis designs (such as the Firebird and Phoenix), to give the Mach 5.5 Carbon the unmatched small bump compliance and traction that Pivot is known for in a lighter weight and more compact design.
When engineering the ultimate trail bike chassis, weight matters. The Mach 5.5 Carbon matches Mach 6 Carbon durability while achieving Mach 429 SL Carbon weights and the perfect balance of frame stiffness and ride feel that Pivot frames are known for. The frame's carbon structure features our proprietary hollow core internal molding process combined with a highly optimized lay-up design, utilizing lighter weight, high modulus materials that save up to a pound (.45kg) over other trail/enduro bike designs. The Mach 5.5 Carbon is available as a complete bike, with builds weighing under 27lbs (12.2kg) complete with dropper, and with frame weights as low as 5.2lbs(2.35kg).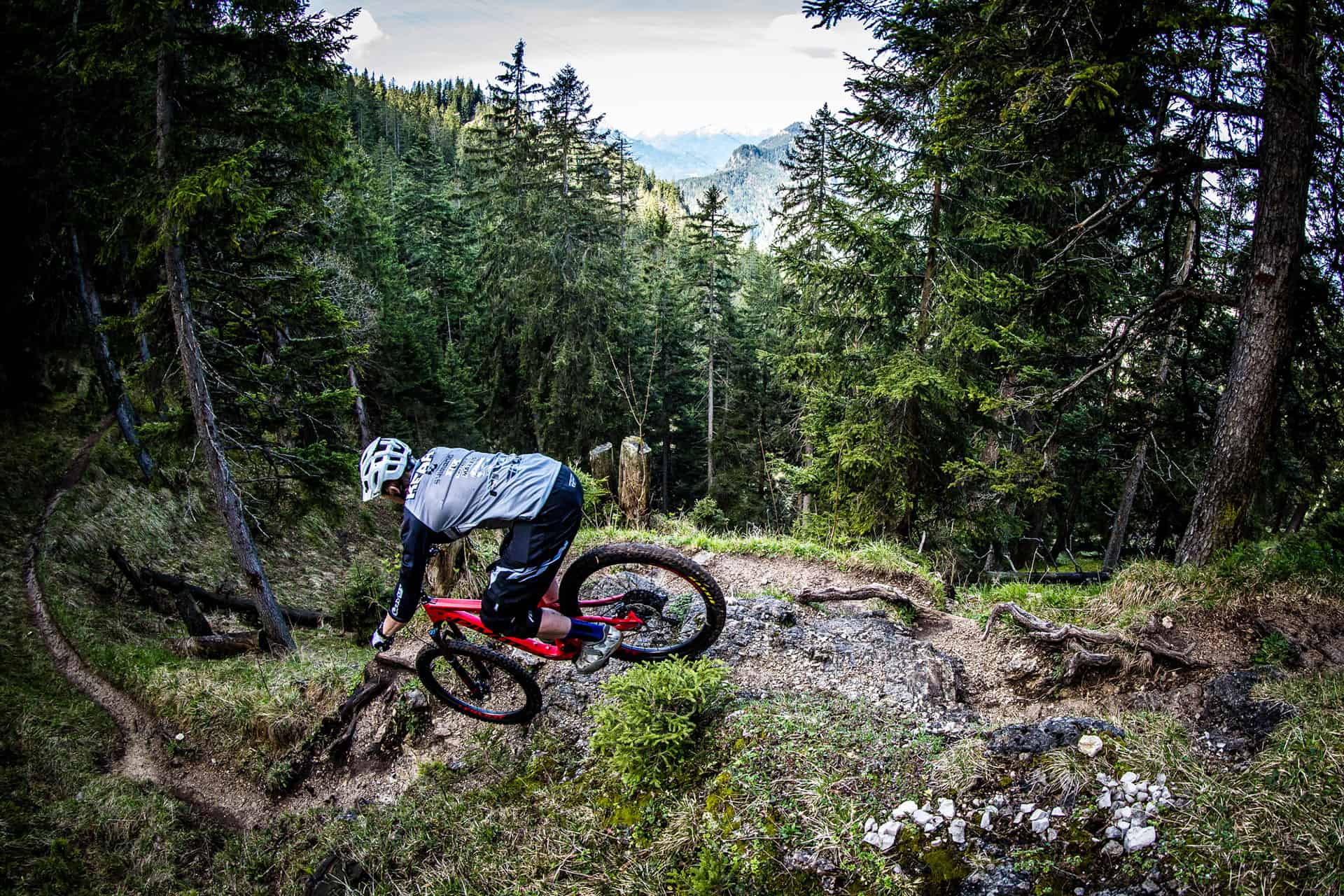 Mach 5.5 TRAIL GEOMETRY
The geometry of the Mach 5.5 Carbon is tuned to support its well-rounded trail bike personality – the optimized long and low geometry with a 66.5-degree head angle provides high-speed stability, contributing to its amazing descending capabilities. Combined with short 430mm chainstays and relatively steep 73.5-degree seat angle, it absolutely crushes the steepest of climbs. The Mach 5.5 Carbon's overall balanced geometry makes it the ultimate trail bike weapon.
We've taken this ultimate trail bike idea one step further by combining it with Maxxis' new Wide Trail 2.6" Minion DHF/Rekon tire combination mounted on 35mm wide rims for maximum control and maximum fun in a wide variety of conditions. This wider 2.6" tire option gives you incredible traction and rollover advantages with nearly the speed of a full on enduro race tire set up. The Mach 5.5 Carbon can run any 27.5 tire combination, from 2.1-2.6, so your options are nearly unlimited.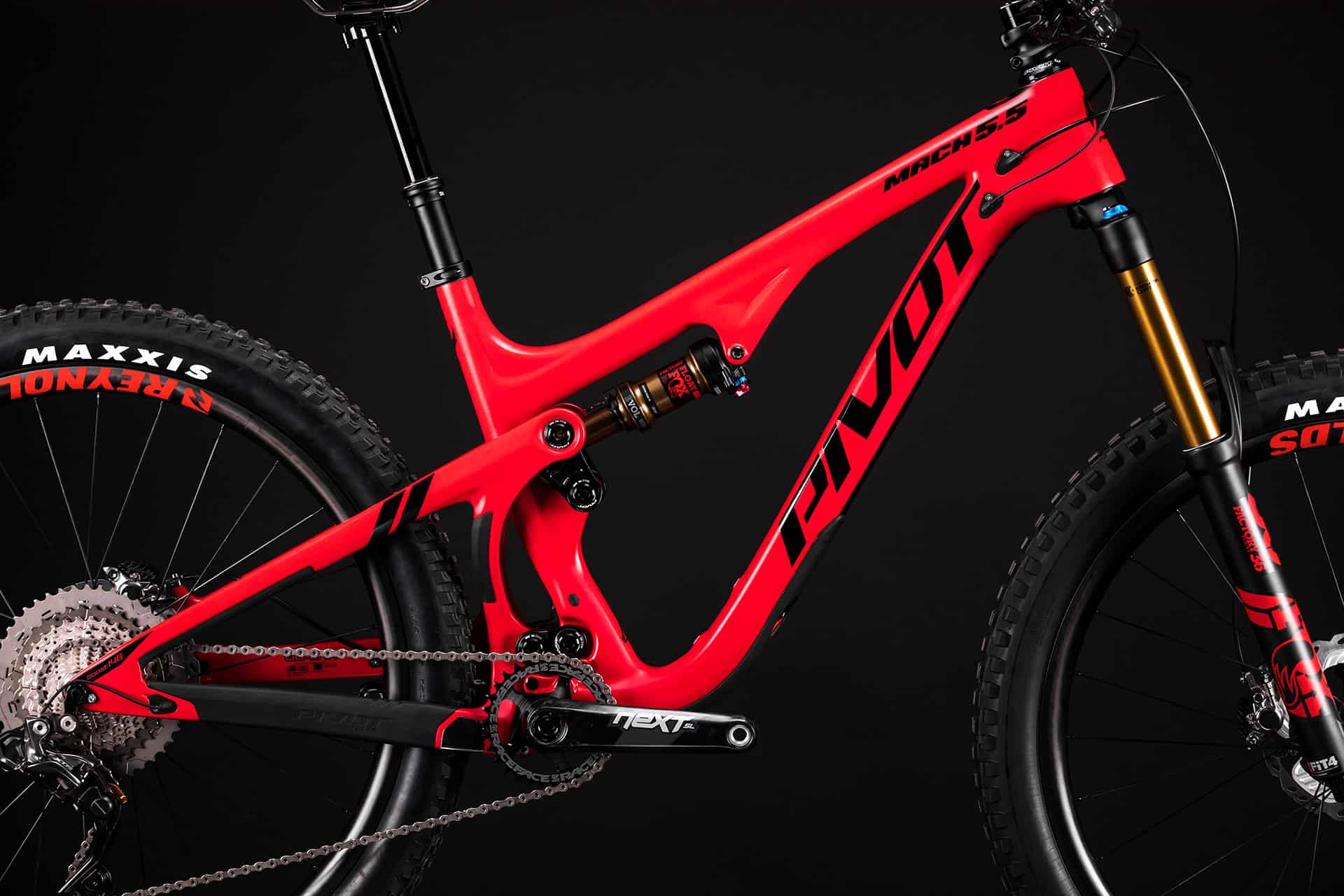 ALL THE RIGHT DETAILS
Featured on the Mach 5.5 Carbon is Pivot's ultra-clean, removable front derailleur mount. For riders that want to run two chainrings, this precisely engineered mount offers the best shifting performance you can get, utilizing Shimano's new side-swing front derailleur system. For those who love the simple functionality of 1x systems, the removable front derailleur mount offers an incredibly sleek, clean installation with almost no evidence of the un-needed hardware.
The Mach 5.5 Carbon offers full Di2 electronic integration and easy, clean internal routing of shifters, brakes and droppers via the Pivot Cable Port system.
Other essential details include ultra-quiet, low durometer, rubberized frame protection in all the key places, 180mm rear post mount disc brake, and Enduro Max cartridge bearings throughout.
The Mach 5.5 Carbon is available in five sizes to fit riders from 4'11" to 6'7"+ from XS to XL. Every size clears a full size water bottle inside the front triangle.
Check out more on the Mach 5.5 Carbon by clicking here.