Here is our review of the Bontrager Aeolus Pro 3V gravel bike wheelset.
With gravel bikes continuing to gain traction in the industry, there have been a wave of "gravel category" parts and accessories to fill the need of this "new sector". Some of it makes sense. You are going to want to run wider, higher volume tires. You might want some more durable clothing as you might be crashing on rocks. Some of it though…is just rebranding other products to appeal to a section of the market that aren't that much different than their road or xc mountain biking counterparts.
That said…wheels are definitely an area where you might need a more gravel oriented set to take advantage of the larger width 700c and 650b wheels. Anyone who has ever ridden pure road wheels and tires on gravel cringes at every single rock hit.
Today, we are looking at the Bontrager Aeolus Pro 3V wheels that are tubeless ready and have a 25mm inner rim width to handle some of the biggest 700c tires out there.
Bontrager Aeolus Pro 3V Specs
| | | |
| --- | --- | --- |
| FT/RR/PR | Front | Rear |
| Diameter | 700C | 700C |
| Type | Tubeless Ready (TLR)/Clincher | Tubeless Ready (TLR)/Clincher |
| Cassette compatibility | Not applicable | Shimano/SRAM Road 11-speed |
| Hub width | 100mm | 142mm |
| Holes | 24 | 24 |
| Butting | 14/17/14 | 14/17/14 |
| Cross section | Bladed | Bladed |
| Brake type | Centerlock disc | Centerlock disc |
| Attachment | Thru Axle | Thru Axle |
| Nipple locking type | Alloy Locking | Alloy Locking |
| Valve | Presta | Presta |
| Rim material | Carbon | Carbon |
| Weight | 720g (claimed) | 855g (claimed) |
Build Quality and Spec
At first look, the spec is promising. The Bontrager Aeolus Pro 3V's are a carbon wheel with no rider weight limit, 25mm inner rim with and a 108 tooth engagement. That means you should be getting a sturdy wheel that is ready for larger tires and the power should get to the ground quickly. They are also tubless ready with the included Bontrager tubeless strip (more on this later). The wheels come standard with their tubeless ready valves, a regular rim strip and their tubeless strip.
The overall look of the wheels is rather subdued. I personally like the matte carbon to gloss carbon look but if you are looking for something really flashy…these aren't it. The all black look does mean they will match just about any bike on the market.
While the weight is not industry leading by any means when it comes to carbon wheels, the engagement, rim width and price seem to be all in line.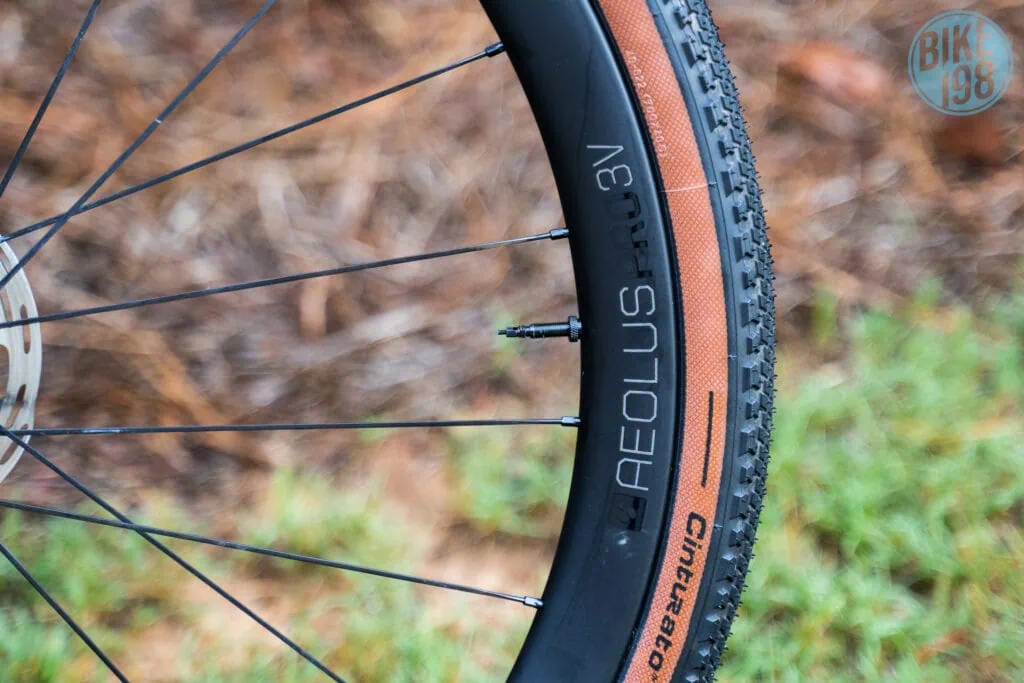 Setting up the Bontrager Aeolus Pro 3V wheels
These wheels are really meant to be hammered out on gravel roads. The wheels do share a lot of similarities with their more road oriented wheelsets but the 25mm inner width on a 700c wheel really allows for some flexibility when it comes to tire choice…but it also doesn't. I found that the optimal/minimal tire width you are going to want to run on these wheels is 40c like you see with these Pirelli's. Any narrower…and the tires almost look stretched. That also means that you need to be careful with your frame compatibility as some frames do not like seriously big 700c tires. These were about the limit of my Cervelo Aspero.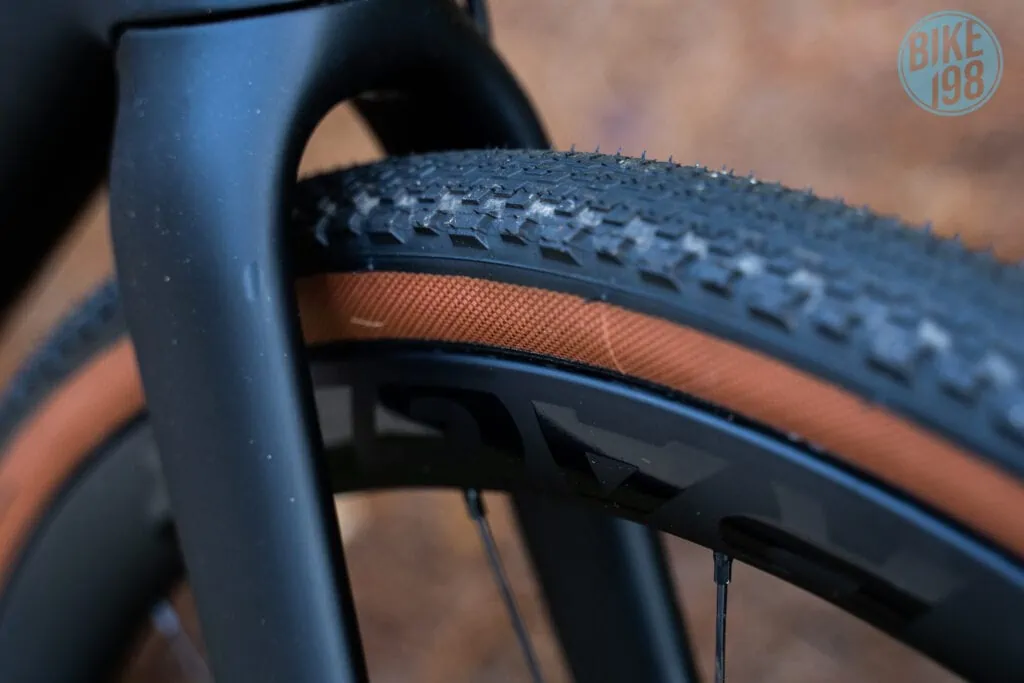 Tubeless setup is pretty straight forward – but – I am not a fan of the Bontrager tubeless strip for several reasons. I get what they are trying to do by creating more of a plug and play setup…but they do come with their downsides.
First, the strips are heavier than just using tape. Installing the strips is much easier if you have never done a tubeless setup before. I come from a mountain biking background so we have already cut our teeth on impossible setups of the past but these days…tubeless is easier to setup thanks to the tires.
Second, I have always had sealing issues with the strips themselves. I have a set of the carbon mountain biking versions on my Rail and the same issues came up there. Tape has just always worked even if it is harder to setup.
Third, they are thicker than tape. This can cause issues with mounting certain tires as they take up more room in the rim bed. At the very least, they make tires harder to install. On the Rail, there were tires that wouldn't fit at all thanks to this.
If they work out for you, great but I switched back to tape and never looked back for a lighter setup that mounted tires easier.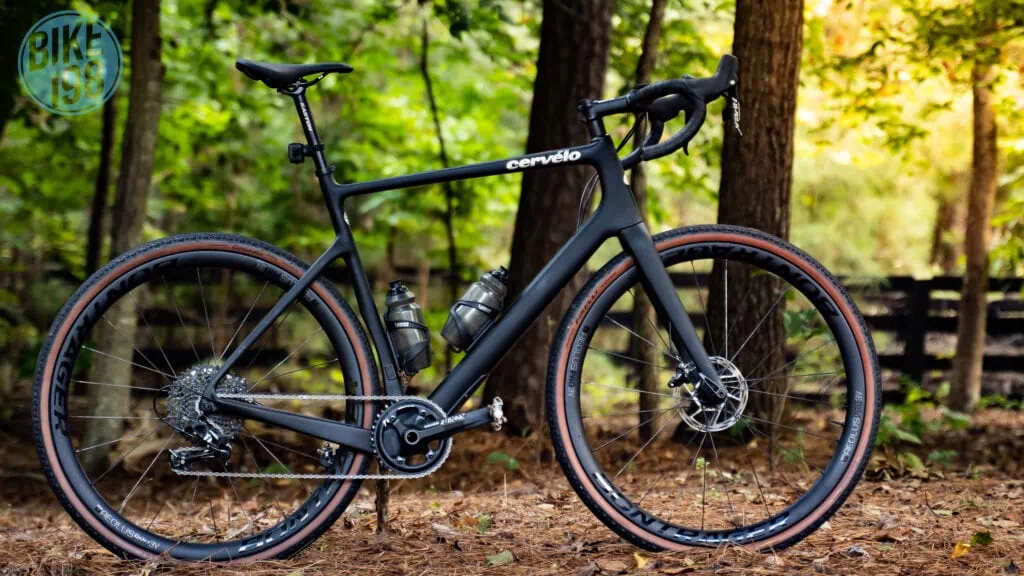 Bontrager Aeolus Pro 3V performance on gravel?
The first thing I noticed on this wheelset versus some of the others I have tried was the engagement of the hub. I have been an engagement junkie since my first sets of Chris King's and Industry Nine's and it was great to have a high engagement hub on my gravel bike. Other companies are going with DT Swiss and some other options and you don't know what you are missing until you have it. When you are on loose terrain, the ability to get power to the ground faster is life changing.
 I get that if you are coming from a road biking background…you might not get it. I would encourage you to try out higher engaging hubs in gravel applications. The hubs even have a nice zing to them while freewheeling if you are a fan of bees buzzing behind you. It isn't overally loud like some brands.
The overall wheel build on the Bontrager Aeolus Pro 3V was good. I didn't have any issues with wheel flex or spokes coming out of tension with some pretty hard abuse. To be honest though…I expect that out of a wheelset at this price point. The wheels where very predictable and you get the compliance you come to expect out of carbon.
The 25mm inner width is a great setup on gravel. The higher volume tires that are seated correctly on the width provides an efficient and compliant ride. You can go with wider widths without the fear of the tire rolling over the rim and causing unpredictable behavior. That also makes these great wheels if you are looking at doing some light trail riding as well as you mix in gravel. The extra volume that is supported by the increased width makes a big difference in those situations.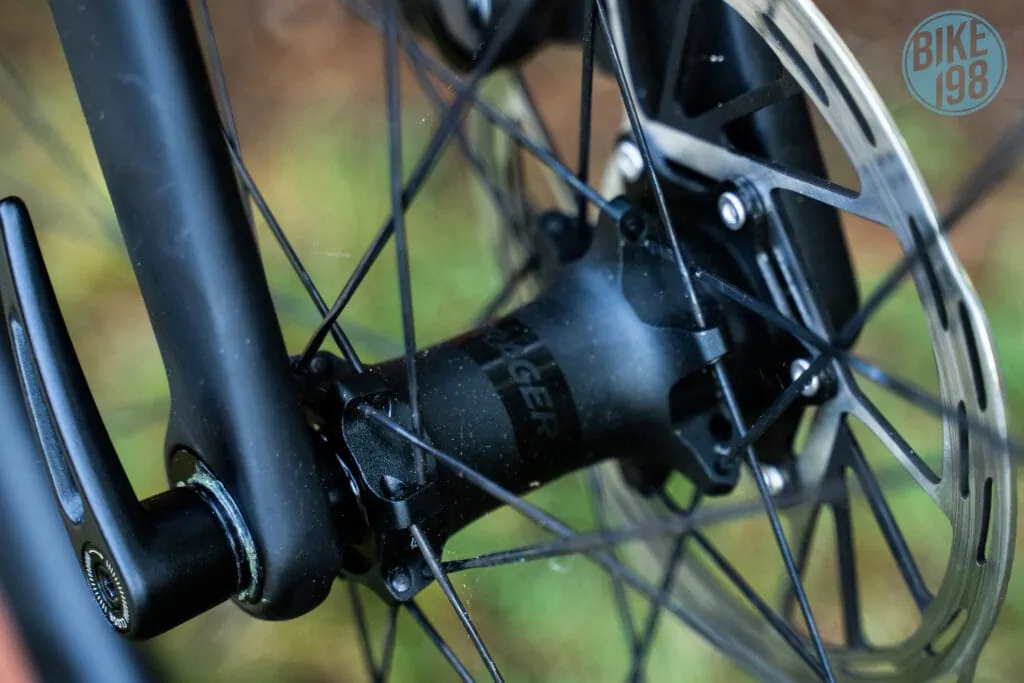 How did they perform on the road?
This is a little bit of a compromise. By road standards, these are not the lightest or the most aero. That is done on purpose and you should know when you are taking your gravel bike on the road you are going to have to make compromise. Also, the increased width of the tire/wheel setup is going to make you slower on the road. It is not as bad as your friend with his 650B and higher volume tires but it won't be like your other friend on 23mm width and smaller volume gravel tires. These really kind of split the difference and can pull dual use. I just wouldn't bring them to the weekly group road ride.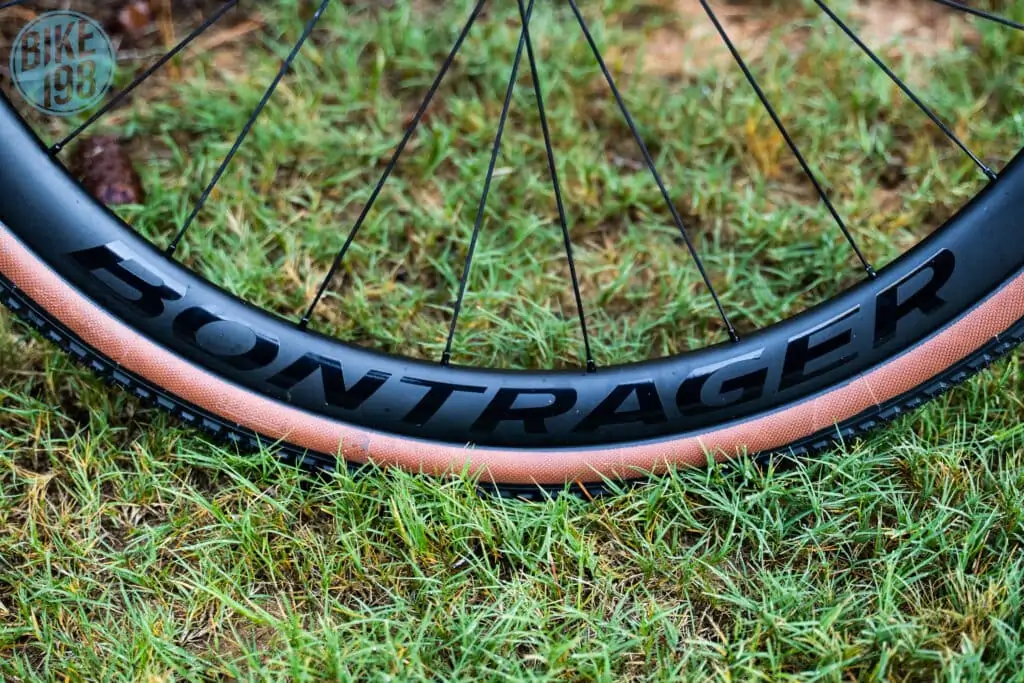 Overall Thoughts – Bontrager Aeolus Pro 3V
Overall…I think Bontrager (Trek) found a nice balance of price, high engagement, width and weight. There are wheelsets out there at this price point that you might get one portion of that better but the running average on the performance to price ratio is pretty good. I am not a fan of the tubeless strips but that is easily and cheaply fixed. The only other thing…are you going to put a basically Trek branded product on your non-Trek bike? For some riders, that might make a difference. The good news is that that branding is not in your face and you get a great performing set of gravel wheels for the price.