It has been thirty days since Zac Lindsey began using the Cocotte Equipement Fred Messenger Bag for his daily commute. We followed up with Zac Lindsey of Tulsa, Oklahoma to find out exactly how the beautiful bag that we had outstanding initial impressions of.
Thirty days in with the Cocotte Fred Messenger bag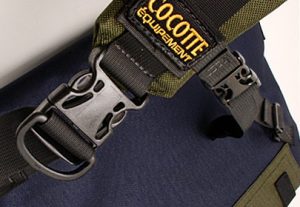 I have been carrying the Cocotte Equipement Fred Messenger bag for over a month. I have to say that I am very pleased with the way the Fred has held up and how it has dovetailed nicely with my daily commute. I walk or ride to work every day and the Cocotte Fred is often packed full of files, documents and other accouterments. The construction quality of the Cocotte Fred Messenger Bag is nothing shy of pure excellence! The Fred has some unexpected features that definitely deserve a serious and more in-depth look, so I will run down all the pros and cons in full. We know nothing is perfect, but the Cocotte Fred is a messenger bag that is pretty close.
Cocotte Fred Messenger Bag Usuage
I work in an office and often take paper files home to fool myself into thinking that I am getting out of the office. I live close enough to walk to work, so I don't always need to commute using my bike. All of the file folders are legal sized, so that means I need to have a bag that will handle approximately 20 files that are filled with paper documents and still have space for keys, maybe an umbrella, and other miscellany.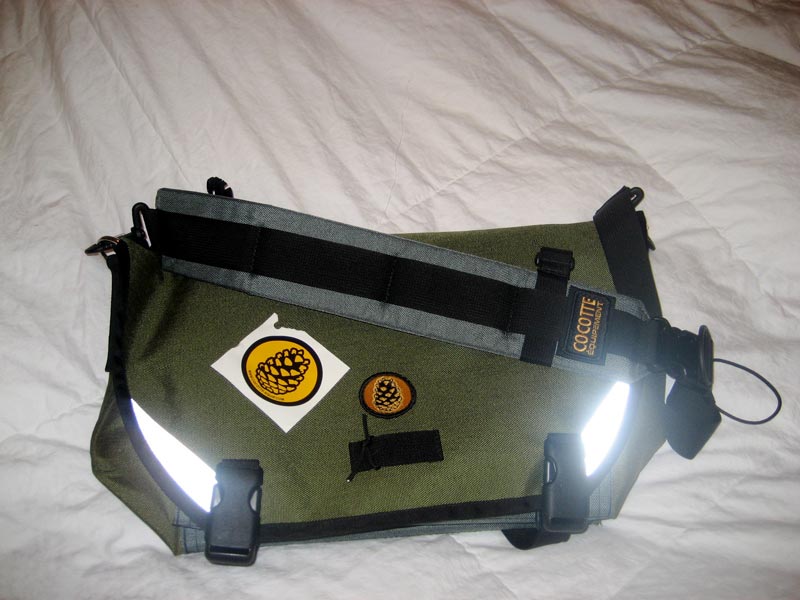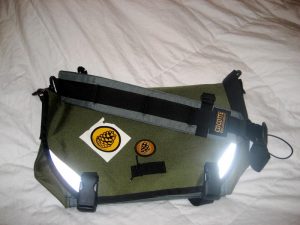 As you can see from the photos, this is a sharp-looking messenger bag. We received the green and gray Cocotte Fred Messenger Bag for our review. Not too flashy and yet not too plain. The Cocotte Equipement logo on the strap is definitely prominently placed and because it is in yellow; you cannot miss seeing it! Can not get down on Cocotte for branding their bags. Also, I really like the pine cone badge on the top flap, right above the light loop. Nice job on the look!
On the durability side, the Fred bag is bombproof. Given the overall size of the bag, the seam stitching seems to be a bit overkill, but if you're planning on toting around gold ingots or lead weights in the Fred — you're covered. The ambidextrous shoulder strap is almost half-an-inch thick with padding. It's secured to the steel (yes, steel) rings on the bag via thick carabiner-style plastic duraflex clips that swivel.
Along with the redundant stitching; the brilliantly developed bottom flap doubles the Fred's bottom surface area and allows for one large external pocket. Think of the outer fold of a burrito. The buckles that snap the top flap shut are also very tough. They are made by National Molding in Farmingdale, New York. I have had no complaints, but really, it's a buckle. As long as they snap open and shut quickly and don't pop open under strain, they do their job.
The lining and interior stash pockets are made of water-resistant ripstop nylon. I would have no qualms taking this puppy out in a shower, but would probably have more reservations in heavy winds and rain because there is no zipper to seal anything absolutely. Again, this is one tough little bag. Everything is reinforced to a level that makes you absolutely confident it's not going to bonk out on you when you're carrying a full load and roll over a pothole or hop a curb at speed.
Looking toward the design, Cocotte definitely favors simplicity and durability over detailed creature comforts. As far as ease of use of the quick-release strap clincher, I couldn't ask for more. I'm loving this one-handed adjustment that I never become accustomed to with previous packs. It just plain works. Unlike some messenger bags I've seen, the pull-strap end never reroutes back through the buckle when I release it under load. If you've ever had this happen, you know how much of a pain it is.
Also, the strap can be set up for righties or southpaws. Same goes for the sternum strap that connects on the bottom of the bag and clips in on the strap. The other nice design feature of the sternum strap is that it's removable. This is great for me since I usually walk with the bag, often on one shoulder. Since I wear a suit every day, I try to go for a clean look, and having a strap dangling off would be annoying. The over-sized top flap of the Cocotte Fred is a real benefit because, even though legal-size folders are longer than the base of the bag, the top shuts over them to cover nicely.
Lastly, there is a pocket with a slab of EVA foam inserted for cushioning your back. It could also double as a magazine pouch…maybe.
Yes, I do have a few cons…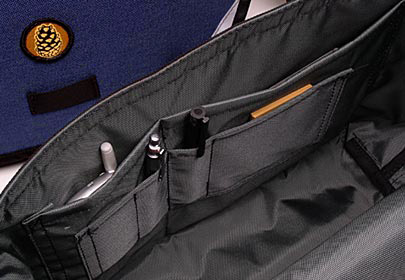 The design for usage other than the basic job of being a cloth bucket to carry stuff leaves this reviewer wanting. Here are my pet peeves. One, there is no clip for keys. I thought this was standard issue in bags of all types, but this one is key keeperless. I can see myself using this bag on airplanes and other types of travel where boarding passes, subway passes and train tickets will need to be in a ready-access location and car/house keys will be an afterthought.
It would be nice to know that they are with me, but not just jangling loosely in the outside pocket. True, this could be a theft issue, but my guess is that you would hear the loud rip of the hook-and-loop closure and snap of the buckles before someone was all up in your bag to get your…keys? Another nag is that there is no zippered closure inside the bag. There is a lineup of three pen sleeves and three (two deep, one less deep) open-topped pockets, but nowhere to put anything like tokens, coins, jewelry, etc. that you don't want sloshing around if the bag gets turned upside down. There is also, as mentioned before, a huge flap pocket on the exterior front that does in fact close with hook-and-loop, but it's kinda large for smaller items you don't want to fish out.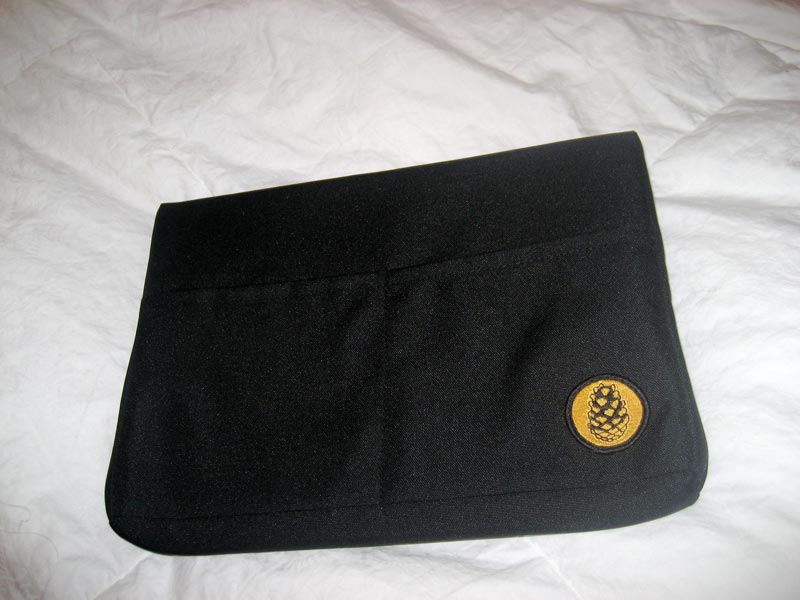 The bag does come with a high-quality, padded laptop sleeve that has small pockets on the exterior. It's not a complete enclosure, just the three sides, and it only holds a smaller notebook. My 12″ PowerbookG4 fits with over an inch of slop, while my 15.4″ laptop can't even suck in it's gut to make it work. Really, the 15.4″ computer is almost out-sized for the bag in general. My guess is that a 14.1″ PC would be snug and a 13″ Mac would fit perfectly. One minor, minor harp is that there is no soft-lined pocket for your shineys like phone or portable music player. Again, very, very minor and more of a personal preference.
Overall, I am more than impressed with this bag. The craftsmanship is second to none, and the attention paid to insure reliability is worth the price alone. Sure, it would benefit from minor redesigns like a clip for keys and a zippered pocket, but the ease of use and durability may make those less noticeable. For me, the key clip is major, but I can see why it wouldn't be missed by others.
Compared to previous bags I have tried, this Cocotte Fred Messenger bag deserves to be my daily driver. The collapsibility that occurs naturally when you cinch the closure straps is effortless, it looks like a hip bag without being toolish, and it just feels great on your back. Add that to the fair price tag for a handmade bag, and you've got me hooked.
Go get yourself a Cocotte Equipement Fred Messenger Bag
If you are interested in picking up a Cocotte Equipement Fred Messenger bag, visit Cocotte Equipement's website at cocotte-equip.com and swipe that credit card! The bag retails for $114.96 CAD and is definitely worth the spend. It's only credit right? When you purchase your bag, let them know you saw the review and you never know what will happen. Please let us know about your experiences of Cocotte-Equipement and especially the Cocotte-Equipement Fred Messenger!