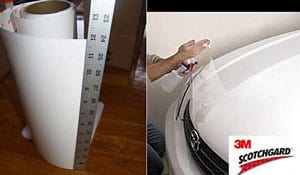 Let me start this by saying that I am pretty sure I have used EVERY bike specific tape product to protect frames on the market. I have way overpaid for private branded, logo'ed up clear tape that ends up failing by getting dirt and moisture underneath or leaves a nasty glue residue on the frame. It's frustrating and expensive when all I really want to do is protect my frames from scratches and cable rub. We spend a lot of money on our bikes, so it shouldn't be so hard to protect them. Who wants a bike 1 year down the road that looks like it has been through a war? I don't, so there had to be an easier way. Several years ago, a friend of mine turned me onto the best frame protection material on the market, and…the best part…it is incredibly cheap.
3M Scotchgard Film – Cheap Bike Frame Protection
3M makes a really cool film that is designed to be applied to a lot of different surfaces, but most notably it is known for use on the front of cars as a clear bra to protect against bugs and rock hits. This clear adhesive backed rubber-like film, comes in sheets and is ready to cut to fit for any application.
All you have to do is cut to fit, remove the paper and apply to your frame. It almost seems like it magically gravitates in as you apply it and leaves no bubbles or mess behind. Just cut and stick on. You can even see by the pictures of the headtube on the Turner 5.Spot that you do not even have to be clean about it. My overlapped, messy job is still holding strong after a year's worth of riding and washes without letting dirt or moisture underneath the coating that I even overlapped. The stuff just works that well.
One of the other things I hate about most of the branded, bike specific frame protection are the logos and designs that stand out when applied to the bike. As you can see by the pictures, the 3M film doesn't even look like it is on your frame after application. When you apply it to glossy finishes (like the carbon bike pictured), it literally disappears.
So if you are looking for a cheap way to protect your frames and you want something that is not going to leave a goo residue, won't wear out, won't be visible on the frame and doesn't cost you an arm and a leg…check out the 3M film. If you want to overpay for something that is not going to work over the long haul…you can pick up the other stuff.
The only part that is a little bit annoying is that I have only been able to find it on Amazon…about $12.95 gets you 12″ x 24″ and that should be more than enough to cover your bikes and all of your friend's rides.