Awhile back, the crew at Mace Gear sent us over some mountain bike apparel to review on Mountain Biking by 198. As part of the package, they included their Task Short, Foundation Jersey and Foundation Gloves to beat up and review over the past couple of months. After numerous encounters with the ground and a lot of hot days on the trail ripping up berms, drops and rock gardens, it is time to check in with you guys and spill the beans on how the Mace Gear mountain bike apparel performed on the trail…so let's take each of them individually.
For more on Mace Gear, check out this introduction article or MaceGear.com
Mace Gear Task MTB Short
Features

Cargo pockets have loads of storage room
Front thigh vents keep you cool
Stretch rear gusset for supreme comfort
Low profile waist tabs for easy fit adjustment

Fabric

78% nylon, 22% polyester blended fabric combines function with durability
DWR (Durable Water Repellent) coating keeps you dry
Anti Pill coating for durable looks
Anti UV:(SPF 30 Protection)

Colours
Grey
MSRP: $110
The Mace Gear Task mountain biking short is really aimed towards the freeride and downhill mountain biking crowd. The durable outer shell is almost indestructible as you hit the ground during those unexpected oh s%$t moments, so with a quick brush off…you are up and ready to roll. With no internal chamois or detachable liner included, you will have to provide your own if that is how you want to keep everything in tact internally.
The overall comfort and feel of the Task short from Mace Gear is fantastic. The adjustable, velcro waistband performs flawlessly and the shorts seem to feel just right in all the right places. The side pockets are functional and have large enough openings to use while wearing riding gloves but not so open that things like a multi tool will come flying out if you don't watch for it. The length of the Task shorts came right below the cuff of my 661 Kyle Straits so they did not hang on the pads or ride above them when seated. The inner, mesh (bright blue) allowed for air to enter the shorts through front vents, so the shorts were not nearly as hot as anticipated. Since the Task short is as durable as it is…it does have some weight to them. While I did use them on some AM styled rides, long days in the saddle with more XC styled riding is really out of the question. The added weight would add up over time.
Overall, these Task shorts from Mace Gear have become my go-to shorts for more aggressive FR/DH riding. They are durable enough to withstand hits and the length is absolutely perfect for use with protection (pads). They happen to look pretty good to which is always a nice bonus.
Good Mace Gear Task Short
Durable construction
Breathable, waterproof liner made shorts cooler than anticipated
Stylish
Comfortable on the bike and adjustable
High quality buttons and front zipper
Functional pockets
Bad Mace Gear Task Short
Expensive – $110 to play
No chamois/detachable liner
A little heavy
Mace Gear Foundation Jersey
Features

Reversible jersey with fashion print on one side, stealth heathered fabric on the other
3/4 length sleeves provide stylish comfort
Flatlock seams for strength and comfort

Fabric

Switchback 100% polyester with inner heathered surface for 2 in 1 performance
Subtle silkscreen detail for understated style
Wicking quick-dry treatment keeps you comfortable

Colours – Olive-Grey, Brown
MSRP: $85
Like the Task short, the Mace Gear Foundation jersey is geared towards the heavier side of mountain biking. The 3/4 length sleeves and durable construction keep the goods protected from trail rash as you are inevitable going to hit the ground at some point in time. The 3/4 length design of the Foundation jersey is perfect for use with elbow pads. The length comes right to the end of the pads and does not hang do to the open style seam on the jersey. The fit of the jersey was pretty dead on for my body type as it was not too baggy, but it also did not stick to my body as I tried to ride. The Foundation jersey allowed for full range of motion as you maneuver the bike over obstacles and in tight spots.
I did find that the Foundation jersey did not breathe very well. I tended to get pretty hot and sweat more than I would out of a normal jersey as I continually sessioned certain areas of trail. Due to this, I think this jersey is better suited for cooler conditions and not the hot summer months where keeping cool is a must.
The styling on the Foundation jersey can be a love or hate relationship, but I found it was mild enough for most riders. The olive-grey is really more of a green.
Good Foundation Jersey
3/4 length is perfect for elbow protection
Durable construction
Comfortable fit that allows for full range of motion
Bad Foundation Jersey
Does not breathe as well as I would have liked
Styling might not be for some riders
Price – At 85.00…it could be too much for some budgets
Mace Gear Foundation Gloves
Features

Spandex back with subtle fashion print.
Great for DJ park.
Washable amara palm.
Loads of terry for sweat absorption.

Fabric

Spandex knit back.
Washable Amara synthetic leather palm.

Colours – Brown-Olive, Charcoal
MSRP: $27
To round out the offerings from Mace, we tried out the Foundation Gloves. Not only did the Foundation gloves catch the eye of everyone at the trailhead (in a good way), but they are very comfortable on your hands. I would have liked to see a little bit more padding on the palm for longer rides, but once you put the Foundation gloves on…you hands feel like they are at home. The spandex knit back breathes incredibly well and the velcro attachment stays put. The durability of the Foundation glove is on par with other gloves on the market. After a lot of miles and numerous trips through the washing machine, I am only seeing a little bit of fraying on the right hand, index finger, side mesh. For as many miles and washes as I put on gloves…that is pretty good.
I would not recommend using these for any gravity/freeride/downhill riding as they do not have any hard, protective covering for your knuckles and fingers. On my first ride with the Foundation gloves, I slammed my hand into a tree and was quickly reminded why I use carbon knuckled gloves for that style of riding.
Good Foundation Glove
Look great on the trail
Durable construction can make it through dozens of wash cycles
Breath incredibly well for full finger gloves
A value at $27
Velcro that works
Bad Foundation Glove
No knuckle protection
Would have liked to see a little bit more palm padding
Overall Thoughts on the Mace Gear Mountain Bike Apparel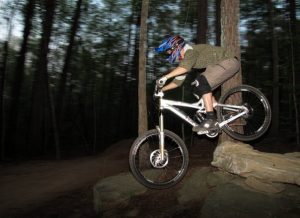 I think Mace Gear has done an incredible job at filling a void in the mountain biking apparel market. We were in need of another company to step up to the plate and offer more durable, downhill oriented mountain biking gear, and Mace gear has done a fantastic job with their offering. The Task shorts are my favorite dh/fr styled mtb shorts to date and the Foundation gloves are great for just about any type of riding. The jury is still out on the Task jersey, but I will revisit that when things cool down a little.
For more information and where to buy information…check out macegear.com or get with your local bike shop.