Last week…I threw up a teaser shot of a new tread design out of one of the major manufacturers. Well…you guys have waited long enough. That tire is the new Aspen from Maxxis. The Aspen will be available in a 2.10 and 2.25 version aimed at aggressive race use. I have been testing these tires for Maxxis for several months now to help with the continuing development and I have to say…I am extremely impressed. I have been testing these tires on the Ibis Mojo in varying terrain. I really wanted to see what the tires could handle in and out of race type situations. If you are really going to test a tire…might as well give it the worst conditions it will see.
What is the Aspen?
The Aspen is the new race tire from Maxxis. It is designed to have very low rolling resistance with a weight that is less than the Ardent. The latest set was made out of 62a compound and weighed in around 630g each for the 2.25's. It will also be available in a 2.1 version.
What were they mounted on?
The Ibis Mojo (29 lbs. 140mm bike) Stans Flow rims in three configruations:
Industry Nine Enduro Build Tubed
Industry Nine Enduro Build Tubeless w/Stans Sealant
Hope Pro II Build Tubed (pictured)
In all tests, the tires were run at 27 psi with a 180 lbs. rider. The forks used on the rides was the new Fox Talas 140 RLC 15QR TA (pictured) and a Push tuned Rock Shox Pike 140mm.
How does it perform?
Rolling Resistance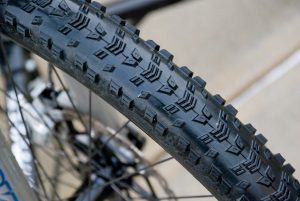 It is fast…incredibly fast. The low center tread with the "Chevron" styled center knobs show literally no rolling resistance on the trail. The tires carry speed effortlessly without any compromise in grip. Through the flats, the tire really opens up and allows you to keep a fast pedal cadence without much energy loss. It is great to see this out of a tire that has as much volume as this 2.25 does.
Climbing
The center knobs do a great job climbing. The climbing ability was one of the first things that really turned me on to these tires. They climb like a mountain goat. You can stand up and hammer or sit and spin without breaking traction. The only time I had any real issues was in really loose soil conditions. The high volume helped, but the lack of any substantial center tread made the tires float in dusty conditions.
Cornering
The side knobs on the Aspen closely resemble the knobs on the Ardent, so I was expecting the cornering ability to be pretty close in comparison. I was right…they hold the line very well and the transition between flat riding to hard cornering is smooth and controlled. The transition knobs do a great job of bringing the tires down to the side knobs. Again…in really loose conditions the tire started to show some weakness, but this is to be expected. I have also not found a tire that performs really well in those situations as of right now.
Braking
Braking performance was good but not great…if that makes any sense. The speed of these tires can really get away from you if you aren't careful. Under normal braking conditions, I didn't even notice that the tires were there (this is a good thing). Under really hard braking, I did get the rear to break loose a couple of times, but it was controlled. Braking in the rough stuff was also above average because of the volume of the tires.
Volume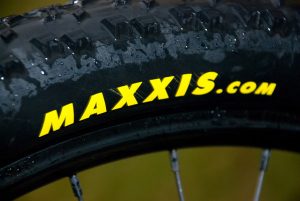 Maxxis is known for having tires that are undersized as compared to their quoted size. These tires are actually the opposite of that rule. The 2.25's measured out…on average…at 2.3. This was the biggest surprise. Maxxis is really trying hard to make sure that the tires are close to the quoted size this year. The high volume really helps in rocky sections. I haven't had one flat yet and they have been run tubeless and tubed on the Stans Flow rims.
Descending
Predictable slide is how I would describe it, and that is only when you put the tires in situations that are over their head. These are not downhill tires by any stretch, but for tight singletrack downhills like you are used to seeing in xc and am conditions…they really perform. The side knobs combined with the low rolling resistance and high volume make a very fast and comfortable tire on the descents. I took the bike into some more aggressive terrain and they held. Hard pack gully and jump runs were fantastic with the low tread and volume but when things got really rough…the tires were a little out of their league. However, they did perform above my expectations.
Wear
My biggest worry with the Aspen's was premature wear. Marketed as a race tire, this would be expected. With the low, multi-cut center tread…it is almost guaranteed. One problem…my first set still don't look used once you clean them off! I was completely surprised. These tires are wearing incredibly well and that is the first time I have ever been on a race marketed tire that lasts this long.
Overview
This has been my favorite cross country tire since my testing started months ago. Their lightweight, high volume and grip are perfect for southeast singletrack. Our trails are tight, fast, rooty, leave covered spiderwebs that twist their way around the Appalachian Mountains. Most of our riding is tree covered so you can imagine the roots and debris that we encounter. These tires are a perfect mix of weight vs. volume and everyone I have had on these tires are impressed. These riders range from 24 hour racers to freeriders and I have never come across such a diverse group agreeing on a tire choice.
Now the bad news…they are not going to be available to the public until 2009. They are in final approval stage, but when they are released…I would pick up a set. You will now be disappointed.
The Good and Bad Summarized
The Good News
Great wear for a race marketed tire
Mountain goat like climbing grip
Higher than quoted volume
Extremely low rolling resistance
Solid cornering ability
Light enough to race but forgiving enough for everyday use
The Bad News
Had trouble holding tubeless
Not available to the public until 2009
Where to buy?
Like I said before, these tires are not available yet. But for a great alternative that was just released recently, check out the Maxxis Ardent. You will find my review on the 29×2.25 version here.