Earlier this year, Cervo Rosso came to us with a set of their Swiss National Pride jersey and Strada bibs for review on Bike198. Since then, this high end jersey and bib combo has been through everything ranging from century road rides to cross country mountain bike events in an attempt to see what they could take. After all the abuse and trips through the washing machine, we are ready to let you guys know what we think…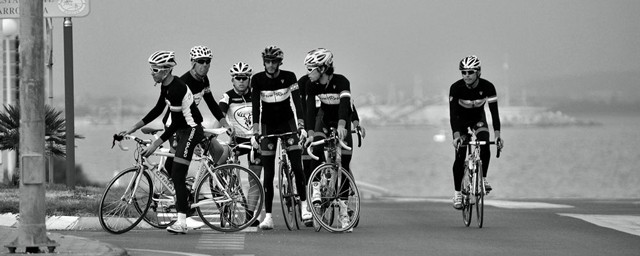 Who is Cervo Rosso?
Cervo Rosso is a cycling apparel company based out of Switzerland with manufacturing done in Italy founded with the goal of making the best possible apparel for cyclists.
Our values respect the needs of discerning riders who want to perform at their very best in absolute comfort all year round. Looking exceptional in a unique and classic design come as an added bonus.
The passion they have for cycling is readily apparent in your dealings with the company and the pride they take in every piece of cycling apparel that Cervo Rosso manufactures. With a wide range of options from short sleeve jerseys to wool winter garments, they have you covered and ready to hammer all year long.

Review: Cervo Rosso National Pride Jersey
The first thing you notice when you get out the National Pride Jersey is the almost silky feeling material. The lyrca SPORT and polyester combo is some of the best feeling fabric we have ever worn.
From CervoRosso.com:
This jersey is designed to optimally support you during high intensity and longer duration rides. Made from the MITI TECH POWER, the Short Sleeve National Pride incudes a Lycra SPORT front panel that gives the jersey an exceptional body fit cut and feel, whilst the rear portion of the jersey utilises a cross construction of polyester that provides exceptional vertical moisture transportation capacity. This simply means that the jersey remains dry and ensures low moisture retention.
What this creates is an extremely well fitting jersey that doesn't feel too tight or too loose. It just seems to fit perfectly and feels great when worn.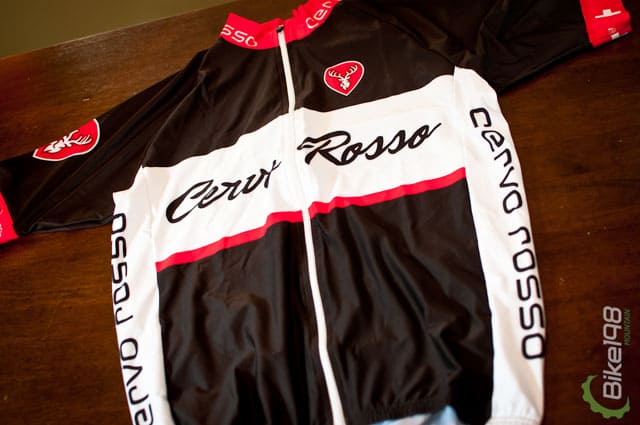 A great feature that we found on this jersey was the sleeves. While the elastic arm grippers are a great bonus (no wrinkly elastic…just rubber like grippers that keep them in place), the best feature of the sleeves was actually the fact that they were slightly longer than all of the other jerseys we have tested in the past. If cycling tan lines are a descent measurement, we would guess that the sleeves descended about an inch father down our arms which resulted in a more comfortable fit that didn't move while riding.
The National Pride jersey comes with your conventional 3 pocket rear setup that held bottles and other much needed ride items securely.
During the summer months in Georgia, the National Pride jersey was surprisingly cool given the black color combo. The material expelled heat quickly while drying out just as fast. This kept our cores cool during 100 degree climbs in the mountains. Under a little bit cooler weather (around 60-70 degrees F), the material still did a great job of shielding wind, so there is a wide range of temperatures that this jersey is capable of protecting your body against.
If we had one gripe about the National Pride jersey it would be that you can see your bibs through the white on your back. While this is purely visual and as zero effect on performance, we thought it was still worth noting.
Review: Cervo Rosso Strada Bibs
The Strada bibs from Cervo Rosso are made out of the same great material as the jersey with the same red, black and white design.
Made in the heart of Italy, the Cervo Rosso Team Race Bib-Short MK 2 features 3 panel body fit Xtra Life Lycra construction, flat lock stitching to prevent chafing and the new HG07 TECHNOLOGY insert, providing exceptional ride comfort and antimicrobial protection. With the inclusion of Cervo Rosso elastic grippers to ensure secure fit around the quadriceps, these shorts will stay in place in extreme riding conditions.
The cut of these shorts brings that same level of perfection as the jersey it matches. Once you put them on, it almost feels like the bibs has been molded for your body. There are no areas that feel stretched or bunched up as you start to warm up spinning. While I was worried about the silky feeling material on slicker saddles, the material change in the rear to the matte finish kept my rear on the saddle without feeling excessive slipping.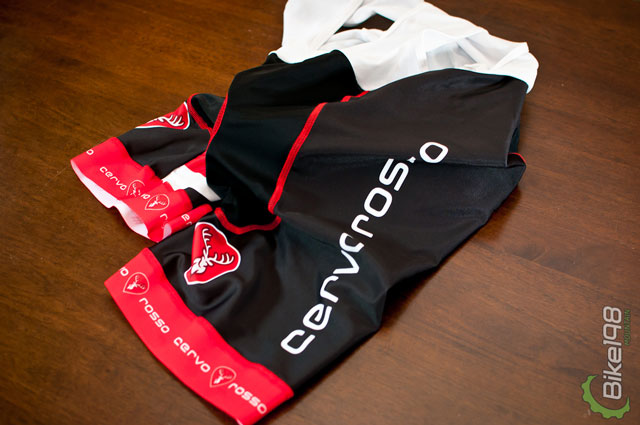 The chamois (their HG07 insert) is a great combination of long distance comfort while not feeling overpowering. With rides ranging from short mileage sprints to long distance all day events, the chamois never felt too big or not padded enough. For this rider, it also just seemed to work and it was the last thing on my mind while riding.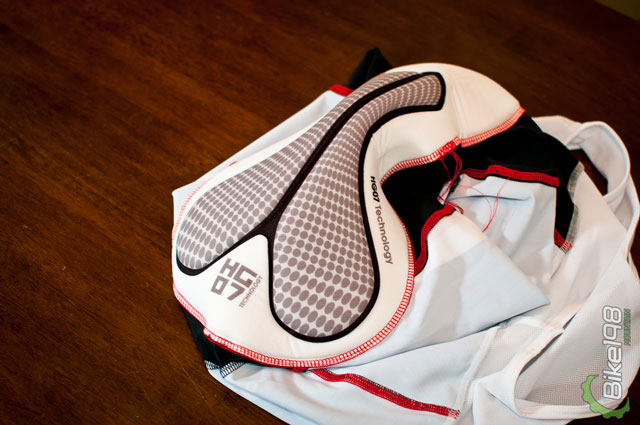 Unlike the jersey that found a little bit longer sleeves, the Strada bibs did have shorter legs than we were used to. I am 6'1″ tall with a 34″ inseam, so my femur is longer than most. I was told that the newer versions of the bibs did get slightly longer leg lengths so that should help tremendously. I was actually running into situations where the bottoms of the legs wanted to ride up despite the great grippers purely because of the way they interacted with my quads. If they were an inch or two longer, they would have been perfect.
Overall: Cervo Rosso Cycling Apparel
You get spoiled quickly wearing the Cervo Rosso cycling apparel. Just the feeling of the fabric alone is worth the price of admission if you are into high end cycling clothing. When you add the cut and styling (I prefer the red, black, white simplicity), this is a killer combo Cervo Rosso as put together for cyclists. After numerous trips in the washing machine and even a couple of mountain bike wrecks, the National Pride jersey and Strada bibs still look as new as the day they came out of the box.
The Good: Cervo Rosso Cycling Apparel
Incredible materials and cuts
Good for a wide range of temperatures and riding distances
Timeless style
Longer sleeves on jerseys increase comfort and aero
The Bad: Cervo Rosso Cycling Apparel
Price – You have to pay to play
Bib leg length was a little too short for taller riders
Discuss this review here –> Bike198 Cervo Rosso Review Thread
COUPON DEAL FOR BIKE198 READERS: Get 10% off the STRADA MK2 Bibs with coupon code "Bike198" –> Strada MK2 Bibs
If you are looking for the best the cycling industry has to offer, Cervo Rosso should be on your list. Cervo Rosso is also looking for test riders in the US and Europe. If you are interested, follow this link for details.