Harlot Clothing Co. sent over some of their latest mountain biking apparel for review on Bike198. The Harlot Murray short and Primo jersey are some of the offerings on the men's side of things, but Harlot is most known for the great women's line for those females looking for MTB and commuter related gear.
More About Harlot Clothing Co.
Finally, bike shorts and activewear for the rest of us. No shiny lycra, no bulky pads. No pink butterflies, no neon anything. Just simple lines & style that let you get on with your sport.

We understand people like you, because we are people like you. We ride, run, hike, and play with the best of them, and we put that knowledge straight into our shorts, tops, and gear.

Our activewear and bicycling apparel is made in the USA in small batches.
Review: Harlot Murray Mountain Bike Short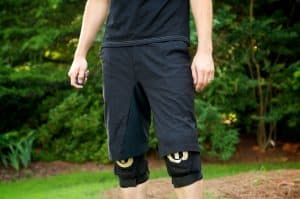 h4m is Harlot's performance line for men
85% nylon/15% polyester stretch shell offers lightweight protection
Dryon™ water repellent finish
Gusseted crotch with 4 way stretch panel
Fit easily over padded shorts and armor with supple stretch throughout
Wicking, lined waistband prevents chafing
Integrated seatbelt style straps allow waist adjustment for perfect fit
Zip fly, industrial snap waist tab, 2 deep trouser pockets in front
h4m embroidery on right hip
Made in USA of North American materials
MSRP: $89.oo
"For those that like the understated, these bike shorts offer all the technical features you need + the clean lines and style you crave."
General Use: Harlot Murray MTB Short
I am pretty picky when it comes to mountain bike apparel. Not only does everything need to be comfortable, but it needs to breathe well in the hot southeast humidity that plagues our best part of the riding season.
The Harlot Marray mountain bike short is a simple, all-black design made out of a lightweight nylon/polyester blend. When I first put them on, I noticed right away that these shorts are not as heavy as they look. The combination of materials sits on the body nicely with most of the weight up around your hips with the adjustable seatbelt style'd straps. Adjustments in the waistline are made via these straps and the wide contact patch for the velcro makes for a durable connection that will not come loose while riding.
The front attachment is done through a burly zipper and a combination of two buttons and velcro. Throughout my riding, this never came undone or loose, even during moments where I was unexpectedly sliding across the ground. The velcro makes it extremely easy to get the buttons pushed while wearing gloves as you are not fighting to keep the shorts up after a short "relieve yourself on the side of the trail" break. Everything comes undone and closed back up again very easily.
On the Trail: Harlot Murray MTB Short
The Harlot Murray MTB short is incredibly comfortable on the trail. The lightweight design almost goes unnoticed as you rip through singletrack. As I went blowing through creek crossings and pouring sweat onto the shorts while riding, precipitation actually beads up on the shorts preventing soak through. This was a welcomed feature on some of our wetter rides as I didn't feel like the lower half of my body was completely soaked.
The length of these shorts is perfect for my needs. As you can see by the pictures, the Murray short sits over the Kyle Strait 661 knee pads perfectly and the lightweight design keeps them comfortable on the knees even when you are not padded up. The inner stretchy material keeps things tight around the pads without being too tight on your body. It really is the perfect combo for those of you that wear pads on a regular basis.
The lightweight material did slide on slicker liners, so it is probably best to use liners that are dedicated mtb internals rather than lycra that is made to wear on its own. Having some texture to the outside of the liner helps prevent any slipping as you sit back into the saddle.
Overall: Harlot Murray MTB Short
These are a great set of shorts for mountain biking. The plain black style really speaks well to my preferences and the lightweight design keeps these longer shorts still cool during the summer months. If you do not get a lot of tree cover in your area, the black may prove to warm up on longer rides, but in the southeast they were about perfect. The increased length and stretchy interior really helps out with pad coverage to prevent the shorts from bunching up on the upper section of the pad.
Positives: Harlot Murray MTB Short
Durable Velcro Adjustment
Simple, Lightweight Design
Perfect Shorts For Knee Pads
Negatives: Harlot Murray MTB Short
No Liner Included
Limited Pockets
Can Slide On Roadie Lycra
If you are looking for a no nonsense set of shorts that can be used in multiple applications, check out the Murray's from Harlot. They have become a go-to set in my gear bag.
Pick up your own pair by clicking here.
Review: Harlot Primo Mountain Bike Jersey
h4m is Harlot's performance line for men
100% wicking, technical mid-weight polyester
Abrasion, snag, and pill resistant
Flatlock seams, contrast stitching, tagless neck
Roomy fit with lots of stretch, slides easily over armor
Made in USA
Available In: Gray and Black
MSRP: $45.00
"Silky and soft jersey on the inside but strong and tough on the outside – primo indeed."
On The Trail: Harlot Primo Jersey
The Harlo Primo jersey is a simple black jersey with contrast stitching and a 3 diamond design. Made out of a wicking, technical polyester, the Primo jersey proved to be durable throughout the entire testing period (still looks as new as the day it came out of the box). Overall, the Primo jersey was very comfortable on long rides bringing the sweat off my body quickly and evaporating easily. As you can see by the picture, the neck opening is a little bit wider than I typically like, but I run into this issue with a lot of mountain bike jerseys across several brands.
Like the Murray shorts, the Harlot Primo jersey really goes along with my simple style, so…from a looks standpoint…I really like where Harlot headed with the design. Other than that…it is just a solid jersey for those riders looking for something simple to throw on and shred. If you need something that is a little bit lighter for summer riding, you can get the gray color that is also available.
Positives: Harlot Primo MTB Jersey
Very Durable Material
Simple, Understated Design
Repels and Evaporates Sweat Quickly
Negatives: Harlot Primo MTB Jersey
If you are looking for a simple, durable jersey to hit the trail with, the Harlot Primo jersey might be exactly what you are looking for.
You can pick up your own Harlot Primo by clicking here. (on sale for $20.00 right now)
Final Thoughts: Harlot Mountain Bike Apparel
The Harlot mountain bike apparel has become part of my regular wear because of the simple design and style. Especially with the shorts, the Harlot gear does exactly what I need it to do on the trail without any real flare or trendy designs. It just works and works really well. I would like to see a jersey for men out of their lineup that includes a zipper and pockets sometime in the future that compliments their style and the option of a specifically designed liner with their shorts that clipped in…but…other than that…this is a really solid offering for mountain bikers looking for apparel that is both light and durable.