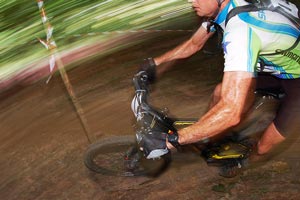 Nothing beats a break-in ride. You have either picked up your new mountain bike from a local bike shop or you built it up yourself in your garage and it is time to get it out on the trail. Those shinny new components and frames can only stay tied up for so long before we start to go insane! Now…there is nothing that kills a break-in ride worse than something going wrong out on a trail without the proper tools or gear. Do you really want to spoil that first ride with a part that isn't adjusted correctly or a mechanical that ends the ride early? I didn't think so. Here is a list that should keep the break-in ride more about the ride and less about the bike.
The Break-In Ride: What MTB Gear To Bring With You
After you rip off the reflectors, pack up this gear and hit the trail.
Tire Lever, Pump and Spare Tube – While you should be bringing this with you on every ride, the chances of something going wrong is the highest after an install. New tires can be pinched in with tubes without you even seeing it, so having the extra gear on board insures that a flat doesn't end the day.
Shock Pump – While you might have known your exact pressures on your last mountain bike, it is more than likely that your new suspension is going to behave differently under different pressures. After a little bit of trail time, you will know what adjustments you need to make with air pressure in the fork and rear shock.
Multi-Tool – A multi-tool is another necessary item for all rides, but your break-in ride is a crucial time to carry as many tools efficiently as you can. Derailleurs might need small adjustments, bolts might need tightening…anything can go wrong on the trail that were not happening in the stand. When you put a mountain bike under load on the trail, the forces put a different stress on components and the frame. Being able to make trail side adjustments will keep the ride rolling without a creak.
While you are on the trail, you need to be watching out for loose bolts, shifting issues due to new cables (you typically won't see too much cable stretch on the first ride, but the cables can "set" causing your derailleurs to go out of adjustment), suspension settings not correct and any creaks or noises that are not part of normal riding.
Carrying a little extra weight with you on the initial break-in ride can mean the difference between walking and riding. Otherwise…get out and cover up that shine with fresh dirt…