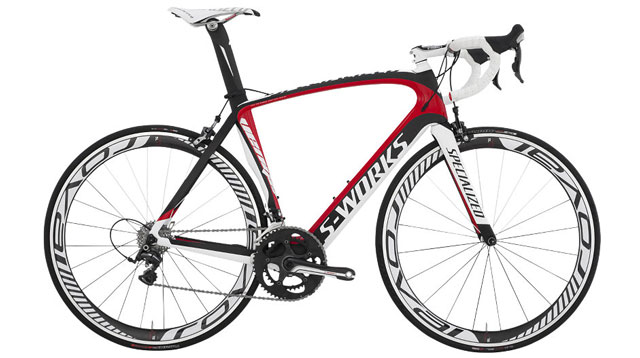 Yesterday, Specialized Bicycles officially released the Specialized Venge S-Works. This new road racing bike out of the big S camp is the first of a new series of aero road racing frames. As you can see by the frame layout, it takes on the wider seat post and flatter tubes that we see on other road bikes like the Ridley Noah or Cervélo S series. Available only is S-Works trim right now, we can expect to see pro tour riders hammering away on this new frame for much of 2011.
Specialized Venge S-Works Features
From specialized.com:
Flyers off the front. Monster pulls. All-out sprints to the line. Venge riders absolutely live for this stuff—that's why they demand complete performance: the winning formula of weight, stiffness, and aerodynamics. The Venge's competition-crushing combo of Tarmac-inspired stiffness and light weight with SHIV- inspired aerodynamics keeps them ahead of the competition.
Face IS 11R Carbon Frame – Each tube and junction has been optimized for maximum stiffness and minimum weight, while maintaining aerodynamic advantage. For instance, head tube assembly is extra wide at crown for increased stiffness but remains narrow at the waist and tapers quickly to airfoil shape for weight savings and aero advantage. And we employed stiffening plies of our highest modulus carbon in strategic areas throughout the front triangle to further increase torsional stiffness.
Cambered Airfoil X-Seciton Seatstays – Airplane-wing shaped stays are asymmetrically designed with a flat outer surface and a smooth, rounded inner surface to calm crosswind airflow before passing by the wheels. Since cyclists most often face crosswinds (approximately 15% yaw on average), we've cambered out slightly the leading edge of the stays. This allows the wind to hit directly on the leading edge of the upwind stay, minimizing air disturbance and wrapping airflow around the stay and smoothly out the back.
Tapered Head/Steerer Tube – The wider base creates a naturally stiffer junction, and the gradual transition of carbon fiber from top to bottom eliminates the potential for weak spots due to sharp angles (carbon is at its best when it keeps a smooth line). The top cap curves gracefully into the bevel in the top tube for seamless interface, and turns with the steerer tube for best aerodynamics even while steering.
Internal Cable Routing – Cables are routed from the handlebars through the frame and exit at the top tube, BB, and chainstay.
Reversible/Adjustable Carbon Seatpost – Seatpost is designed with 10mm setback, which, when combined with angle of the seat tube, becomes either a 20mm total setback or 0mm, depending on which direction it is installed. And the seat tube has room for the post to slide up or down before it curves in to make room for the wheel.
Fact Carbon 3:1 Airfoil Fork – Our 3:1 X-Section fork blades present a narrow edge to the wind, and run in a straight line from crown to dropouts optimizing lateral stiffness. An ultra-light carbon layup is employed on the blades and dropouts, which are co-molded with steel inserts for durability when taking wheels on and off.
Available as frame only ($3,800), Dura-Ace ($9,200) and SRAM ($8,800), the pricing falls in line with what we would expect out of the S-Works line. Eventually, we are guessing that Specialized Bicycles will introduce more to the lineup that mirrors a Tarmac and Roubaix lineup with more offerings at different budget levels. Until then, this ride is reserved for unlimited budgets and racers.