Whenever I am doing a build, there is only one brand I go to for my seatpost and stem needs…L.H. Thomson Co.. Located in Macon, GA USA, the L.H. Thomson Company makes, by far, the best posts and stems on the market.
Thomson MTB Product Features
Machined out of 7000 series aluminum
One piece design with no welds or joints
The bolts are custom-made from high strength steel. A corrosion-preventative plating is added to prevent rust. All six bolts are interchangeable. A 4mm hex wrench will fit all bolts on our stems and seatposts.
Every component of the Thomson stem, including the fasteners, is 100 percent American made.
Why Are Thomson Stems and Posts The Best?
One look at these parts and you will notice the manufacturing superiority over the competition. Every tolerance is held perfectly. Thomson's bread and butter business is in specialty manufacturing and engineering for companies like Boeing and Ford, so it is pretty safe to assume that bike parts are on their "simple to do" list.
The Thomson Stems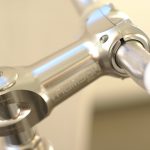 I can actually feel a difference in the overall stiffness of the front end when switching between brands. The widely spaced 4 bolt front clamp design tightens evenly around the bar and does not slip over time. Each bolt has a torque setting printed on the stem. If possible, stick to these settings as close as possible. The Thomson stems have a lot of clamping force and over tightening can damage bars or steerer tubes.
You can purchase these stems in 3 flavors with plenty of length/rise combination's with each.
Thomson Elite – Your typical 25.4 mountain stem size. This stem uses Thomson's own two bolt wrap around clamp design. The makes the stem have no exposed bolts that normally damage knee caps.
Thomson Elite X2 – The 31.8 road stem with 10 and 17 degree rise options.
Thomson Elite X4 – The 31.8 mountain stem that is stronger and 30 grams lighter than the Elite.
For all of my bikes, I run the X4 for the oversized 31.8 mountain bars.
The Thomson Seatposts
Thomson posts are solid. When properly greased, you will see absolutely no creaking between the post and seat tube. The two bolt clamp is easy to adjust and they provide hash marks to correctly set the saddle angle. Changing out saddles can be a pain, but with the Thomson posts…it seems to be easier than usual. The rough lined surface is durable against scratching and provides a little resistance while setting the saddle height.
You have two options when choosing a Thomson post (besides seatpost size).
Elite – The standard seatpost.
Masterpiece – A 40 gram lighter version of the Elite.
I have no justification for the extra cash it takes to save 40 grams, so I always go with the Elite version. If you are a true gram counter…you will probably disagree.
Conclusions on Thomson Mountain Bike Products
I know what you are thinking…this is starting to sound like a Thomson commercial instead of a product review article, but honestly…I can't find much at all wrong with their product. The posts and stems come in silver and black with no nonsense performance. The multiple stems and posts that I have had over the years have worked flawlessly. I can honestly say that I think the Thomson products are the only parts that I have had zero issues with their performance or reliability. One can argue that this is due to the lack of moving parts, but I have had creaking and loosening issues out of other manufacturers.
What Is Next For Thomson?
At this years Eurobike, Thomson revealed the much anticipated seat post clamp and 1.5 steerer tube stem line. I would like to eventually see a wide handlebar to match the stems and posts…hopefully that will come to fruition in the near future.
Where To Buy Thomson Posts and Stems?
Thomson X4 | Thomson Elite Stem |  Thomson Elite Seatpost |  Thomson Masterpiece Seatpost