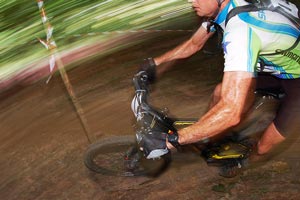 I am assuming you are all biking junkies.  Hey, you found your way here, right?  If you are a biking junky, then you have probably managed to collect an immense amount of crap over the years. 
If you are lucky and over 25, you probably even have a couple of bikes in your garage.  Maybe you got started on something you could afford a few years ago, and then got hooked.  You then actually got a job that paid a few bucks and upgraded to a new ride to satiate the need to maneuver through the network of trails at your disposal in the most efficient way possible. But you never got rid of that first steed, did you?  It is hard to part with your first lover, even thought you are in to someone hotter.  And fortunately in the world of mountain biking, you don't have to.  You can keep the old girl around even though you found something faster or plusher.  Or maybe, like Robb, you found that you just can't commit.  You need multiple mistresses to satisfy your compulsive pedaling.  You took up road biking.  You started cross racing.
Maybe this is just an indication of my perpetual state of adolescence, but at age 41, I found myself bumping up against Boulder's unwritten law:  That to stay married, you are limited to a 5:1 bike to spouse ratio.  For some reason, I find it very difficult to part with old bikes.  My father once asked "Why own more than one bike if I could only ride one bike at a time?"  Then I asked him, "How many golf clubs do you carry in your bag?"   You see, different bikes have different uses.
But there is a problem  at the core of a bicycle's more elementary parts.  The pedals. Once upon a time, this was a non issue.  But with the evolution of something as simple as a bicycle has come the development of a complex problem.  We no longer throw on our Keds and go for a ride.  We had to complicate it.  First it was toe clips.  Then someone came up with PowerGrips (kind of the 8-track tape of pedal devices).  Then we went clipless.  It started on road bikes.  Then it migrated to mountain bikes.  Before long, people had road bike pedals and road bike pedals.  Each had their own kind of shoe.
The BMX riders, downhillers, and trials guys were pretty smart.  They skipped the whole dilemma and rode the same set of Shimano DX pedals for 30 years with skateboard shoes.  Brilliant.
But no one ever accused me of being too smart.  I like road biking.  I love mountain biking.  And then things got kind of weird and I got into cross a little.  No, not that — cyclocross!  So anyway, I was a little irritated these bikes all came with a different pedal or no pedals at all.  Now every time my life has felt overly burdensome, I have always found success in one word.
SIMPLIFY

Ride one kind of pedal across whatever genre of bike I had most recently fallen in love with.  This meant sacrificing a few well marketed benefits of specialization as there is no one pedal system that is going to be perfect in every situation.  I needed a cross trainer.  You know – that shoe they invented in the '80s that does everything pretty well, but is probably not the best at doing any one thing.  Add in that different pedals are not just genre specific, but condition specific.
It takes about 1.3 seconds to eliminate any road biking pedal.  Honestly, why are these even sold to the general public?  Don't tell me they are stiff.  Unless you are riding in the Tour De Wherever, no one should own a set of road pedals with accompanying impractical shoes.  The soles have little to no grip.  They are made of carbon fiber ice.  They remind me of those shoes people buy to learn how to jump higher — great for George Costanza, but not for mere mortals.  Improperly mounted, these systems will turn your knees 80 years old in a matter of weeks.  You can only engage the cleat on one side of the pedal, which is always facing 180 degrees form where your cleat is.  This is the kind of crap that makes people hate roadies.
That gets you to some kind of mountain biking pedal system.  And this is where being my being a geezer helps you.  You see, there are a lot of systems out there.  You have your classic Shimano.  You have your old school Ritchey.  Hell, I even rode on some pedals called Onzas (Note from 198: these were my first set of clipless back in the day! You actually change bumpers to change tension.).  They used an elastomer sprung retention system.  Just a word to the wise here, never buy anything that has elastomer in it for riding.  It is all crap that will break down in a single season.  And it has been proven by countless products in a bin of crap in my garage.  If anyone is looking for a Manitou III or Girvin shock, please call me.  The point is, I have bought and trashed them all.
Here is what I learned:
Never get a pedal that requires grease or another form of lube in the retention mechanism.  These pedals are a mess.  They are terrible in wet conditions.  They are worse in dry conditions.  This pretty much eliminates Shimano and Ritchey systems.  They were cool in their day.  They are not now.
Never buy a pedal that has a dainty spring mechanism or where the tension mechanism is in the shoe instead of the pedal.   This may be fine on the road, but these systems break down quickly in cross and die on the trails.  This is because you will encounter some walking or running in these endeavors and the rocks and grit eat away at the mechanism under the weight of your body.  This eliminates Speedplays.
After you sort through what you don't want, you get down to what you do want.  To operate across multiple riding conditions and styles, you need:
A simple mechanism with very few moving parts
Plenty of lateral play
Something that is sturdy
Two-sided entry
Sheds mud
Reasonable weigh
Preferably a system that has multiple options such as a platform option as well as something sleek but will use the same cleat regardless of which version you are using on different bikes
Has reasonable price points available
This really gets you down to two pedal systems.  Both are great options and may be a bit gender specific.  They are Time ATAC Pedals and Crank Brothers Pedals.
Personally, I am a Time ATAC guy.
The Time ATAC Pedals:
Have a very simple retention mechanism.
Come in a variety of different versions, all which use the same cleat.
Are generally a little pricier, but they last forever.
Come in a variety of options.  At the lower price point, you get an aluminum body with a cromoly spindle.  At the top end of their line, you get a lighter weight but more expensive carbon fiber version with a ti spindle.
Have great clearance.
Shed mud better than any pedal out there and are indifferent to heavy dust.
No lube required.
Positive engagement and disengagement and are very smooth at both.
Time is great about keeping the cleat the same from year to year so you do not have to worry about them muddling your system.
I have used these for years and have never had one break down.  I use them on my mountain bike, my cross bike, and my road bike.  They have great clearance for road biking and allow me to use a stiff-soled mountain bike shoe that works well whether I want to use them on the trail or while cornering on sweltering pavement.
There is one caveat – these pedals tend to work better for riders weighing 160 lbs. or more.  While the engagement is crisp, lighter riders sometimes have trouble creating the torque to exit quickly.
The second recommended pedal system is from Crank Brothers.  Crank Brothers pedals share most of the qualities listed above for the Time ATAC, but they do have some advantages to the Time ATAC:
Anyone can get in and out of these pedals, male or female.  They disengage a little easier than the Times.
Price.  I do not know what it is with these pedals, but you can always get them for less than retail.  I have seen them sold online at prices as low as $30 per pair for their base level Candy model (Acid Model Pictured).
They have a broader array of styles.  They make a low end Candy with a 2-sided entry or a full ti race model in their Eggbeater model with 4-sided entry.  They even have a Mallet model that you can use for DH.  In addition, they have a road version if you want something with a sleek platform with very good clearance.
The downside to the Crank Brothers pedals is durability.  This is just my experience, but their road pedals tend to lose aesthetic pieces over time.  They still function, but they tend to lose the metal side plates by the end of the season.
Hopefully these suggested models get you to a place where you can simplify your riding life without running up too much of a bill.  At a minimum, it gets you down to one pair of shoes.  I have found a good Sidi mountain bike shoe will work across the board as well, but that is another tech review.
Find the best prices on each brand by clicking here: Time ATAC Pedals | Crank Brothers Pedals
More on the reviewer – Eric Pringle:
In his day job, Eric runs Integrated People Solutions, a full service executive search and HR Consulting firm.  But after work and on the weekends, he likes to pack in as many miles as he can on the trails of Colorado and Utah.  His passion for bikes goes way back to getting hooked on BMX racing as a kid in Michigan.  Later, he got into road biking and doing a few road crits.  In 1987, he bought his first mountain bike and has been hooked ever since.  He has spent extensive time mountain biking in Colorado, Utah, California and even a little up in British Columbia.  Older and slower, he has turned his focus towards pleasure riding and a few marathon events.  He just finished is 11th Leadville 100 in as many attempts.  He also enjoys a lot of road biking and a little bit of cyclocross.  Always a tinkerer in his garage, he has tried a lot of bikes and countless parts looking for that perfect combination of strength, quality, weight, and value.  All of this in the hopes of finding that perfect ride where it all comes together hassle free and fast with a few bucks leftover for a beer and a burrito.  One step forward, one step back.

Riding Image by Alice Teoh
What do you think?
comments