carbon 29er
New Release: Niner Bikes Rip 9 RDO – Carbon 29er AM Mountain Bike
We knew this one was coming eventually…but to finally see the release does not take away from how sexy it looks. Niner Bikes just released the new RIP 9 RDO…their carbon version of the very popular RIP 9 29er mountain bike.
For those of you that don't already know (in case you are living under a rock), Niner Bikes has been known throughout the industry for producing some of the best big wheeled bikes around. Their trademark geometry and CVA suspension brought quicker turning on a stable bike to the 29er market. By specializing in big wheels, Niner Bikes has been able to fine tune it and perfect their version of the 29er mountain bike.
Last year, Niner released the RDO version of their popular Jet 9 race inspired 29er.  This year, they follow up with an amazing RIP 9 RDO…so let's take a look at the specifics.
Niner Bikes RIP 9 RDO 29er
The RIP 9 RDO features the same patented CVA dual link suspension design, but ups the travel from 4.5″ to 4.9″ (125mm). This theme of running slightly more rear wheel travel in the RDO than the aluminum equivalent showed up in the Jet 9 RDO release as well. Other noteable features are the 142mm rear spacing with a 12mm Maxle rear axle and a RIP 9 first with the inclusion of ISCG 05 tabs for chain retention systems.
If the handling of the RIP 9 is a testament on how this new bike will ride with the improvements and lighter frame…be ready for an AM monster. It will be available in March 2013 and we will have to get our hands on one to try it out.
New Release: Santa Cruz Tallboy LTc – Tallboy Goes AM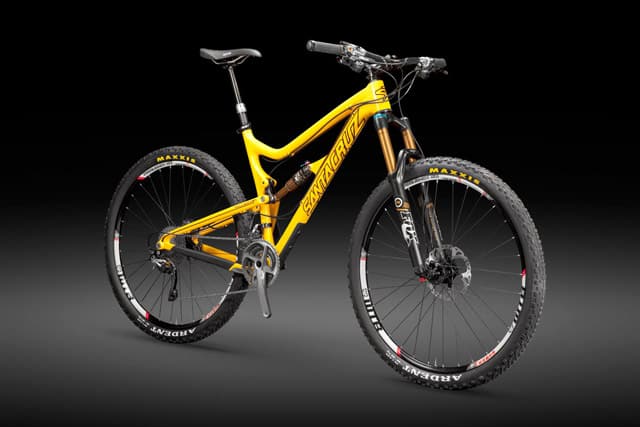 For those of you that wanted an AM 29er out of Santa Cruz Bicycles…now you have it.
The Santa Cruz Tallboy LT was released on April Fool's Day and it brings 135mm of rear wheel travel, ISCG tabs and a 142mm rear end at 5.3 pounds to a very popular Tallboy lineup.
The first LT's are going to be available for shipping around the week of April 13th which means they are basically ready to go at this point. I know a lot of people have been waiting for Santa Cruz to answer the 29er bikes with a little bit more travel than your typical XC setup.
Santa Cruz was a little late to the 29er party with the original Tallboy, but it gained traction quickly in the market to become one of the top sellers in the industry. It will be interesting to see how this bike stacks up with the likes of the Niner RIP 9, Specialized Stumpjumper EVO 29er and the other bikes in the 135 – 140mm rear wheel travel range.
My guess is that they will sell out of these on the first run just because of the Santa Cruz name and the reputation they have built up over the years of producing solid performing bikes back with great customer service. Additionally, there is an aluminum version (the plain LT) available for those looking for a frame on more of a budget or aren't up for the full carbon layout.
News: Ibis Cycles Ripley 29 – 120mm DW-Link Carbon 29er MTB Frame
We all knew it was coming…
Ibis Cycles enters the 29er mountain bike market with a DW-Link, 120mm travel, carbon mountain bike frame named the Ripley 29. Weighing in at TBA (not much information given on detailed specs) and to be delivered by sometime in 2012…the Ibis Ripley 29 mountain bike should prove to be great competition for the influx of carbon full suspension 29ers hitting the market.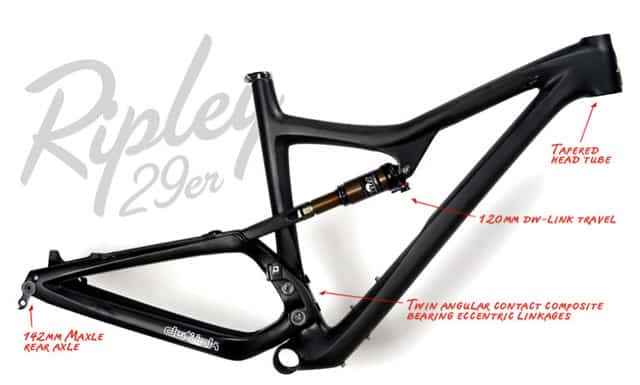 As you can see by this diagram, the Ibis Ripley 29 is getting a host of new technologies that are taking over the industry. From a 142mm rear Maxle from RockShox to the tapered head tube…any 29er geek should be loving the spec sheet on this frame. Pricing and weight should be right in line with everything else we are seeing released to date and finally the 29er crowd gets a real taste of the DW-Link suspension setup in carbon once this bike is ready for official sale. Hopefully, it stays in this all black appearance as shown on the Ibis site to keep that stealth look that seems to be making a comeback.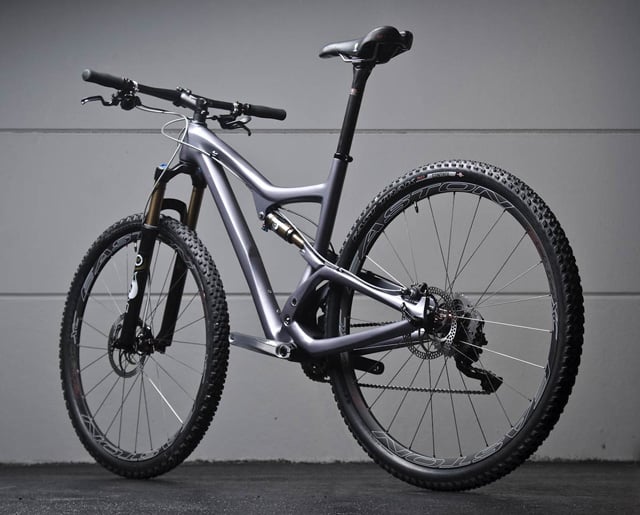 Specs on the Ibis Ripley 29
29″ wheels
120mm rear wheel dw-link travel
Twin angular contact composite bearing eccentric linkages
Full carbon fiber monocoque with sacrifical core molding
Tapered head tube (Cane Creek AngleSet & Chris King InSet compatible)
Kashima coated Fox Float RP23 with Adaptive Logic Boost Valve technology
Clean cable routing with molded carbon cable stops and provisions for cable-actuated adjustable seat posts
BB92/Press GXP style integrated BB is lighter and stiffer and better for molding
142mm Maxle rear axle provides high axle stiffness with QR ease of wheel removal and installation
160mm carbon fiber post mount rear brake mounts
High direct front derailleur, mounted to swingarm
Geometry designed to work with 120-140mm forks
34mm fork stanchion approved
4 Sizes (S, M, L, XL)
Weight TBD
Price TBD but in line with our other frames
Delivery TBD, but not in 2011
Niner Jet 9 RDO Carbon: Sexiest 29er To Date?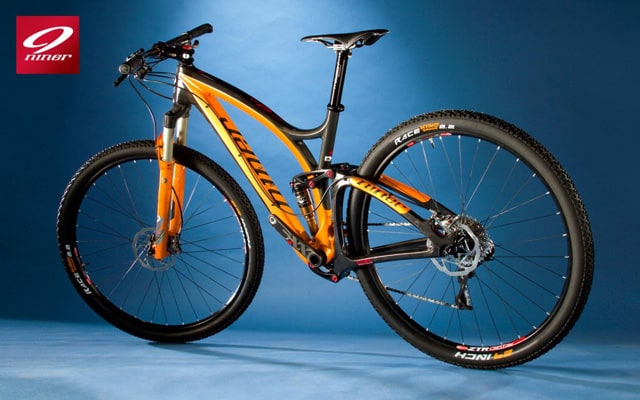 Hot on the heals of the new licorice black color scheme of the carbon Air 9, Niner Bikes releases the much anticipated Jet 9 RDO carbon full suspension 29er. When Niner released the Air 9 carbon, we knew the Jet 9 would eventually get the carbon treatment. It only seemed logical to bring the same technology to the 100mm full suspension platform. With bikes like the Santa Cruz Tallboy selling faster than demand, the market for lightweight, carbon 29er race bikes is one of the fastest growing in the industry.
From the looks of it, Niner Bikes really took their time with the Jet 9 carbon and released a bike that should keep the trademark Niner ride while providing a lighter platform for racers and XC enthusiasts. It is also arguably the best looking 29er full suspension bike released to date…especially in the black licorice color scheme.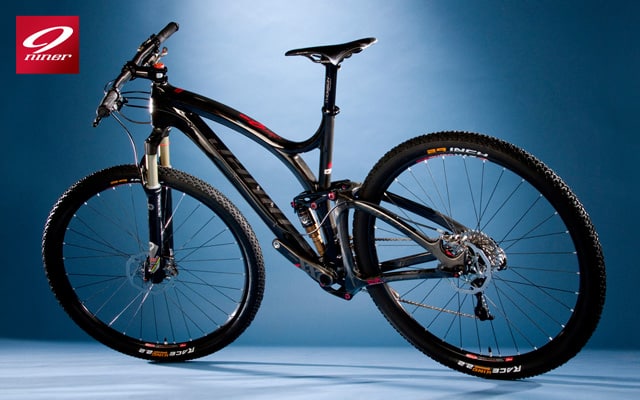 Some specs on the new Niner Bikes Jet 9 RDO carbon 29er:
Carbon full suspension from the only 29er only mountain bike company
Patented CVA suspension is efficient in every chainring. You won't find this design on other bikes.
100mm of race-ready rear suspension
Compatible with 100 – 120mm tapered forks
Custom valved Fox Float RP23 with Kashima coating
Custom forged suspension linkage and unique Niner suspension hardware
Next generation internal cable routing
Precise alloy hardware interfaces for brakes and derailleurs (direct mount front der)
The Niner Jet 9 RDO uses the same, newly patented CVA suspension (U.S. Patent No. 7,934,739) that can be found on the rest of the full suspension lineup from Niner Bikes. The frame also comes with Niner's C5 warranty giving the carbon a full 5 years of warranty from the factory.
With custom forged linkage and proven design, the carbon frame of the Niner Jet 9 RDO also promises to be a very stiff setup for serious speed on the trail. At a retail of $2,599, the Jet 9 RDO is not going to be in everyone's budget, but it will certainly be grabbing the eyes of everyone at the trailhead when one pulls through. It will be interesting to see how this bike rides in comparison to the regular aluminum Jet 9 that is still one of the fastest 29ers Bike198 has tested to date.
For more info, check out NinerBikes.com.
First Look: Santa Cruz Tallboy – Carbon 29er Mountain Bike
Santa Cruz Bicycles finally came to the market with a 29er mountain bike. From the looks of the Tallboy, it appears that Santa Cruz didn't want to jump into 29ers with a "me too" product just to have something to offer. Instead, they jumped in head first to produce a full carbon, full suspension, 29er frame featuring their VPP (Virtual Pivot Point) suspension design. With the ability to run a 100mm or 120mm front fork, this 100mm (4 inches) travel mountain bike frame promises to be a versatile sled for riders looking to race or just rip up the trail.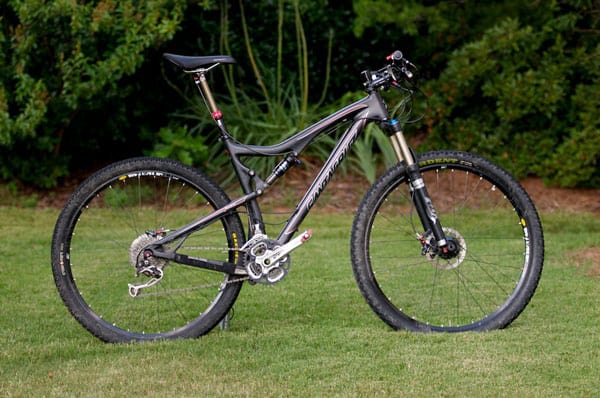 Santa Cruz Tallboy Carbon 29er Mountain Bike
The Santa Cruz Tallboy features an all carbon frame that is available in black and orange. There is a lot that goes into this carbon layout to make sure it is trail ready and stands up to the Santa Cruz reputation for durability.
From SantaCruzMTB.com:
We have some fancy carbon manufacturing going on, but we declined to give it any acronyms – it seems like that field is pretty well covered by others. In many cases, those acronyms are not indicative of anything special, but are simply a way to stuff some marketing down your throats. Anyway, here are three things that we do with our carbon fiber bikes that are unique, and that we can share with you without having to have your memory erased afterward:
One piece lay-up and curing. – By laying up and curing the front triangle all at the same time, and not assembling together pieces, we're able to decrease the amount of material used by eliminating overlapping joints that have to be bonded or wrapped with carbon. Less material means fewer grams. This method is extremely expensive to do, since each size has to have a lot of dedicated tooling, nothing is shared between each size.
Continuing fibers around tube junctions. – The one-piece lay-up of the front triangle allows continuous fibers to be used that wrap between tubes, allowing the structure to distribute loads better, and absorb impact energy. We also are able to truly integrate the shock mounts, pivot mounts, dropouts and disc brake tabs into the structure, using all uni-directional carbon plies. The shock mount isn't merely riveted or bonded on after curing, but an integrated part of the fiber lay-up. This makes our carbon frames incredibly strong and able to absorb impact better than any other frames we've tested.
Net shape lay-up and fiber compaction. – Our lay-up process allow us to control the outside shape, inside shape, and to compact the fiber layers during the lay-up. This eliminates gaps between layers, and keeps resin from migrating to the inside of the tubes, or allowing delamination during the molding process. You can't see this without getting inside the frame, but we're more proud of how the inside of these frames look than the outside. No gaps, no filler or mystery material. No resin pools, or glued together sections. It's a frame you wouldn't be embarrassed to bring home to mom. No skeletons in the closet, and no rider weight limits either.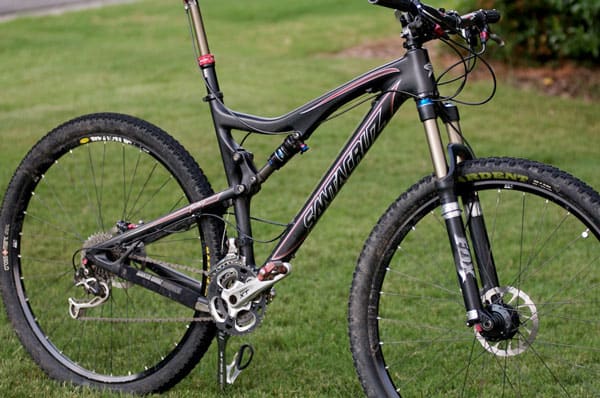 Component Highlights On This Tallboy Build
Shifting and Drivetrain: Shimano XT
Wheels: Mavic TN 719 disc rims laced to DT 350 15mm front hub and DT 350 rear hub w/ DT 14/15
Brakes: Avid Elixir CR w/ 160mm rotors
Fork: Fox F29 RLC 120mm w/15mm TA
Shock: Fox RP23
Only one thing left to do…get this thing out on the trail and see how it performs. Stay tuned for the final review…
Santa Cruz Tallboy Description:
Combining the acclaimed performance and durability of the latest VPP suspension with a sophisticated carbon fiber chassis and a set of big 29" wheels, we present the Tallboy. The curvaceous carbon fiber frame is more than just a pretty face: it offers amazing stiffness and strength while keeping weight feathery light. That, plus 100mm of rear wheel travel paired with fast rolling large diameter wheels spells out one thing: Long Haul Trucker.
For geometry numbers and more information, hit up SantaCruzMTB.com and a special thanks to Reality Bikes for helping out with the review.