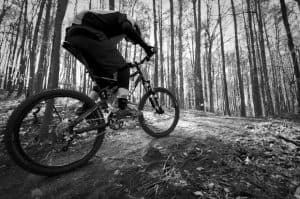 One of the worst, unexpected moments hit over the weekend. Everything was planned, the bike was set, the riders were ready and we headed up 2 hours away from home to hit up a trail that we do not get to ride very often. Everything seemed perfect. The weather was warm with a cool breeze and the trail was in perfect condition. About 10 minutes into the ride, a part on my bike failed. This was not one of those "ok…pull of to the side and fix this thing", it was a "oh [email protected], I am going to have to head back to the car" mechanical that just ruined the ride and a long drive to get there.
It happens. We have all been there and it wasn't my first time and it will not be my last. Luckily, like with most mountain bike rides, what would have been a terrible day on the trail is overshadowed by great moments.
Sessioning To Become A Better Rider
Luckily, I was able to limp the bike back to the technical riding area of the trail (Chunky at Raccoon Mountain for those that are wondering), to get in some sessioning before heading back to the cars. The failure was seatpost related…so as long as I could keep it down…I could at least get in some FR styled riding so the day wasn't a complete bust.
Now…within my core group of obsessed riders, there is a trend started to getting into more technical styled riding. I am completely stoked because while I am not the Thomas Vanderham of the group by any stretch, that style of riding is my favorite way to rubber to dirt.
When we hit up Raccoon's Chunky, Joe, who I hope doesn't mind that I published this video, hit up some rock tech to start to stretch the kind of riding that he considers normal. After 3 tries, he hit gold on the 4th and cleared the section on the hardest line. You can't see it in the video, but there is a small rock bridge and there isn't 6 inches of smooth rock, so it is actually a lot more technically difficult that it appears in the video.
Why This Video Is Important – Sharing The Stoke
It was really cool to be apart of it and I was even more stoked to capture the progression on film.
For this dirt obsessed mountain biker, this is what riding is really all about. We can read all of the industry mags, buy all the latest and greatest in equipment and talk about it all for hours over cheap Mexican, but at the end of the day…it is all about challenging ourselves to be better.
With every ride, we take on the trail with the want and need to hit that section better than the last. There are not many sports I have been involved with over my life that capture this like mountain biking does. The innate need for self improvement is built into the nature of the sport and we get to watch riders on a daily basis conquer fears, accomplish goals and surprise themselves with what they can accomplish if they put their mind to it.
This video speaks to the core of the mountain biking community. We are a group of individuals with different backgrounds, different beliefs and different views, but…at the end of the day…we want to become better people and better riders. We push ourselves every week to stretch our perceived state of normalcy by putting ourselves out there trying new things.
If at first you don't succeed…try, try and try again.
Next time an issue comes up in life or on the trail, there is no giving up…just the opportunity to raise the bar…