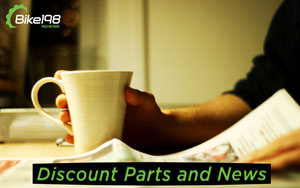 Time to jump in and give you guys an update on where things are, where they are going and how it affects you. So here is some Bike198.com news to go with your morning coffee as we continue to unwrap this pedal propulsion obsession.
Ever since the move last month to the Bike198.com domain, we have been hard at work behind the scenes to really ramp up our offerings on the site to feed your habit, and…so far…everything is heading exactly where it needs to. As we move forward, here is what you need to look for in the coming weeks.
Discount Mountain Bike Parts
As you can probably imagine, the Bike198 parts bin is growing. We can not use all of it, so we will be giving it away and selling it to help feed the site with the necessary growth and capital to keep things rolling smoothly. So…where can you find out about all of these discounted parts that you can pick up (slightly used I might add…and I do mean slightly)?
I am going to make the list of parts available to newsletter subscribers starting next week, so if you are already subscribed…watch your email. Anything that is not sold to you guys is going to hit eBay and other online used retail outlets, so be sure to watch for the list as time will be limited. The price you are going to see to newsletter subscribers is going to be cheaper than the going rate anywhere else online as a thank you for continuing to support what we do here.
If you haven't signed up for the newsletter…you can here.
Road and Urban Commuting
We are in the process of ramping up the content production over at Road.Bike198.com and Urban.Bike198.com, so we are looking for guest posters and other content avenues (reviews, news, etc.) to help get those areas of the site up and rolling. As of right now, this is not a paying gig, so here is the ideal candidate for submitting guest posts to the two sites.
Someone who wants to help and be a part of the site.
A bike shop or bike related company that wants more exposure through unique valuable content.
Company looking for related product reviews in the respective niches.
Website owner that needs quality links and targeted traffic through guest posting.
If you are interested or know someone that would be, please hit me up at rsutton at bike198.com and we will get things rolling.
Mountain.Bike198.com Newsletter
In addition to providing discounted parts to newsletter subscribers, the Mountain.Bike198.com newsletter is going to get a complete overhaul. The free newsletter is going to serve as an outlet for exclusive, premium content (still free), discount codes and continuance of discounted parts offerings. Even though it is free to subscribe, I want to create as much value as I possibly can to that email that hits your inbox. You will still get an update on the latest articles from Mountain.Bike198.com as usual, but be on the lookout for even more valuable content as time moves forward.
If you haven't already…sign up here!
T-Shirts, Hats, Stickers and other Soft Goods
This last point is the one I am most stoked about. We are in the process of designing t-shirts for Mountain.Bike198.com. Now…these are not going to be your typical website t-shirts that just have my logo on them, these are going to be true 1 off, unique designs that cater to the different segments of mountain biking. We are going to do a pre-order launch once the designs are complete, so be on the lookout for this as we move forward with the process.
Thank You From The Crew At Bike198
Thanks again for supporting this site and everything we do here. Without you guys, the Bike198 sites are just words on a screen, so the continued support and patience during the domain move has been incredible.
Don't forget to check out the new Community.Bike198.com when you get a chance as well!
News Image by Pragmagraphr