Wheels are one of the most important components on a mountain bike. When deciding on which wheelset to purchase for your mountain bike, you need to choose your hub set very carefully. Not all hubs are created equal and at different price points, there are a different features.
When I received the Fox Talas 140 RLC 15QR TA fork in from Fox Racing, I needed a front hub that would take care of the 15mm front axle duties. After a call into Hope Technologies, I had a set of black Hope Pro 2 hubs in ready for review.
Hope Pro II Hubs – Preview | Mountain Biking by 198
Hope Pro 2 Hub Specs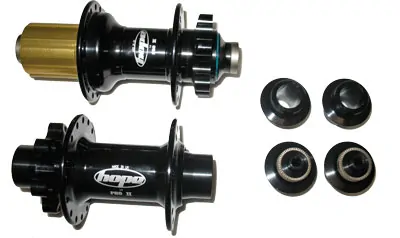 Front
The all new Pro ll hub has sealed cartridge bearings and can be swapped from 20mm to QR or maverick axles with the minimum of fuss.
Weight – 180g
Rear
The all new Pro2 range of hubs include a further development of our proven ratchet mechanism. This features a one piece 7075 aluminum rotor body and pawl carrier. Four pawls engage into a twenty-four tooth steel ratchet which is fixed into the hub shell and is sealed with a frictionless, non contact labyrinth seal. The axle runs on four cartridge bearings. The hub shell is machined from a solid billet of 2014 T6 aluminum.
Weight: 295g
Bearing type: Cartridge (5 off)
Hub Body: 2014 T6 aluminum
Cassette body: Aluminum
Ratchet type: 4 pawl (24 point engagement)
Hope also has these hubs available in several different colors, so get with your LBS on which set will best fit your needs.
Hope Pro 2 Wheel Build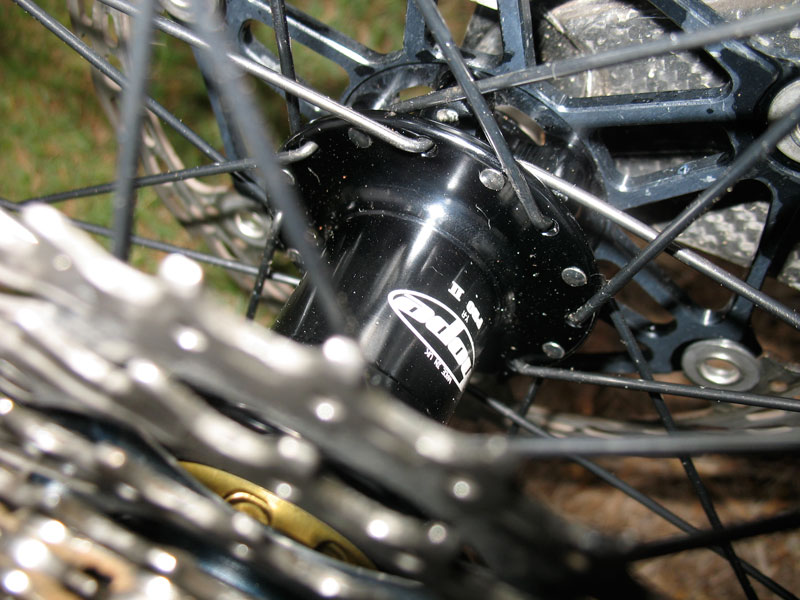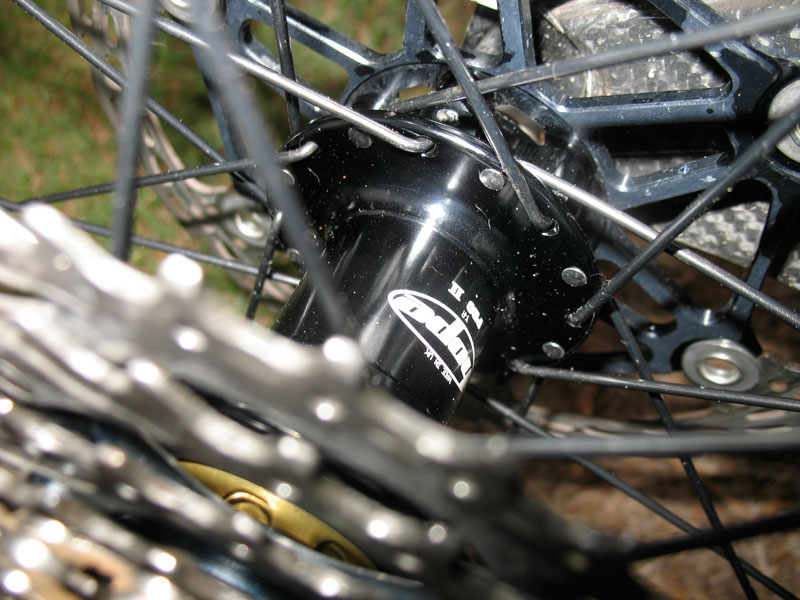 For a proper review of the Hope Pro 2 hubs, I knew I had to have a solid, bulletproof wheel build that would not distract from the Hope Pro 2's performance. For the build, I went to John Kovachi at Kovachi Wheels. John has been around since the infant stages of mountain biking and he is a true legend in the sport. It used to be just him and Mavic at all of the national events for wheels, so I knew the build would be rock solid.
For the rims, we turned to NoTubes.com and the ZTR Flow set. This wide profile rim can be run tubeless or tubed but area also light enough (470g) for most uses.
Riding Conditions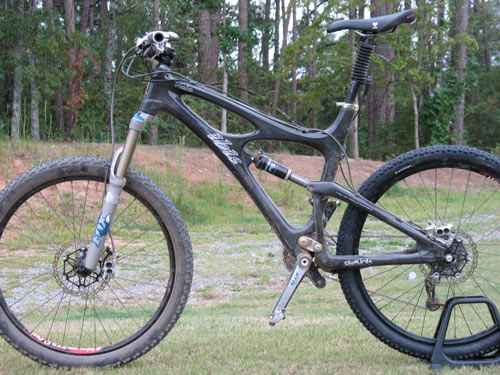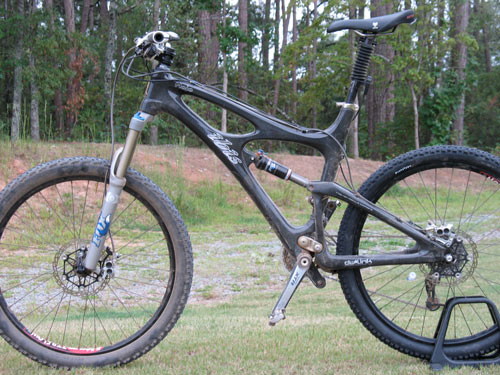 Forks Used
(2) Rock Shox Pike 454 Coil U-Turn
Bikes Used
Mountain Cycle Rumble Hardtail
Ibis Mojo 5.5″ Travel
Trail Types
Cross Country Epic
Light Freeride
BMX Track
Technical Singletrack
Setups
15mm TA Front
20mm TA Front
10mm TA Rear w/Hadley 10mm thru axle
Installing the Wheels – Hope Pro 2 Hubs
The Hope Pro 2's have one of the most secure and easy to install end cap systems for their front hub on the market. For the purposes of this review, I had to use every set that came with the hubs. The QR and 15mm end caps are a press fit that is secured by a large o-ring. This large o-ring rests against the inside of the hub body for a secure fit.
The 20mm end caps on the Hope Pro 2 front hub are secured with a metal expanding ring. Once the 20mm TA end caps are in place, they will not come out unless this ring is removed.
Installation of the 10mm thru axle rear hub was also a breeze thanks to the 10mm TA from Hadley Racing. This allowed me to get the extra stiffness of a rear thru axle with conventional rear dropouts.
Anytime I get the chance, I will run thru axles on my rides. The added benefit and ease of mind they bring over the conventional quick release is a huge bonus. As thru axles become more popular, you will start to see them on even more of the trails in your area. Companies, like Hope, that make these swap outs easy provide a huge selling advantage by adapting to many applications.
Engagement on the Hope Pro 2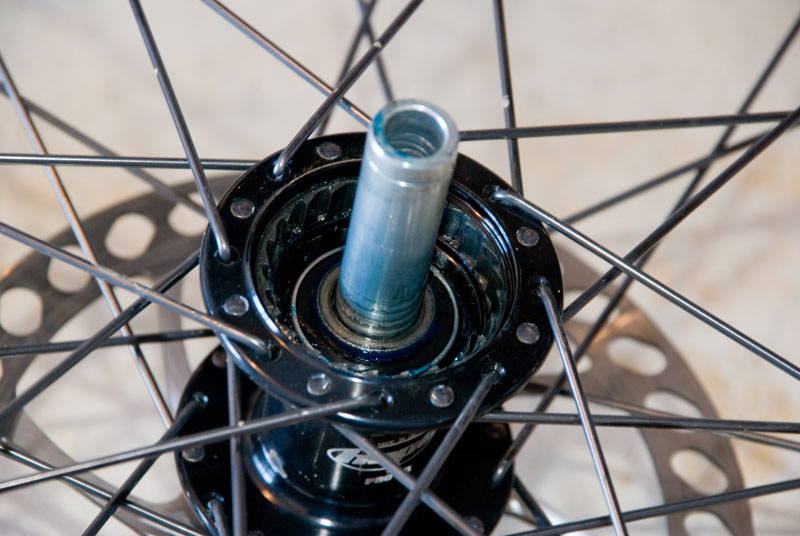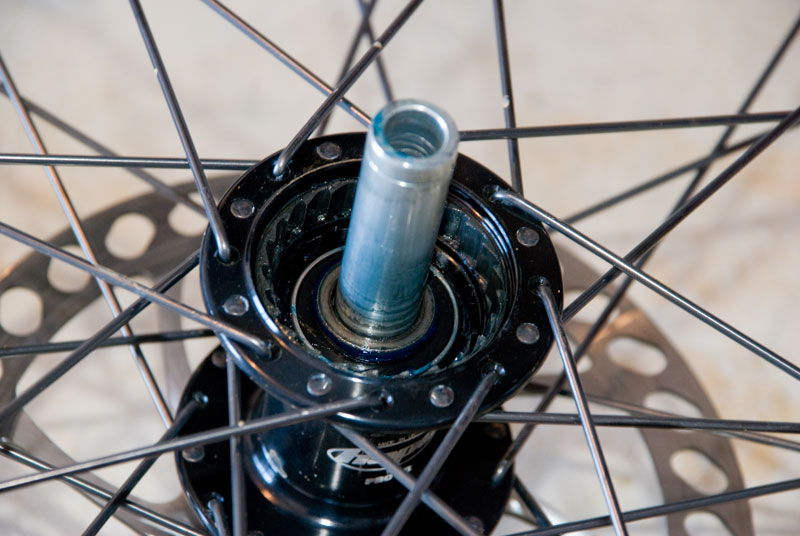 The Hope Pro 2 rear hub is a 24 point engagement, 4 pawl drive mechanism. This engagement is similar to what you will find out of DT Swiss, Ellsworth, lower line Hadley and Mavic wheelsets. While it is not a fast drive (Hadley, Industry Nine, Chris King), it is what I would expect to find at this price level.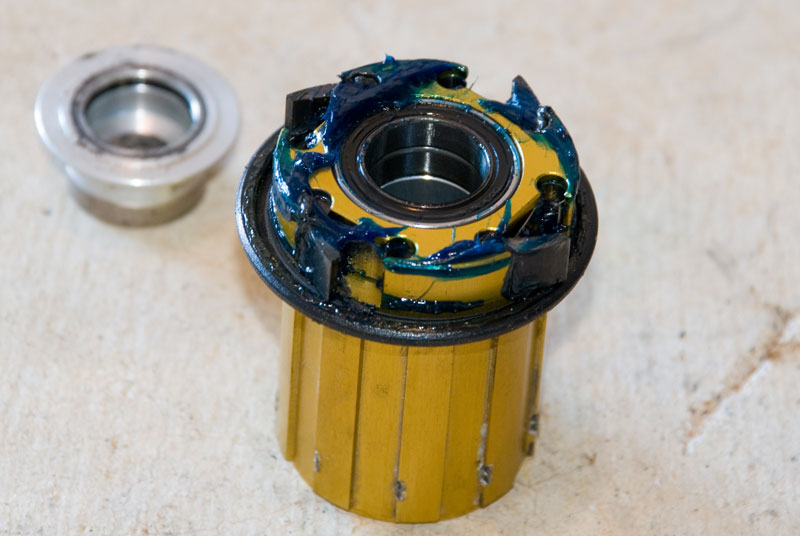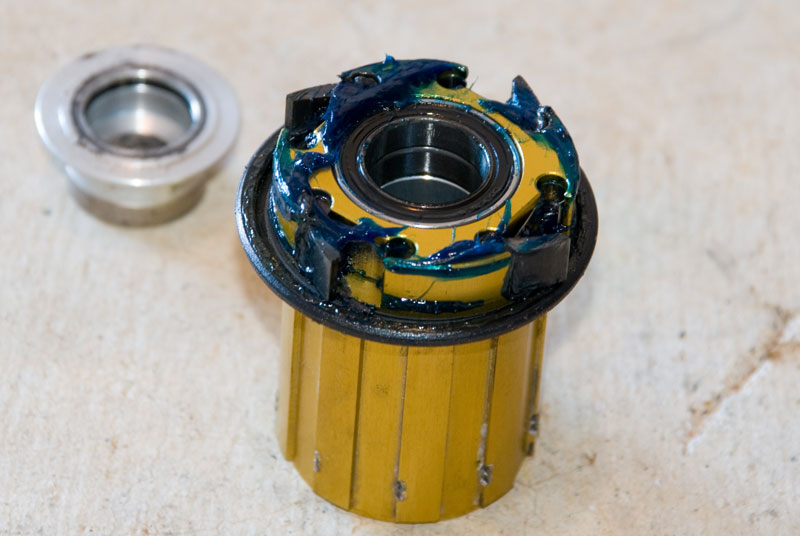 The 4 pawls of the the Hope Pro 2 drive mechanism provide a solid engagement contact with the hub body. The wide pawls and increased surface area of 4 pawls instead of 3 provide a long lasting drive that is durable and predictable. One downside to this drive is the amount of noise it emits on the trail. Many riders may find this actually a selling point, but I tend to prefer a quieter sound out of my rear hubs.
On the 10mm TA rear, the axle is removed by releasing the press fit cap for easy re-greasing and maintenance (or review pictures like the ones above).
Hub Body on the Hope Pro 2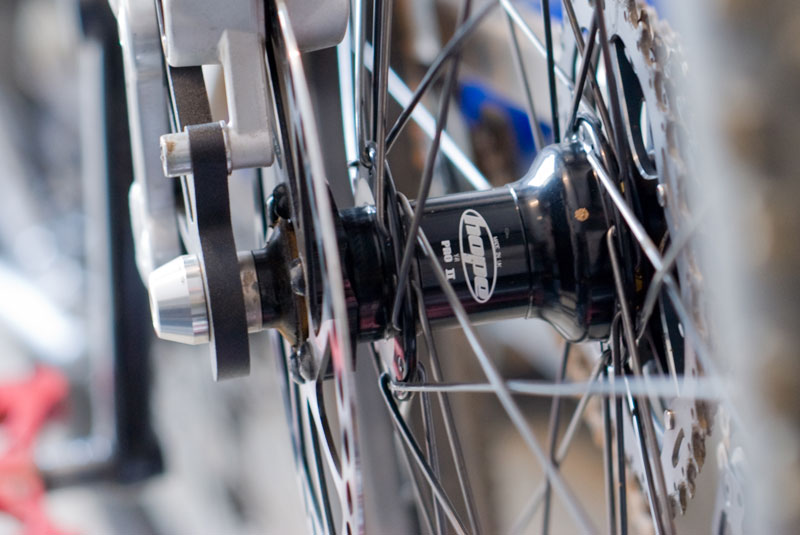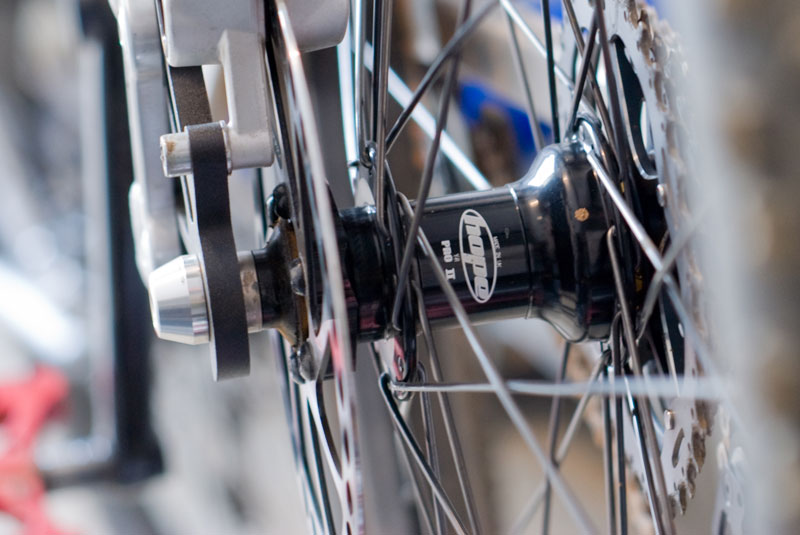 The 2014 T6 aluminum hub body on the Hope Pro 2 hub set is durable, light and pleasing to the eye. A subtle white Hope logo graces the center of the hub while a gold aluminum cassette body really sets things off in the rear. Hope has a multitude of colors to choose from so that you can match these hubs to your ride.
The aluminum cassette body on the Hope Pro 2 rear hub can be prone to slight gauging. I have found that this happens on most aluminum hub bodies with multi-pieces cassettes installed (Shimano XTR in this case). I use a stainless steel body on my Chris King for this very reason. I would recommend using a cassette with as few "sections" as possible to try to prevent this.
On The Trail with the Hope Pro 2 Hubs
John at Kovachi Wheels really out did himself on this wheelset. It was incredible stiff and is still running perfectly true…even after all of the abuse. This allowed me to really concentrate on how the hubs were reacting with me, the bikes and the trail.
The first thing you notice with the Hope Pro 2 hubs is the sound of the four pawls against the ring while free wheeling. This hub is loud! A lot of riders really like the sound of the Hope Pro 2 so it is entirely a personal preference. I like the sound at times, but overall…I like to have a quieter set of hubs on my rides. You might even turn a couple of heads as you pass other riders on the trail.
The 24 point engagement is descent, but if you are used to higher engagement hubs…you are going to miss that. The Hope's…out of all of the other hubs around 24 points…have the strongest, solid feeling engagement. You really feel like you can hammer the pawls into the teeth of the ring. It is hard to describe…but try a set and you will see. It is almost like they lock in.
There is no noticeable bearing or engagement drag out of the Hope Pro 2 hubs and when left in the stand…they will spin for a long time. With some higher drag hubs, you can feel like you are pedaling in sand, but there was no issue on the trail with the Hope's.
What Are My Final Thoughts On The Hope Pro 2 Hubs?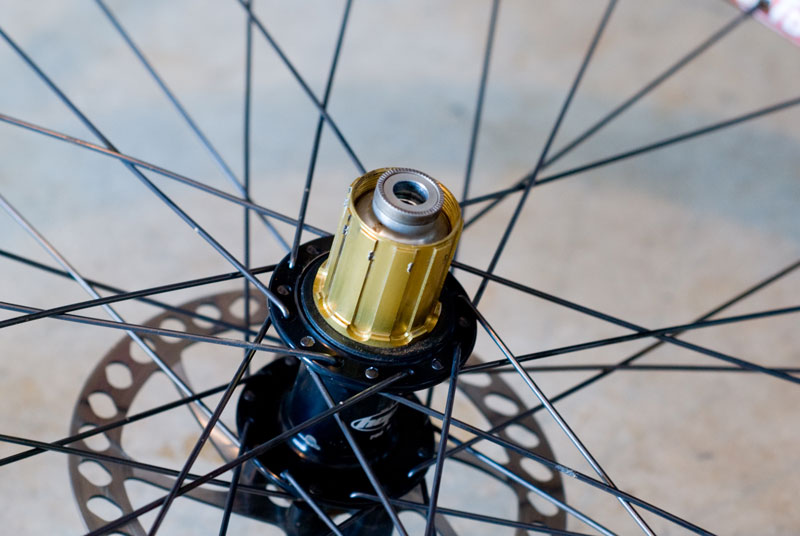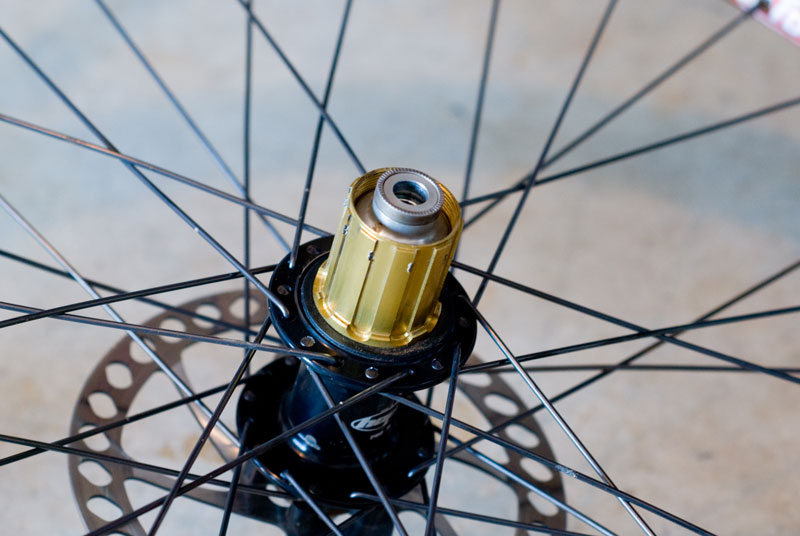 THE GOOD – HOPE PRO 2 HUBS
Incredible Value – The price of these hubs in comparison with everything else on the market is fantastic. You can easily find a quality wheelset in the 500 and under range with the hubs themselves retailing for around 75 and 180 for the front and rear. That is hard to beat for a set of high quality hubs.
Durable – The bearings, pawls and ring are all very durable and can withstand a lot of abuse. As an added bonus, they are also very easy to service.
Stiff Wheel Build – When in the right hands, the Hope Pro 2 hubs will provide a very stiff and strong wheel build.
Interchangeable Front Hub – You can change the Hope Pro 2 front hub from QR, 15mm TA and 20mm TA easily and quickly. With slight modifications to the QR end caps, you can even make it work for a DT Swiss RWS.
Color Options – Everyone likes options….
Hope Support – As with any Hope product, you get incredible online and phone support. Hope is one of the only bike component manufacturers that actually has a full video library to help you service their products.
THE BAD – HOPE PRO 2 HUBS
Engagement – 24 point engagement is still average to below average. These hubs would be an absolute steal with a faster engagement drive.
Loud – The rear drive is so loud that you won't run into any deer!
Grooving On The Cassette Body – I did experience slight grooving on the cassette body.
If you are looking for a mid priced hub set for your first high quality wheel build, put the Hope Pro 2 hubs on the top of that short list of possibilities. When you combine the performance with the price…they are very hard to beat.
Where Can I Buy The Hope Pro 2 Hubs?