Last week, we held a contest here on Bike198 for a free set of WTB tires. All you had to do was explain your most memorable cold weather ride on this thread in the forum section. Troopbee's epic adventure and eventual swim took the top spot and tires. You can see his story of overcoming obstacles below.
Winters Trail Tale from Ye Old England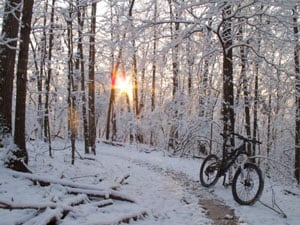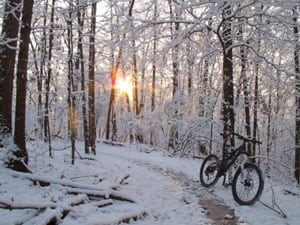 I'll set the scene – my story goes back to the "Great Freeze" of Christmas 2009. Santa had brought me a brand new GT Zaskar Carbon Expert to replace my ten year old, much loved and totally shot GT Backwoods. Imagine my frustration, a brand new bike and I couldn't ride it thanks to 18 inches of snow layered on top of an inch of hard packed ice. As the long days went by there was no sign of a thaw and by the 15th January my patience had run out and I needed my MTB fix. I decided to venture out onto the white wilderness that was Salisbury Plain, my local MTBing playground. Thankfully, Santa had been very, very kind and along with the Zaskar had also brought me a thermal base layer top and trousers (pants!), a windproof and fleece lined jacket, thermal socks and gloves, and a balaclava, not to mention a decent set of lights. (I have long since forgiven him for apparently using my credit card to procure these items; my wife hasn't!) I decided to do a solo ride on one of my favourite routes (24km) and just to add a bit of spice to the event, I would do it at night in order to test my new lights. I should mention at this point that my new GT came complete with clipless pedals and cleats and until this fateful night, I had never used cleats before! You know what's coming don't ya!
Dressed like an Siberian oil worker and cleated (welded) to my ride (Shimano shoes – Santa again) I set off with my wife shouting words of encouragement, well I think they were words of encouragement – difficult to tell with a thick balaclava on! The first 5 kms were fine and confidence grew as I smashed my way through a number of iced over puddles on a snow covered single track section of the route. I also got used to the traction provided by the soft powdery snow. At the 7 km point I broke out of the wood line and was met by a fantastic sight – The ancient land of Salisbury Plain was laid out before me as far as the eye could see; it was clear starry night with a full (ish) moon and with the light reflecting off the blanket of virgin snow the effect was magical (awesome!) I felt like I was the only human being on the Plain, which was probably the case as nobody else would have been stupid enough to venture out alone, at night, in the middle of nowhere at -8c! Undeterred by commonsense I continued on my favourite route despite not being able to actually see it. I was having a ball, man against the elements and all that – I have never felt so alive and as the km's clicked by my confidence was growing at the same rate that the temperature was falling. By the time I reached the most northerly point on my route my enthusiasm for night riding under permafrost conditions was starting to fade a little – my newly acquired thermal gear seemed to be failing me and my fingers and toes were starting to send me messages – time to head for home.
The second half of this route is more hilly with deeply rutted tracks most of which could still be seen despite the snow. I know these tracks well and I soon got into a fast rolling rhythm – riding the snowy undulations at speed and doing my icebreaking thing on the puddles – and then it happened!! I hit a long smooth and strangely unfamiliar stretch of track that was about 40mts long and 5mts wide. The bike started to slip and slide and an odd cracking sound could be heard through my frostbitten ears -I was on thin ice in every sense! Just when I thought I had the bike under control the front wheel went through the ice quickly followed by the rear, I rapidly clicked down through the gears, got out of the saddle and powered down, determined to ride my way through the mini icebergs and water and emerge victorious on the far side of the puddle (lake). Sadly, after about 10 mts the bike started to disappear below the waves and when the bow wave was coming off my bars I decided to admit defeat and dismount. You will remember that this was my first outing with cleats! I had totally forgotten this fine point of detail and as the bike came to a watery halt there was a sickening realization that I was "as one" with my pedals! There followed a wonderful impression of a Great Redwood being felled as I crashed bodily through the ice still joined to my ride. I was completely submerged and after what seemed like a full minute but was probably no more than 59 seconds (!) I managed to kick out of my cleats.
As I dragged myself (and bike) out of the icy water I made a quick mental note NEVER to go solo night riding again. I then kicked into survival mode, this was serious – Soaking wet, No change of clothing, Freezing fast, 10 kms to reach safety. Plan: Ride like hell to raise body temp – Get on bike, lets go! This would have been a good plan but my gear triggers, cables and mechs were frozen solid and I was in the Granny ring! I don't know if anyone has tried to ride 10 kms in the Granny ring whilst soaking wet and turning blue with a wind chill of -15c but it is not recommended. By the time I reached home I was literally frozen in the seated position and doing a very good impersonation of Jim Carrey arriving in Aspen on a mini-bike in Dumber & Dumber! A few words of what passes for sympathy from my dear wife and two days recovering from hypothermia and I was back in the saddle. Shimano DX flat pedals on bike – Crank Brother Candys on ebay!
Ride on, my MTB buddies, Ride on
Troopbee
You can read the rest of the responses here: Most Memorable Cold Weather Mountain Bike Ride | Image by Chad Oliver