The following article is one that I did as a guest post for
Sacred Rides
.
That's right! It is winter riding season. Many mountain bikers pack up the bike until spring during this time period, but I am going to challenge you to get out and ride. To help with that challenge, here is an outline on how to use available equipment to make that ride much more enjoyable.
Layers
Mountain biking in cold weather conditions is all about layers. For most rides, especially in the low 20's to mid 30's, you are going to be very cold in the parking lot. Here in lies the problem…your body temperature is going to start to rise as you ride and eventually you are going to want to shed clothing to expel some of that heat. When you are preparing for a cold weather ride, plan ahead. Think of how you are going to want to shed layers as you ride, and how you are going to carry those items as you ride.
Some tips: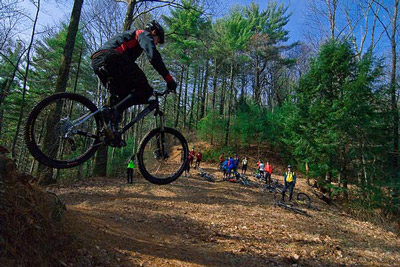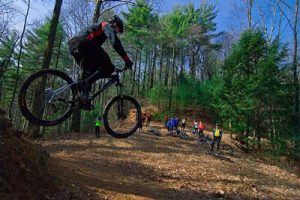 Leg and Arm Warmers – Leg and arm warmers like those found through Pearl Izumi provide a lot of much needed warmth in an easy to pack setup. These fleece lined arm and leg socks are designed for cold weather riding and keep your extremities away from the wind.
Light Outer Jacket – A light outer jacket will be easy to pack and it also keeps the wind off the core of your body. The warmer you keep your core, the easier time your heart will have pumping warm blood to the rest of your body. Lighter windbreaker type jackets are also easier to pack away and normally fit over thicker under layers.
Poor Circulation Areas
Poor circulation areas of your body are going to cause you the most discomfort. These areas include your toes, fingers and ears. This discomfort is easy to fix if you follow some guidelines.
Preventing Cold Feet
Thick Wool Socks – Wearing thicker wool socks is the obvious choice and I highly recommend this. However, there is one thing that you need to be fully aware of before you take this route. Your riding shoes are normally set around thinner riding socks. When you use thicker wool socks inside of you riding shoes, be sure to leave them loose enough so that your feet still get adequate blood circulation. If you constrict your blood vessels…you will be defeating the purpose.

Toe or Shoe Covers – Your riding shoes are designed to breath and keep your feet cool…not warm. Shoe or toe covers will keep the heat in and cold out while preventing that cold wind from penetrating. I highly recommend picking up a set of these for anyone that is considering cold weather riding.
Winter Riding Shoes – The most expensive option, but also the one that performs the best. Companies like Sidi actually make winter specific riding shoes that are much warmer than your regular set, but be prepared…they aren't cheap.
Preventing Cold Hands
Cold Weather Gloves – Do not use your regular riding gloves in cold weather riding situations. Much like your shoes, they are designed to breathe so that your hands to not sweat and overheat. Get some cold weather riding gloves for your cold weather riding. There is nothing worse than cold hands while you are trying to enjoy the ride.
Preventing A Cold Head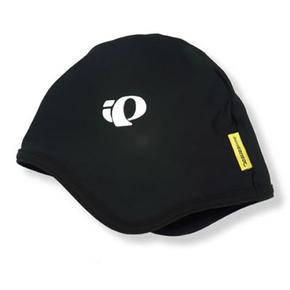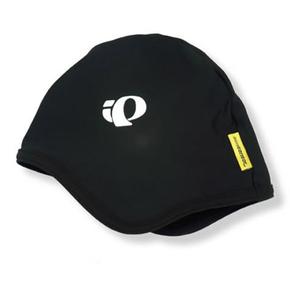 Your ears and head are vital components of your body to keep warm during a ride but they are also the cheapest to keep warm! Get a set of good fleece ear warmers or a thin full head beanie that fits under your helmet and you are set. The big thing to keep in mind is that you want to block the wind and keep the heat in. Your head is a natural source of heat, but it is also where most of the heat in your body escapes. You want to keep this heat close instead of it leaking out.
Where are you going to put this gear?
As you can already tell, this is a lot of gear to carry. On winter weather rides, I would recommend bringing your 100 oz hydration pack. Most of the 100 oz hydration packs on the market have plenty of storage for packing away layers and accessories. As an added benefit, a 100 oz pack is also going to cover more of your back and this will further your quest in staying warm.
Final Thoughts from 198
Cold weather riding can turn out to be some of the best riding you have ever done. The trails take on a peacefulness that you just can't find in the heat. If you are fully prepared, you will have a great time, but as you can see by the suggestions…if you get cold or too hot…it will be a tough ride. Follow the guidelines above and you will have an incredible ride.
For more tips like the ones you read here…visit Mountain Biking by 198. We have a free newsletter that provides exclusive content as well as a free rss feed for daily updates on product reviews, riding tips, bike maintenance tips and much more.
For great deals on cold weather cycling gear, check out the following retailers…
Amazon.com | JensonUSA.com | REI.com | Backcountry.com