Review by Aaron Gilson
Long fireroad uphill, quick decent with nice jumps and a lot of other options to change up the ride.
Type: Mainly fire roads
Distance: 2+ miles
Jumps: yes – 15 or so.
Best time to ride: anytime
Traffic: Barely any
Other Riders: very nice, helpful, and local
Trail options: tons – over 30+ miles
Parking: yes and free
Norris Watershed High Point Directions
Norris, TN USA 37828
Take Interstate 75 North of Knoxville. Approximately 12 miles.Take exit 122 , turn towards Norris. Turn left onto highway 441(just past the museum of Appalachia). Follow 441 and turn right on lower clear creek road (just past Lenoir museum). Stay on lower clear creek road until you come to the pumping station (green water tower). ride up.
Norris Watershed High Point Specs
Classification: Cross Country
Difficulty: It has bumps (modest)
Trail Traffic: Hey Dude! (low)
Norris Watershed High Point Review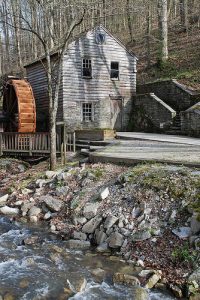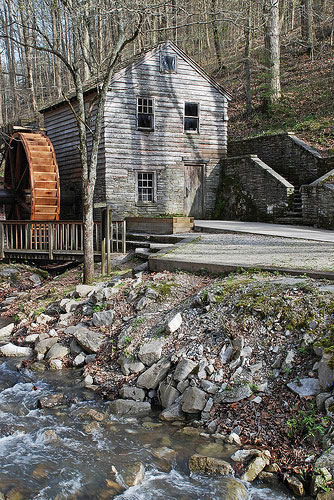 Being younger riders, with very limited income and no transportation other than out bikes, my friends and I started riding in the Norris watershed area during middle school because it is less than a few miles away. There is also so much to offer right there, with its almost endless supply of trails. People come from all over, those Knoxville riders with the neoprene shoe covers, the oak ridge's that glow in the dark, the thrifty Norris riders, and even the rednecks show up after a good rain. The old and young alike enjoy the watershed, truly a place for everyone. They all know the trails, so if your new to the area stop and talk to them, they can show you the best places to ride. Even several years, states, and a few degrees later highpoint trail in the watershed is my absolute favorite trail. It begins with a fair uphill climb. Its a pretty simple climb, steady with a few switch backs. If you're going after fitness, hit it hard and you'll be winded in no time. Otherwise, just drop down a few gears and pedal up. You'll break a sweat, but chances are you'll make it without any heart attacks. From the pumping station (890′), the High Point jeep road climbs 2 miles to High Point (1460′). Once you get to the top, the fun begins (personally, i love the uphill too). You're presented with three immediate options that increase as you descend. If you take the way you probably used coming up, you'll have a fast descent with a few humps along the trail (used for water run off) that make for great jumps. The best and most I've seen on any trail for 20 miles.
Take another option and you're presented with a few whoop-de-doos and then you can branch off for a great ride on lake loop trail that takes you down right along the shore of Norris lake through a tunnel of deciduous trees and back up the side of high point for a steep climb. Other options include raccoon run, just off the left of the main trail on your way down, which is a quick little single track that can be a blast to hit up. Another plus, is that it dumps you out right along the trail on the way down just before the best humps/jumps. Still though, after riding all the trails and combinations, the main up and down is my favorite. I remember being so addicted as a kid that we would pedal out from our houses wearing latex gloves over our wool gloves to keep out the wind and despite being unable to smile since our faces were so cold, or brake because we couldn't work our hands (looking back the gloves didn't do much) just for the trill of the ride back down.
Even now, on trips back home, I find myself itching for a quick spin up high point and back down. While I don't go quite as fast on the way back down, its still a great thrill and makes for a wonderful ride. Be careful though, since cars are technically allowed on the jeep trail and people sometimes bring horses, if you take a turn too fast you could find yourself coming upon something bigger than you faster than you might want. But, despite my many years riding trail, it has never happened to me and there's only been one close call with a park ranger. But, since traffic is so sparse, especially during the week, there's not much to worry about. Oh, and because the high point is so well maintained and is designed to drain extremely well, it can be ridden on rainy days with little increased impact to the trail. A huge bonus for those days when you just want to get out and ride despite the inclement weather.
In addition, all the trail users are incredibly courteous and nice. Most are from around the area and can offer great recommendations about other things to do besides mountain biking such as visiting the lake, hiking, or exploring the historical nearby towns. Oh, and on Sunday mornings and afternoons, a lot of community members gather at the Lenior museum (free year round museum that has a few exhibits about early life in the area and the history of the Norris Dam) to play music. The music generally consists of bluegrass, but nothing beats a long ride in the watershed, a splash through clear creek, and relaxing under the shade of a dogwood tree while listening to some great, hometown blue grass on a warm Sunday afternoon.
Overall, a fantastic ride with tons of options for riders looking for a casual ride to a training ride.