Industry Legend Leaves – PayPal Donations Still Needed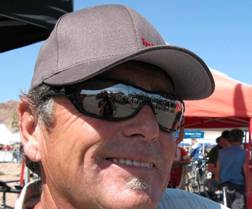 Las Vegas, NV – February 18, 2009 – – Brent Thomson, Mountain Bike Industry Legend and Trail Master of Bootleg Canyon (trail used for the Interbike Dirt Demo) has lost his battle with complications from the Quadruple Bypass surgery he underwent in January.
While surgery went well and Brent was coherent and talking after recovery, a series of post-operative strokes took him back to the Intensive Care Unit where he eventually succumbed to complications from the surgery.
Brent's son Barret was at his side with relatives as his condition worsened. "Brent appreciated and was aware of all of the love and support that the mountain bike industry has shown through this difficult time" said Barret. "There's been an outpouring of emotion and support from all of his friends and the industry, and we're making plans for a memorial event to be held at Bootleg Canyon over St. Patrick's Day Weekend (March 14-15.)"
Please Continue to Support Brent Through PayPal Donations
Barret can still use financial support as there are many loose ends to tie up. Please continue to support the cause by donating to the paypal account listed above. Stay tuned for more information, and make plans to attend the memorial for Brent Thomson at Bootleg Canyon over the March 14-15th weekend.