A trail that can be run in two directions for different experiences. Perfect for all skill levels as it gets harder as you get faster. Great trail for training or endurance looping.
Directions to Pemberton Trail
Located in McDowell Mountain Park Metro Phoenix area. From HWY 101 North Loop and Pima Road drive north to Dynamite Road and go east to end of road. Take right "tee" onto Rio Verde Rd. and go south to stop sign and turn right continuing on Rio Verde. Follow to park entrance on right and enter park ($6 user fee per vehicle). Drive to Pemberton loop turnoff and park near restrooms at bottom (map at entrance gate outlines route to trail head).
Pemberton Trail Specs
Classification: Cross Country
Trail Difficulty: Whoa! Air Time! (medium)
Trail Traffic: Little Help Here (medium)
Pemberton Mountain Bike Trail Review
Pemberton Trail is often over looked by more skilled or physically fit riders due to it's ease of use and intimidates many beginners since the elevation change sounds scary. In all actuality, the trail probably would rate the highest in the area for the fun/tech/work ratio (if we had one). It's a trail that depending on which direction it is ridden, how one pushes while riding and what your personal goals are can be a exciting challenge for just about anyone.
The trail itself is composed mostly of decomposed granite and rocks. The grip is pretty good with a low rolling resistance tire, but watch tire pressure! It is tempting to run higher pressure to gain speed, but the higher pressure will lessen your footprint and make the going slick. There are no drops of greater than six inches and most climbs are short steep ones with lots of room to recover. Riding the trail clockwise will start you on a slight up grade (1-3%) for the first five miles. There are a few little rollers tossed in. Most of the climb up is single track with semi tight switchbacks. The higher you go the better the view gets in front of you as the McDowell Mountains get closer. The view behind is getting good too, but you will get plenty of that on the second half!
Around mile five (this is such a fun trail I rarely track mileage on it) you hit the plateau and the roller section which is twisty, water barred (air time!) and quick up and downs. This is where the technical aspect ramps up as you go faster. The short downhills with water bar jumps entice you into higher speeds for bigger glory with short braking areas into off camber slick 90 degree turns and hairpins which put you smack into a short quick uphill run. Ride faster and you must brake harder on the crushed granite which makes tires lock up and sends more than one rider off the trail on tucks the front wheel and slams you to the ground. Caution is your boring friend here and more often than not I find myself telling him I will meet him at the truck- Bye caution!
For the last 5-6 miles it is time to go back down to the trailhead on a mostly smooth, snaky two track. SS riders will be spinning and trying all kinds of new techniques to gain speed by tucking, standing, sitting, hands in- hand out etc. The gearies will drop the gear, drop the hammer and try to carry more speed through the turns- be careful- the traction runs out fast and talent runs out faster when you come across what looked like a nice 120 degree turn and find that the turn folds in on itself to avoid a large cactus pile that has sucked in many riders before you- it is still hungry- look out! The nice long down hill drops you to the trailhead lot where after a drink of water- your refreshed legs want another go at it. Why not run it the other direction?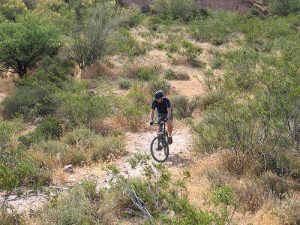 Anti-Clockwise is my favorite. The climb out is post hard ride day friendly even for us SS riders. A great trail to catch up with old friends as a conversation can be held on the slight grade and two tracked trail. Or, you can hammer up a long steady grade for race training. The swoopy and fast plateau sections takes you through all the single track the opposite way with the same results and same rule- the faster you go the more gonzo it gets. When you get to this section- stop and take a look down the grade. You can see the mountains in the distance looming but directly before you is the Verde River Valley. The best time is when the sun is just getting ready to drop out of the sky. The landscape takes on a blend of soft tans, translucent purples and foggy oranges. Don't linger unless you have a light, but you got downhill to do and your opponent is the night. (BTW-this trail is popular for full moon rides led by the park. Lights are used but it is fun to get out front or drop way back and shut off the lights- the ground glows and the wildlife is incredible!) Racing down the alluvial fan is more technical here as you spend the gravity bucks you earned on the way up. Cantaloupe sized rocks dot the singletrack and more sinister looking cactus line the edges of trail and outsides of turns. The end of the ride leads you down a 18mph section of trail with some long jumps if you please and dumps you back into the trail head.
Some trail traits:
Multi Use with horses and hikers- give them right of way on this trail.
Beginners love this trail as it gently exposes them to distance (half is downhill) and they can come back and learn what faster feels like and and how it affects the ride.
Experts like the endurance race feel to the trail (one is held here yearly) and it is perfect for training on. The trail lends itself well to conditioning and learning to control heart rate.
There are nice flush toilets and showers on site at the trailhead.
You cannot get lost here. If you get turned around- find a trail and go down. No matter where you are lost at you will hit a paved road within 8 miles.
Nearby Fountain Hills has some nice small restaurants and bars for after eats!
Located in McDowell Mountain Park which also has competitive MTB right of way loops, and links into over 70 miles of trail from mild to way too wild! Maps located here.
Trail Review by Cory Stem