The Jet 9 from Niner Bikes is a purposed built rocket that will carry  your through your cross country and endurance races until the end. This 80mm travel frame is designed to be fast and fast for the long haul.
Niner Bikes is dedicated to all things associated with the 29er wheel size. You will not find a bike in their stable with anything else as they truly believe in manufacturing quality bikes around this platform. The Jet 9 is the smallest travel version of their 29er full suspension frames with 80mm of rear travel and their upcoming W.F.O. 9 will be a 5.5″ travel all mountain monster that will round out the top end of their lineup.
Niner Bikes was founded by Chris Sugai and Steve Domahidy. They met on a local Wednesday night ride that they participate in every week to this day. Niner is the culmination of many conversations over coffee, the handlebars, or a cold beer.
What does Niner say about the Jet 9?
Ripped from ninerbikes.com:
The Jet 9 is our fast, light, race-ready full suspension bike. Designed around the same award winning CVA™ suspension system found on our other suspension frames, the Jet 9 features 80mm of plush, fully active travel.

Speed was the main design concept of the Jet 9, and the geometry is focused on a balance between stability and maneuverability. The 72° head tube angle is based on an 80mm travel FOX fork and is designed to give the same precise steering as our hardtail frames. All linkage pivots are outfitted with full complement sealed cartridge bearings for a smooth, friction-free suspension, and a custom valved FOX RP23 shock offers superb bump compliance and damping. New forged linkage increases strength and stiffness without any penalty in weight.

80mm of travel combined with a 29" wheel creates an amazingly smooth ride at an incredibly respectable weight, making the Jet 9 the perfect weapon for everything from your local race scene to the all day epic. If it's speed you are looking for, the Jet 9 will get you from zero to hero in the skip of a heartbeat.
Our Niner Jet 9 Review Bike
Our Niner Jet 9 review bike came in well equipped with some of the industries best components.
Frame: Niner Jet 9 in Vana White – Large
Fork: Fox Racing Shox F29 RL
Rear Shock: Fox Racing Shox RP23
Brakes: Avid Juicy Ulitmates 160mm/160mm
Shifters: SRAM X.0 Trigger Shifters
Rear Derailleur: SRAM X.0 Long Cage
Front Derailleur: Shimano XTR
Wheels: American Classic hubs on Notubes.com Arches
Stem: Race Face Deus XC
Post: Race Face Evolve
Cranks: Truvativ Stylo GXP
Handlebar: Niner Bikes Flat Top 9
Cassette: SRAM
Chain: SRAM
Grips: ODI Rouge Lock-ons
Tires: WTB Prowler SL 2.1 (setup tubeless)
Skewers: American Classic
Overall Build Weight – 28.36 lbs with Ultimate Digital Alpine Scale
My Initial Impressions On The Niner Jet 9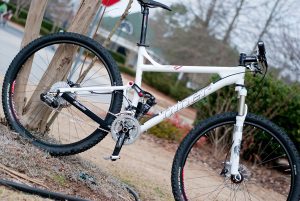 As I have said before, when you build up a Niner…it looks proportional with 29er wheels. Where other frames in this segment may look like 26″ rides with 29er wheels shoved underneath, the Niner lineup does not. The entire suspension and frame is designed from the ground up around the 29 inch wheel platform. The links, bearing and welds are all solid and high quality as you would expect out of a specialty frame builder.
The Niner Jet 9 test bike came equipped with a solid set of components as you can see above, so I knew this would not be one of those "the frame was perfect but the components sucked" type of reviews that you see in a lot of print rags these days. Niner spec'ed out the bike so I would be able to tell how the bike performed on the trail. No excuses here!
Riding the Niner Jet 9
For my first ride on the Niner Jet 9, I wanted to really test the limits of the frame by taking it to one of my favorite trails. Rich Mountain is known for its long technical climbs followed by long technical descents. I normally bring a 6″ travel bike to this piece of singletrack to really take advantage of the technical downhills, but this time…80mm was going to have to cut it. The first thing I noticed about the Jet 9 is it's climbing ability. It seems to effortlessly just motor up the hill. The rear end stays planted and the 80mm of travel is active during seated tech and still efficient enough for out of the saddle hammers. During climbing, the Jet 9 actually feels lighter than its weight suggests. The steeper head angle creates a nimble turner that is easy to control with the 100mm long stem provided. When riding the Jet 9, do not be afraid to stand up in the really steep stuff. The rear end grips and you do not get any noticeable efficiency loss from the rear suspension. I actually found that during this entire test period, I never once used the ProPedal on the Fox Racing RP23. The suspension design was efficient enough for my needs without needing the aid of a lockout. Then again…you shouldn't with an 80mm xc race ready frame.
For those of you that haven't tried out the 29er wheel size, expect to keep momentum and roll over obstacles easier with any 29er that you ride. The Jet 9's acceleration was faster than most 29er's I have ridding in the past. Once you are on it, the bike shoots forward ready for you to keep the hammer down.
As we got to the technical downhills I was worried that the steep head angle and small travel frame would really start to show its limitations as I started to push the limits of the designed use of this frame. As anyone would suspect, it does not blast down technical singletrack like a 26″/6″ travel frame will, but it does surprise you. The steeper head angle provides a very fast turning 29er through tight trees and rocks and the longer wheelbase of the 29er still keeps the stable ride. I found myself boucing and picking up the rear end a lot more due the lighter weight of the wheels and bike. Basically…I was descending this area much different than I had in the past.
The 80mm of rear travel ramps up nicely at the stroke to prevent harsh bottom outs and I only really felt a hard bottom in an extended rock garden. For regular singletrack runs, the bike had a small bottomless feel because of the suspension ramping. For a small travel xc frame, this is ideal since you really just want enough to take the edge off…not a super plush, efficiency sucking suspension design.
All of my test rides over the weeks I had this bike in went much the same as the first. The Niner Jet 9 was a rock solid performer for its designed use…fast xc riding. Did I over ride the frame in super tech downhill runs? Of course…if I didn't on an 80mm frame then I wouldn't have been riding hard enough, but on fast, twisty singletrack….the Jet 9 from Niner Bikes is a rocket.
Racing the Niner Jet 9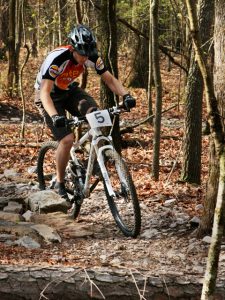 Since this bike is designed to be a 29er race frame, I got out and did a time trial at a local event. I placed 2nd overall amongst all of the geared riders, so as you can imagine…I was pretty happy with the results. The winner is a Cat 3 roadie in Europe, and he just happened to beat the course record by 30 seconds that was set by a xc mountain bike pro. You really can't compete with that…
As a xc race ready rig, the Jet 9 from Niner is ready right out of the box. It is comfortable enough for long endurance events but is fast enough for the sprint type xc races. Even through all of the beating I have given this frame during this test period, I had to do zero maintenance to it before heading out on the time trial.
Keeping the bike in the big ring and just hammering out a fast lap is where this bike really excels. There wasn't anything it couldn't handle and handle fast on a timed cross country race. Just as I felt like my heart was going to explode and I was going to have to release everything I ate over the past week the same way it came in…I looked down at the frame and encouragement just slaps you in the face…"pedal damn it"
So…What is the bad news?
As you can tell from everything I have said so far about the Niner Jet 9, I am extremely happy with the way this bike rides for its intended use. That said…there are a couple of things to keep in mind.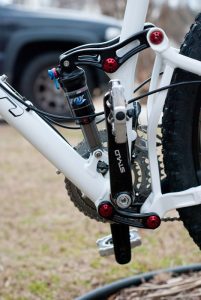 First, this bike is not for everyone. If you are looking to progress your riding style to more technical, all mountain styled riding, you need to look at the R.I.P 9 or another 29er frame that has a little bit more travel. The Jet 9 is a purpose built bike and not a do-it-all trail bike. If you are looking at competing in cross country or endurance races, this could be the bike you have been searching for. Many riders make the mistake of choosing a small travel full suspension rig as their first jump in into the full suspension market from hard tails. I would not recommend doing this as a full suspension mountain bike allows you to take more liberties than your trusty hard tail. With AM mountain bikes getting more effiencent and lighter…do not choose a race frame first and that is exactly what the Jet 9 is.
Because this is a race ready 29er, my ideal setup put the saddle height above the bars. While this was a perfect setup for racing, xc and endurance events…it is not ideal for really fast descending. Again…this bike is performs incredibly well for its intended use but it is not going to be for everyone.
The cable routing on the Jet 9 is a little ackward around the bottom bracket in cranks. Due to the design of the CVA suspension, the rear brake and rear derailleur lines pass right by the cranks and this caused me to actually catch the line once which popped it out of the zip ties. If you are riding this frame, make sure you have the lines properly positioned before riding because this could have been avoided if I would have paid attention a little bit better.
Final Thoughts On The Niner Jet 9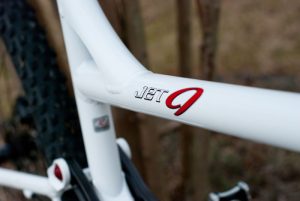 In all seriousness, I do not want to give this one back. It is a lightening fast xc rig and for a guy like me who has multiple mountain bikes, it really rounds out my quiver. This bike carried my out of shape ass to a second place finish in a time trial event and provided an excellent cross country ride for my local groomed trails. I think some of my riding friends are ready for me to get off this bike so I can get back on my 35 pound sleds and become slow again. While this bike doesn't do everything, it does to what it is designed for in spades (starting to sound like a broken record). If you are looking for a race ready 29er, the Niner Jet 9 is a hard one to beat.
Good Niner Jet 9
Lightening fast xc rig that can carry you to the podium
Respectable weight given the right build components – 28.36 lbs. as spec'ed
Efficient suspension design that does not need the aid of ProPedal
Extremely fast turner for a 29er
Bad Niner Jet 9
May be hard to find – contact Niner Bikes for the dealer closest to you
80mm travel frame will not be for everyone
Price – Frame MSRP is $1,749 US…you pay for quality
Awkward RD and rear brake cable/hose routing
For more information on the Niner Jet 9, visit NinerBikes.com.
For more up close, HQ images of the Jet 9, go to this intro post.
Photo credit:
Rock Garden – regularjoe; Dirt Downhill – Laurie; Race Pic – ronbrasfieldphotography.com