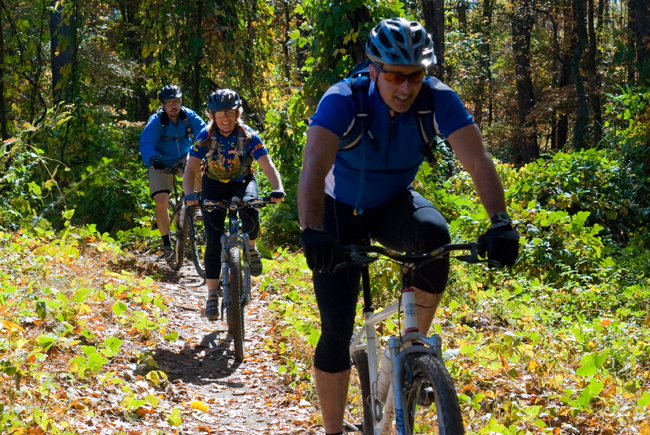 So you are ready to buy your first, second or upgrade mountain bike. You have read all of the industry rags, listened to all of your friends and maybe even read this site in your journey to find your next perfect mountain bike to carry you through singletrack bliss. Once you find your perfect ride, you find a local dealer that carries it…walk in the front door and say "I want that one!" You walk out of the store with a brand new, shiny mountain bike and head for your nearest trail to throw some dust on that new bike smell.
Everything is perfect! You have that new mountain bike speed at your finger tips and you couldn't be any happier. Two weeks later, you are showing off your favorite new ride and a friend asks if you want to try his out. Knowing that you are going to basking in your new mountain bikes glory after this feeble test ride, you accept his offer and head out on the trail. 15 minutes into the ride, you are enjoying his mountain bike more than yours and all of the sudden you have a strange epiphany…you want his bike over yours!
What happened here? You listened to your friends, the magazines and the rest of the world over what you actually felt like on the bike. On top of that, you bought an expensive purchase without trying it out first and comparing it to the competition…not just on paper…but on the trail. 
Why You Test Out As Many Mountain Bikes As Possible Before Buying
The above story happens every day at every trailhead in the world. Don't worry…9 times out of 10 the rider is most likely still happy with their purchase. It just isn't exactly what they thought it was to begin with.
Here is the bottom line. Every bike is different and so is every rider! There is no such thing as the perfect mountain bike for anyone…no matter what your friend tries to tell you. There are certain mountain bikes that I feel at home on while others just feel off, and that may be different for another rider. You never truly know how much you will like a mountain bike until you ride it on a trail that you already know. Even then…you need to make sure that the mountain bike is fitted correctly for correct observations.
After you have ridden your top choice, ride the competition and the competitions competition. Only then will you get a true idea of what you really want your new mountain bike to feel like on the trail.
Where Does The Local Bike Shop Come Into Play?
The local bike shop is going to be a tremendous help through this process…if they are a good shop. Your local bike shop will be able to set you up with test rides to a bike that is fitted to you as well as it possibly can. You can then take this bike to your trail to try it out. After you bring that bike back…you can start the process over again until you finally find the mountain bike that you are happy with.
If a shop is not willing to work with you on test rides, or finding you a bike to try…they are most likely not a credible shop that you want to purchase your new mountain bike through. Now…with that said…don't always expect them to have the lastest and greatest that you just saw on the cover of all of the magazines. When a new ride hits the market, inventory is normally slim and they are not going to let you take their only new model out on the trail. Hopefully, they have a customer that has one or are able to set up an industry test session in the future. For most current models that are not the hottest thing to hit the market since sliced bread, test models should be available.
Test Riding The Mountain Bikes
I know…this sounds like a lot of work when you really just want a new bike. Here are some thing to consider.
You get to test out different mountain bikes. This is actually an incredibly fun process. I never let a chance to ride a different mountain bike pass me by.
You are making an investment in your mountain biking future. Yes, it may be for only a couple of years…or a couple of weeks like some people I know…but it is still a lot of money. Would you go buy a car, house or make an investment without doing your research? I would hope not, so do not do that when it comes to your next mountain bike.
You might actually find out that your initial assumptions were wrong. The second bike you try out might bring you to that riding bliss that you have been searching for!
Now…this can get obsessive. Try not to ride every bike on the market. Single out a group of mountain bikes and hit the trail. Also, do your best to try to be objective while you ride. Just because it is not the brand that you originally had in mind, does not mean it is not the bike for you.
To stay up-to-date with other articles in this buyers guide series…get instant, free updates as they happen by subscribing to our free RSS Feed or get articles delivered straight to your inbox. You can also sign up for our FREE MTB by 198 newsletter for exclusive content, industry interviews and online coupons.