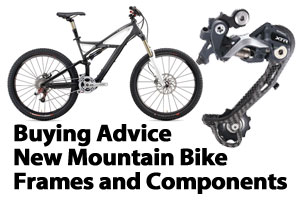 Buying new mountain bike parts and frames can be stressful for even the most experienced mountain biker. On one hand, it is great how many options we have today in mountain bike components and frames, but it can make choosing the right one for your trail and riding style difficult. I get asked a lot about my opinion on other riders buying decisions and while I can't tell anyone what the perfect bike for their riding style is under their budget, there are some universal truths that just about any mountain biker can keep to when purchasing a new frame or part. So…here is the best generic advice I can give on buying new mountain bike frames and parts for anyone looking to upgrade their equipment before the season kicks into full gear.
My Advice On Buying New Mountain Bike Gear
This is pretty much what I stick to when I am dropping my personal funds on a mountain bike frame or part. Hopefully this can help clear the noise and get you started.
Parts Last Longer Than Frames
Once you jump into the frame only market, you are going to start to swap out frames more than you do parts. Even in complete bike purchases, you will transfer your better components over to the new build leaving the lower grade parts as backups or to install on the old bike for resale. As you look at bikes to buy or parts to upgrade, keep in mind that you are going to keep those higher end parts for a longer period of time, so that investment is going to bring you more return on your money. I have a Chris King headset that has moved through 7 different bikes. Several of my wheelsets have been on 3 bikes or more.
Swapping out frames on a regular basis is also more common as your riding style changes so your mountain bike frame needs change as well. No matter what bike you are riding, the components will stay virtually the same (things like suspension fork may change due to frame specifications).
Spend The Money Where It Matters
I know that carbon cage looks cool as hell on your rig, but for a 1/3 of the price…you can step down to XT or X.9 and get the same performance. You will not be shaving precious grams or have the bling to show off at the trailhead, but you will be able to save that money and spend it on more component parts that will actually affect how your bike performs on the trail. I can't tell you how many mountain bikes I have seen with $250.00 rear derailleurs and $100.00 wheelsets. It just doesn't make sense.
I tend to make the biggest investments on wheels and suspension forks. The rest of my builds get the run of the mill XT or X.9 components.
Your Friend Is Wrong
9 times out of 10, your buddy that is telling you to buy his bike because it is the best thing he has ever thrown a leg over is wrong. No one can tell you what the best mountain bike is for you. If his bike was the best thing since sliced bread and everyone should have one…then there would only be that model of mountain bike on the market. All of our body types, riding styles and trail needs are different. Do not let someone talk you into buying something without riding it first to see if it is exactly what you need. It is not their cash they are shelling out…it is yours.
Ideally, you want to test ride as many bikes as you possibly can to find out what works best in your situation. Read reviews, try it out…talk to as many mountain bikers as you can and then formulate your own decisions based on fact. Try not to let this become an emotional, off the cuff buy.
Think About The Resale
Boutique bikes are easier to sell as frame only and big box bikes (Trek, Specialized, Gary Fisher, etc.) are easier to resell as complete bikes. It is pretty hard to unload a big box bike as frame only and get any resemblance of a quality resell price out of it. This is something to keep in mind as you look at purchasing complete mountain bikes or just a mountain bike frame. If you are selling a Trek or Specialized mountain bike, it does not have to have all of the original components on it, but it is going to resell much easier as a complete build as that target buyer is in the market for a complete mountain bike.
Better Deals Are Found In The Off-Season
You are going to find better prices and deals in the off-season as you have more buying power because retail is slow. The same goes for picking up used parts and mountain bikes. If you are looking to save some money or you are on a tight budget, waiting until the colder months may be a great option. There will be less to choose from in the used market, but the prices are generally lower.