9 times out of 10, the first component a rider looks to upgrade or replace is the suspension fork…and why not? Suspension forks get some of the most press, biggest advancements in technology and seem to change on a daily basis. I remember my first suspension fork and the gigantic difference it made on my ride. Of course…my first mountain bike suspension fork was a Rock Shox Quadra 21r that was bright yellow and used elastomers for the suspension action. If it was even slightly cold outside…it might as well have been a rigid fork!
When you go to upgrade your suspension fork…there are a lot of very specific things to consider.
What is the axle to crown measurement?
How much travel does it have?
Air or coil?
Travel adjust or not.
Can I vary from stock?
And finally…brand and model…
Axle To Crown Measurement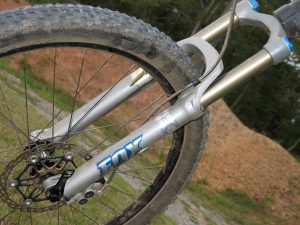 What is the axle to crown measurement? It is the distance from the center of the axle to the top of the crown on your mountain bike suspension fork. The top of the crown can also be the absolute bottom of your bottom headset cup or where the head tube and fork meet.
Why is the axle to crown measurement important? Every manufacturer specs out a specific axle to crown (a2c) measurement (in mm) that their bike is designed around. All of the geometry numbers that are posted in the bike specs are based off of this variable number. Ideally, you would like to keep this number as close to stock as possible. The a2c measurement can vary dependent on fork brand, but as a general rule…the forks that have the same travel measurement are close enough. For example, most of the 140mm travel forks are in the 515mm a2c range.
For regular buying decisions, make it easy on yourself and stick to the same travel measurement as your current fork (if came installed new), or the one that is spec'ed out for the bike. The small differences in a2c between brands will not affect the overall ride characteristics enough to worry about it. In most cases, the rear travel is balanced out with the front (ex. 5″ travel bike gets 140mm fork, 6″ travel bike gets 160mm fork, 4″ travel bike gets 100mm fork). Hard tails are normally in the 100mm and under range.
When you go shopping for a new fork for your mountain bike, make sure that you are sticking within the guidelines of the manufacturers specs.
Can I Use A Different Travel Fork?
Yes and no. The problem with using a different travel suspension fork with your mountain bike is that the new fork will change the riding characteristics significantly, and some frames react much better to this than others. When you put a longer travel fork on a bike that is not designed for it…several things happen:
Geometry Gets Slackened – It is going to turn slower and feel more sluggish in tight single track. This may be the affect you are shooting for, but if you are not…stick with stock measurements.
Bottom Bracket Height Raises – Your bottom bracket height affects the overall feel of the bike and its cornering ability by controlling how high your center of gravity is on the bike. As a general rule, the lower…the more stable the mountain bike is and the more it carves the turns like a Formula 1 racer. When you raise the bottom bracket height, you change how the bike feels on the trail.
More Leverage On The Head Tube – When you put a larger fork on a frame that is not designed for it, you create a larger leverage force on the head tube of the frame. This can cause failure at the head tube joint over time. For this reason, many manufacturers actually void the warranty of their frames if a larger fork is used, so be sure to check your paperwork before proceeding with a suspension fork that is larger than specified.
Suspension Spring: Air or Coil
Now that you have decided on a family of forks to look at purchasing based on your travel decision, it is time to look at how you want the fork sprung. Air suspension has come a very long way over the past two years, and you will find that most suspension forks on the market today fall into the air sprung category.
There are specific advantages to air sprung forks:
Lighter – Using air instead of a steel coil lightens up the fork significantly.
Adjustment – You can fine tune the fork to your weight and riding style without having to change parts, and you can get it dialed in closer.
More Variety – In today's market, there are a lot more options with air forks than coil.
Air forks used to have a lot of stiction (friction between the uppers and lowers) that took away from the plushness of the fork. Lately, this has been drastically reduced.
Coil forks are heavier, have less spring adjustment and fewer options on the market. There are still the loyal few (me included on larger travel forks) that enjoy the feel of coil over air, so you will see at least one coil fork in everyones lineup in the foreseeable future. Coil forks also tend to be cheaper than their air counterparts.
My guess is that you are going to be looking for a air sprung suspension fork as the upgrade to your mountain bike. With more options and the technology advancing, there are not many (if any) disadvantages with going air. You will also have a lot more models and prices at your disposal.
Adjustments – How Many Do I Really Need?
You are going to have to adjust your suspension fork so that it can perform correctly on the trail. There are basic fork adjustments that you need to be aware of (simplified greatly for use):
Rebound: Controlling how fast the fork recoils to normal position after a hit.
Compression: How fast (or slow) the fork compresses through its travel. Also the source of most manual lockout mechanisms.
Spring Rate: As mentioned before, controlling the amount of weight needed to compress the fork.
Just about every fork on the market (minus Wal-Mart brands) has all of these  adjustments. Some, like the Rock Shox Lyrik or Fox Talas, actually separate out low and high speed compression (not speed of the bike…shaft speed of the fork) for even greater control. Rock Shox even goes as far to give you control of both the positive and negative spring camber pressures to really dial the fork to your liking. How much adjustment you need for your fork is completely up to you. Some riders like to tinker and really dial it in and others like a set and forget fork. Check out the specifications list of the forks you are considering to see if the adjustments fit your needs.
Travel Adjust
Travel adjustment has become a much sought after feature of today's mountain bike suspension forks. Fox Racing calls it Talas, Rock Shox calls it U-Turn…whatever the coined term from the manufacturer may be…travel adjustment allows you to change the amount of travel on your suspension fork on the fly during a ride. As you can see from the picture above, the Fox Talas 140 RLC allows you to change the travel setting from 100-120-140 by during the left fork knob.
What are the benefits to travel adjust?
You can change the bikes geometry on the trail depending on conditions. Want the bike to climb faster? Dial the fork down and attack the hill. Want the bike to be more stable on the descents? Dial the fork up and start slamming into every obstacle you can find. On the fly travel adjustment has made changing the riding characteristics of your bike possible. Never before have you been able to actually change your bikes geometry to fit your needs. I try to get travel adjust on my forks whenever possible…this does increase the price in most cases…but the trade-off is more than worth it.
As you go up in price…you go up in adjustments…most of the time.
Axles – More Options Than Ever…
2008 was the year for thru axles. The standard quick release is making its way out of the mountain biking market, and soon it will only be available on small travel forks in the 100mm and under range (within the next couple of years). If you are looking at purchasing a new fork for your mountain bike, I would highly suggest going with a thru axle instead of the standard quick release. In most cases, the thru axle is actually easier to use than a qr.
There is one major issue when making the switch…your front hub. If you have a convertible front hub like the ones from Hope Tech, Industry Nine or Hadley Racing…your job is easy. Purchase the necessary parts to convert your existing hub to the new axle size. If you are using a front hub that can not be converted to the new size…like the offerings out of Chris King…you are going to have to build a new front wheel around a new front hub. This is going to add to the expense of your new mountain bike suspension fork. You should do it anyway…and here is why…
Thru Axles Are The Future Of Mountain Biking Forks – The industry is turning towards thru axles and this started with 2009 forks. Now…for the first time ever…you are seeing light weight, 100mm forks with 20mm and 15mm TA's. This is a sign of the times to come.
Too Many Benefits With Not Many Disadvantages – TA forks used to be reserved for the AM/FR/DH crowd, but now the XC/AM crowd is starting to see the advantages for their riding styles. With lighter weight forks entering the thru axle world, lighter bikes can have a fork that is much stiffer than in the past. It will hold lines better, carve smoother and have better suspension travel quality (due to less deflection) than the quick release counter part.
Will there always be quick release based suspension forks for mountain bikes? Yes…just like you see with air vs. coil, there will always be quick release based forks available to the mountain biking market. However, the thru axle forks are going to do what air sprung did to coil…basically take over the market. Now is the time to jump on if you can.
15mm or 20mm?? With the introduction of the 15mm TA from Shimano and Fox in 2008, the thru axle fork market is not as cut and dry as it used to be. Rock Shox is holding fast to the 20mm standard with their new Maxle Lite and Fox is keeping the 20mm for its 160mm and up travel forks while the 150mm and down versions are getting the 15mm. There is much debate on whether the introduction of the 15mm was a good idea for the market or not, but for the purposes of this article, find a fork that fits the rest of the specifications that you need, and leave the 15 vs. 20 as your last decision. Most of the time, if every other spec fits…you will end up picking 15mm or 20mm by default.
Price – Does It Always Have To Be About Price?
Yes…Mountain bike suspension forks are one of the few components on a bike where the price actually does matter. Unfortunantly, the price on suspension forks has also gone through the roof in recent years. Expect to pay anywhere between $250 and above $1,000 for a mountain bike suspension fork. As you go up in price…you go up in features. More expensive forks are going to (generally):
Be Lighter
Have More Adjustments
Made Out Of Higher Quality Materials
Have Newer Technologies
Better Ride Quality
And More…
In the world of mountain bike suspension forks, you really do get what you pay for. I would suggest coming up with a budget. Then take that budget, and kick it another 15-20%. If you don't know how to install a new suspension fork, budget for installation fees as well.
Get the best fork that you can afford…within reason. Mountain bike suspension forks can be moved from bike to bike and they tend to hold their resale value better than most other components…especially the higher end lines.
Brands/Manufacturers
As of the date of this article, I would stick to the following brands when choosing your new mountain bike suspension fork.
Fox Racing
Rock Shox (owned by SRAM)
Marzocchi Suspension (recent headaches in new lines should be ironed out now)
There are some promising units coming out of the Magura camp, so also be on the lookout for those forks in the near future. Manitou has taken a downturn in recent years, and most of the forks I have ridden recently are flexy in comparison with the competition. DT Swiss is coming to the market with an incredibly light line of forks, but as of right now…they still use the same Pace internals.
To stay up-to-date with other articles in this buyers guide series…get instant, free updates as they happen by subscribing to our free RSS Feed or get articles delivered straight to your inbox. You can also sign up for our FREE MTB by 198 newsletter for exclusive content, industry interviews and online coupons.