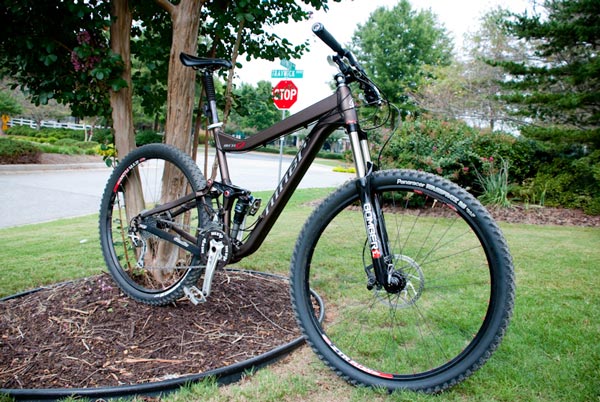 When I was reviewing the Niner W.F.O. 9 and the Marzocchi 44 29er fork, I really got to thinking about what would be my ideal 140mm travel 29er suspension fork. This market is really gearing up to appeal to my riding style. I like to blast through rock gardens, hit bigger drops and still be able to pedal the bike to the top of the hill. I really want to be able to bury that suspension fork deep knowing it will pull me out. With 32mm stanchion suspension forks…that is not as much of a given.
On the 26 inch platform, a heavier 5.5″ trail bike or a lighter 6.4″ mountain bike typically does the trick in these situations. For example, my 160mm fork 5.Spot build or the new sub 30 lbs Specialized Enduro Carbon we just got in for review. For each of these bikes, I am running larger stanchion 26″ forks that can handle more abuse than their 32mm stanchion, 140mm travel suspension fork counterparts.
What Is The Ideal 140mm Travel 29er Suspension Fork?
Here are the specs I would like to see out of the next batch of 29er 140mm suspension forks.
Air Spring
140mm Travel (adjustable to 120mm via external travel adjust)
35mm or 36mm stanchions (like the 160mm forks)
Target weight of 5 lbs. or less
Basically, I want a 140mm travel 29er fork built off of the 160mm platform. With the longer travel, longer axle to crown measurement and increased leverage from axle to crown…I think this would be a much more solid platform for the guy looking for a 29er mountain bike that can handle the abuse that you can throw at a 140mm rear wheel travel 29er.
When I was testing the Marzocchi 44 on the W.F.O. 9, the 32mm platform just didn't see to match. So…hopefully…the suspension fork manufacturers are taking note of the capabilities of longer travel 29er frames and will deliver a fork that will match the frame. Until then…the 32mm platform looks out of place on a bike of that size.