Now that I have had some time on Evil Bike's "The Insurgent"…let's talk about how it rides and what you can expect out of this carbon frame that promises to not be a "do it all" bike but one that promises to maximize the fun in every ride.
But before we get started, I want to throw out a special thanks to Blue Mountain Bikes for allowing me to steal their demo bike for an extended ride for this review. They were really supportive of the relaunch and my transition back into riding regularly again. Thanks again guys.
Ok…let's get to it.
Evil literally sells this bike as the "fun bike". If you look at the text on their product page it mentions it numerous times and paints the picture of a bike that will get you to the top of the mountain and then is slack and burly enough to take you down in true DH style. For those of us that love the descents and couldn't care less on how fast we climb, it sounds like the best of both worlds.
From Evil-Bikes.com
"No magical, wheeled-unicorn that can be all things to all people. Here's what we have created: It's called the Insurgent and it is fun. The uncontrollable-cackling-while-roost-flies-off-your-back-tire variant of fun. Which is exactly what we were aiming for. The Insurgent will get you up that long, technical suffer-fest in style with plenty left in the tank to shred a trail slide ways—the kind of trail that everyone else calls a "DH trail."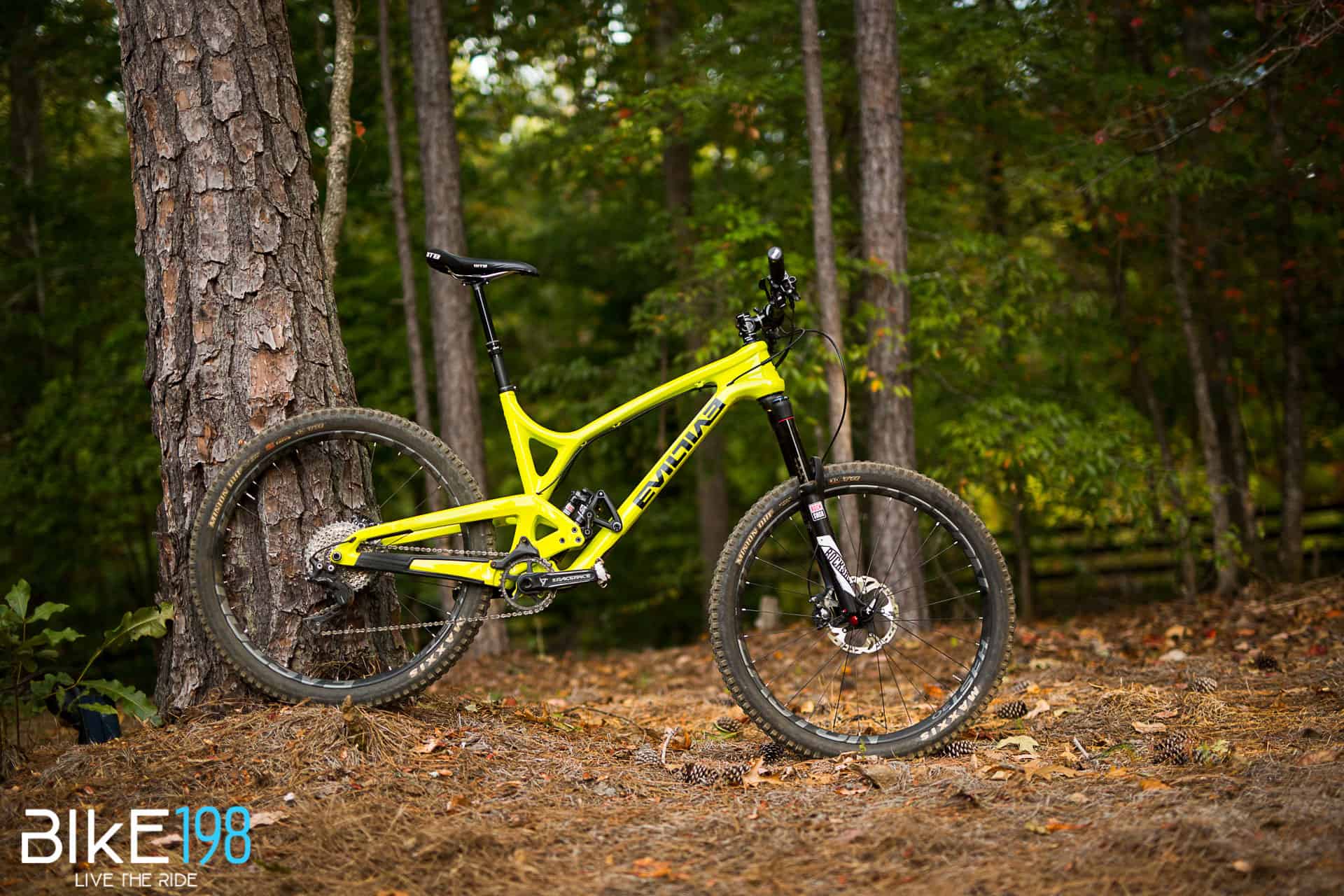 Let's talk numbers / The Insurgent
Before we get started into how it acted on the trail, lets go over the numbers. Rear wheel travel is spec'ed out at 151mm (6 inches'ish) through Evil's Delta System (Dave's Extra Legitimate Travel Apparatus) suspension which is another one of Dave Weagles designs (DW-Link fame). Up front you get 150mm through a RockShox Pike on this build kit but Evil has a complete geometry chart for a more aggressive setup with a 160mm fork as well. Either way, it is your typical 6″ travel Enduro style setup.
The chainstays come in at a short 16.93 on 27.5 wheels with enough space to fit some wide tires. When you drop the bottom bracket from low to extra-low, you do increase that length to 17 even. Speaking of the bottom bracket – you have two settings to choose from – low and extra low. This is accomplished by flipping the linkage. In the low setting – with a 150mm fork like this setup – you have an already low 13.5″ (342mm). Flip that linkage and you get into 13″ even (331mm) for a crazy low bottom bracket that is ready to rail. In the low setting, you also get a 74.8 degree seat tube angle and 66.1 degree heat tube angle. As you lower the bottom bracket and increase front travel, things get even slacker which is why Evil calls the 150mm/low setup their "All Day Peddler".
For those of you following along at home, you can see by the numbers that Evil really did try to setup the bike with multiple options depending on where you are riding. We'll get into how this effects the bike more later. Overall bike weight with pedals came in at a respectable 30 pounds even given this build kit of mostly Race Face and Shimano XT components. While these are plenty of quality to ride around and beat on…you can obviously open up the wallet more and shed some weight. I would guess you can realistically get in the 27's without compromising durability.
While we are on the subject of the frame – there is one big annoyance – there is no water bottle mount. While this may not be a big deal to some, I try to keep as much weight off of my back as possible so on local rides I like to just pack a bottle and go. With The Insurgent, I found I always had to wear a pack. However, you do get internal routing for the dropper and components as well as an integrated chain guide. You also get a cool sag indecator that helps you set up the suspension at the right 30% sag recommendation.
Climbing / The Insurgent
Let's get the part that sucks over with first. Obviously this bike is not built to be an XC hill shredder. By all accounts it is just supposed to get up there. If it was meant to climb quickly it would have a lot steeper angles, less travel and would make those gains at the sacrifice of being twitchy downhill.
First, you notice the angles right away. You really feel like you sit back on the bike and more in it than on top of it…if that makes any sense. I was really expecting this bike to wonder like a lost, blind dog on the climbs but surprisingly it didn't. The longish top tube coupled with the amount of small bump grip the rear end had made the bike pretty stable heading uphill. It was a lot better than bikes I used to ride several years ago with the same about of travel and stem length. This was aided with the fact that the suspension didn't have a lot of unneeded movement climbing. I also like to keep shocks in the open position so keep that in mind as well.
I was also expecting the front end of the bike to get really light. A lot of times with bikes that are more purpose built like this with short stays, the bike feels like it wants to wheelie every time you go to climb more technical parts of the trail. Again…while it would get "light" the front end seemed to stay down just fine. This made the bike want to climb technical terrain you usually find in areas that have technical descents.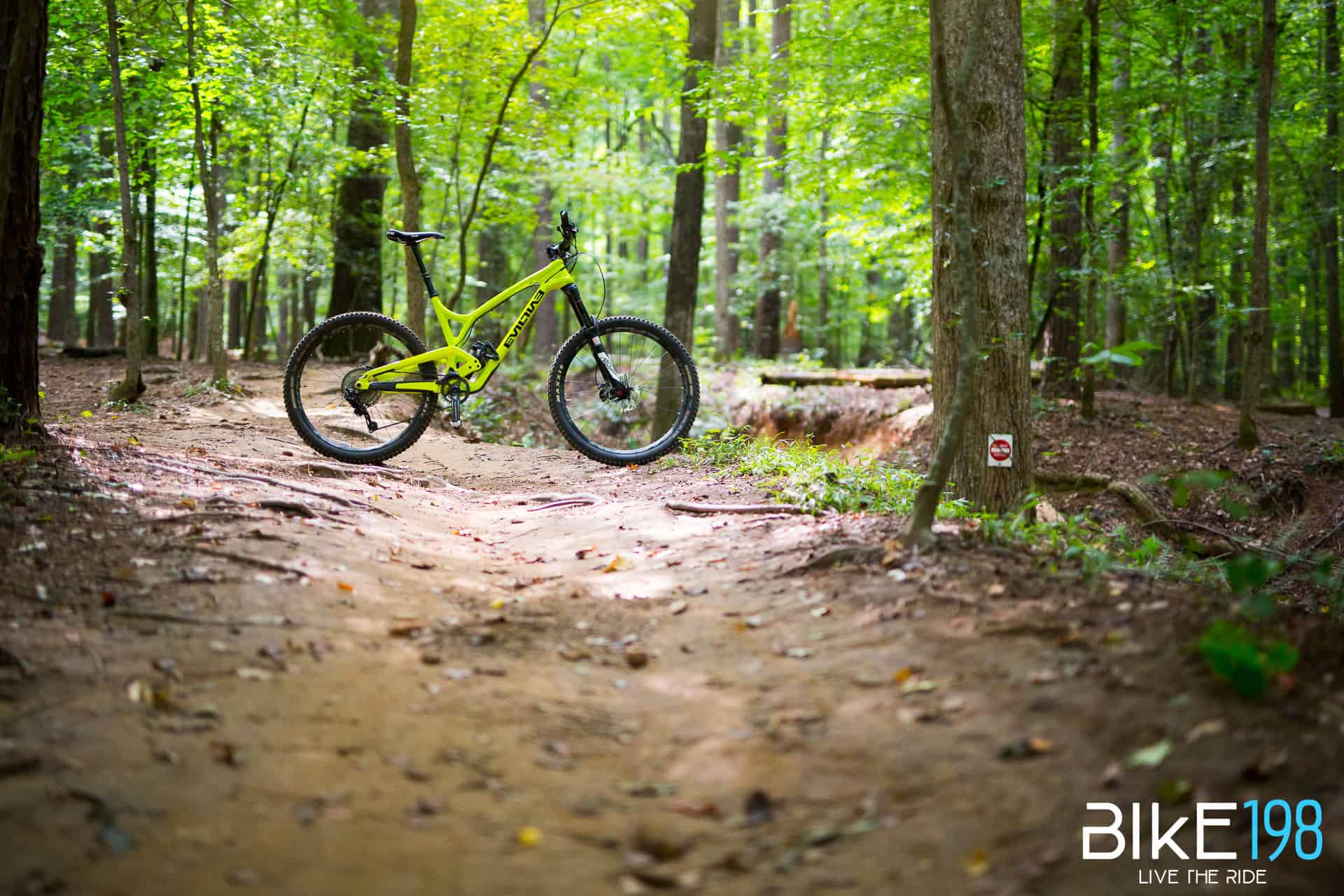 It isn't all roses though. What is going to make this bike a real blast heading downhill is also a pain in the ass going up with faced with rocks, roots and other more technical sections. The bottom bracket at 13.5″ even with 170mm cranks is LOW. You really have to plan your pedal strokes when approaching technical sections of uphill trail. When you add riding flats to that equation, you have to watch that even more. I found this wasn't really an issue when I was feeling great with a lot of leg power. The issue really came to light when I got tired and couldn't attack technical ascents with the same momentum as before. Being tired means more pedal strokes thanks to gearing. More pedal strokes means more chances to bang the pedals against everything. I would never dream of putting this bike is XLO mode for the bottom bracket in anything other than bike park like settings.
Through pedaling sections the bike acted exactly like you would expect a 6″ travel bike to. You have to work but it will do it pretty easily. I even took The Insurgent out on an urban ramble and didn't have too much trouble keeping up…I just had to work harder.
Anyways…this is a bike that is marketed as "fun" and climbing and pedaling sections do not have a lot of that…so let's move on.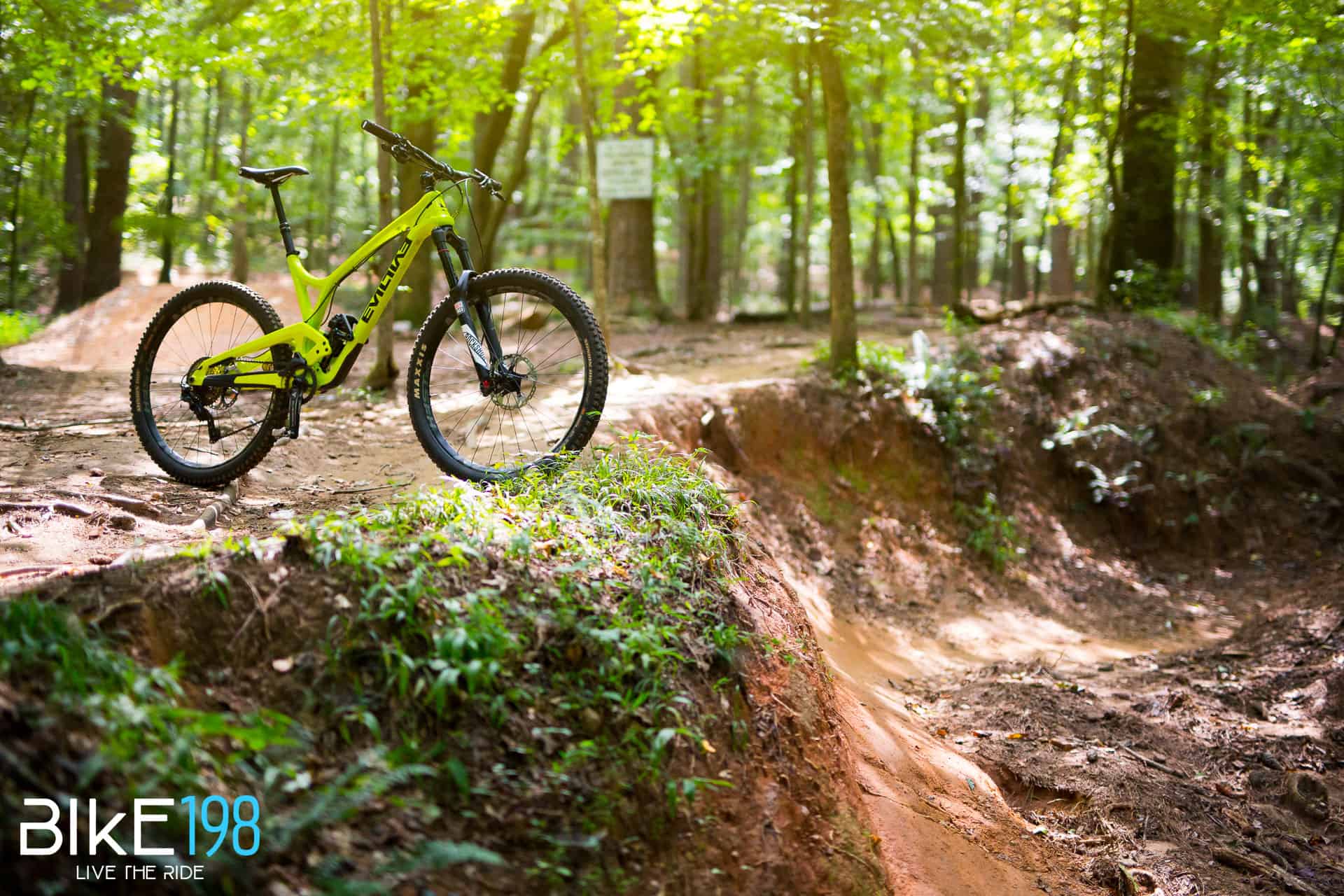 What goes up must come down / The Insurgent
Onto what this bike was ultimately built for…the descent. This bike flat out RAILS. There are a few reasons for this that I felt – so let's get into it.
First, the Delta System suspension is not only plush and LOVES to be mid travel (which is my favorite place to hangout) but it is also very low in the frame. This brings the center of gravity down in the bike and when you add the low bottom bracket and slack numbers, it makes this bike just want to roll forward on you. Your body position really feels like you are down in the bike and it makes it very maneuverable on the ground as well as in the air. The harder you push this suspension into berms, rocks, roots, faces of jumps…the more it just wants to take it and ask for more. You quickly start looking for the nastiest lines you can find to plow through or clear over. This is the fun part of the bike they are marketing. It all makes sense and it really does feel like a play bike.
When it comes time to clear obstacles and hit jumps, the plush suspension is very responsive to pop and has a great spring off lips and faces. This really makes you want to move the bike around and clear sections for faster descents. The landings are incredibly stable and the lower center of gravity again aids the bike in transitions.
When you lower the bottom bracket into XLO (13″ setting), all of that just gets multiplied. The bike wants to push forward harder and gets even more stable as the angles slacken and the center of gravity gets even lower. I only spent a limited time in this setting though since almost every where I ride requires technical climbing.
One of the things I also found really interesting is how quiet the suspension was descending (and climbing for that matter). This bike was lent to me for this review from Blue Mountain Bikes and it is one of their demo bikes. It has a lot of miles. The only noise I got out of the frame at all was a little chain slap on the upper part of the rear triangle. That is easily fixed with a little bit of the soft side of velcro stuck on. Other than that…zero noise, creaks or anything else annoying.
Final Thoughts / Evil Bikes "The Insurgent"
The Insurgent has become one of my favorite 6″ travel bikes to descend on. The lower center of gravity of the suspension design coupled with the short stays and low BB really suits my riding style well. I have always been the guy that will save my energy on the climb (I'll just get there when I get there) so I can peg my heart rate on the downhill all the way to the bottom looking for anything and everything to run over, clear or just play on.
If you are looking for a bike that just multiplies the best parts of mountain biking (at least for me), The Insurgent should be on your short list. It isn't going to be the bike that keeps up with your friends on peddling sections or climbs but it is a hell of a lot of fun with things get pitched down and it can take some serious abuse. This is a bike that I can see building for myself in the near future.
Evil Bikes "The Insurgent"
The Verdict
Why a 9? Because it delivers on exactly what is advertised. A bike that will get you to the top, is still capable of crazy descents and bike parks...and literally is fun every time you ride it.
The Good
Low center of gravity
Plush Delta System suspension
Adjustable bottom bracket height
A bike that can tackle everything from mountain to bike parks
The Bad
Low BB prone to pedal strikes
No water bottle mount
Pay to play