Awhile back…I talked about how we will probably see more full face helmets at the local trail head. Full face helmets are becoming lighter and more vented thanks to the enduro racing series. This is bring a new lineup of full face helmets that can provide better protection on technical trails while also being able to be worn on your long climbs in search of the long descents.
The Smith Mainline helmet is Smith's first, production full face helmets that packs a lot of features including 21 vents. There are also some interesting safety features in this helmet that are not like others in this category. In this review, we are looking at the Smith Mainline and how it performed out on the trail.
Smith Mainline Specs
Before we get into how the Smith Mainline performed on the trail, let's take a look at the specs on this helmet.
Protection Complete Koroyd® coverage for lightweight
MIPS® Brain Protection System
CPSC CE EN 1078 and ASTM F1952 downhill certified
AirEvac™ ventilation system integrates with Smith goggles for fog-free lenses
Three washable cheek pad kits, two crown liners and two neck rolls let you fine tune the fit
D-ring chin strap fastener for a snug fit
21 fixed vents for consistent airflow
Adjustable visor
Hybrid X-STATIC® / XT2® anti-bacterial performance lining for odor resistance
Three Colors: Matte Black (tested), AC / Rocky Mountain Enduro, Matte Sage / Red Rock
Three Sizes: Small, Medium and Large (tested)
Weight (Size M, MIPS®): 27 oz / 770 g
MSRP – $300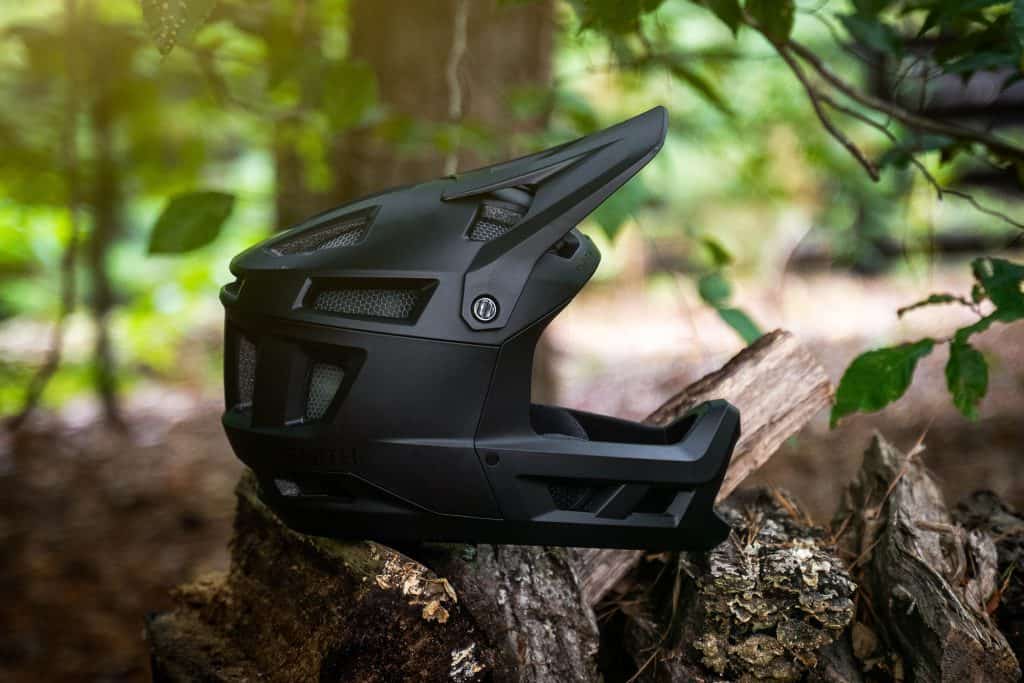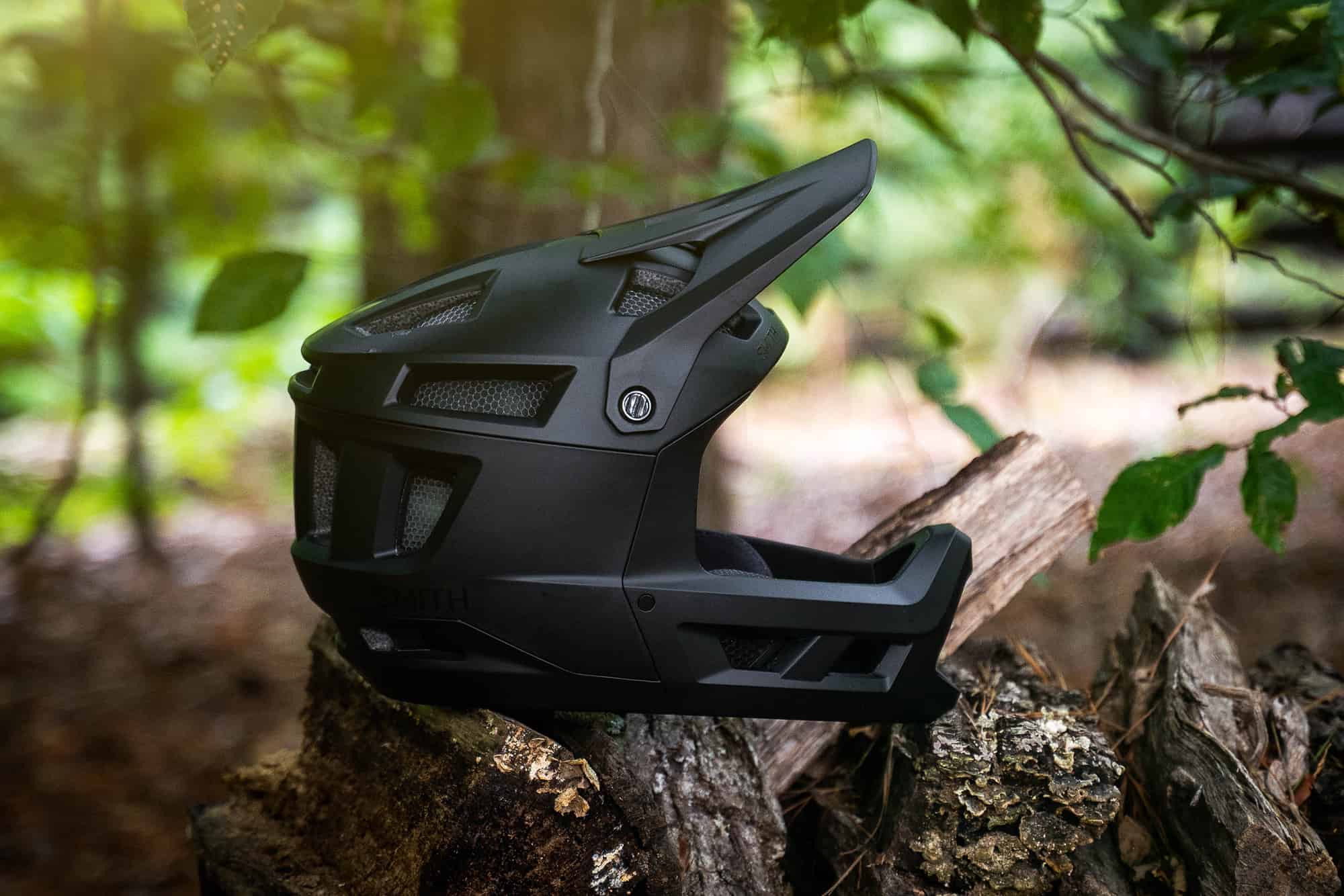 Let's talk about safety and what is Koroyd?
Koroyd is a material that you will see throughout the Smith helmet lineup.
By utilizing crumple-zone cylinders that crush uniformly on impact, Koroyd® manages energy more efficiently with less volume than any other protection material on the market. Unlike traditional protection materials, Koroyd® cylinders absorb and convert more kinetic energy, while increasing airflow and reducing overall weight. Not all helmets are created equal.

Traditional materials act like a spring which stores energy and then releases it, Koroyd® is a true energy absorber which converts the kinetic energy by crumpling. This translates into better absorption of impact energy.

Smithoptics.com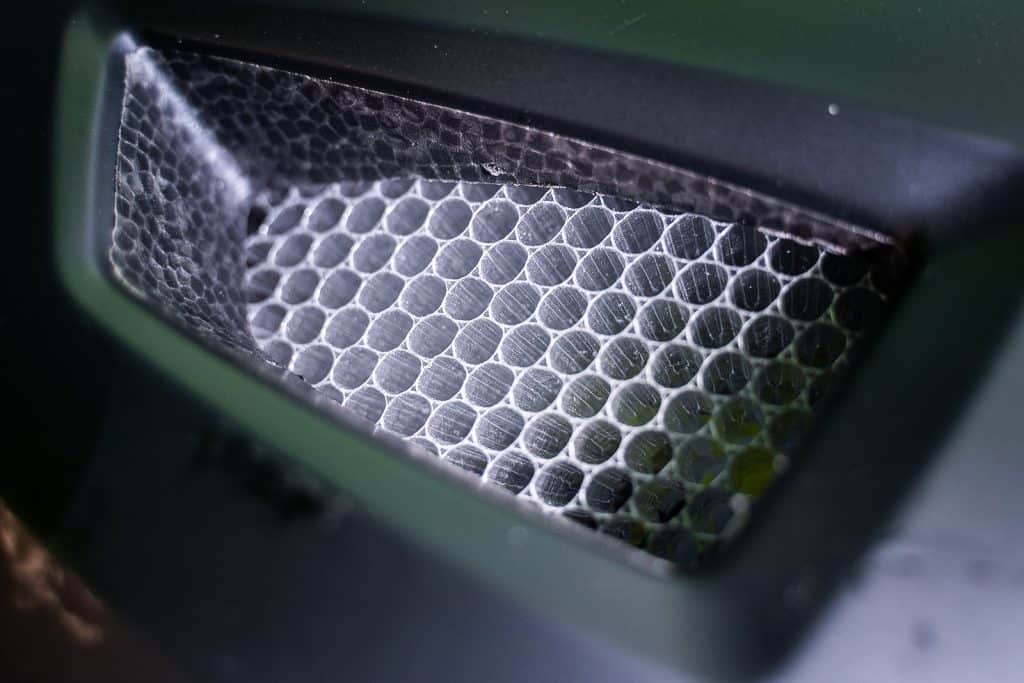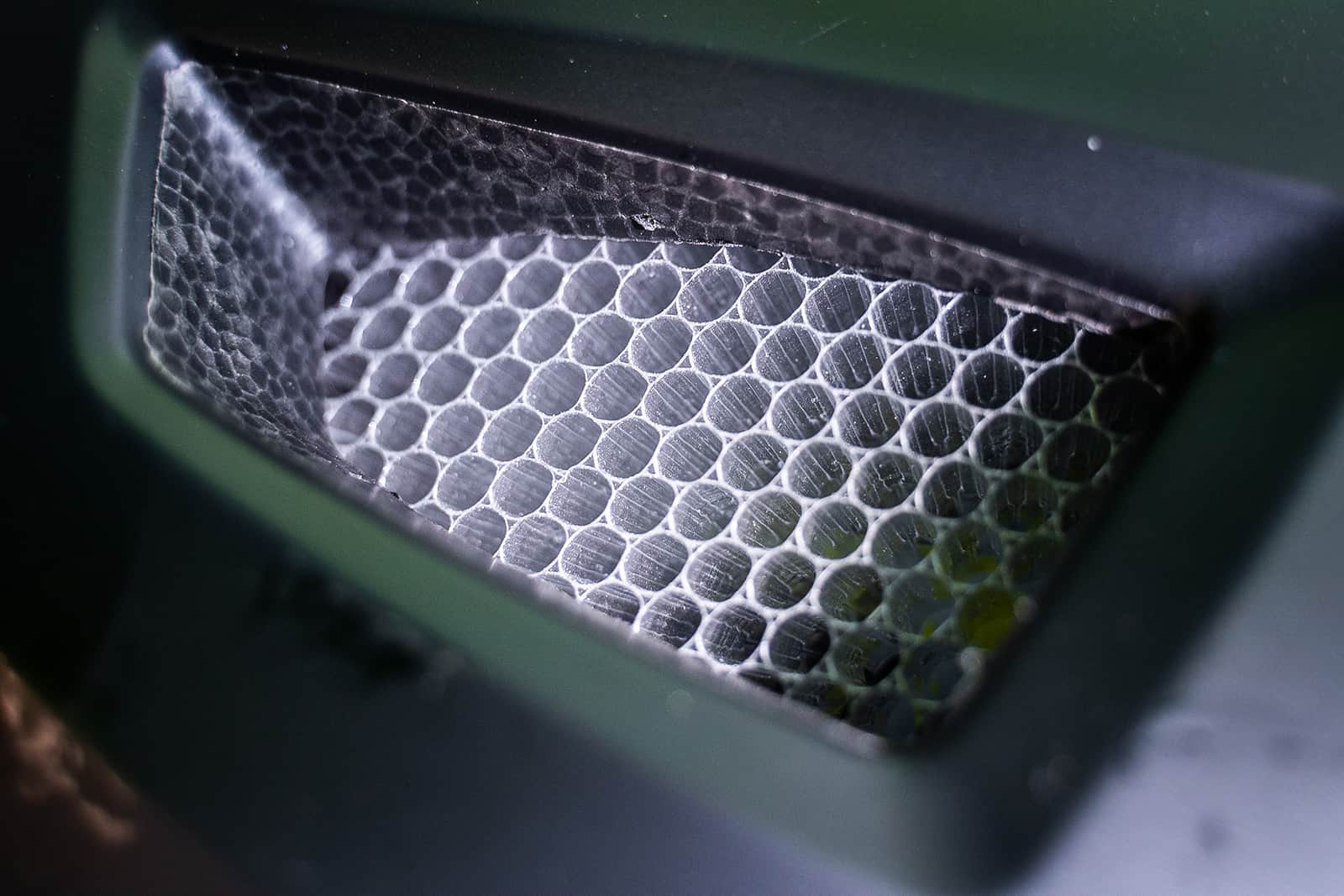 What you will see is a honeycomb design on Smith helmets that aims to provide better protection through crumple zones that are still able to vent and expel air due to their open design. I like to think about it like crumple zones in a car. The more the object that is protecting you can take the impact force, the less that force is translated to your body.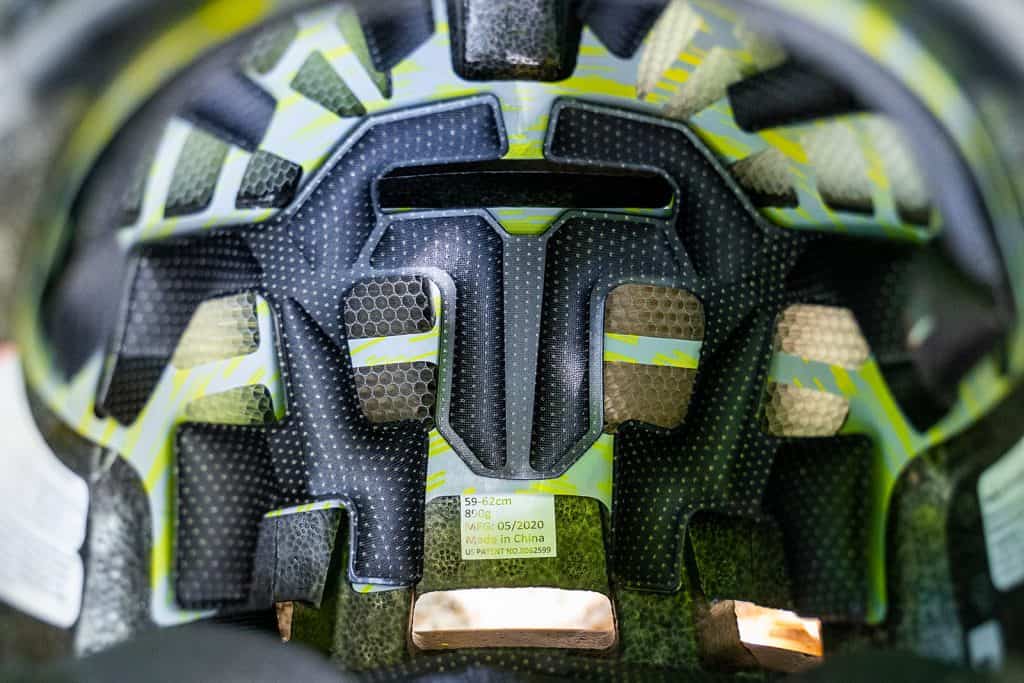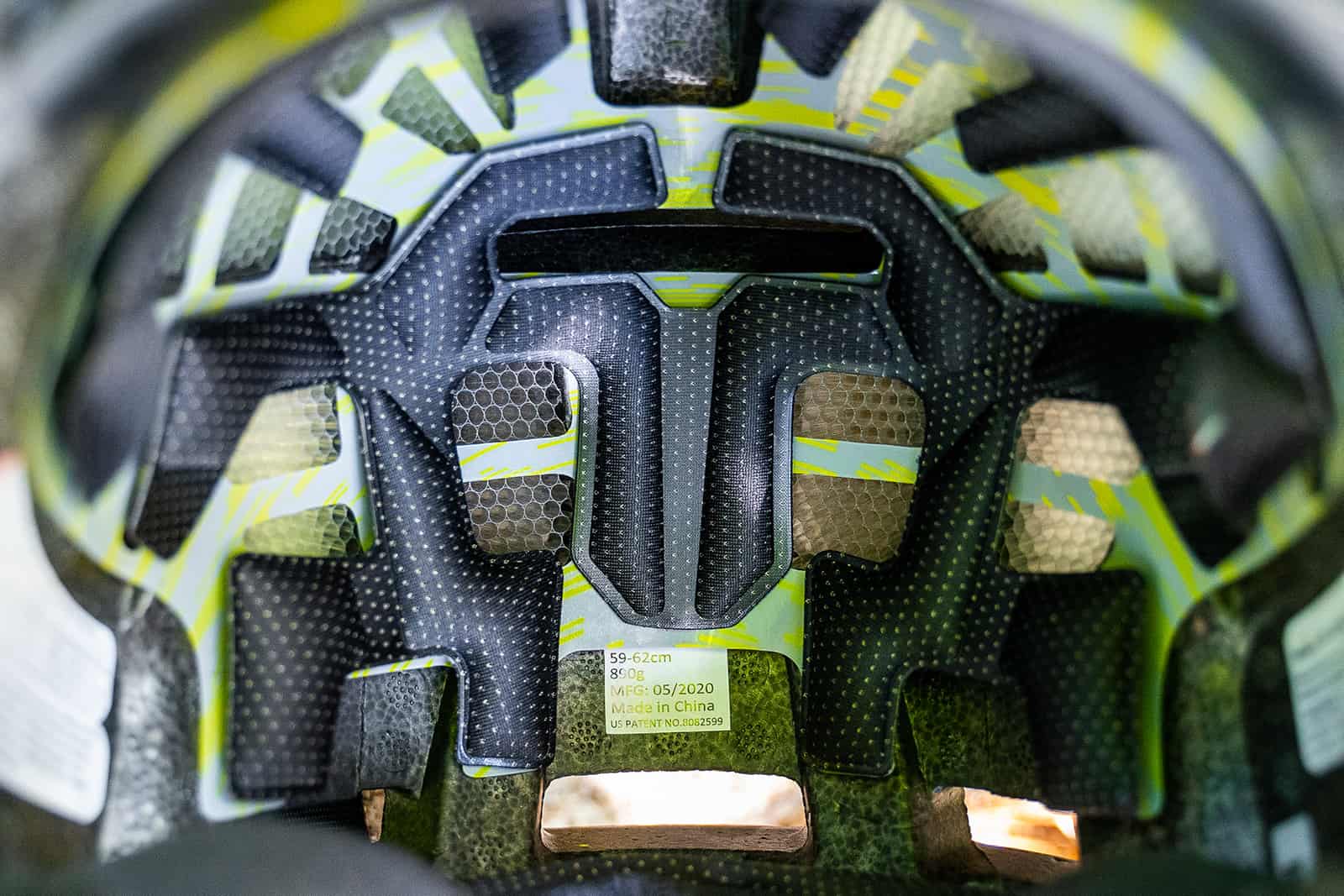 The helmet also features MIPS which lets the helmet slide in relation to your head to lessen rotational forces. Smith was also able to get a full CPSC CE EN 1078 and ASXTM F1952 downhill certifications even with all of the venting.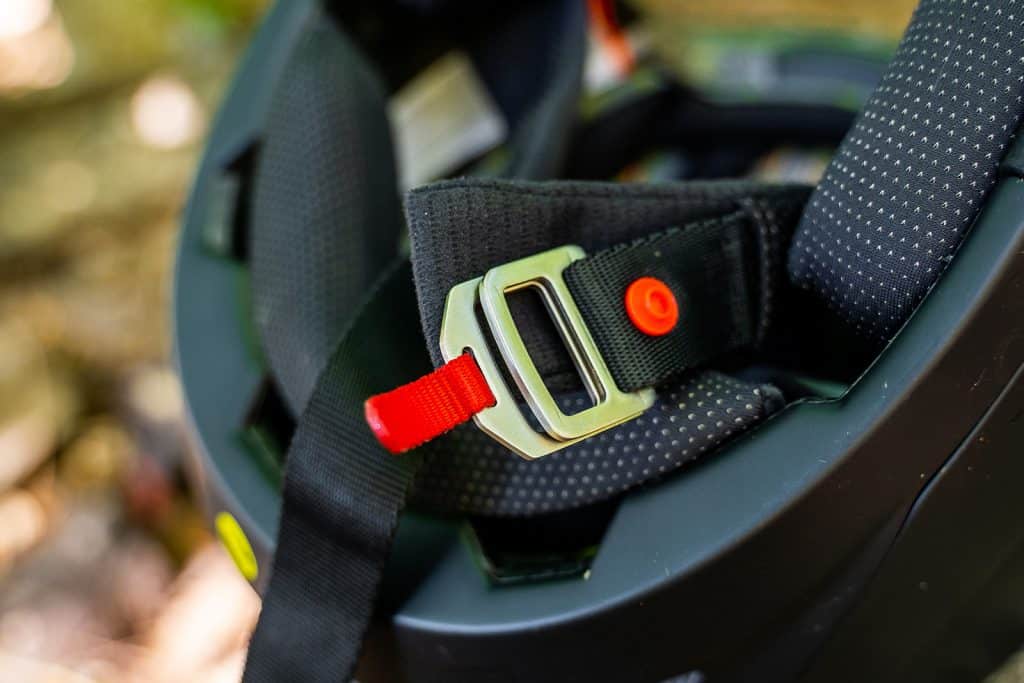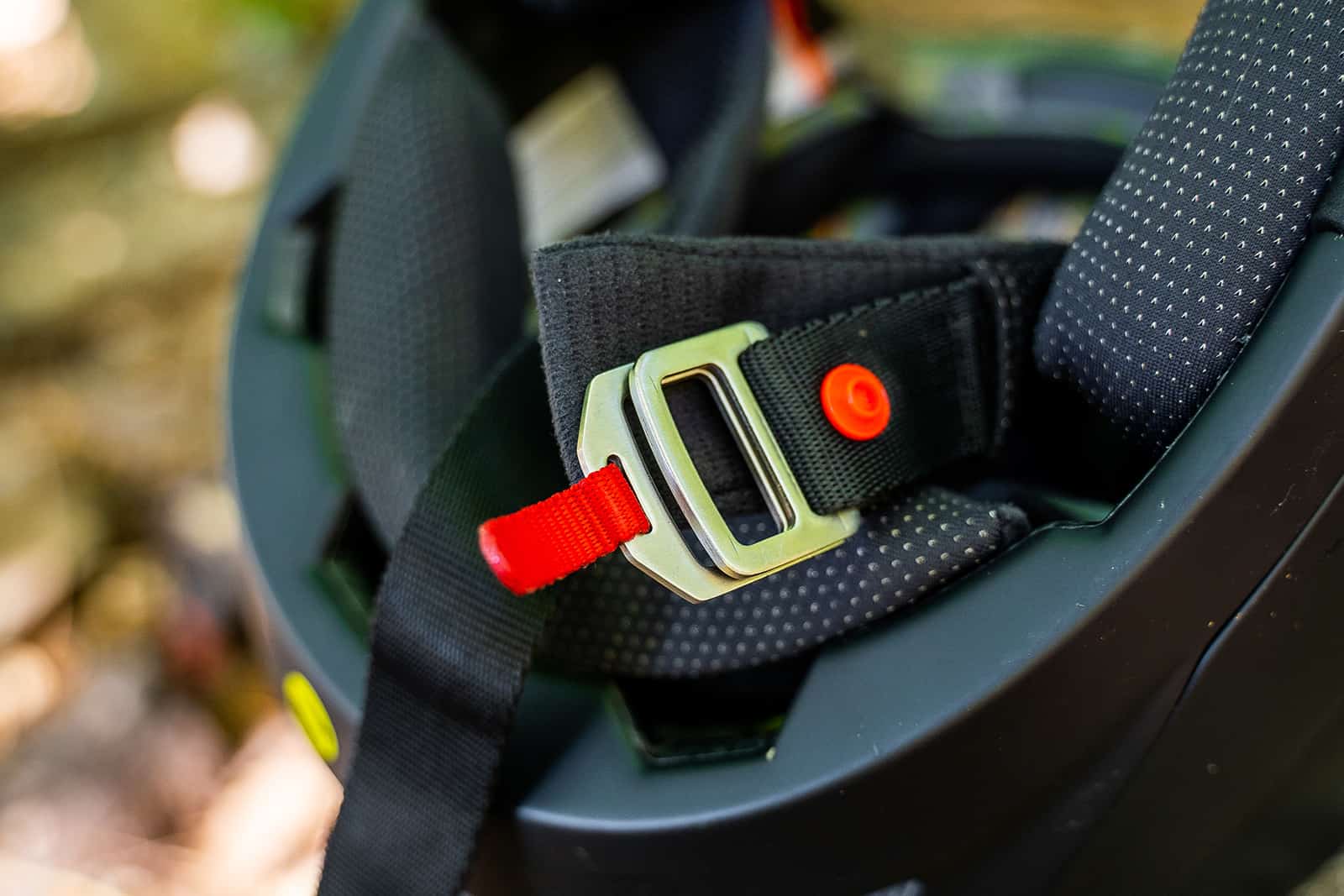 Smith Mainline – The Fit
Smith uses a series of different sized pads to get the Smith fit to your head. I actually prefer this method over using a retention system like you would find on a half shell. It makes it so that the helmet is easier to get on and off on the trail but you do need to make sure you take your time to get the fit right. I found that using the medium chin pads with the larger head pads really worked out well for my setup. I am around 58cm which was right in between the medium and large. The medium felt too small around my head. This setup on the large felt perfect.
One thing to keep in mind. The pads are held on by little Velcro patches that have an adhesive backing. Do not pull those off too quickly or you will pull the little pads with the padding.
I used several different googles with this helmet (POC, Melon, etc). They all see to fit well and I didn't run into any issues. The newer Smith goggles will actually fit flush with the helmet to match the front ventilation but I was not able to test that feature. And on the bottom you get your conventional full face helmet D ring strap.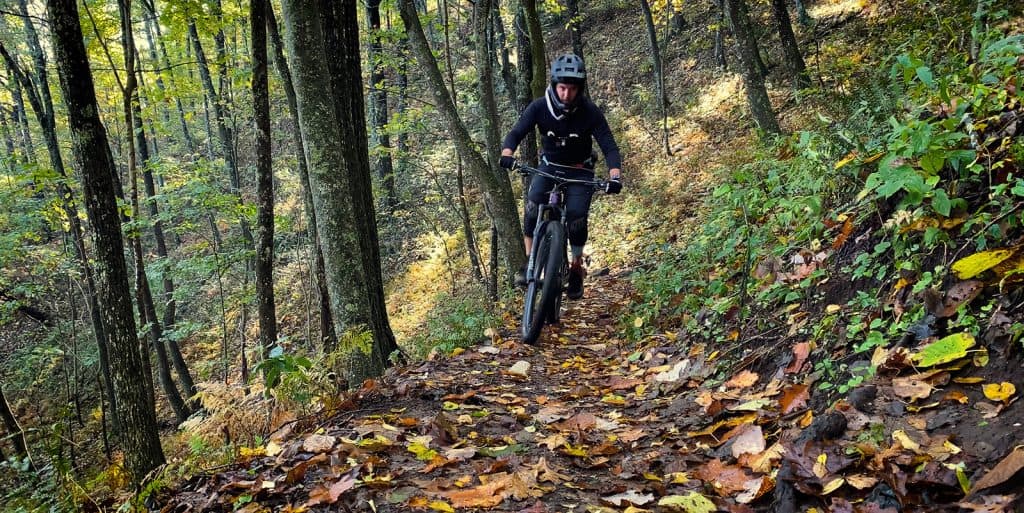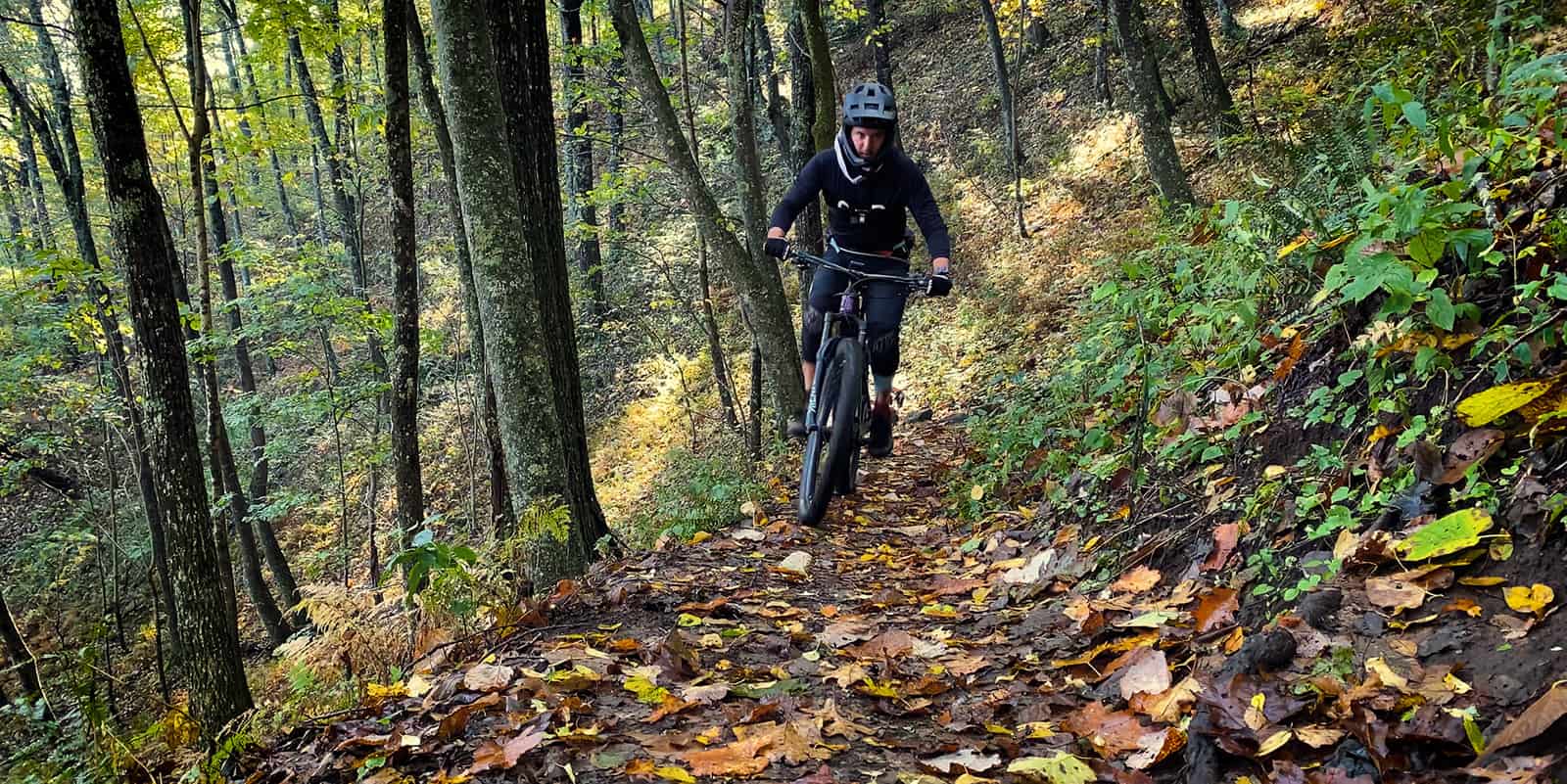 On the Trail with the Smith Mainline
For the actual trail testing with the Smith, I wanted to take it to areas were the venting would really be tested. It is still hot, humid here in Georgia so it was perfect timing. All of the rides that I took the helmet on were over 17 miles in length. They comprised of long climbs to long, technical descents. I also challenged myself to not take the helmet off at all during the rides. Temperatures ranged from the mid 70's to the mid 80's. Humidity ranged from 75% to 99%. Yes…there was a portion of trail that was just fog because the humidity wouldn't lift.
Smith Mainline – The Good
Let's get into the good news first and then we can talk about where Smith can make some improvements.
Venting – Do the 21 vents do their job?
Yes. This helmet vents incredibly well. Not only do they do a great job of letting cold air in, but they also let out hot air equally as well. There were times on the trail where I really forgot I was wearing a full face helmet. I rarely…if at all…felt like I was going to overheat. The Koroyd cylinders also did a great job of not keeping hot air from my head inside the helmet. The font vents never made it feel like I was breathing back in my exhaled air and the full open front vent made it really easy to grab a drink from my hydration pack.
Smith really got it right when it came to the venting of the helmet and it showed on the trail.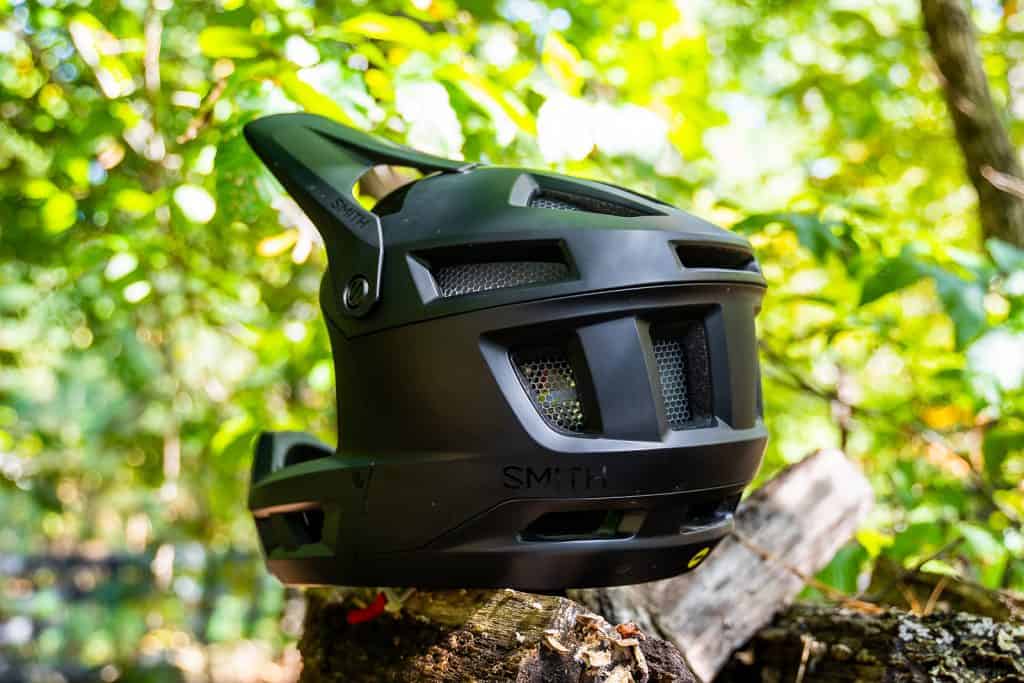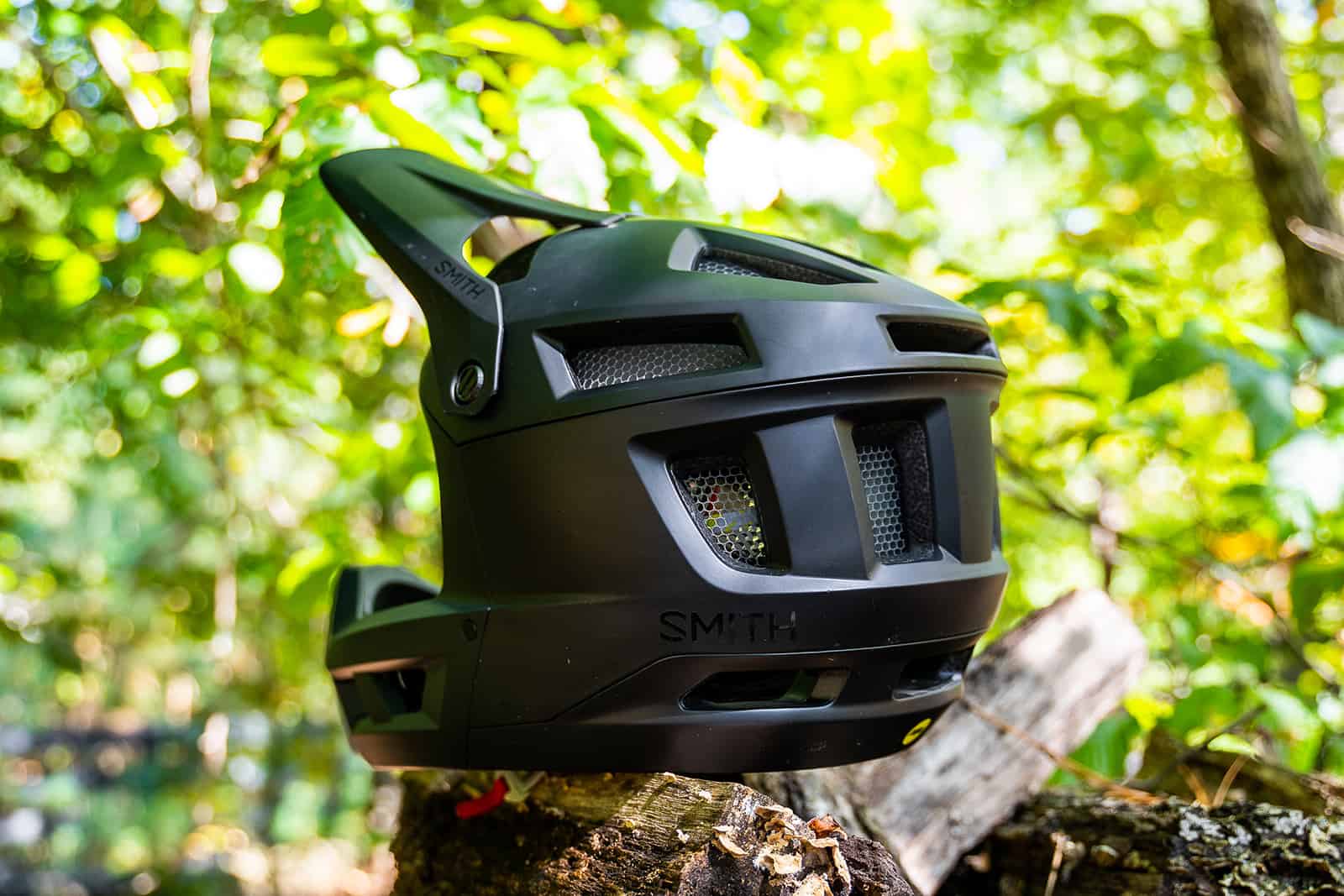 Comfort and Weight – How did it feel after really long climbs?
At 900g for the large version, the Mainline was still really light on the trail for size. I never felt any neck fatigue. The chin portion is really light with the materials and venting so you don't feel like the front of your head is pulled down either. Smith did a great job of combining downhill certified performance with a lightweight construction for long days in the saddle.
The Mainline is also very comfortable. You can really dial in this helmet with the pads provided to get almost a custom fit. I didn't experience any pressure points and the helmet did not move around a lot on technical downhills.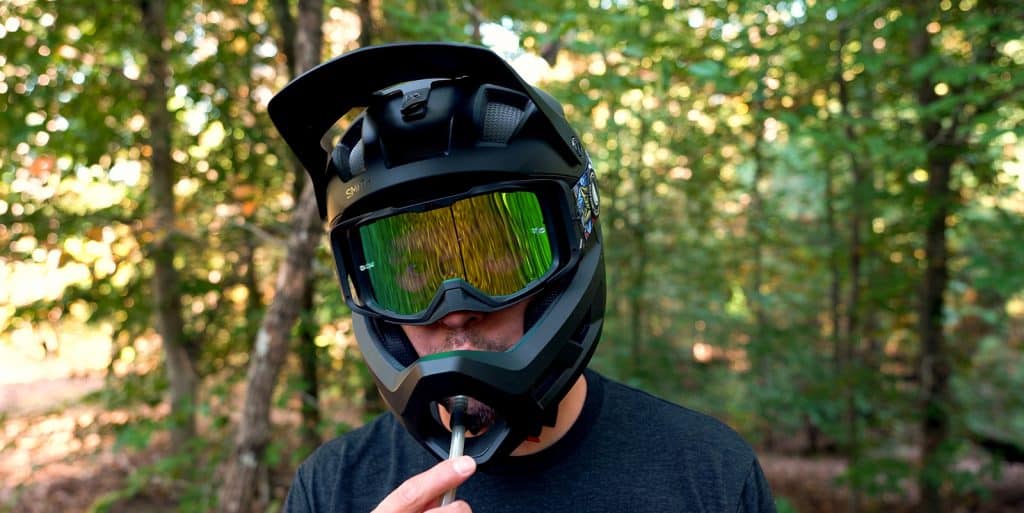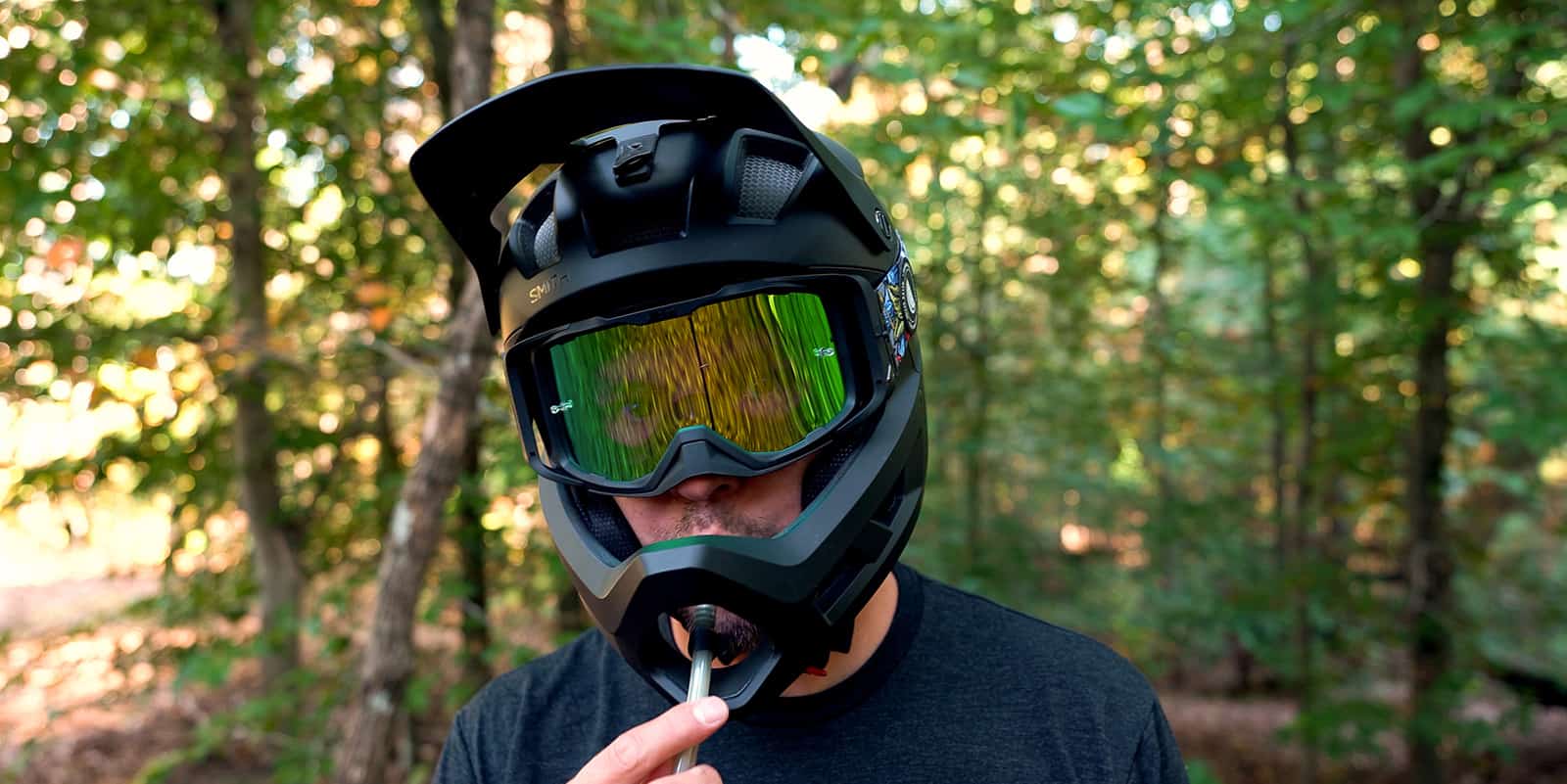 Safety – Is it worth wearing on long rides?
Luckily…I didn't have the chance to really test out the MIPS or Koroyd systems. It's probably a good thing I didn't slam my head into something during this review! That said…you do gain some confidence knowing those technologies are there to help save your brain and head should the worst happen. I actually have nerve damage in my jaw from a wreck when I was not wearing a full face helmet.
I do feel more comfortable pushing the limits when I have extra protection on…especially in really tight, technical backwoods riding. We are far from people or facility that would be able to help in a bad situation. The extra protection from a fully certified DH helmet that is able to be worn all day is a definite plus.
Smith Mainline – The Bad
Just like with all products that hit the mountain biking market…they aren't perfect. Let's look into where the Mainline can improve.
MIPS – Yes it makes noise…
MIPS is a great safety feature that has been introduced to mountain biking. Having the inside of the helmet being able to slide can do a lot to keep further damage to your head and brain. There is just one issue in full face helmets. That extra weight (specifically below your ears) provides extra leverage on the MIPS system which causes it to move some while you ride.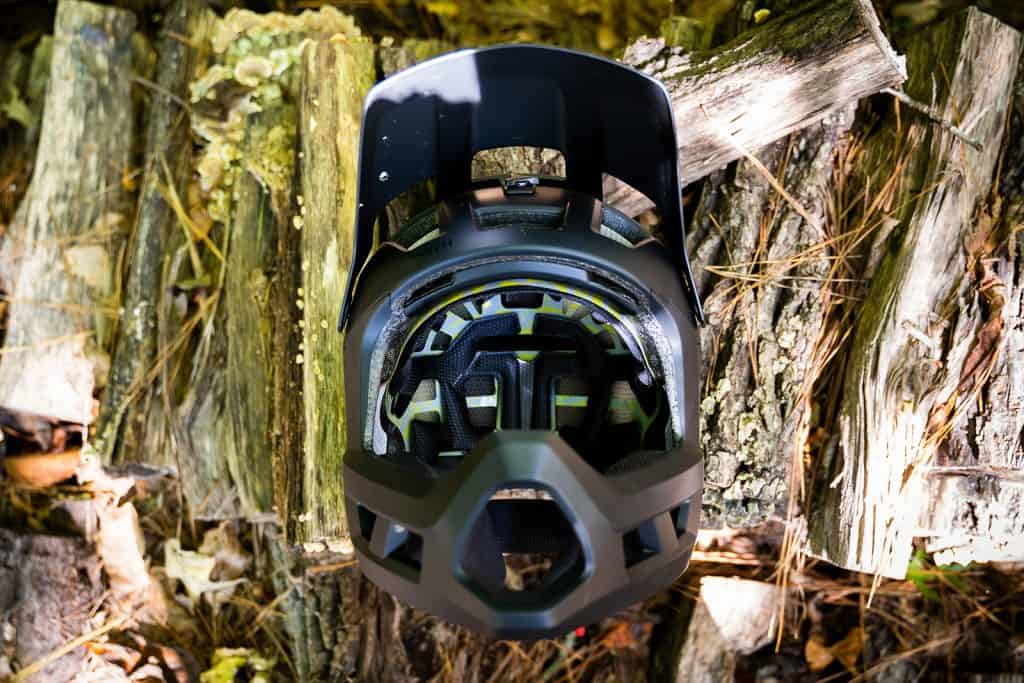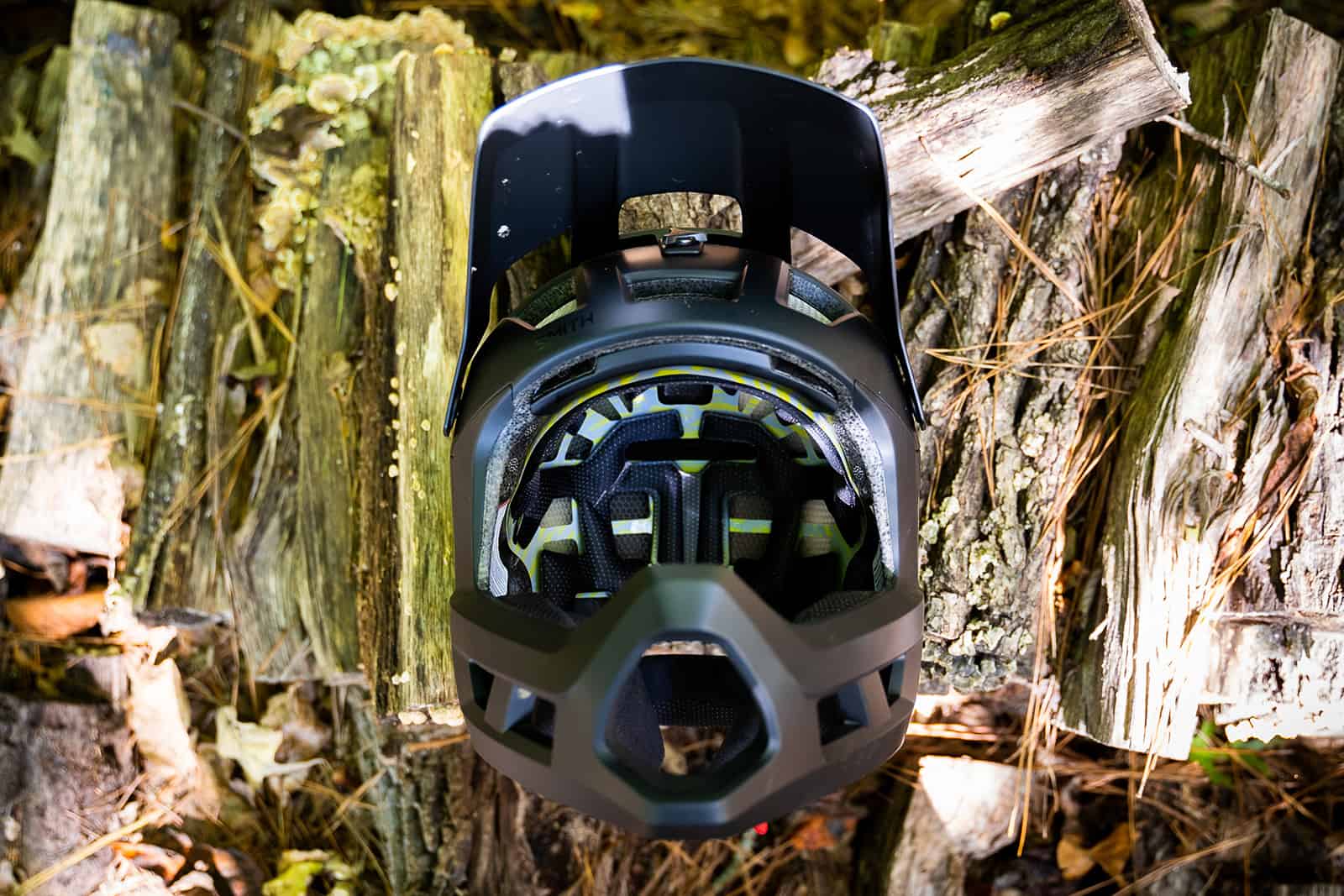 This wouldn't really be that big of an issue in a normal helmet. As a matter of fact, MIPS moves in your half shells some. What is the difference in a full face helmet? Your ears are fully enclosed in the helmet so you hear the MIPS system every time it moves. This isn't so bad on downhills where you have a lot of external noise from the bike and trail but on climbs it is noticeable and can get annoying. I was able to minimize it as much as possible by really taking the time to get the helmet fitting perfectly…but it was still there.
The D Ring Chin Strap
I get that the most secure way to fasten a full face helmet is with the D rings. I have never had an issue with it on my other dedicated DH helmets but with the Mainline it really got on my nerves. I wanted a traditional, half shell buckle like you would find on the POC full face.
Why is that? These helmets are really designed for long days…not just single runs. There are times at the top of the climbs when you will want to take the helmet off to air out, eat some food or just talk to the people you are riding with. Especially when your gloves are sweaty…it is really difficult to get the D strap on and off. If the Mainline had a buckle, it would make it a better "all day wear" instead of a vented version of a DH helmet.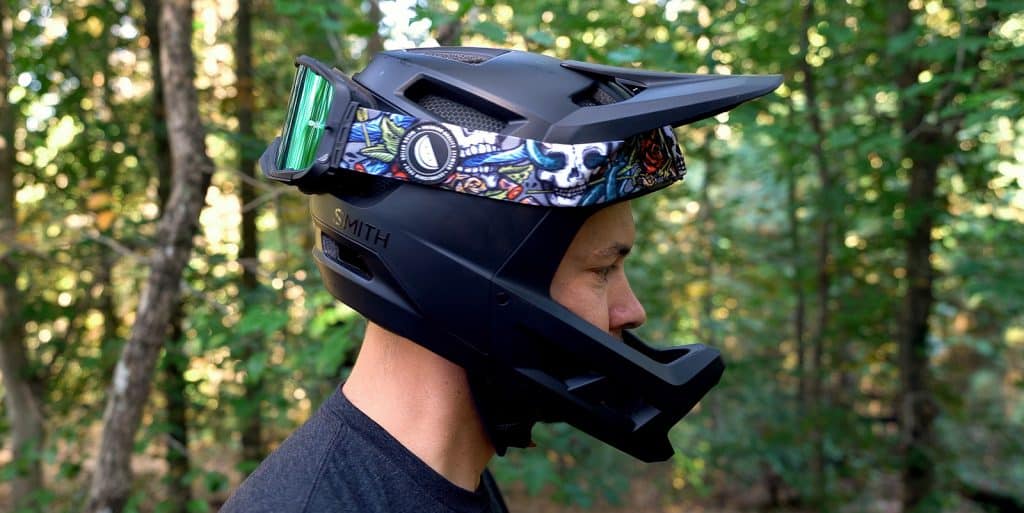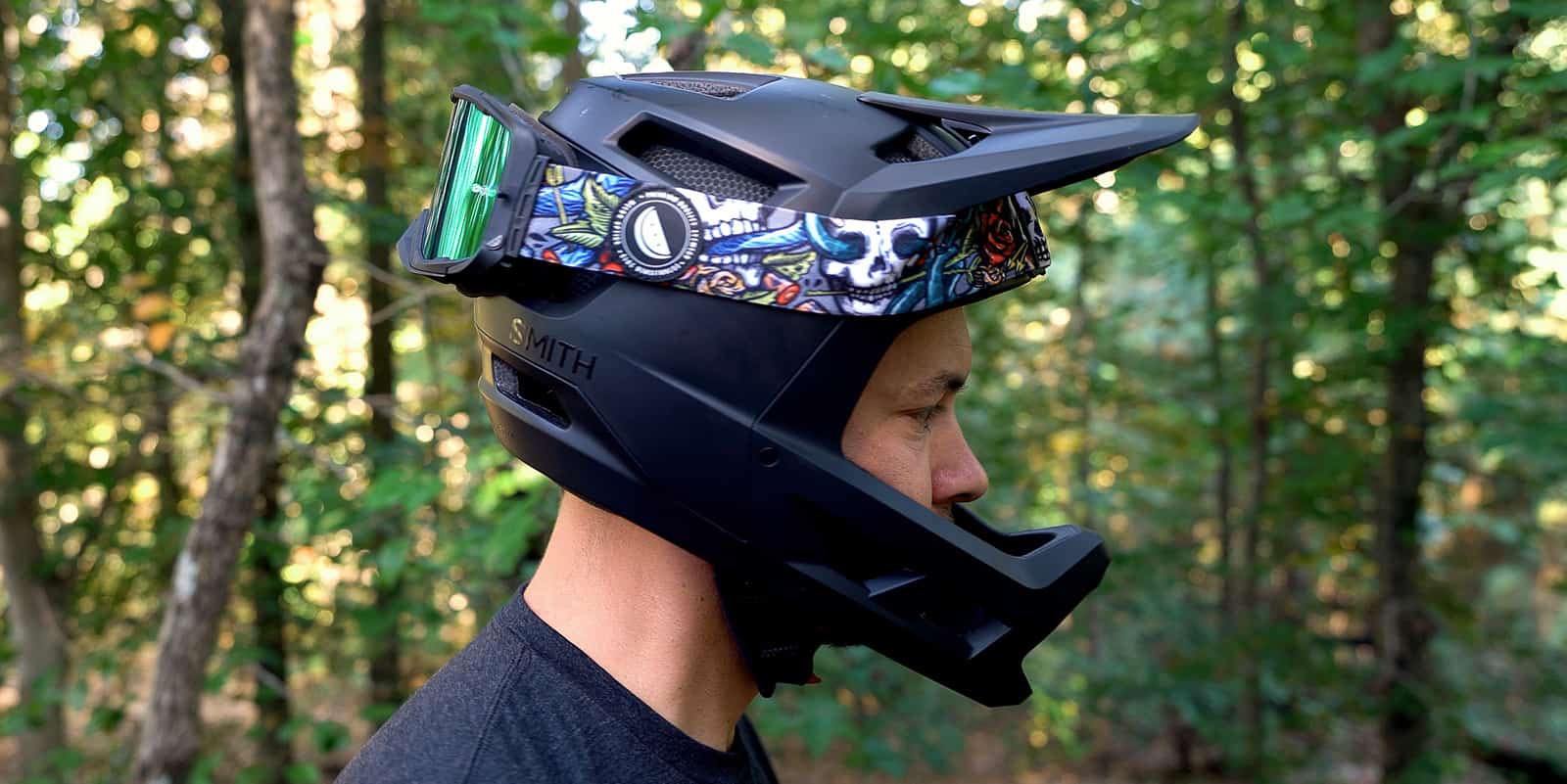 The Venting and Goggles – Fog City
This really only applies to when you are climbing as the venting while going downhill was great for both the helmet and the goggles. I did not get any fogging in those situations. What I did notice is that if you like to store your goggles backwards on your helmet while climbing, the hot air out of your helmet from your head completely fogs up the goggles.
I ended up just putting them backwards around my neck so it wasn't that big of a deal.
Overall – How did the Smith Mainline do?
Overall, this is a great, all day wear full face helmet. What it needed to do…it did great. The massive amount of venting kept the temperature of my head from overheating, even on long, steep climbs. The helmet has plenty of safety features that will provide a lot of added protection on the trail. It will also be able to pull double duty as a full out DH helmet as well as a more enduro style, backwoods full face.
At $300, it can be on the pricier end of the non-carbon variants. If Smith could quiet down the MIPS system somehow and go to a buckle for the chin strap…the Smith Mainline would be close to perfect. I will be using this helmet on our more technical trails now. The added safety of a full face finally doesn't make the ride unbearable due to heat…and that is a good thing.
Smith Mainline Review – Full Vented Enduro Full Face Helmet
The Quick Review
The Smith Mainline is a vented full face helmet that you can wear for long descents where you have to climb to get to the fun. There are a few quirks but overall it is an excellent helmet for Enduro style mountain biking.
The Good
Koyord Protection
MIPS Brain Protection
21 Vents that WORK
Can wear on long, hot rides
The Bad
On the expensive end
MIPS makes noise while climbing
D ring hard to use on the trail