After 6 months on the trail…it's time for the EVOC Hip Pack Pro 3L Review.
I started looking for hip packs when my back just couldn't take hydration packs anymore. I know there are versions that attempt to put the weight on your hips over your shoulders…but I needed something that wouldn't pull down on my shoulders at all. It was causing back pain and I was done with it. That's right! It was time to join the enduro/hipster fanny pack movement!
I searched around a lot online looking at the usual suspects. I looked at everything from Dakine, Camelbak, EVOC and others. I was looking for a pack that had a hydration bladder included and enough space to carry what I needed on regular trail rides. I landed on the EVOC Hip Pack Pro 3…so let's take a look at it…and not talk about how much fun my wife made of me for wearing a "fanny pack". I think I might just wear it on our next trip just to mess with her.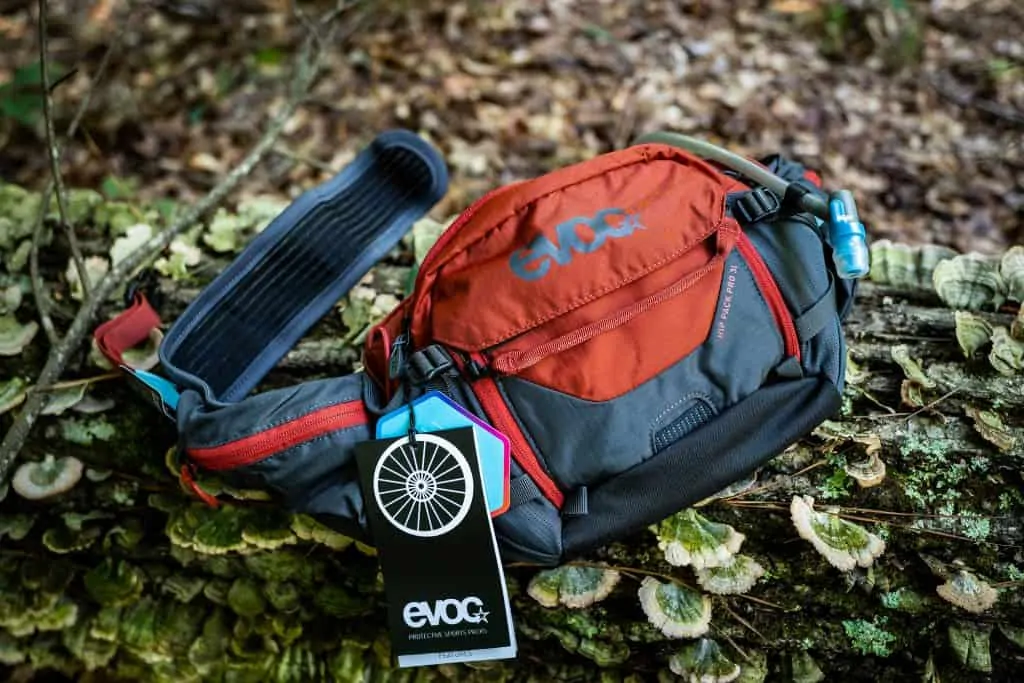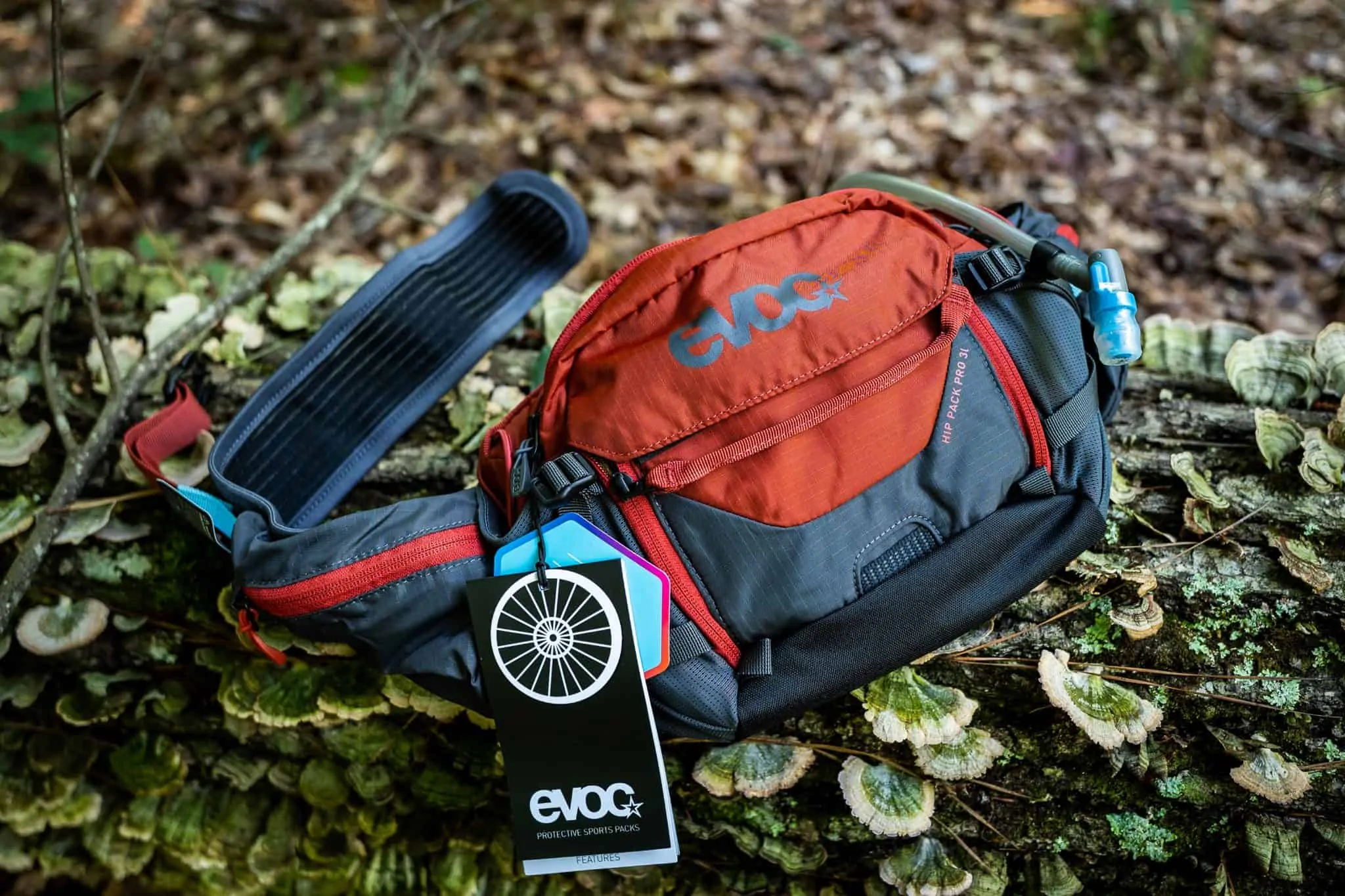 EVOC Hip Pack Pro 3L Specs
Volume – 3 l
Weight – 430g
Measures – 28x18x8cm
Air Flow Contact System
Venti Flap
2 BOTTLE CARRIERS with extra safety fixation
HIP PACK HYDRATION BLADDER 1,5 included
Carbon Grey / Chili Red Version (also comes in Black/Carbon Grey and Sulfur/Moss Green)
MSRP – $129.99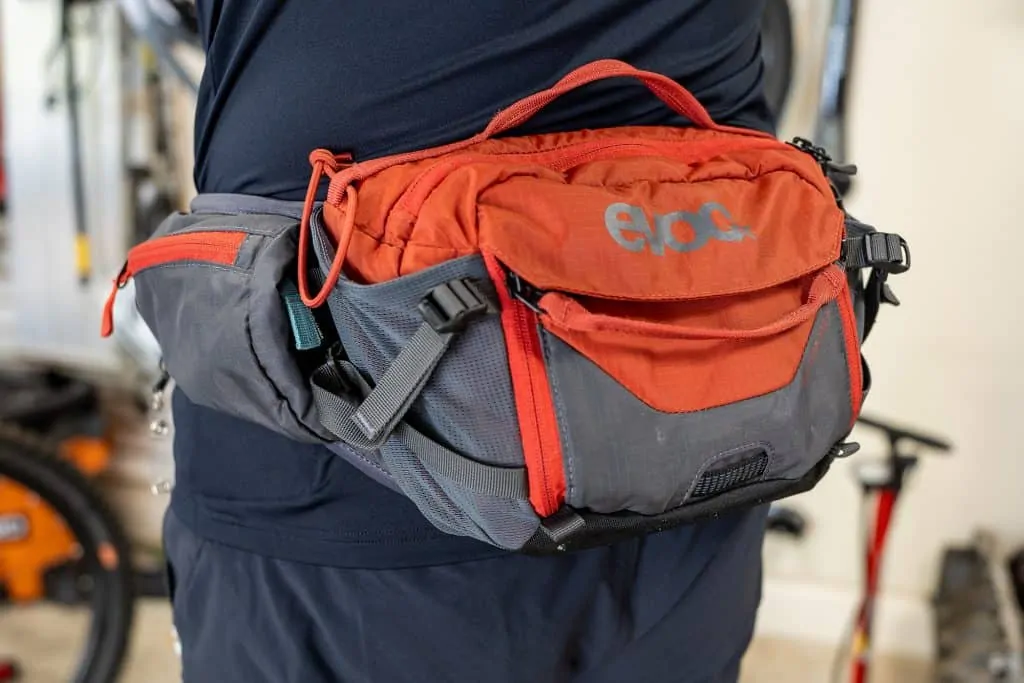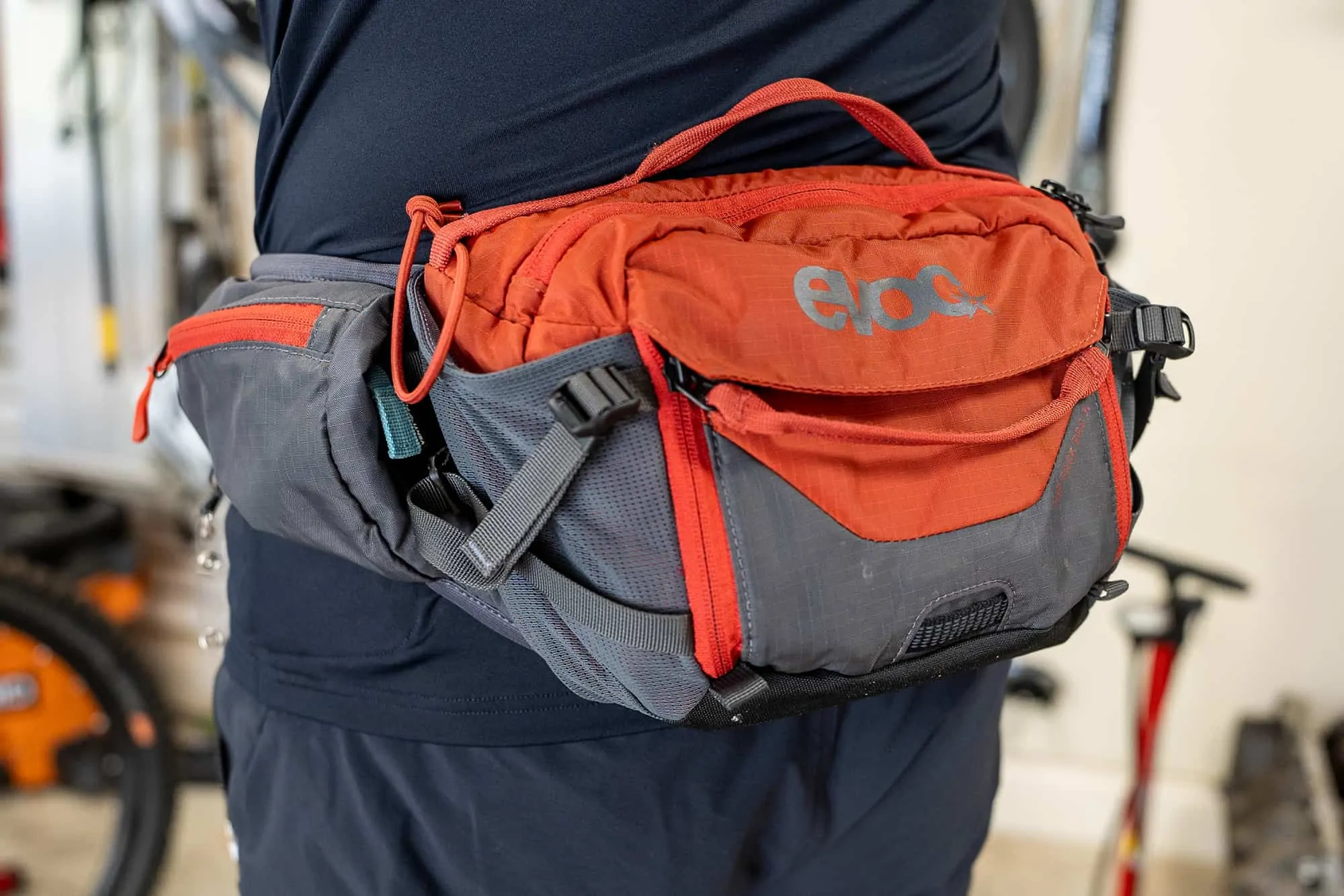 EVOC Hip Pack Pro 3L Review
Let's get into he EVOC Hip Pack Pro 3L review. The Hip Pack Pro has a pretty simple layout. When you open the outer flap pocket, you will find 3 mesh elastic pockets for various gear and tools. I use this area to store some gels, zip ties, tire lever, air cartridge, multi-tool and SRAM quik link. These are the usual basics that you need on the trail.
On the flap of that pocket you will find the cell phone pouch. It should fit a lot of different phones that are "normal size". My Pixel 4a fits just fine but my iPhone Pro Max does not even come close. The pack does have a water resistant covering so non IP certified phones should be fine in there if you happen to get wet.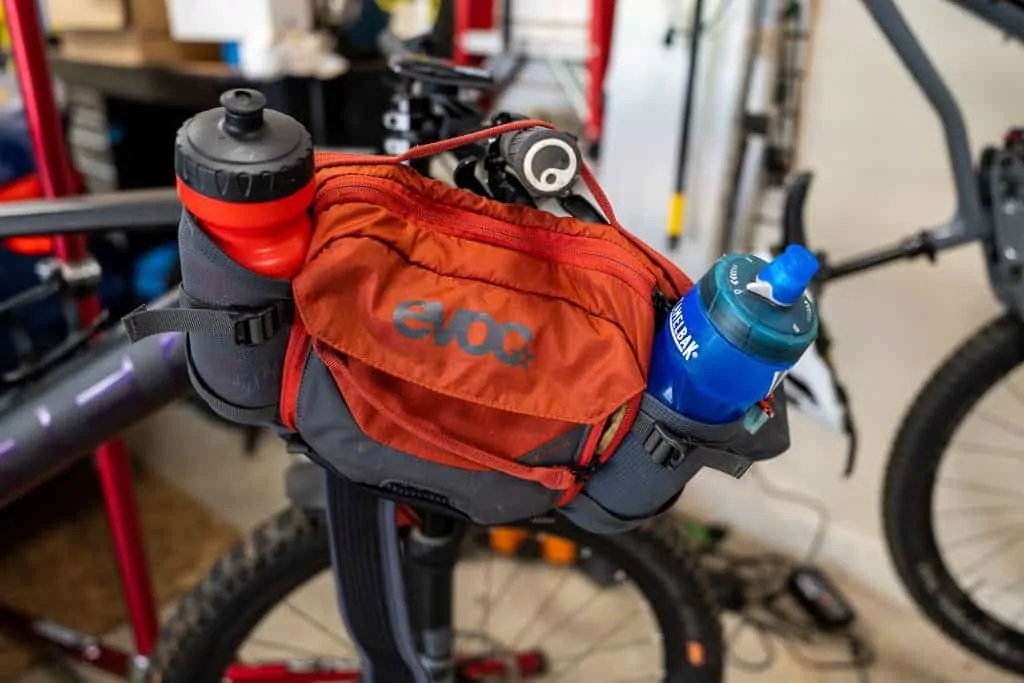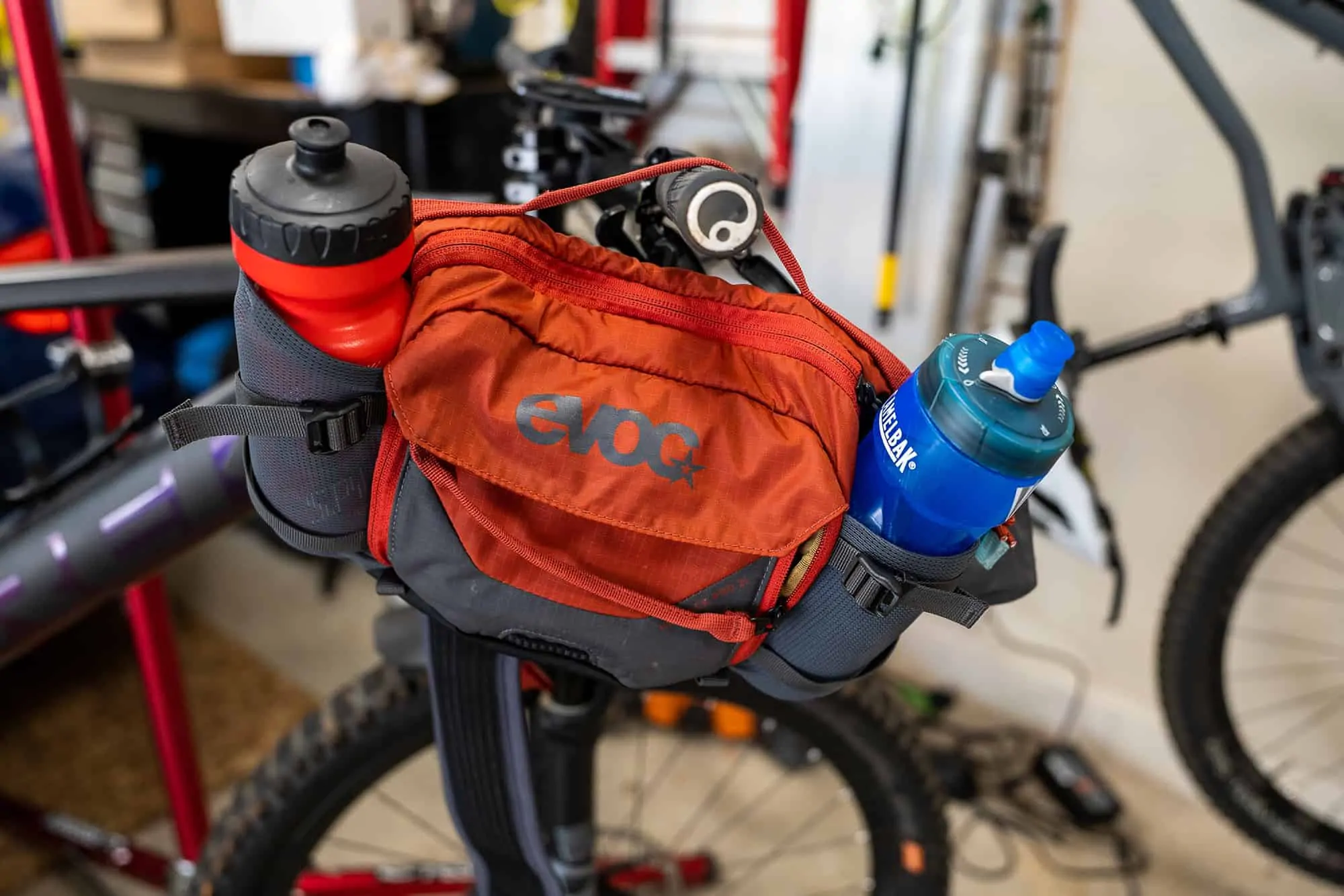 That outside pocket is flanked with the water bottle holders on each side. This is one of the few packs that give you the option of bottles, bladder or both which is a nice feature.
The top zipper is the main storage area where you find the bladder made by HydraPak and another general pocket storage area. This is where I keep things like an extra tube and more nutrition such at Bloks. The bladder has a velcro strap for security and the tube runs right out the side of the pack. The straw connects with a magnet after coming around your waist.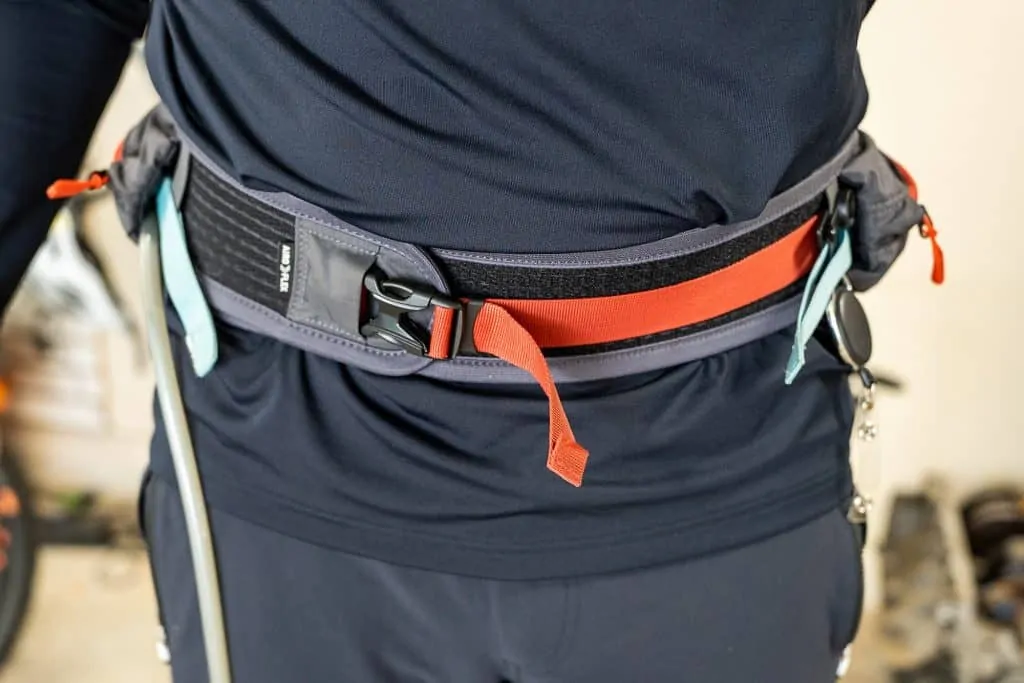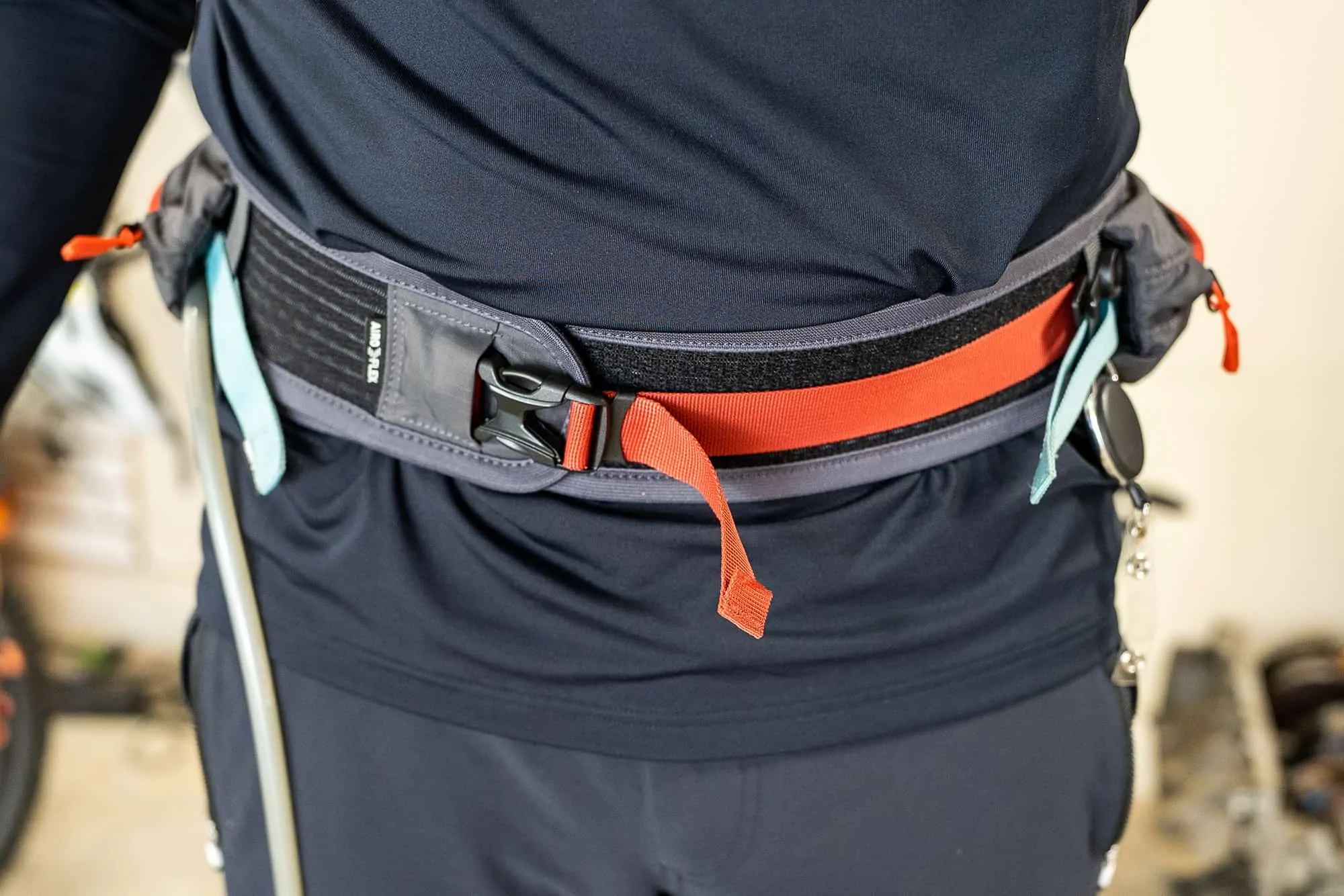 The waist connection has a long, wide Velcro belt with the strap buckle on top. Each hip belt as an additional storage compartment for keys, easy tool access or any other small item you want to be able to access without having to spin the belt around. Then each side has the straps for the "Venti Flap" that tightens or loosens the pack for better security or better airflow depending on if you are climbing or descending. Finally, up against your back you will find the Air Flow Contact System.
EVOC Hip Pack Pro 3L – The Good
First lets talk about the fun parts of the Hip Pack Pro.
On The Trail with the Hip Pack Pro
Riding with the Hip Pack Pro on the trail is extremely comfortable. I was actually really surprised. There is very little movement while riding. Even in really humid conditions it never felt hot against the back. Bottom line…it did exactly what you would hope your hydration packs would do…just dissappear.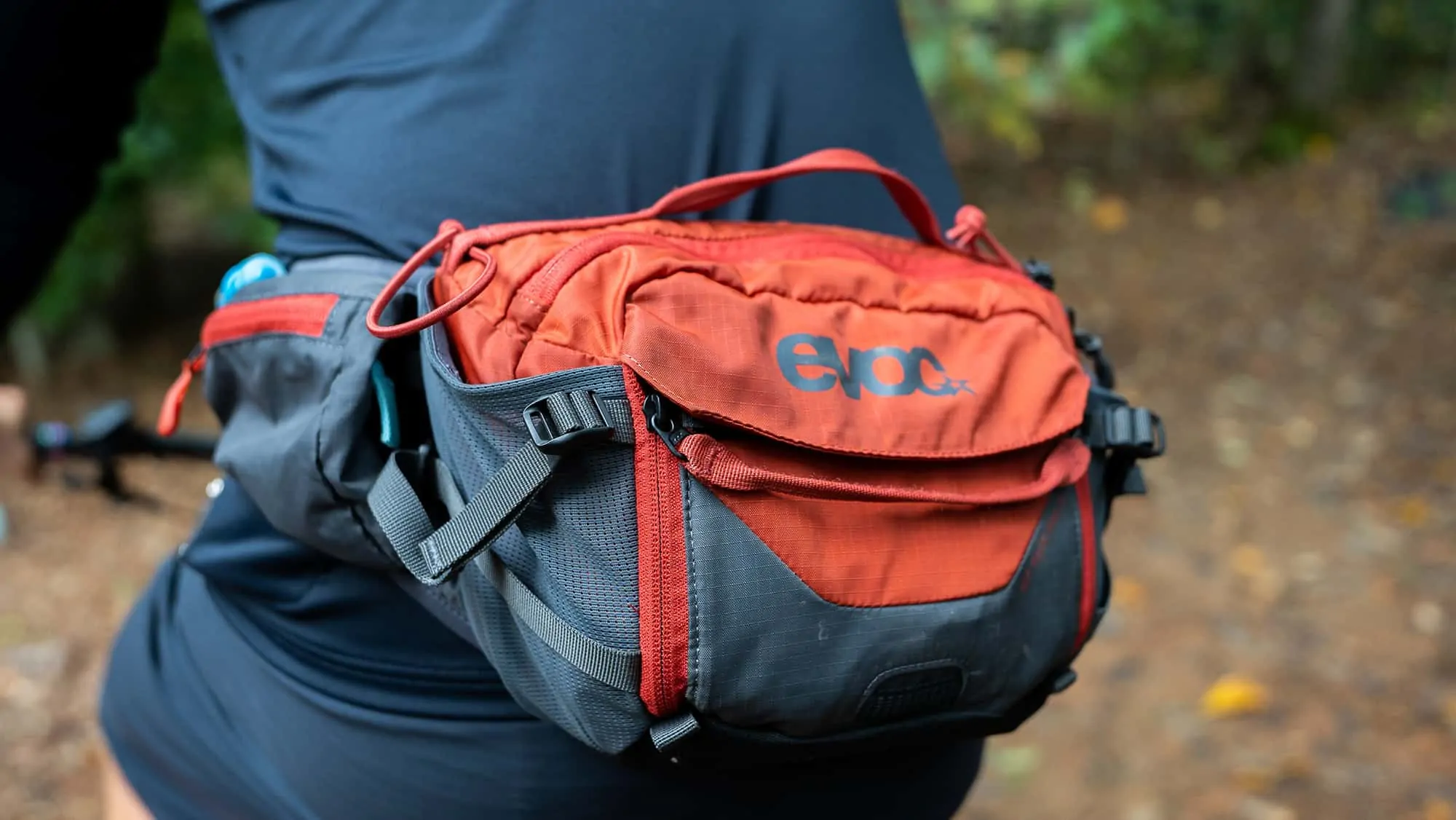 There are several reasons I think this hydration hip pack was so comfortable.
The Thick Velcro Waist Band – While some hip pack only use the nylon strap/buckle to secure the pack to your waist, EVOC put an additional, wide Velcro strap that extends all the way around. This creates a wide platform across your waist so you don't feel like you have strap digging into you.
The Venti Strap – When you pull the Venti Strap into the downhill position it pulls the pack right up to the small of your back. This is a perfect position for weight distribution and it keeps the pack from flapping around while you ride.
The Air Flow Contact System – It doesn't get hot. That air flow system EVOC put on the inside really works and doesn't overheat the small of your back.
The pack isn't too big – There are smaller packs that would be even lighter at the sacrifice storage or water capacity. The EVOC seemed to find a nice balance between both that comes up with a nice size for daily riding.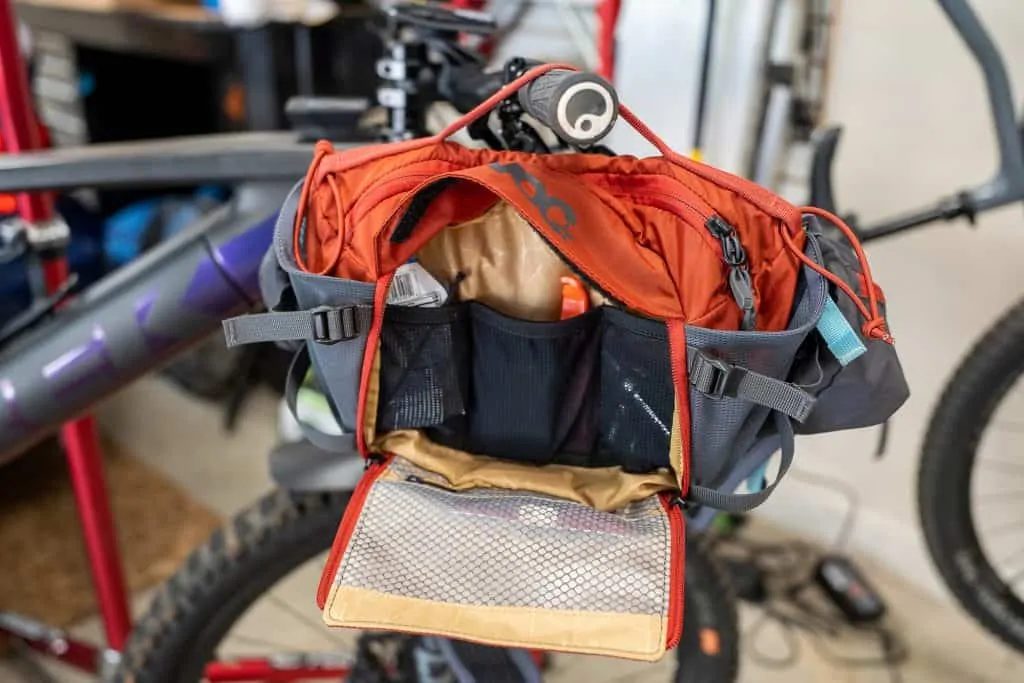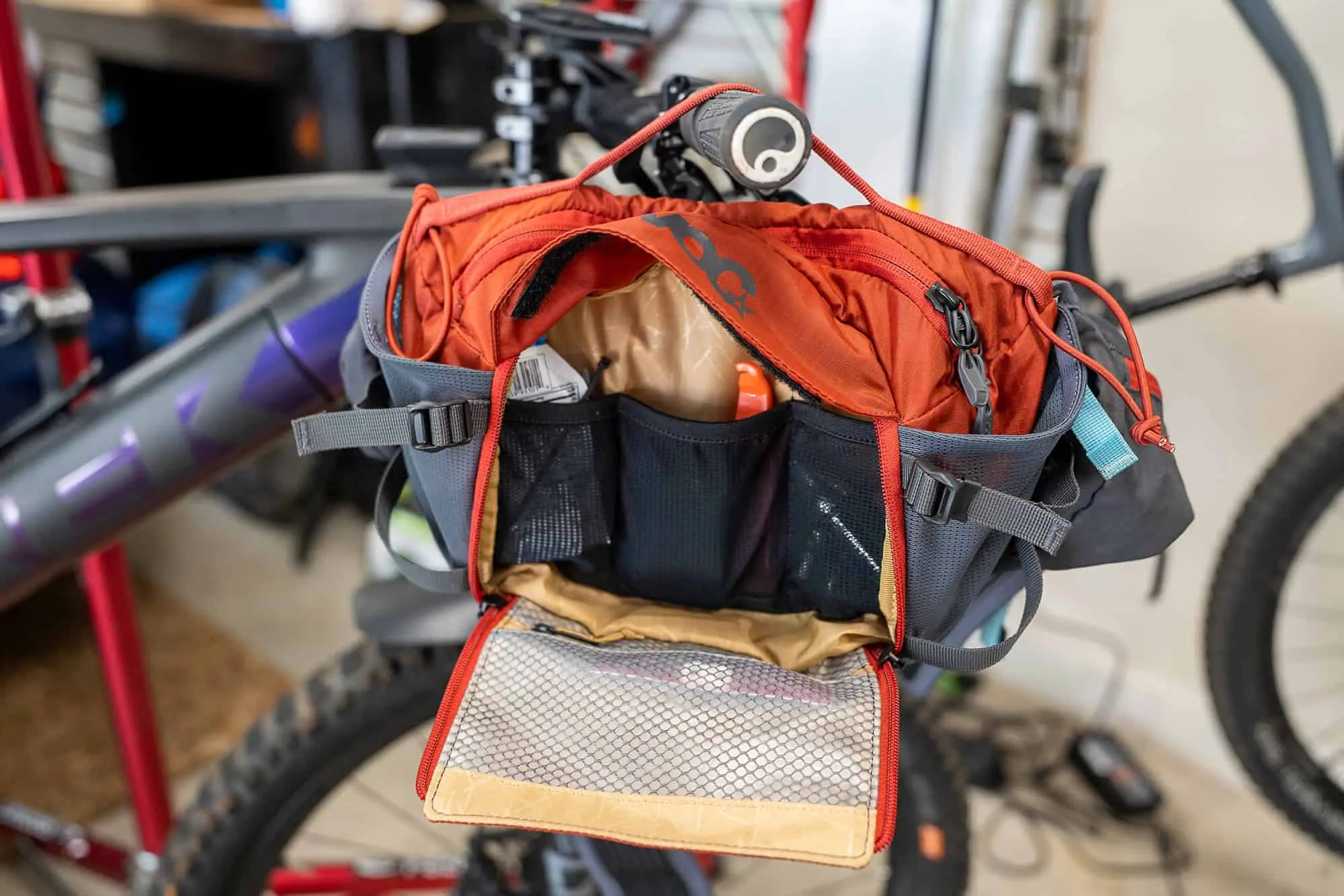 Storage and Hydration Volume with the Hip Pack Pro
For daily rides, the Hip Pack Pro 3L has plenty of storage for what I need. If you are a person that goes on epic, long distance rides all of the time you are probably going to want to keep with a shoulder pack or look at something like the Dakine. The EVOC was able to fit everything I needed and I really like the hip pockets to keep items that I need easy access to. One tip though…put your tube all the way at the bottom of the storage compartment (almost under the hydration bladder). That gets it out of the way without taking up too much room…especially when the hydration bladder is full.
The 1.5L bladder is great for most normal rides. The Hydrapak bladder is easy to fill and the straw is easy to drink from. Having the ability to run bottles in this pack are also a big plus that not many other hip packs have. They are usually one or the other.
Style and Durability of the EVOC
I personally like the look of this pack over many of the others. The color scheme is good, the materials are really durable and the branding isn't over the top. This pack has been through some serious abuse over the past couple of months and it doesn't show it.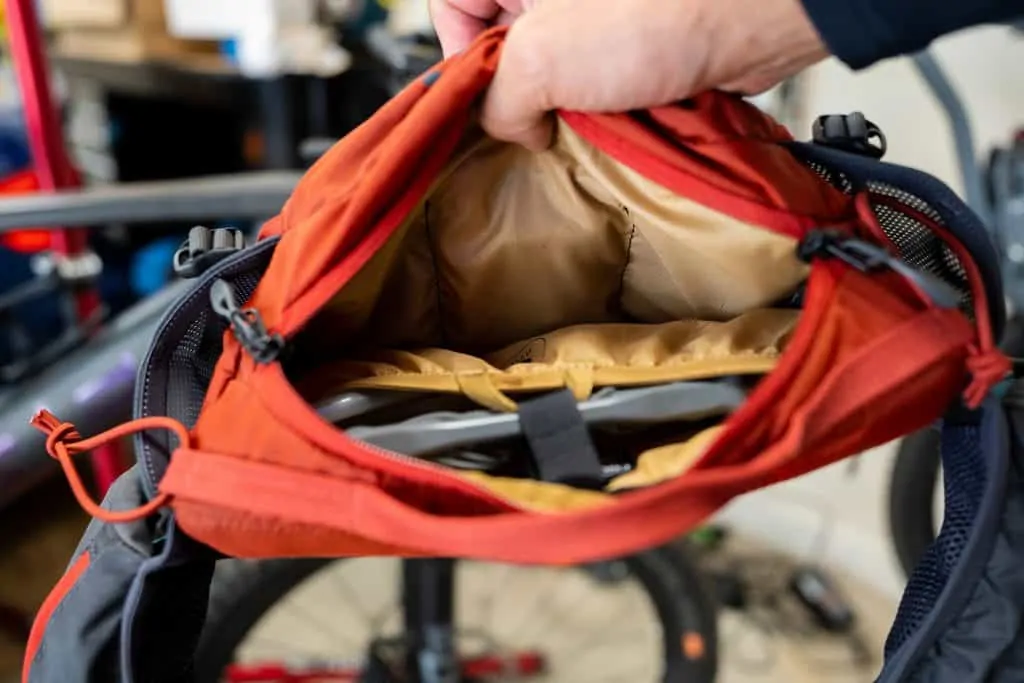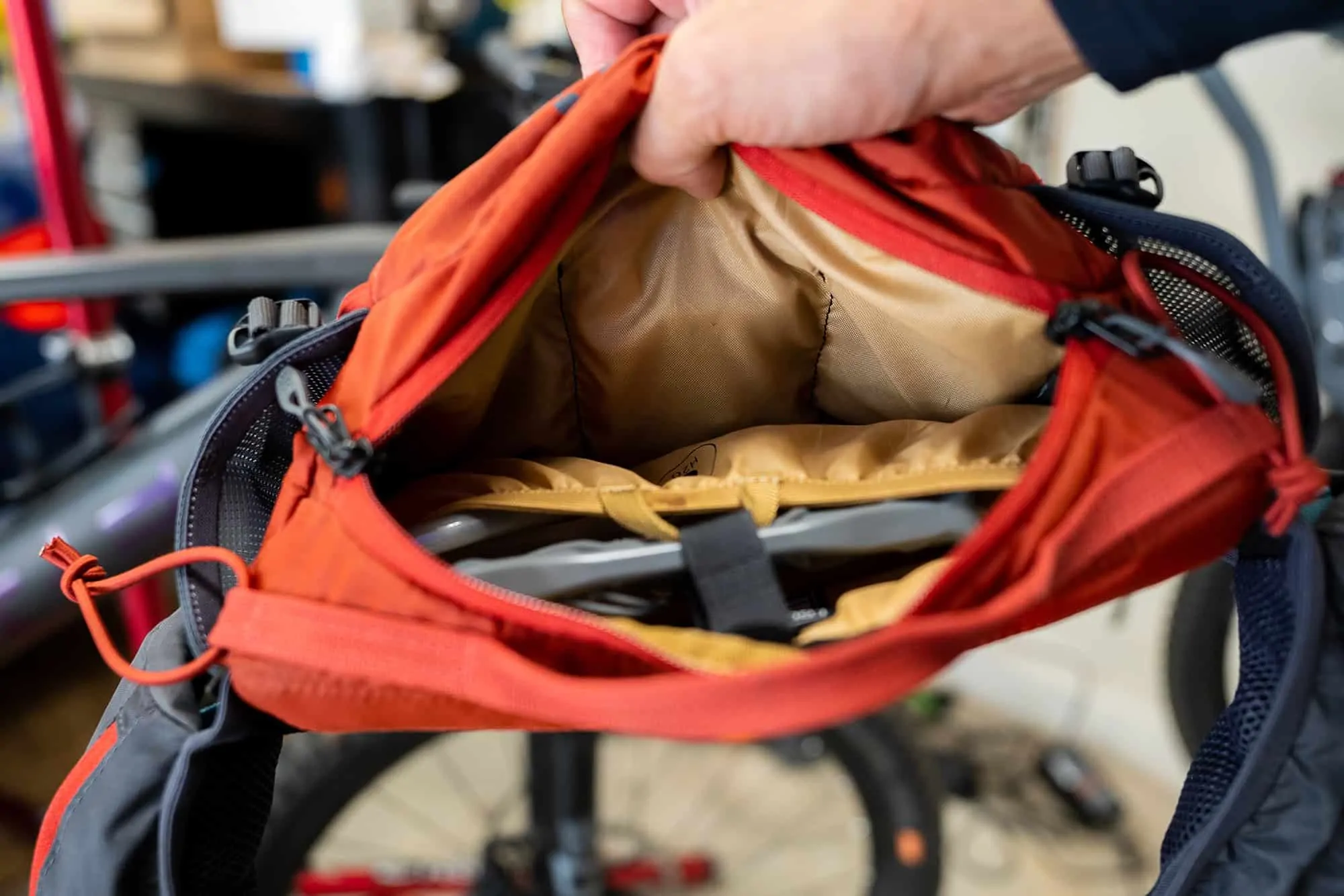 EVOC Hip Pack Pro 3L – The Bad
While there isn't a lot of negative around this pack there are some things I would like to point out if you are looking at purchasing one.
Adjustability and Sizing of the Waist Band
I was actually really surprised when I first put on the Hip Pack Pro. I didn't have much adjustability left at all on the Velcro strap with a 34 or 36 waist depending on how my weekend went. I didn't try one on before I bought it but lucked out. If you have a larger waist line, I would recommend trying one on before you buy. It is designed around skinnier riders as I found out very quickly.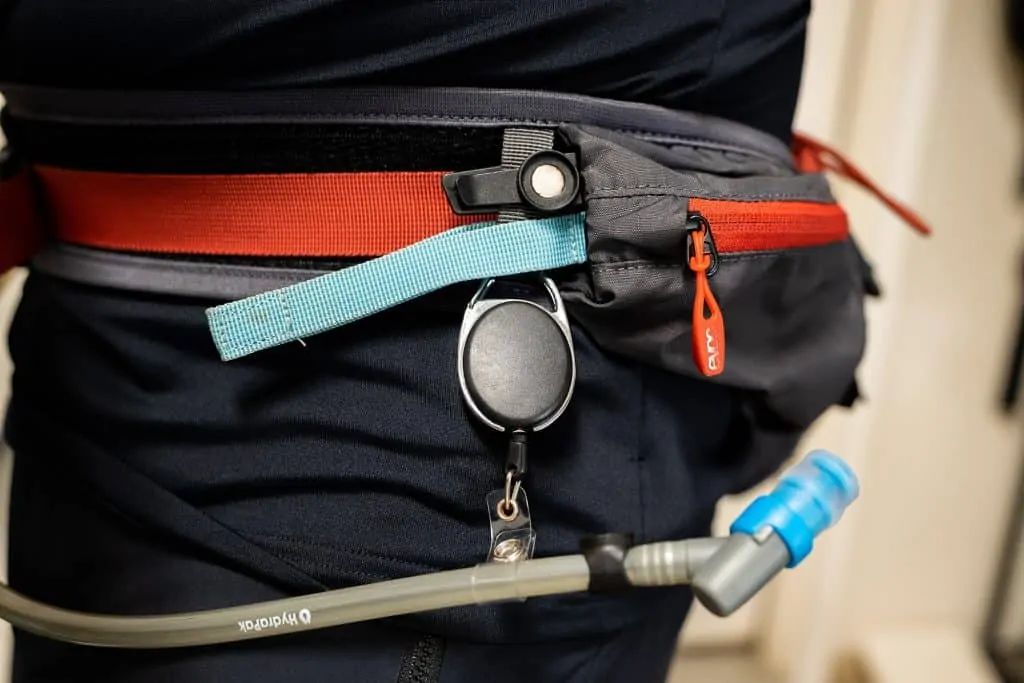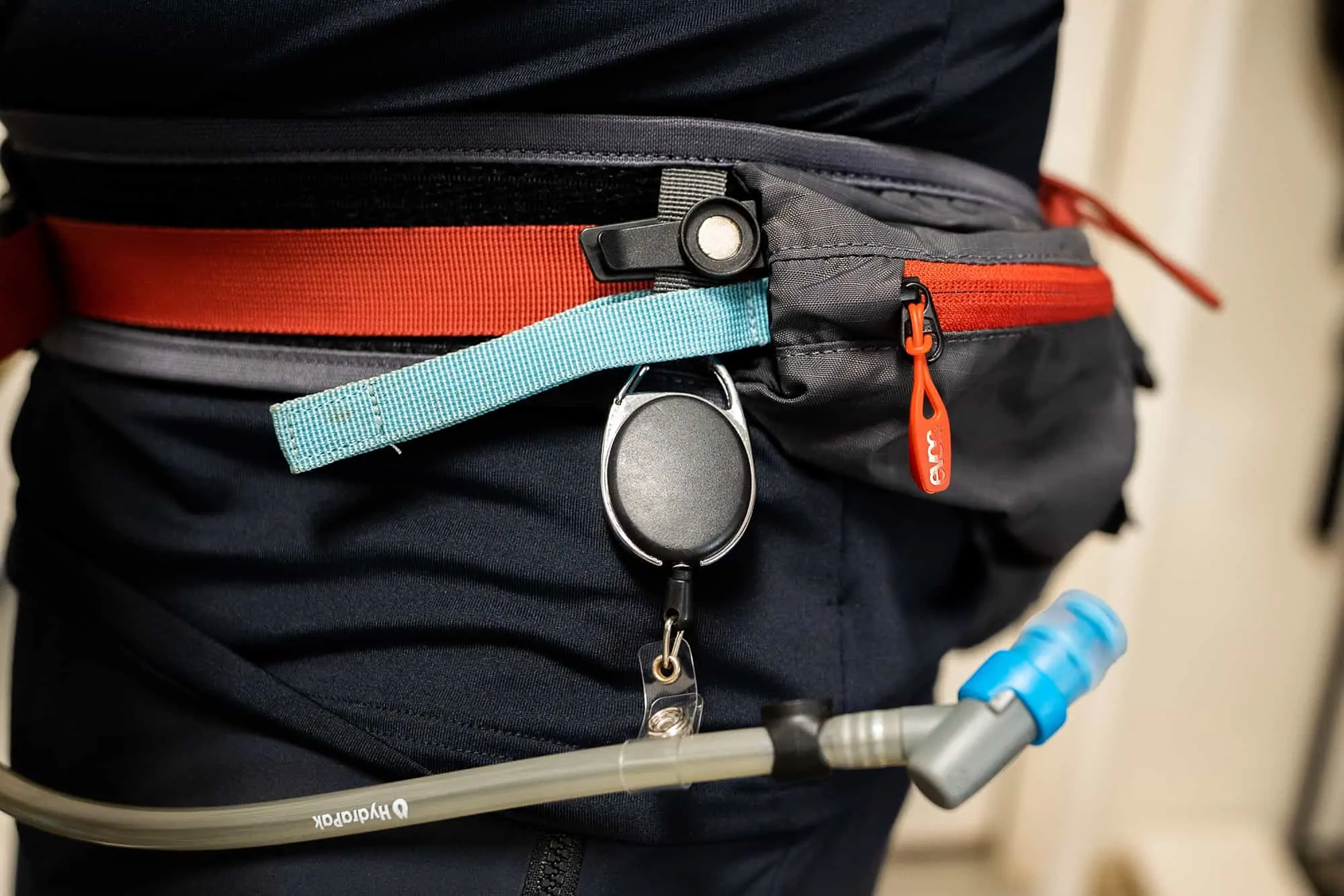 The Magnetic Straw Storage
This is really a problem with all hip packs but it is still worth noting. It is not easy to get the magnets to hit to secure the straw while you are riding. There is a really easy and cheep fix for this though. All you have to do is go on Amazon and buy some cheap badge holders. You know those ones that a lot of you probably use for badges and scan cards at work? Yep…those. Once you clip the plastic, retractable end to your pack and the badge end to the straw (which fits PERFECTLY), your straw will never fall again and you don't have to worry about the magnet.
Storage for Gear and Phone
If you are used to carrying a lot of gear on your rides, this might not be for you. There is a lot of storage for its size but it is limited. That issue becomes even more apparent when you are running a full bladder. There are some bigger hip packs (ex: Dakine) that will allow for more storage at the compromise of size. I also have to just loosely put my phone outside of the elastic pockets since it will not fit in the actual phone pocket.
Price of the Hip Pack Pro 3L
EVOC as a company are very proud of their products. For many reasons they should be. EVOC uses premium products and they have great designs. That does come at a price though. At $129.99 the EVOC Hip Pack Pro 3L is on the more expensive end of the hip pack market. You do get value to that cost like having a high end bladder included but you are still in the more premium end of the range. If you are looking for a budget solution, this is not the one.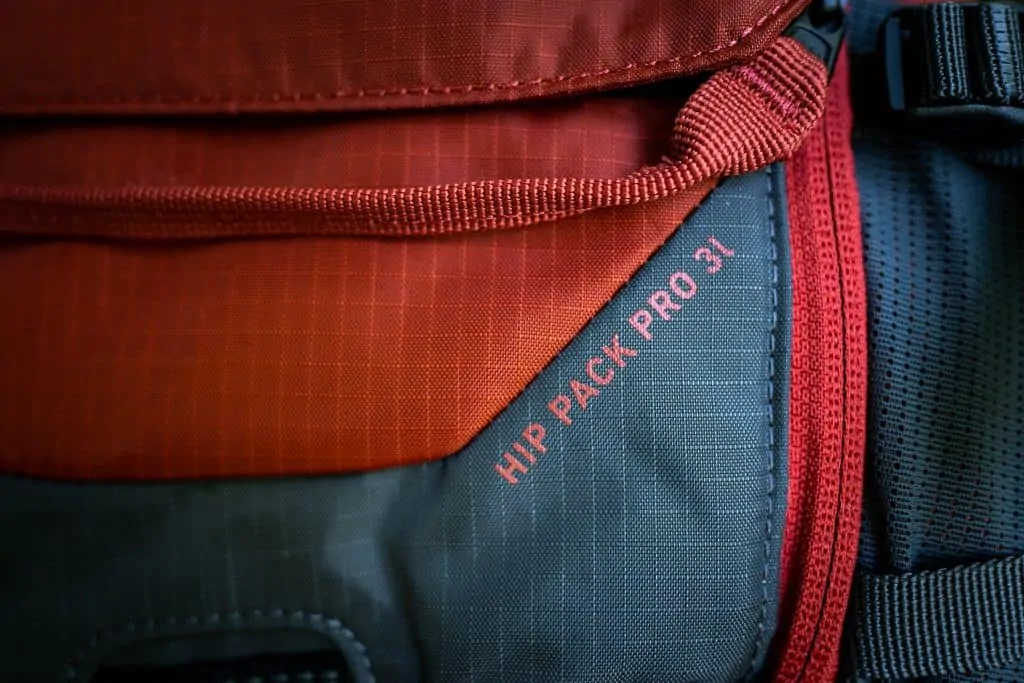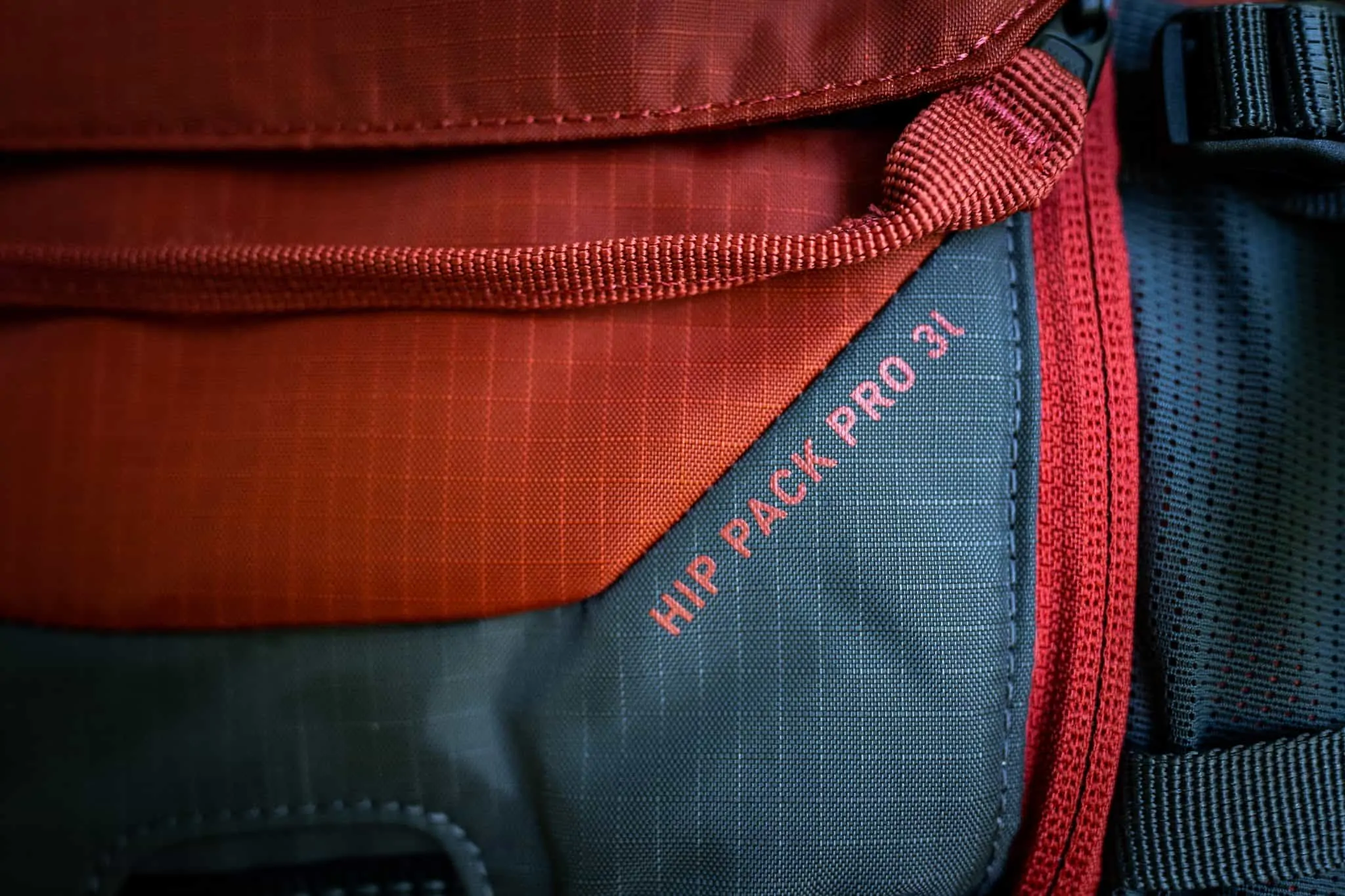 Overall Thoughts on the EVOC Hip Pack Pro 3L
The few minor complaints I have on the Hip Pack Pro do not outweigh the positives. This is a hip pack that can run a bladder or bottles, has enough storage for my needs, is really comfortable and looks good while doing it. There are some unneeded elements that come with it like the Venti Strap. I never find the need to put the pack in "climbing mode" as the ventilation works so well.
If you are looking for a hip pack that will fit 95% of your needs on the trail and you do not mind paying a little bit of a premium for comfort and durability, this is the perfect pack for you.
Thank you for checking out Bike198's EVOC Hip Pack Pro 3L Review. Let us know what you think about this hip pack and leave your own review down in the comments below.
TESTED – EVOC Hip Pack Pro 3L Review – Is it the best?
Quick Thought
If you are looking for a hip pack that will fit 95% of your needs on the trail and you do not mind paying a little bit of a premium for comfort and durability, this is the perfect pack for you.
The Good
Durable materials
Very comfortable on the trail (wide strap and adjustability)
Enough storage and hydration for most rides
1.5L Bladder included
Can run bladder or bottles
Side pockets for easy access for small items
The Bad
High end of the price spectrum
Cell phone pocket will not fit large cell phones
Might not fit larger riders
Magnetic attachment for straw