Back in the day, Truvativ (SRAM) came out with a crankset with internal gearing that was the beginning of the end for the front derailleur called the HammerSchmidt. Ultimately, technology of rear cassettes and rear derailleurs spelled the eventual death of the FD but drivetrains were simplified and front derailleurs were quietly retired into the "remember when" parts bucket box. I hope they are comfortable with rim brakes, threaded stems and 26″ wheels.
Shimano Internal Gearing Patent Filed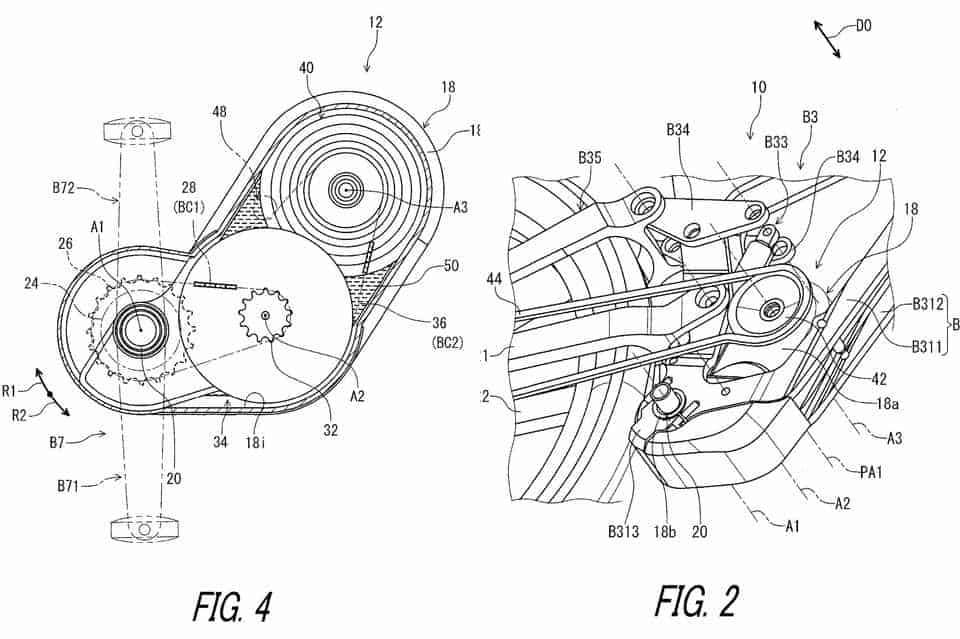 Shimano recently filed for a patent on an internal gearing system that would spell the death of the rear derailleur with internal gearing in the frame at the crank. If you take a good look at the pictures in the filing, it really looks like the e-bike trend has really paved the way for this technology. Unlike with the HammerSchmidt which had all of the internal shifting baked into the crankset, the Shimano filing puts it on the chainline like you see with e-bike motors in the form of a gearbox.
Jack Luke broke the story on BikeRadar.com:
"The gearbox is driven by a typical crankset that initially moves a chainring located within the gearbox. This, in turn, drives the first "transmission member" – a vague term used throughout the patent to describe a cassette of sorts – via a chain.

The cassettes illustrated are very typical looking 7-speed ones, with Hyperglide-like ramps and shaping. A secondary chain then connects to the second "transmission member" located towards the top of the gearbox. The patent suggests that the first cassette would be configured to be moved by "a positioning mechanism such as a ball screw". In other words, the cassette would have the ability to move horizontally along the spindle it is mounted to. The second cassette would remain stationary. 

A chain guide that "could take a form similar to a bicycle rear derailleur" would guide the chain between these two cassettes, while also allowing for any change in chain length when shifting between gear combinations. 

The ability to move the first cassette along this horizontal axis means that the drivetrain could maintain a perfectly straight chainline at all times."
The patent filed by Shimano also lays out the possible gear options of the setup.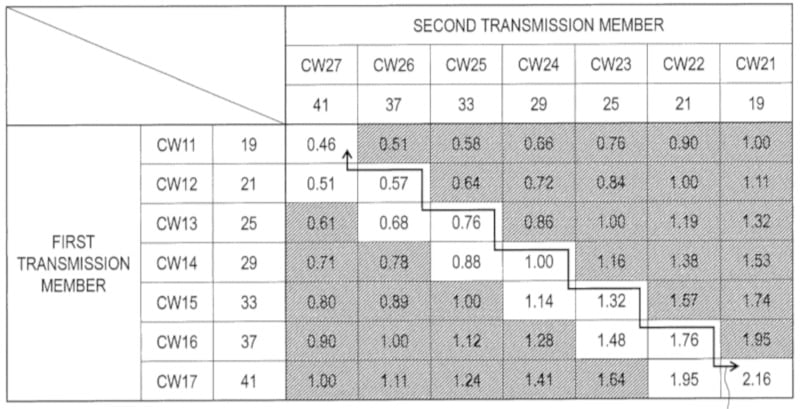 It will be interesting to see how this plays out over time but we are finally seeing actual technological advancements in biking again instead of just "new" standards. Derailleurs are arguably the most annoying part of cycling so I would not be sad to see them go in favor of a better option.