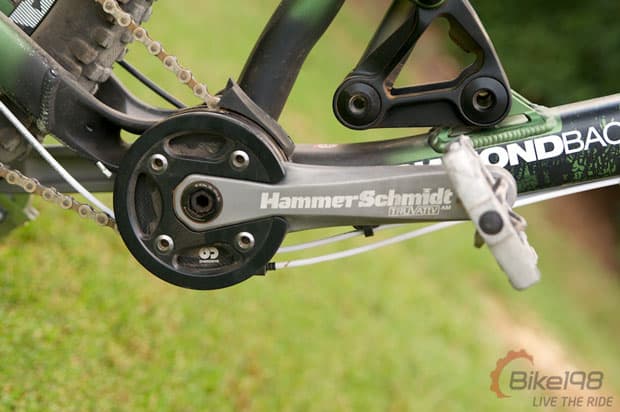 The Truvativ HammerSchmidt crankset and front drive system made huge waves in the industry back in 2008 for being the first, mainstream front shifting platform without a front derailleur. With a simple click of the front shifter, you could now change between 2 gear ratios under load or even when you are not pedaling due to the overdrive mechanism of the assembly.
With delivery of the Diamondback Mission 4 for review, we go the chance to get some serious ride time on the HammerSchmidt.
From Sram.com:
Ride it. Believe it. – Every so often, you hear whispers about a new product that promises to change everything, only to be let down in some way. Truvativ HammerSchmidt delivers the revolutionary innovation you've been hoping for—and it will completely change the way you think, shift, and ride. Truvativ HammerSchmidt opens up worlds of possibilities with an instant flick of a simple switch. This front transmission's revolutionary design comprises five main components, each working in perfect concert, allowing you to react to terrain in ways you've never imagined before.
Pure magic. There's no other way to describe what HammerSchmidt feels like for All Mountain riders. Imagine never having to plan your shift. You'll never see your trails the same again.
Arm-Length options: 170, 175
Al-7050-TV
Color: Tungsten Grey
Based on Howitzer BB
15mm crank bolt
Chainring 22 or 24 teeth
Weight: 1623g (Complete assembly w/ BB)
More about Overdrive:
One is greater than two. The planetary gear mechanism at the hart of Truvativ's new front transmission works like a single chainring with the strengths of the traditional two-ring system — and none of the weaknesses. There are two gears: 1:1 and Overdrive. In 1:1, everything is locked and spinning together. Turn the pedal once and the chainring goes around once. In Overdrive, the ratio is approximately 1:1.6. Turn the pedal once and the chainring goes around about 1.6 times.
How Does The HammerSchmidt Actually Work?
The Truvativ HammerSchmidt transmission is a planetary gear design that when engaged and locked down gives you a 1:1 chainring to pedal revolutions. When cable is released and the overdrive is engaged, you get 1.6:1 chainring revolutions for each single pedal revolution. The result…you get either a 22/36 tooth setup or a 24/38 tooth setup depending upon your configuration and this is all done through a single chainline without the need for a front derailleur.
Intended use at this time is for AM to FR/DH bikes with ISCG tabs for installation. There are two different models (AM and DH/FR) and the AM model is tested here.
Short Truvativ Hammerschmidt Promo Video
On The Trail: Truvativ HammerSchmidt
At first, the Truvativ HammerSchmidt takes some getting used to…partly because our brains are so front derailleur trained that a new front transmission seems foreign. When you combine that with the swapped front shifter setup (large front paddle goes easier while smaller front paddle goes harder), it takes a ride or two to get used to the new system and lack of shifting issues on the front end.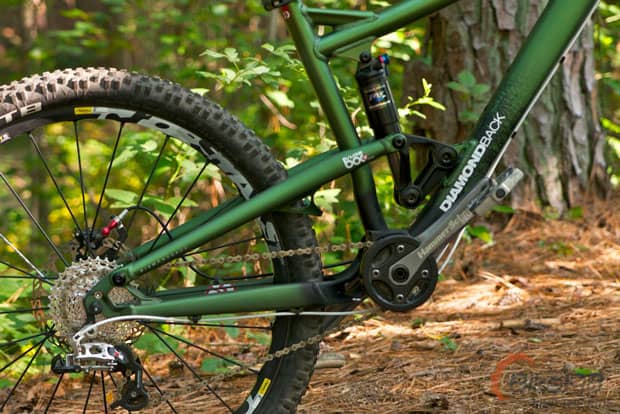 Just riding along, the HammerSchmidt performs exactly as described. You get crisp, fast shifts between the two ratios whether you are moving or not. Under climbing load, the shifts are consistent and allow you to change ratios quickly even when hammering out of the saddle. After awhile, it becomes second nature to rely on your front shifting to carry more duties than you normally do with a front derailleur based setup. Simple clicks back and forth via the HammerSchmidt specific front shifter and you are set whether you are moving or not.
There are two things that you do have to get used to when using a HammerSchmidt.
The wide ratio between regular pedaling and overdrive – With the 22/36 and 24/38 options depending on the ring you use, it is wider than typical 2×9 setups I have run in the past (22/34 or 24/36). With the 24/38 option, I found myself having to shift the rear derailleur a couple of positions with each change in front under steeper climbing changes that used to only require a front ring change.
More Swarming Bees – I also found that I liked to stay in the 1:1 option as much as possible while coasting and pedaling because the HammerSchmidt drive sounds much like a hub freewheeling (a little bit deeper pitch) when you go to coast.
The real beauty in the HammerSchmidt is what it ultimately brings to AM and longer travel mountain bikes. The fringe benefits are really noticed during riding. With the HammerSchmidt, you get unbelievable ground/bottom bracket clearance. When navigating down trees and other trail obstacles, you no longer have to worry about how large your big ring or bash guard is…you have almost limitless clearance as you hop up and over. You also get a straight chainline that has all of the benefits of chain retention systems with none of the drag. As you blow through rock gardens and other rough terrain, there is no worry of the chain dropping or miss shifts as you are basically dealing with a 1x setup on the front ring.
Is the HammerSchmidt the end of the front derailleur?
Well…not yet. While there are a ton of obvious advantages for running a planetary transmission up front, there are still the issues of weight and price until the system becomes mainstream. However, it does bring solutions to a lot of the issues that technical and downhill riders run into while on the trail. The HammerSchmidt is a huge step forward in front shifting progress and we are even seeing bikes like the custom steel hard tails out of builders like Steve Stickel (click here to see pictures) getting the HammerSchmidt treatment to accommodate new frame designs and geometries.
Positive: Truvativ HammerSchmidt Crankset
Effortless shifting under load or while coasting
Massive amount of ground clearance
Chain retention/guide protection without the guide or drag
Negative: Truvativ HammerSchmidt Crankset
Price – Still very expensive
ISCG tabs required for install and installation not for the typical garage wrencher
Wide gear ratios can cause some more rear shifting in certain climbing situations
Weight
The Truvativ HammerSchmidt is a great leap forward in front shifting technology. If you are un-concerned with overall bike weight, I would suggest taking a look as the HammerSchmidt is your answer to getting rid of front shifting headaches.
Click here for the best price on HammerSchmidt