Back in the day…all I could dream about was that perfect ride. You know the one. That ride where everything goes right on hero dirt on the perfect day on the perfect trail. When you get to the bottom there is a feeling of satisfaction and calmness that only comes with the perfect day on the trail. It is addictive. I have to imagine that it is like a golfer that hits his first hole in one after decades of playing the game. There is nothing quite like it.
Then everything changed. We had Daniel.
As any parent will tell you – when you have your first kid – life changes. Those long days on Saturdays ripping up singletrack hours away from home start to become few and far between. Your rides are more local if you get to get out at all as there are obligations to keep at home as you try to raise this little human that can't fend for itself yet. While it sounds like you are giving up a lot (which you are)…you are actually gaining the greatest gift…being a parent.
I know this sounds horrible but we were not big baby people. Yeah he was cool and all but I used to call him "my fish tank". Much like tapping the glass to see the fish swim, I would poke him to get a reaction. It really started to get awesome when he hit that 6-8 month stage and was actually interacting. Then things got out right amazing when I was able to teach him my passions and one of those was riding a bike.
Just when I thought that mountain biking couldn't get any better…I got to pass along the sport to the coolest person ever – my own kid – and that has been the greatest joy I have ever had on a mountain bike.
Everyone has their way of introducing bike riding to their kids but this is the way we went about it.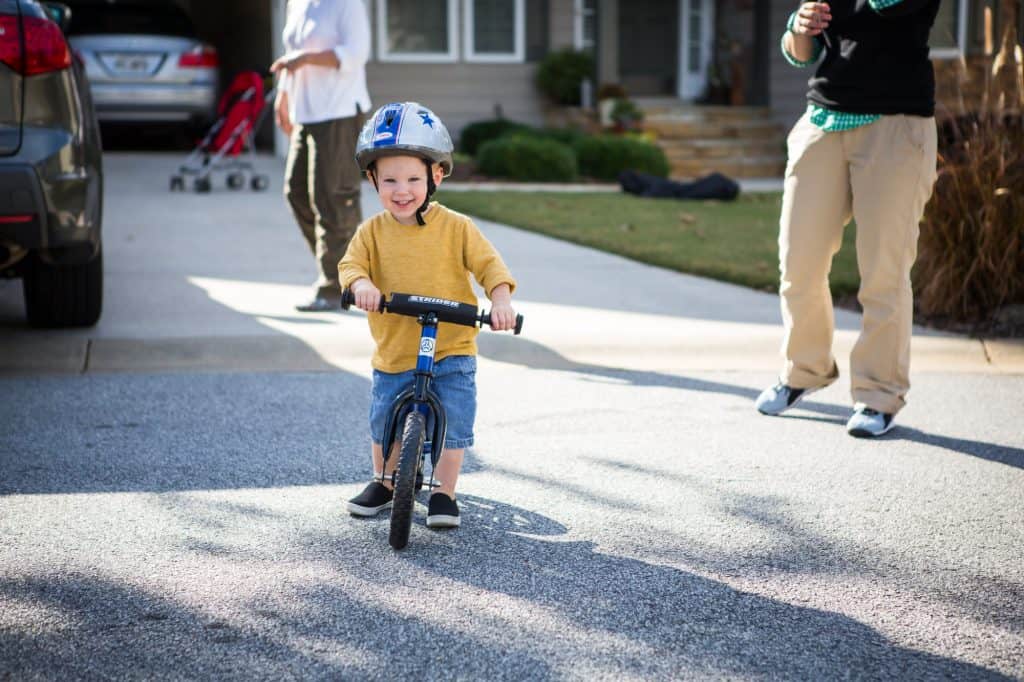 The Strider Balance Bike
On Daniel's 2nd birthday, we bought him a Strider balance bike. The idea behind a balance bike is that kids learn how to balance a bike without the complication of learning how to pedal at the same time. They are able to kick their feet across the ground or use gravity to get forward motion. Once they do that, they are able to pick their feet up and practice turning and other bike techniques. There are actually videos of kids completely killing it on actual mountain biking trails on these bikes.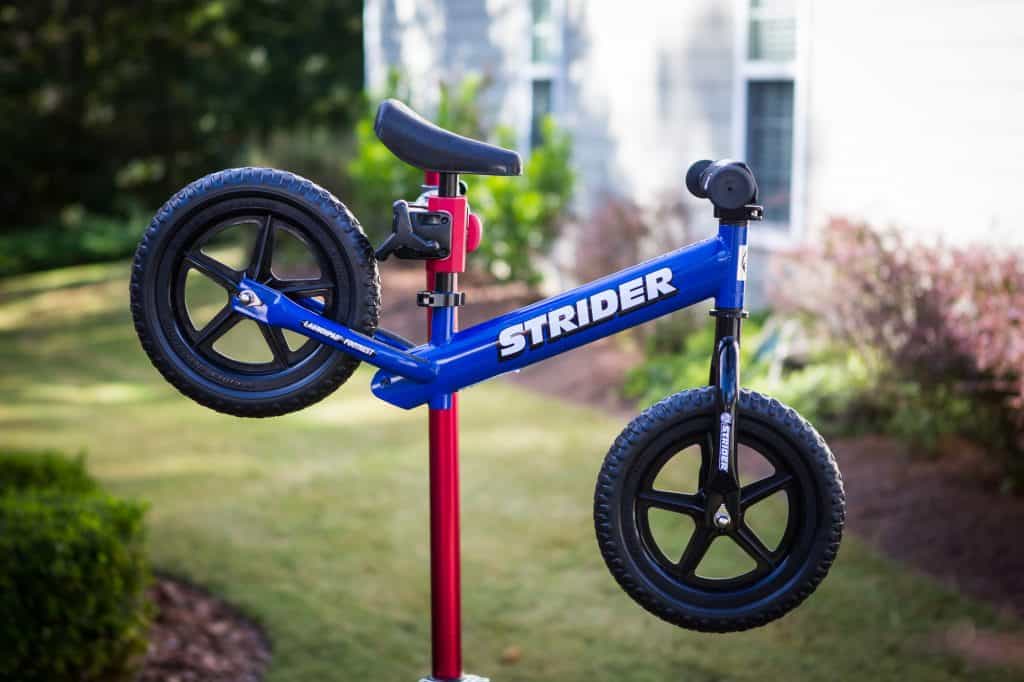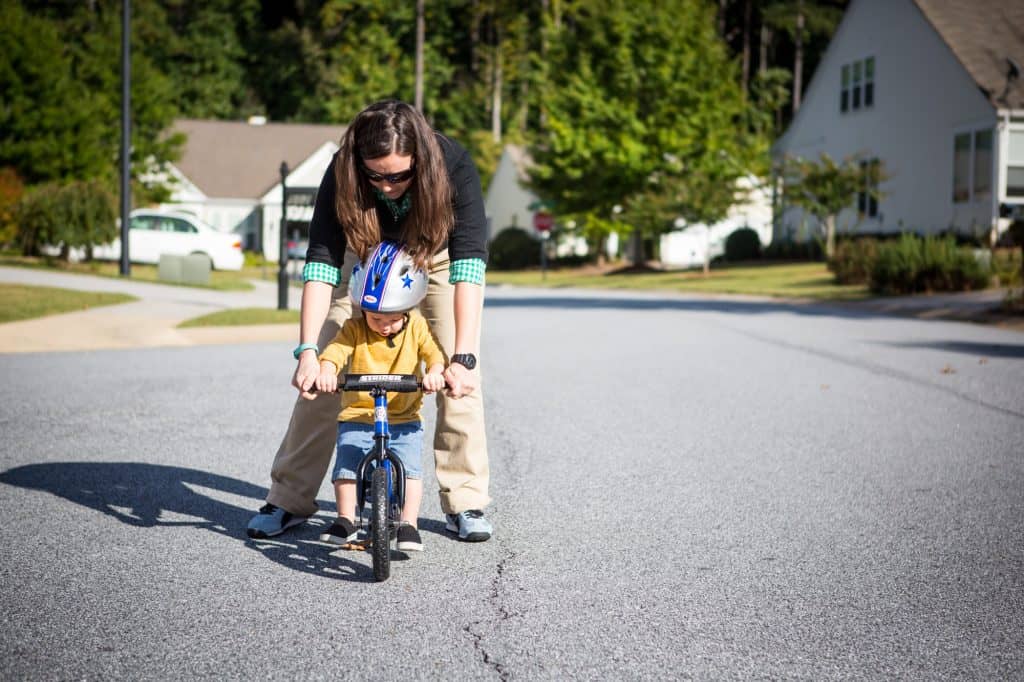 Daniel loved it. He actually ended up using the Strider for several years and by the time his was ready to move up to a full pedal bike, he was going down our long, steep driveway with a lot of speed. With no brakes or pedal brakes…it was starting to make my wife nervous. He was flying with no way to stop. It was time to upgrade and get him his first pedal bike.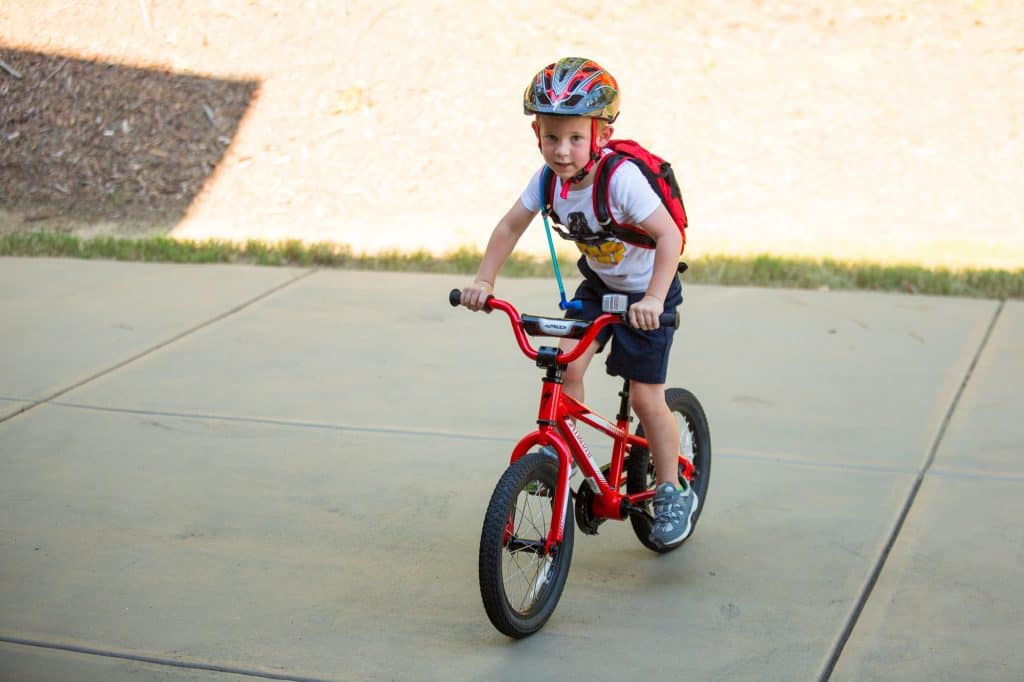 Specialized Hotrock 16″
Shortly before Daniel's 6th birthday, we got him a Specialized Hotrock 16″ (now called the Riprock Coaster) bike complete with a new matching helmet and Camelbak! We were styling and ready to have that great father/son experience of learning how to ride a pedal bike. You know…the super frustrating moment where your kid keeps falling in the grass and you keep on trying to be encouraging. Most of the time it is a horrible experience that you laugh about well into old age but it ends on a high note with that first time they ride 20 feet by themselves.
Or at least that's how I thought it would be…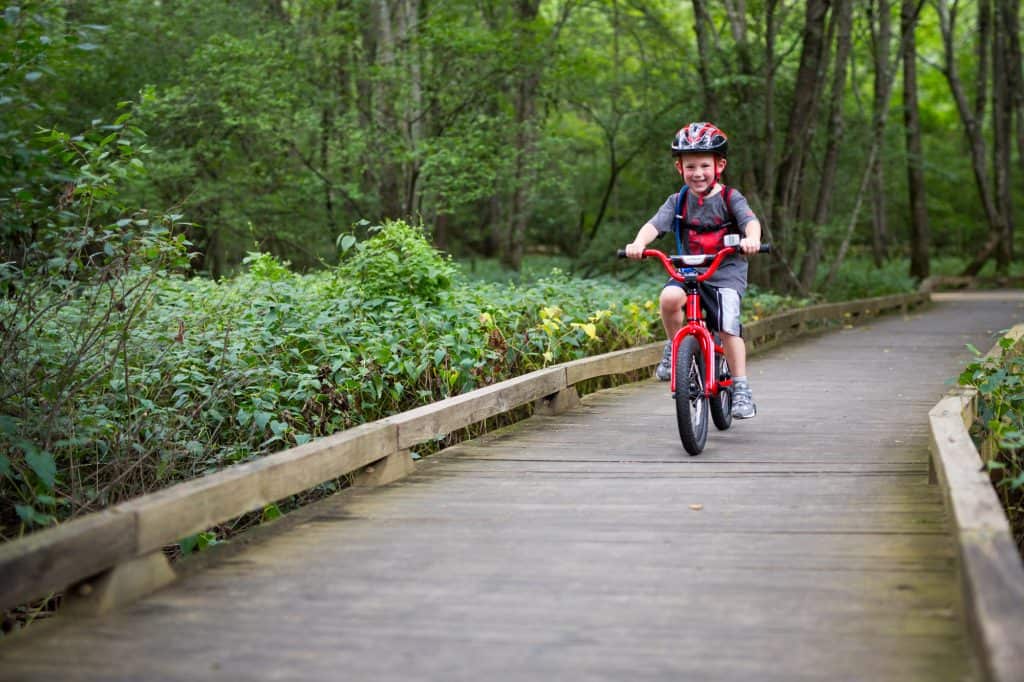 Thanks to the Strider, my son literally looked back at me and said "Dad…let go!". He took off riding right away without the aid of training wheels. I'm not going to lie. I felt cheated! Where was my historic memory?! The reality is that the Strider did such a good job of teaching him balance that adapting to pedaling was a non-issue. He was able to ride right away and started bombing the driveway just like he did on the push bike. The only tricky part we had was teaching him to pedal brake. There were a couple of tumbles when he would kick back a little too hard.
We got a lot of really good use out of that bike. I would take him to the local trails and green-way and he loved it. Two years to the day after we got D the Hotrock 16″, we knew it was time to upgrade. He had been killing it on the little rigid bike but he was starting to show a real interest in riding dirt. It was time to get him his first real mountain bike.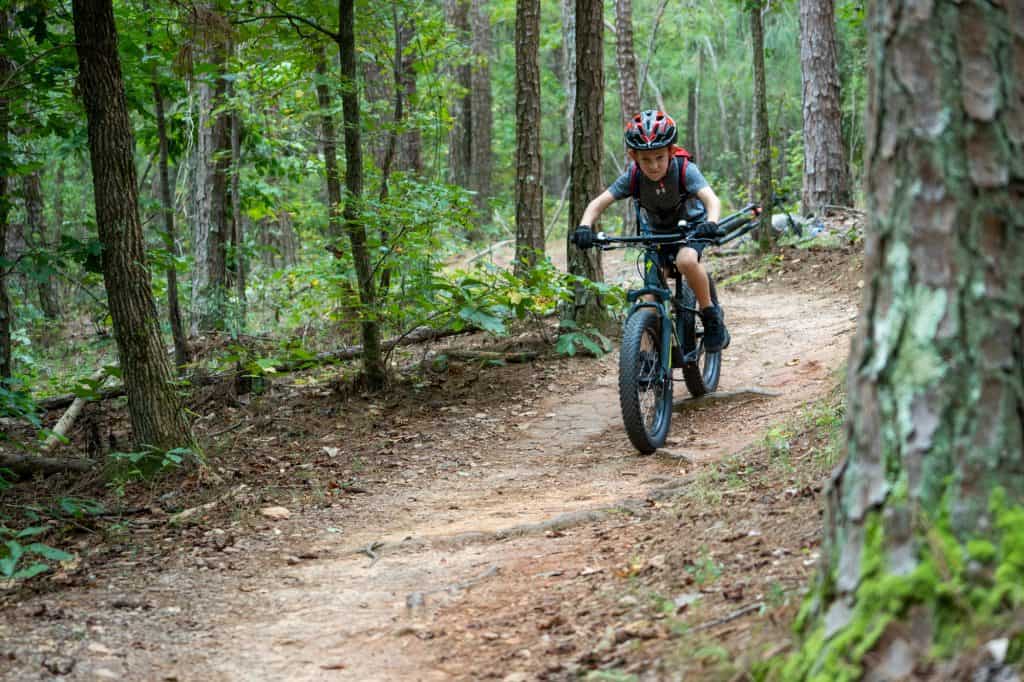 Specialized Riprock 20″
That's right! We are now on gears and suspension! It's time to get serious. There was a little bit of a learning curve going to gears. The first time we hit the trail there would be times where he was a hamster spinning in a wheel from choosing too easy of a gear and then there were times he got stuck on a hill from being in too hard of one. With a little bit of coaching he was able to get the hang of it and that brings me to this point.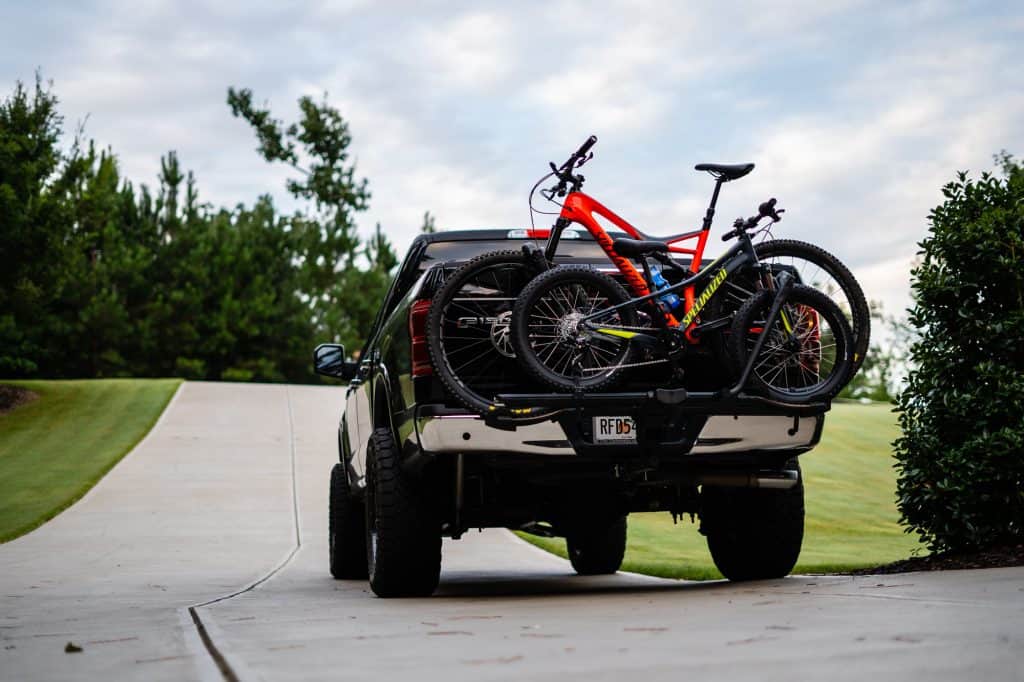 I will never forget that first day on the trail actually mountain biking with my son. When I imagined the perfect ride in my head before having him, it looked nothing like this.
On that day…it was the perfect ride.
The Riprock is a pretty cool bike when you really look at it. I never had bikes like this growing up as a kid. In the southeast US, a lot of our trails are really rocky and rooty. That can make it really hard for any rider on a hard tail. The Riprock uses plus sized tires with a front fork to provide some extra cushion and grip on the trail. How well does it work? Really well. In no time D was headed down the gully run at our local trail doing root drops. I can't even explain how awesome that was to watch.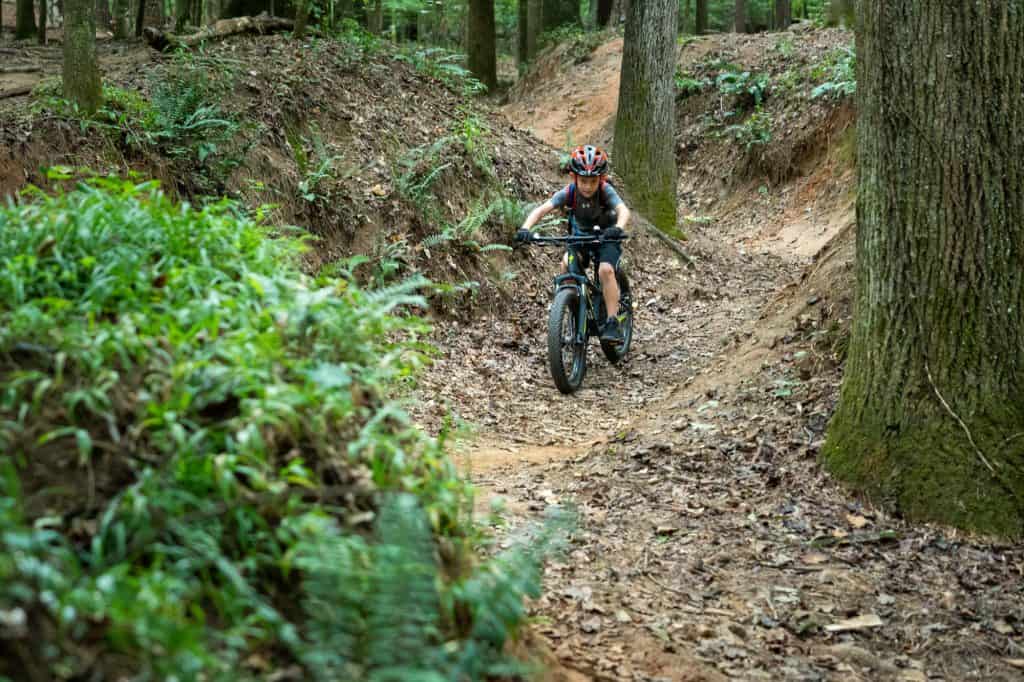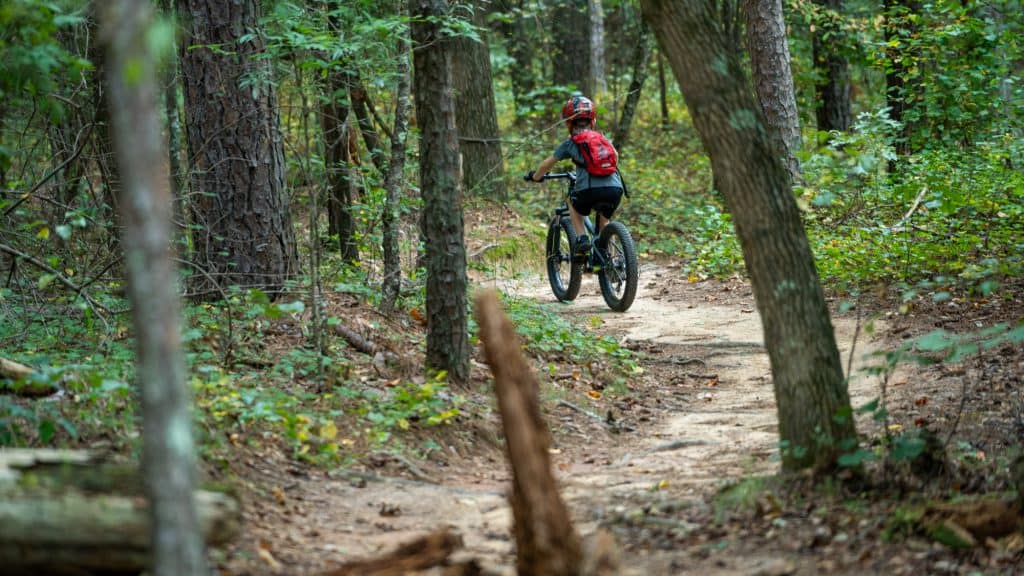 We put in a lot of miles that first day and to watch how much he progressed with the right equipment and by pushing himself was a moment I will never forget.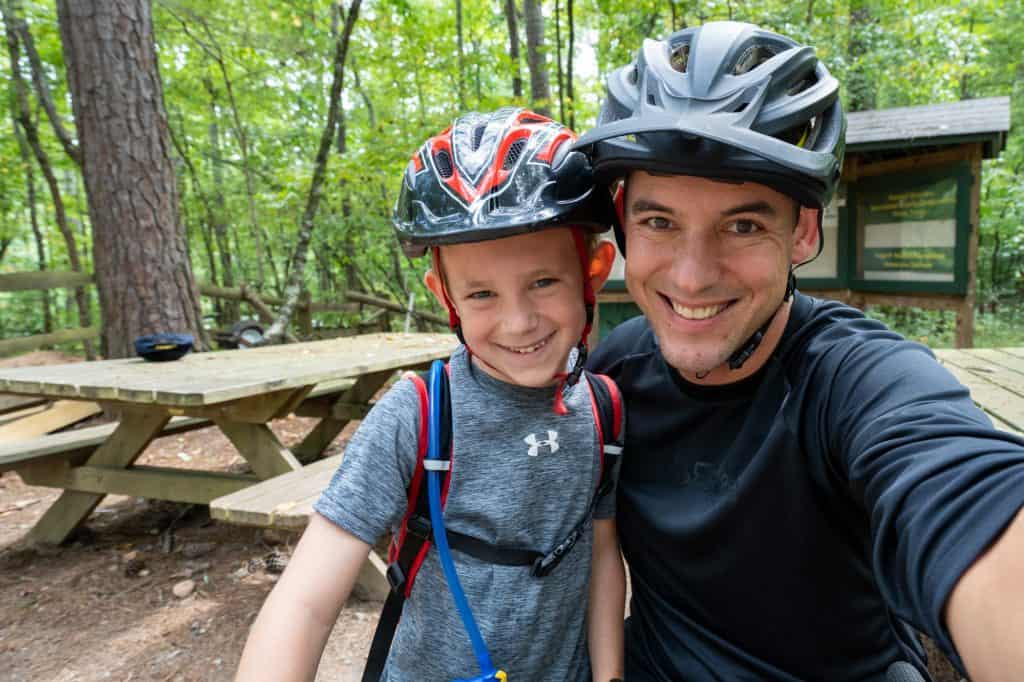 Unfortunately, several months later there was an incident that caused lifelong damage to my hip and leg (I'll go into that more later when it is time) that will keep me off a conventional pedal bike from now on. There is hope with the new e-bikes that I will be able to ride trails again with D so I am going to have to explore that route.
Daniel has been killing it on the mountain bike still and we are getting close to having to upgrade him again as he just turned 8 and is starting to outgrow the 20″ platform. Just the other day, he told us that he wanted to stop saving for a gas dirt bike because he loved riding his mountain bike so much. From someone who has made mountain biking such a large part of my life over the years, it is special to watch him progress and love the sport as much as I do. It is something we will be able to share as a family for the rest of our lives. Now I just have to work out a solution to try to get back out there. In the meantime…it is UGI time for D. And we all know how much I love new bike stuff!
Life takes a lot of twists and turns. What I thought would be the perfect ride earlier in life is nothing like what I see the perfect ride like now. I guess that just changes over time like anything else. Now I picture the perfect ride that would bring me that next level of mountain biking bliss as shredding singletrack with my son. I imagine him waiting for me at the bottom of a downhill saying something along the lines of "just waiting on you old man". Then one day he might visualize the perfect ride as getting the same comment from one of his kids and I'll get to sit back and laugh.
Riding bikes is one of those things that seems to transcend generations even with all of the technology we have surrounding ourselves these days. I don't see as many kids riding bikes as I did when I was a kid but they are still out there and hopefully they always will be. There is nothing better than getting away from screens and outdoors doing something that is not only fun…but great for the body and soul.