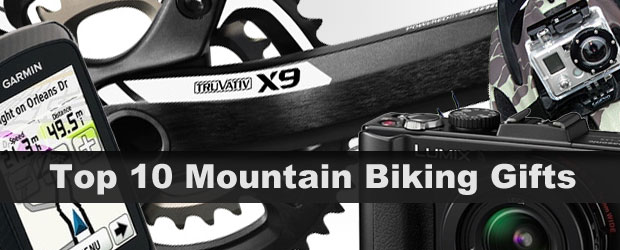 For those of you that are looking for holiday gift ideas for that mountain biker in your life or you are looking for a reference list to casually mention in conversation…"hey babe, take a look at his gift list…it's pretty cool! (hint, hint)", here are the Bike198 top 10 gift ideas for the 2010 holiday season.
#1 – Garmin GPS Cycling Computer
The Garmin GPS's have taken the biking industry by storm. Not only can you get turn by turn directions if you ride a road bike, but you can also satisfy that geek inside of every rider with about every stat you can possibly imagine recorded in a format that is easy to share with friends. The 605 and up will do turn by turn directions and the new 800 features a touch screen.
Your Options: Edge 305 | Edge 500 | Edge 605 | Edge 705 | Edge 800
#2 – Premium Compact Camera
Regular point and shoot cameras make it hard to get a solid picture when riding. The shutter lag is annoying and the quality of the pictures is usually terrible given the shooting conditions. When mountain biking, we are typically in low light situations that require a better chip and faster lens that used to be just reserved to big, heavy DSLR's. With the rise of the new premium compact cameras, riders can now get a quality lens and camera that can be used effectively on the trail in a size that is easy to carry and you get features like the ability to record HD video. You can even step up to the micro four thirds format to get interchangeable lenses.
Recommended: Lumix Lx5 | Canon Powershot G12
#3 – GoPro HD Helmet Cam
The amount of quality video you can get out of these small, wearable camcorders is amazing. Riders all over the world are now recording their exploits in full 1080P video and posting it online. Due to the multiple mounting options and wide range of view, the GoPro HD is the best option on the market for mountain bikers at this point in time.
#4 – New Bike Light
Decreased daylight hours equal more time riding under the stars. Helmet mounted lights have come down a lot in price over the past two years while providing more light than ever. Bike lights can have a lot of personal preference when it comes to brand, but look for a light that is at least around the 900 lumens range and you should be good to roll. Just because it gets dark early doesn't mean we have to stop riding!
Get your best price on bike lights here.
#5 – Cold Weather Riding Gear
Increased night riding also means the temperature is starting to drop. Night riding gear is essential to comfort during the colder months as we continue to try to hit the trail even when it can seem to be unbearable. Having the right gear can mean the difference between a good ride and a bad one quickly.
My Favorite Riding Jacket | SmartWool Arm Warmers | SmartWool Knee Warmers
#6 – RoadID
The RoadID is one of those must have items for all riders. Even your best friends are not always going to know where your insurance card is or what your wife's phone number is in the case of an emergency. A RoadID is that perfect riding companion that insures that a stranger or your friend of 20 years has all of the necessary information to get you help if you fall hard enough that you can't remember your name.
#7 – Remote Dropping Seatpost
If the 2010 model year isn't 10 speed groupo's, it would definitely be the year of remote seatposts. Even cross country riders are now seeing the benefits of being able to drop the seat easily when the trail gets pointed downhill. It allows for safer descending as you are able to get your weight farther back on the bike. Any rider that has used one realizes their weight in gold.
#8 – Nutrition Products
Nutrition products like gel packs, Clif Bloks and assorted bars are a great gift during the holiday season. It is something that mountain bikers need and it is relatively cheap. The Margarita Clif Bloks are a personal favorite because of their salt content.
Your best price on nutrition products.
#9 – Mountain Biking DVD
During the winter months, the weather doesn't really cooperate for riding. Having a couple of stoke filled mountain biking DVD's in the movie library can help keep the sanity when we are stuck inside or spinning away on a trainer. I personally like the movies out of The Collective/Anthill Films. Follow Me is now available in Blu-ray and makes the perfect gift for any mountain biker.
Follow Me | Seasons | Roam | The Collective
#10 – New 10 Speed Groupo
Have you been really good this year?! A new 10 speed groupo is the way to roll as this gearing setup is taking over the industry. It is time to ditch the 9 speed in favor of that 2×10 system that is probably not going to change your riding at all, but it looks good, shifts efficiently and finally gets rid of one of those rings up front in most cases. 10 speed is the edge of technology right now and your favorite 9 speed components are just going to depreciate more from here on out.
Bonus Gift Ideas
Of course, this wouldn't be a gift list without mentioning Ramped Riding and our new "29er: Size Does Matter Tee". Both make great gift items this holiday season.