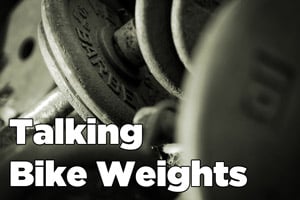 Back in the day, when basic geometry was pretty much set and 3″ of front suspension travel was considered DH (hard to believe it wasn't that long ago), the race for the lightest bike meant you were also riding the fastest rig on the market. With little to really distinguish the differences between brands outside of paint, the weight wars begun and everyone was on track to find the lightest bike that would still stay together on the trail.
Fast forward to today's mountain biking culture and we still see that same race. Marketing giants still brag out shaving the grams to make the lighter bike. We still see online bragging rights over a 1/2 pound weight savings over the other guy and the tutorials on how it was done. Now…where does this leave the recreational mountain biker and occasional, un-sponsored racer?
Why You Need To Look At The Bike And Not The Weight
Within the mountain biking industry, I see far too much emphasis focused on bike weight instead of what the bike was built for in application. Riders from all over the world are passing by bikes they have never ridden because they are a 1/2 pound heavier than the competition. In today's mountain biking market, advancements in geometry, suspension and materials has completely changed how we need to look at the overall weight of the bike and be more focused on how that weight translates into the trail experience.
Let's take a look at two bikes that have come through the stable at Bike198.com to illustrate a point.
Bike Comparison: Time To Make A Point

At only about a pound weight difference, on a excel spreadsheet…these two bikes might look like they are competition. However, the Niner Jet 9 is an 80mm purpose built race bike and the Specialized Enduro Pro Carbon is a 160mm all mountain/freeride sled. Both of these bikes have drastically different handling characteristics and are meant for two completely different riding conditions and purposes.
Now…let's take that theory one step further. The Niner Jet 9 is "heavy" by today's mountain bike race standards. However, the 28.36 lbs Jet 9 was also the fastest bike I have ridden in my 14 years of riding. Yes…it pedaled and moved forward on climbs faster than all of the sub 23 pound 26″ bikes I have owned/ridden and it was faster than the sub 27 pound 29ers…so what gives? Aren't heavier bikes supposed to be slower and lighter bikes faster?
There Is More To The Bike Than The Weight
As mentioned before, there is a lot more than just weight that goes along with how fast a bike is on the trail. The geometry, frame material, suspension setup and overall frame design have a drastic affect on how "fast" a bike feels. Two bikes, in similar markets (xc race, trail, whatever else), with similar weights can feel completely different once you put rubber to dirt on your favorite trail.
Next time you are looking to pick up a new rig for your riding style, try to ignore the weight measurements and actually get on one to test ride. You might be surprised at the result as you start to spin the cranks. Purely discounting a bike over weight issues in today's market will keep you off some extremely fast and capable rigs in all sorts of riding conditions.