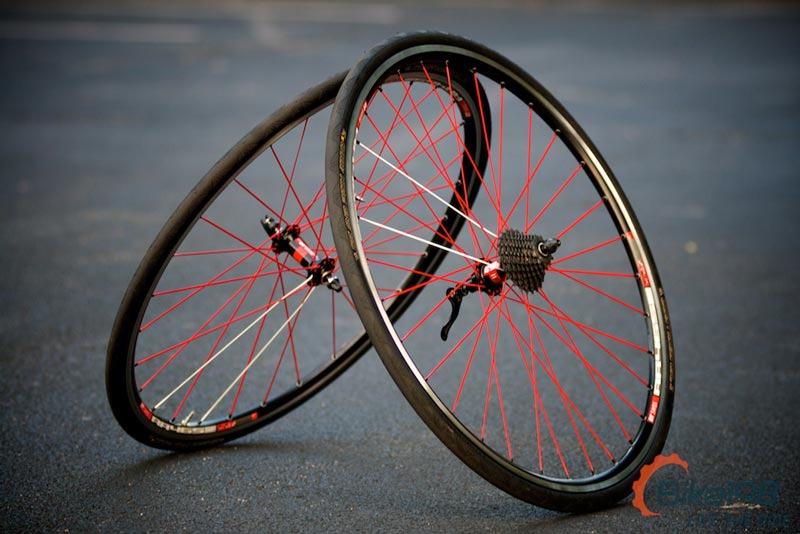 Built To Last Wheels sent over a set of the new DT Swiss 240s hubs laced to the RR465 rim with some red spokes and two white spokes straddling the air valve for review on Bike198.com a couple of months back. After getting in numerous gut wrenching climbs and blazing fast downhills in the mountains of north Georgia (and a century or two thrown in the mix)…we are ready to chime in and give our review of this blinged out wheel build by Chris.
Red/White DT Swiss 240s/RR465 Wheel Build Specs
Before we get into how these wheels did on the road, let's take a look at the numbers.
Rear DT Swiss 240s
Built In Width – 130mm/5mm
Weight – 222g
Engagement – 36 point
Number of Holes – 24, 28 (reviewed), 32
Bearings – Sealed Cartridge Bearings
Front DT Swiss 240s
Built In Width – 100mm/5mm
Weight – 108g
Number of Holes – 20, 24, 28, 32 (reviewed)
Bearings – Sealed Cartridge Bearings
DT Swiss RR465 Rim
Profile Width – 19.4mm
Profile Height – 20.8mm
Rim Joint – SBWT welded®
Weight – 465g
Color – Black or Gray
Material – Aluminum
Eyelets – Double
Specials – DT Swiss Wear Control
The overall build weight of this set ended up being 1580g (28 spoke front; 32 spoke rear) including the painted spokes (all red with white straddling the air valve). Without the extra paint, the overall weight would be closer to 1560g and that makes this a great, lightweight set for riders looking for something dependable and not off the charts light.
On The Road: DT Swiss 240s on RR465 Road Wheels
The first thing that everyone notices about this wheelset is the eye popping color of the red spokes. While this look may not appeal to all riders, the ability to color your spokes to the frame (not exactly matched in this case) adds some uniqueness to your road bike in a world where it seems like everyone is running similar sets of wheels. How much color/attention you want is a personal preference, but it was nice to have something different as we hit the road.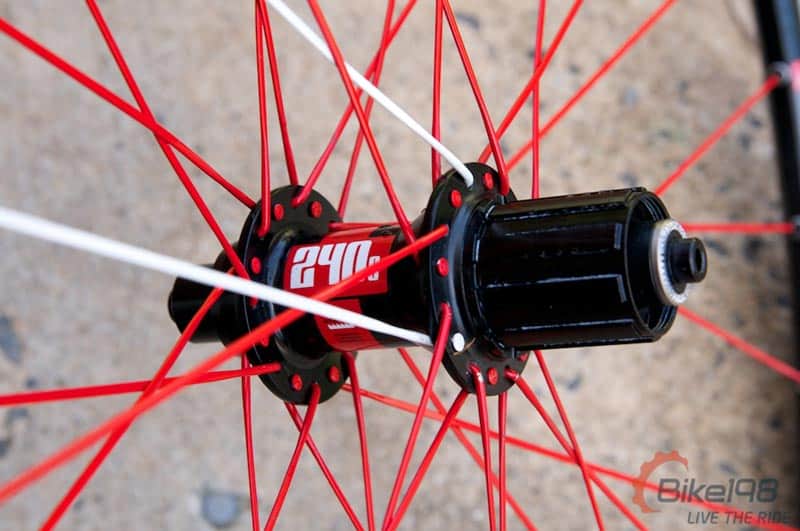 The DT Swiss 240s Hubs
The DT Swiss 240s hubs have been proven over time. With the new 36 point engagement system now as a standard option, riders are given a little bit less motion until power hits the chain line. When you are rolling along solo, it isn't as big of a deal, but when you are ratcheting up in a pace line or getting started after a stop, the increased engagement points help to get power down quickly.
Even with the increased engagement points on the 240s hubs (up from 24 point…36 used to be an aftermarket add-on option), you still get the incredible freewheeling smoothness that DT Swiss is known for. It almost seems like you can just flick a spoke and the rear wheel will spin for days. There is no noticeable drag in the stand or on the road. You do get a loud freewheel ratcheting sound out of the 36 point drive, so that can be a preference that you might have to take into consideration.
The sealed cartridge bearings are a great, durable option for most road bikers, but if you want to step up to ceramics and a little bit lighter/racier hub body, you have to move to the 190 hubs. For most road bikers, the 240s hubs are a great balance between weight and durability.
Overall, the 240s hubs performed flawlessly on the road. With no noticeable drag and consistent performance, you really can not ask for more out of a lightweight hub set for road wheels. With a white or black option, you have options to match your bike, but you are stuck with the red cross on all of the labels which could be a deal breaker for those riders that like everything to match on their rigs.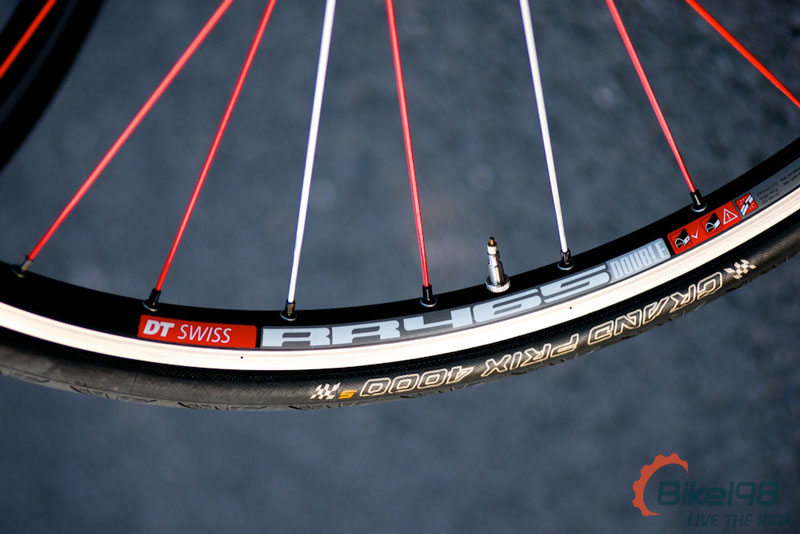 DT Swiss RR465 Rims
The RR465 rim from DT Swiss is a lightweight, shallow dish rim that is perfect for all around riding. You are not going to get the aero properties like you find with deeper dish rims, but the small rotational weight and shallow dish make wheels built around these rims fantastic in the hills. When looking at several thousand feet of elevation gain (or flat lands with crazy cross winds), the RR465 rim does a fantastic job of getting the power to the ground despite the elements.
Acceleration with the RR465 is also instantaneous. With a rim weight that is actually less than the Zipp 101 wheelset, you can feel decreased weight as you drop the power to the cranks. The RR465 rim spools up quickly and efficiently as you try to extract as much as you can out of each pedal stroke.
Matched with Dura-Ace brakes/pads, the RR465 braking surface was consistent under heavy load and under high heat situations…they did not have any real noticeable fade. The braking was also quiet regardless of heat or weather. The 19.4mm width on the RR465 should accommodate most tire widths easily and is pretty standard for aluminum rims.
The Wheel Build: Built To Last Wheels
Quality wheel components mean absolutely nothing without a quality build to back them up. For this DT Swiss wheelset, Chris over at Built To Last Wheels was the one that brought all of the components together by hand. The result was a confidence inspiring, stiff build that performed under all conditions. While hitting 50+ mph in the mountains and burying this set into high speed turns, the stiffness and consistency of this build was amazing. There was not one point in time that I felt any unpredictable flex or movement from this set.
I was able to completely trust the wheels performance under all situations.
Overall: DT Swiss 240s on RR465 Wheelset
The DT Swiss 240s on RR465 wheelset is a great all around performer for road riders looking for a high quality build that will work in most riding conditions. You could race these easily, hard core racers/weight weenies are going to want to lighten them up even more by going to the 190 hub.
While it would be nice to have some more aero in the rim for certain riding situations, this set built out of some of the best DT Swiss has to offer would stay on my bike about 90% of the time as they perform flawlessly in most of my riding. When you back those parts with a high quality build like one from Built To Last Wheels, you end up with a wheelset that is going to perform consistently for a lot of miles.
If you are looking for a great all-around, multipurpose, quality wheelset for your road bike, this combination of DT Swiss components is a great choice.
Positive: DT Swiss Wheelset
Lightweight rim accelerates quickly (great climbing rim)
36 point engagement
Almost zero drag out of the 240s hubs
Rock solid wheel build from Built To Last Wheels
Negative: DT Swiss Wheelset
Red/White combo not for everyone
Loud freewheeling
Price – Great wheels do not come cheap…but they are not as expensive as some in the road world.
If you need a new wheelset built out of any components…hit up Built To Last Wheels. After testing out this set, they are who I will be using for my personal wheels from this point forward.