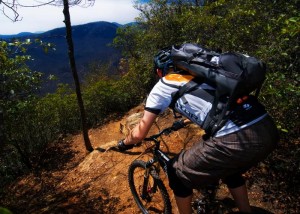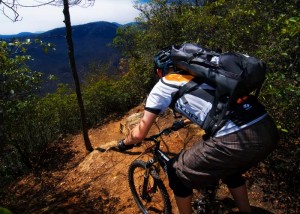 For those lucky riders in mountainous areas like Colorado, North Carolina, Sections of California, Canada, sections of Europe and other places that are graced with big mountain riding, you guys are used to taking in the tips I am about to lay out on your regular weekday rides. And don't worry…the rest of us are incredibly jealous…
But for those mountain bikers that find most of our riding with short climbs to short descents, we handle water consumption and ride pacing much differently, so when you are headed for a trip to the mountains…how should you adjust your riding to accommodate for the change in environment?
Big Mountain Riding: Tackling The Peaks
Big mountain riding usually consists of a steady climb to the top and a blast down the other side. For longer rides, you can combine several peaks, but you are still churning your way up for a trip down. In more urban mountain biking landscapes, you are used to short climbs to short descents and more of them than you can count. What adjustments do you need to make when you go to rip off massive changes in elevation all at once?
Drink Early and Often – The temptation when you hit the mountains is to drink your water and take in food much like you do in the lower land areas…rationing it out throughout the entire ride. However, with a lot of bigger mountain rides, you are only dealing with one or two peaks. This means you are tackling one extended climb, so drinking early and often is key to proper hydration. Think of it this way…are you going to stop during a blazing downhill just to take a sip of water? Probably not. In a lot of big mountain rides, you could almost run out of water half way through the ride at the peak of the mountain and be ok. The same would apply to nutrition.
Find A Constant, Sustainable Climbing Pace – This is not a sprint over some small hill…you are climbing for miles so you better get into a pace that you can sustain for a long period of time. If you hit the trailhead with the same intensity that you hit your rolling local trail, you are going to blow up half way through. When you are tackling higher peaks on your mountain bike, provide yourself with a slower warm-up than usual and built up speed over time until you find that sweet spot that you can keep up for hours.
Bring Extra Parts – If you are taking on a big mountain trail, bring extra tubes and tools. In most cases, you are going to be out in the middle of no where in pursuit of singletrack bliss, so getting stuck in the wilderness miles away from your vehicle with a second flat can turn into a really long and dangerous day. (Extra Reading: 14 Must Bring Items On Every Ride)
Invest In A Bike GPS – If you have never ridden this trail before or ride it once ever couple of years, it is a good idea to bring along a bike GPS like the Garmin Edge 500, 605 or 705. You can search Garmin Connect or Motion Based to find your particular route, load it into the GPS and then you will always know whether you are on track or not. In a worst case scenario with a wreck or serious mechanical,  you can also find the quickest way back to the cars.
Rip The Downhill – Long, extended downhills are amazing rides in mountain biking. When the front wheel gets pointed down and gravity starts to take over, absolutely rip up the downhill. Long, big mountain downhills are where I really feel like I can stretch my legs and feel the real speed in mountain biking. As long as you keep things in check and don't get over your head, you can feel the freedom that long downhill mountain biking runs give. Don't hold back…
Big mountain riding is mountain biking in its purest form. For that reason, it will be some of the most memorable riding you do over the years, and by taking in these tips…you can insure that it doesn't become a disaster story.
Image by RegularJoe