The winter riding season has ended for the 07/08 season, so I thought I would share my favorite picture from the year. This one was taken at Rich Mountain during the last of the cold rides. We started off the ride in the low 30's with several inches of snow that was left over from several days before. It really made for a beautiful landscape to start the climb up Stanley Gap. This ride included over 25 riders that included a lot of veteran racers.
Rich Mountain will really put a hurt on you. There is no in between during this ride…you are either climbing really steep terrain for miles at a time, or blasting down it. It never fails that I ended up hike-a-biking several sections during this ride just because of the pure steepness of some of the climbs. The only saving grace is that most of these climbs you get to come back down. You climb up Stanley Gap to Flat Creek. Flat Creek is a 4 mile loop that is anything but flat. Take it the counterclockwise way to descend the rock downhill. Be careful on this dh, even one of the more experienced riders went down and was off the bike for awhile. When you are finished with this loop you can do the Green Mountain add on (out and back to Lake Blueridge) or head back the way you came to the cars up Stanley Gap. The Stanley Gap downhill to the car never disappoints. The only problem is all the climbing you have to do to get there. Once you get to the car, you'll be dead tired but with a smile on your face…especially if you got to share the pain with a bunch of your fellow riding buddies. The group and day that we had together on this ride couldn't be much better.
Threads on this ride: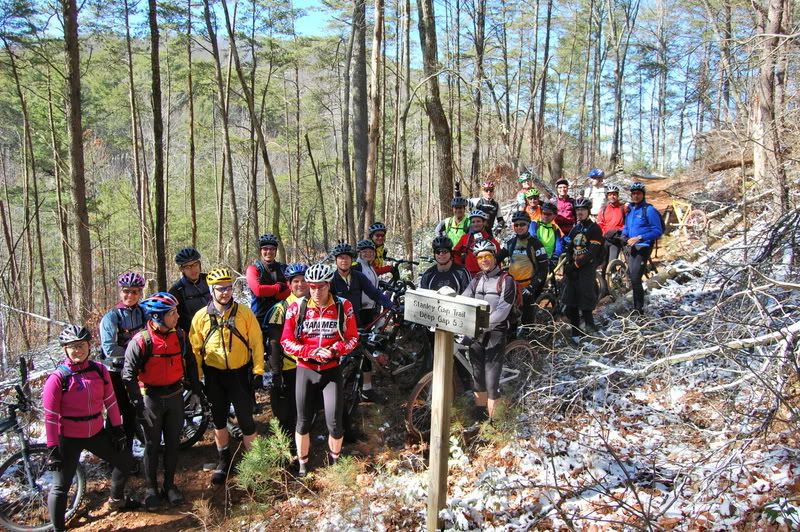 Here's to more rides as great as these over the years…
Happy Easter
WHAT DO YOU THINK?