Photos thanks to Laurie (CG/Mama)
Survival of the Fittest
The Chilhowee SORBA group ride started off a little different than most. As you can tell by the picture above, we started off leaving the house at 6:00am to arrive for a 8:20am RTR. Jeff, a new riding friend that is a transplant from VA, met Jenn and I at the local QT, and we started making the trip north. The ride up to Chilhowee (near the White Water Center/Tanasi in Tennessee) was a peaceful one with the other half napping the entire way up!
Once we got there, everything seemed to flow along as normal. We all got our gear ready and headed out on the trail. Sean was borrowing the Evolve while because he is waiting on a new Sultan. I brought up the Mojo instead of the Ventana, and by the end of the ride…I was glad I didn't have that extra 8 pounds with me.
Chilhowee is a great trail system. It gets a lot of the big rocks and rooty sections that I like so much about North Carolina styled riding, but it also is very beginner friendly. This was Jenn's first non-local ride on her clipless pedals and she did extremely well.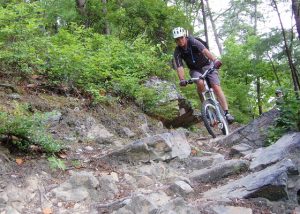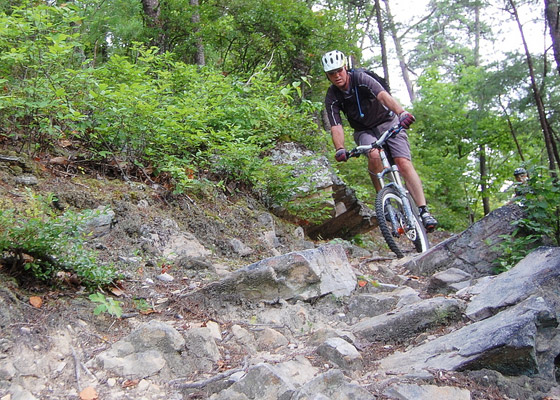 Now…back to our ride. I decided that following Roger and Brandon (two known hammers) was going to be a good idea, so we headed off…and fast. The first section of downhill has some great rock sections thrown in for some tech. The picture to the right is Jeff taking one section down during the first dh. This is the kind of riding that I love. It really pushes you to improve your skills and it is a blast to go down. Jeff's RFX is built perfectly for this kind of riding…the Ibis however…is not. The angles aren't slack enough and the fork wasn't big enough. This was the only section where the bike had troubles. The rest of the ride…it was perfect. The weather gods also seemed to be on our side for the day with temps in the low to mid 80's and a nice breeze. This is completely unheard of for this time of year when normally it is 90+ with extreme humidity. So far, it was looking like a perfect day on the trail.
Now remember how I said this was a "survival of the fittest" ride? Here is the reason…mechanicals. I think everyone was saving up their mechanicals for this ride. I am going to try to list them all here but I am sure that I will miss a couple of them.
2 Flat Tires
2 Broken Derailleur Hangers
2 Broken Chains
1 Lost Pivot Bolt
1 Bee Sting
and I know there was more…
This was all amongst a small group of riders! It was almost hard to believe that we could have this many issues in one ride. Luckily, most of the issues could be resolved (except for one derailleur hanger) and almost everyone got to continue riding. At the end, Brandon, Roger and I put together a little over 30 miles worth of Tennessee singletrack. That made for a great day with friends out on the trail. I don't think they slowed down for even a minute. It was an all out hammer fest from beginning to end.
After the ride we met back up with the rest of the SORBA group for a cookout with some great food and friends. It really can not get much better than it did yesterday. Unfortunately, it did wear me out too much (combined with a family function yesterday night) to go downhilling today.