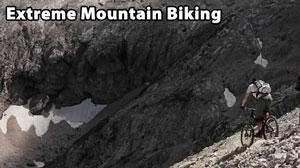 The term extreme mountain biking is thrown around a lot in magazines and other more conventional print sources. With riders like Thomas Vanderham and Sam Hill ripping up North Shore and Cam McCaul killing stunts we never thought would be possible, extreme mountain biking is something that has a different definition than it did 10 years ago.
However, when it comes down to it…reality sets in. Just as Thomas Vanderham said in a recent interview, "I am just a mountain biker."
Extreme Mountain Biking: My View
So what is extreme mountain biking? I think there is a common misconception in the industry that all technical downhills are fast with huge drops and stunts. We have been conditioned to think of downhill mountain biking as Whistler's A-Line or North Shore's wooden structures through popular films like Follow Me, Seasons and others. With photogenic landscapes and high visibility in the mountain biking community, these areas make for very popular video sites, but that is a very small section of the globe.
Over the years, I have found that sometimes the most extreme mountain biking you can find is actually done at slower speeds in very remote areas as you pick your way though some of the nastiest trails you can put rubber on. These mountain biking trails are not seen on big video productions or posters that kids want to put on their walls. These mountain biking trails are conquered by locals in the area and the trails become true legends in their own right.
A friend of Bike198, Colin Stewart, has posted some incredible pictures to share his stoke from another portion of the globe (check them out by clicking here: Colin Stewart). Now, thanks to the addition of HD video to DSRL's, Colin has shot some video of riding in his area. The steepness and technicality of these mountain biking trails is insane. With very slow speed, trails-like descents on longer travel mountain bikes, Colin and his group of riding friends prove that not all extreme mountain biking is done at high speed.
These videos further prove the theory that we are all just mountain bikers and not all extreme mountain biking is what you see in videos. The amount of skill it takes to tackle this terrain is mind blowing.
To check out the rest of Colin's videos, click here for his Vimeo page. You can also check out more of Colin's photography at AlpinePics.net.