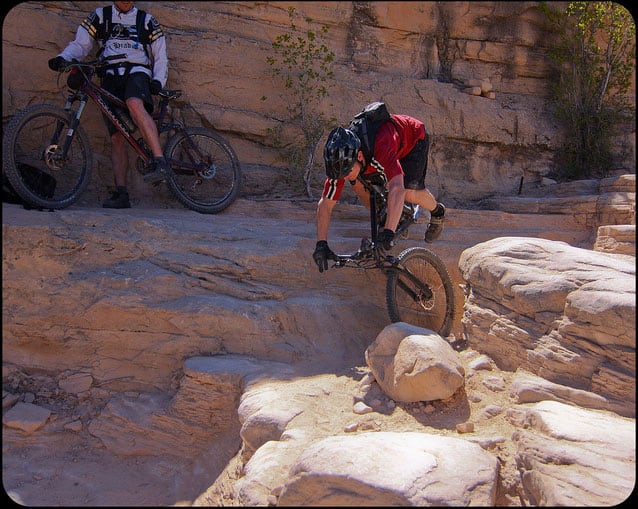 A week ago yesterday, I headed out for our regular Tuesday night "Dirt and Taco's" at our local mountain bike trail.
As part of the evenings festivities, we typically head back to a small DH/FR area and session for most of the night. We get in some great climbing while getting the added benefit of a big payoff on the way down. After about a dozen or so runs (the DH run only takes 43 seconds if you are pinning it), we finish out the XC loops and head to a great Mexican restaurant afterwards.
Last Tuesday, I decided I was going to go for broke. Thanks to Strava, we have a segment on the gully run of the downhill, so it is always a battle for the top spot. I held it for a long time but a friend of mine came back and dropped me by a second. It was time to drop the hammer and put down a hot run to reclaim the top spot.
The bike felt great on the climb up so I decided to make the first run of the day my Strava segment crusher. Those of you that have been riding for more than 5 minutes already know that the first or last run of the day is the last run you ever want to make a balls out timed hammer. I went against my better judgement and came manualing across the start line at full tilt ready to show everyone how incredibly awesome I am after my upload and subsequent post to Facebook that night.
The first turn hit and it was much looser than previous days. The hot days of Atlanta have settled in a grip was at a minimum. The front end of the bike completely left me and it was yard sale city. When the dust settled, I had a completely road rashed arm, chunk out of my hip, bruised up legs and a broken brake lever on the bike. My night was over before it even started and I officially had my first SIW (Strava Induced Wreck). I packed up my ego and headed home with mangled bike and body.
That weekend…
So…instead of resting like I should, I decided to grab another bike and head out to Stanley Gap on Saturday for a ride we had planned for awhile. I wasn't quite 100% yet obviously but what the hell…I wasn't missing out on my favorite area to ride in GA. The day started off badly. An unknown mechanical wasted half of my energy up the first climb and I was quickly realizing that my body might not be ready for several thousand feet of elevation gain on the day.
I ended up cutting most of the ride short in preparation for the last downhill to try to at least salvage something out of the day. The last 7+ minute downhill finally came and again I was ready to hit it at full tilt. My legs were trashed but I was still managing to keep some speed down the hill and through the technical sections.
About 3/4 of the way down the hill…it happened…
Right calf cramp in an off camber, washed out corner, at speed. I hit the ground fast. When the dust finally settled on that wreck, I was left with a broken rear spoke and saddle but I appeared to be fine other than my glasses and helmet visor far away from me. Then I finally got home and realized that my elbow was sollen up and my face had bruises. Both sides of my body were beat but no hospital trips so that is a win (funny how we try to make wrecks positive…that means I can ride right?!)!
Now…with two broken bikes and some time off the bike…that 5 day stretch is leaving me feeling like I just went rounds with Tyson. For some odd reason, my brain is actually telling me it is ok to ride even though commonsense is stepping in with the reality that if I push myself now…the 3rd one is going to be a hospital trip.
Why do wrecks come in series?
For as long as I can remember riding (seriously riding since the early 90's), my wrecks have always come in series. I'll have months of worry free shredding to come across a week or several weeks of doing nothing but hitting the ground. Sometimes they are bad and end up in hospital visits. Other times it is just an annoying set of seemingly lost rhythm that can not be shaken. Either way, it ends up coming then going away with no real reason why.
Does the first wreck start a mental breakdown that causes the second? Is my body just not ready and I push it too hard? Is there an uncontrollable force in the biking world that creates this phenomenon? Have I lost "the force"?
At first, I thought it was just me, but if you ask riders across the world, they will tell you the same thing. Wrecks breed wrecks and it takes several solid, wreck free runs to get out of the cycle.
Whatever causes it, I am in the uphill battle of getting out of the rut and getting the focus to clean runs that keep the rubber side down. That might require me to slow down a bit which is my hardest hurdle in life. Either way…I have to quit hitting dirt.
Wreck image by milton1055 from the Bike198 Flickr Group