It was time for my second road biking century. Fresh off a two week hiatus from riding due to a shoulder and neck annoyance, I got up a 5am to meet up with other road bikers in the Roswell, GA area to complete a 100 mile road bike ride through north metro Georgia. This inaugural Hospitality Highway Century was going to be a special one. Not only did it cover a lot of my local road biking routes, but we got the chance to ride down 400 south at the very beginning of the ride. That's right…they shut down one of the busiest highways in Atlanta to let the ride hit the highway between exit 7 and 6…this was going to be a cool start!
Hospitality Highway Century Info
This inaugural Hospitality Highway Century was started to raise awareness and money for the Georgia Transplant Foundation. I am always on board for a great ride ride for a great cause, and apparently so were over 1,200 other riders yesterday morning (7/12/09). This was the largest turnout for an organized ride that I have seen to date and the event organizers have to be extremely happy with the turn out.
With several mileage options (9, 35, 64 and 100), riders of all skill levels were invited to come out and enjoy the action as we started the ride down 400 south.
Riding the Hospitality Highway Century
This century had a unique start. Since we were riding down a section of highway that had to be closed, all of the riders started at once as we navigated 4 lanes of open highway. This created a mix in of a lot of different riding skill levels that are normally not riding side by side. Luckily, everyone made it through without a scratch (as far as I know) and we made it the exit in one piece.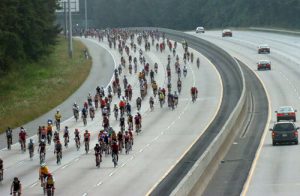 A friend of mine, John, and I decided to get to the front of the pack early to avoid the traffic jam and I am glad we did. As we jetted over to the fast lane doing well under the 65 mph speed limit, John looked at me and said, "look over your shoulder". As I turned, I saw one of the coolest sights that I have ever seen on a road bike. All of GA 400 south was covered with cyclists. It looked like 5 o'clock rush hour as over 1,200 eager riders all pedaled down what is normally a busy highway affectionately referred to as the Alpharetta Autobahn. That sight alone made my early rise at 5am worth it.
Now that the fun was over with the highway riding, it was time to exit off and get serious. Since all of the riders started at once, the normal large A group pelaton never really got organized. After about 20-25 miles, we finally got a group together and started picking off the miles. This made the beginning of the ride a lot more work than normal as we struggled to organize, but there was really no way around that because of the unique start. Once we got going, the hammer was laid down and we got to work.
About mile 45-50, we entered a neighborhood and the climbing got STEEP. At this point, I had already worked had to keep the draft and with soft legs from so much time off the bike leading up to this ride, I knew it was time to fall back and ride my own ride. I was about to blow up trying to keep that rear tire on these really steep pitches, so I stopped playing with the A group. If I was going to finish this ride in one piece, I needed to ride at my own pace with a lot of climbing left.
Luckily, the weather was absolutely perfect. The early start and slightly overcast skies created perfect road biking weather as I navigated the streets of north Georgia. The ride was very well supported (so much that I didn't stop at a lot of the sags) so you were never too far away from nutrition and fluids. I just kept on spinning my way to the end…eating before I was hungry and drinking before I was thirsty.
This ride had a lot more climbing than the Rome century that I completed earlier this year. With 7,198 feet of climbing, I can tell you what the road looked like on every foot of the last 30 miles. This was a brutal 100 mile route, but at the end…you really felt like you accomplished something. I was pretty happy with my performance overall. My time was faster than the flat Rome century and when you add in my time off the bike prior to riding this ride…it equals a pretty good finish. There is also a part of me that likes to hang with the purists in with my hairy ass legs and tread on my shoes. Yes…the guy with the MTBR.com jersey and muddy Sidi's is keeping up with you! My Blue Competition Cycles Nx7 performed flawlessly and pulled me to the finish. There is something to be said for a bike that performs that well and fits correctly. I had zero mechanical, fit or equipment issues during the ride (or any ride up to this point).
I'll end up riding this one again next year. It is a great challenge and it is 5 minutes away from my house (the 60 mile route actually rode right by the entrance of my neighborhood). With another century under my belt, I am ready for the next. Hopefully, I will complete a sub 5 hour attempt sometime in the near future.
Big thanks to all of the event organizers…Roswell Bicycles really stepped up and provided great support for the event.
Stats pulled from my Garmin Edge 705.