This post was edited on 2/3/2009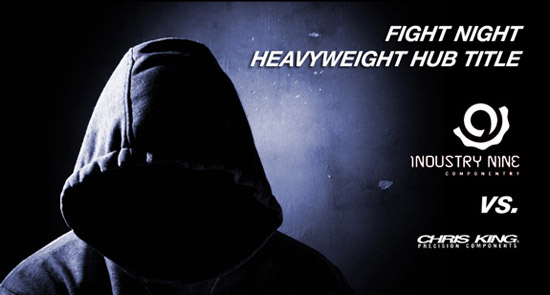 The hottest competition in mountain biking…
When it comes to component parts for mountain biking, there are many great rivalries.
Shimano vs. SRAM
Rock Shox vs. Fox
DT Swiss vs. Mavic
The Industry Nine vs. Chris King hub debate is one rivalry that has gotten a lot of press over the last couple of years. The rookie, Industry Nine, has stepped in to try to claim the title. In every great match-up, the race is pretty close. I have owned or currently own both of these incredible hubs. How do they measure up?
Note: I will be comparing Industry Nine's straight pull hubs against Chris King's. Industry Nine does make a "classic" hub that accepts j-bend spokes, but for the purpose of the head to head match up, I wanted to use the most popular of each.

ROUND 1 – QUALITY
When you reach this price point in component parts, there is a certain level of quality that is expected of the manufacturer. This is one area that both Industry Nine and Chris King do not disappoint. Both companies use the finest materials with very stringent quality control measures to insure that every hub that goes out the door is one of their best. Choosing one hub or the other at this level is almost impossible.
The Industry Nine hubs come standard with a 7068 alloy cassette body that is a claimed 20% stronger than regular 7075. King uses 7075 with a stainless steel option (I have that option) and there have been some reports of certain cassettes notching the cassette bodies on the aluminum 7075. There are also some fitment issues with certain cassettes and King hubs that require a spacer (Shimano XT). I switched to SRAM cassettes for this reason.
Given the right wheel builder, a Chris King wheelset can last a lifetime with minimal maintenance. Industry Nine wheelsets require constant attention during the beginning stages with several re-tensioning points. A recent set of Industry Nine's made it to my doorstep with uneven spoke tension. This is something to watch from the I9 camp.
Chris King has the long track history of durable components over an extended period of abuse. Jury is still out on I9 for that kind of track record.
Industry Nine's ano process can vary depending on the run. This can mean that a replacement hub will not match your existing hub. Chris King's haven't changed in years.
Round One goes to….Chris King
The designs are different but the quality is what you would expect from components of this caliber. The reason Chris King took the round is because of the of the tensioning, color and track record over Industry Nine. Overall, both of these hubs are premium quality components.
ROUND 2 – PERFORMANCE
Both of these great hub companies deliver in spades what most are trying to achieve. Industry Nine is the "king" of engagement. Their 6 pawl 120 point (3 degrees) engagement drive mechanism is the leader in the industry. With their 6 pawl design, 3 of the A-2 tool steel pawls are enagaged at a time providing 9 points of contact.   You truly don't know how great the instant power transfer is until you ride I9 hubs and then switch to another brand. You find out what you were missing. The straight pull spokes also create a stiffer wheel design than your traditional j-bend spoke design when tensioned correctly. Stiffer wheels equal less deflection and a more stable ride on the trail. They also have several gauge thicknesses to choose from.
The Chris King drive mechanism is no slouch, and until Industry Nine entered the market, it was the drive to beat. Their patented RingDrive provides 72 points of engagement and is one of the quickest in the industry. King's RingDrive engages all 72 points simultaneously providing a stronger drive mechanism. On the wheel build, you are at the mercy of the builder. Most qualified wheel builders can make a bulletproof set of Chris Kings. Chad at Red Barn Bikes built up my set for the Terremoto and they have been flawless through some intense thrashings. Some of King's hubs in the wrong hands can cause you headaches. With different spoke options (gauge and straight vs. double butted), you can customize the build for your needs.
Round 2 goes to…Draw
9 contact points vs. 72…120 pt. engagement vs. 72…as you can see…each brand has their strengths and weaknesses. Overall, both built wheelsets deliver on their performance promises.
ROUND 3 – RELIABILITY
With these hubs, you expect them to last a long time with regular service for this price. Chris King hubs have been around since the early 90's, and at every trailhead you can find a satisfied King customer. Their hubs are proven and they work every time.
Industry Nine is the new kid on the block and they are showing great promise in this area. Their standards for manufacturing should hold them among the top of respected mountain biking part suppliers.
Round 3 goes to…Chris King
Until Industry Nine gets the long-term track record like King already has…Chris King will rule the reliability category. This is not saying that I9 may not take this over…they just need more trail time to take the title.
ROUND 4 – MAINTENANCE
Both of these hub sets require regular maintenance. My King hubs required bearing preload adjusting after the first 6 hours and j-bend wheels require truing and tensioning on a regular basis (no matter who builds them) to make sure they perform correctly. The re-greasing procedure is incredibly easy and can be done by any rider with a willing to try.
Industry Nine is in the same boat as King here. It is recommended that the spoke tension is checked after the first couple of rides and re-greasing is with the Kings on the easy level.
Round 4 goes to…Draw
Every hub, or component for that matter, is going to require regular maintenance to insure proper function. The trick is making it easy for the end user, and both companies to do a great job at this. Both companies offer technical pdf documents on servicing their hubs. As a added bonus, Chris King also has a video section that you need to check out.
ROUND 5 – VERSATILITY
Industry Nine has brought hub versatility to a whole new level with their replaceable end caps. Now, the same front hub, can be for quick release, 15mm, 20mm, 24mm, or 25mm with the simple switch of the end caps. There is no other hub on the market that allows this kind of swap out. The rear can also be changed from quick release, 10mm and 12mm. So you bought a QR, 140mm fork and now you think a 20mm TA fork would have been a better purchase. No problem, swap out the end caps instead of the entire hub.
With Chris King hubs, you are stuck with what you purchased. There is no option available to convert your existing hubs. On the rear, King offers their "Fun Bolts" as a thru-axle type option, but you are not able to get a true 10mm for the 135mm width.  This year, Chris King finally introduced a 150mm wide hub for the downhill/freeride market with a standard 12mm axle.  This should make those riders incredibly happy.
Round 5 goes to…Industry Nine
The amount of options you have with an I9 hub is astounding. Moving wheels from bike to bike has never been this easy.
ROUND 6 – BLING FACTOR
Subtle bling vs. Out there color!
Each is bling'ed out in their own right, but Industry Nine made color cool again. From their wild fades to muli-colored spokes, color hasn't been this widely accepted since the 90's.
Round 6 goes to…Industry Nine
While the I9's are available in all black, they have created a niche for themselves with the color options. Industry Nine produces the best-looking hubs on the planet. When you combine that with their spokes, the combination is unbeatable.
ROUND 7 – CUSTOMER SERVICE
Exceptional customer service at this level is expected, not a bonus. I have dealt with both companies on certain CS levels and while neither one is bad…Chris King has a leg up on Industry Nine.
Chris King does a much better job of providing information online for it's users. There is a multitude of explanations and technical information. Currently, Industry Nine's website is difficult to manuver at best. During a tour of the I9 plant, I did get the inside track on their new website that is going to be released sometime in the future. I won't say much, but just imagine building your own wheel/color combo with real life pictures before purchasing.
Long lead times and order mistakes keep Industry Nine's customer service at a level below that of the Chris King's. When a customer needs a part for their new ride…they don't want to wait 6 months for a new set of wheels. Industry Nine needs to step it up in the business department if they want to hold a candle to the service that Chris King is able to provide. Rumors of order mistakes after the long wait also keep I9 behind the eight ball. It's time to step it up!
Round 7 goes to…Chris King
Chris King has been the go to company in the industry for this long for no reason. They have kept happy customers for over a decade and continue to impress. Industry Nine needs to put their customer service and manufacturing on par with other component manufacturers in the industry if they want to be there for the long haul.
ROUND 8 – PRICE
Both of these sets are high priced hubs.
Round 8 goes to…Chris King
While not getting into too much price detail, a better deal can be found on the Kings when comparing black hub/black spoke combos. When you add in Industry Nine's wait time, Chris King takes this category without much argument.
THE WINNER BY UNANIMOUS VOTE
CHRIS KING PRECISION COMPONENTS
Chris King keeps the top spot. This post was originally posted on June 4th 2008 (I9 was the winner at that time). Today (Feb. 2, 2009), things have changed a little bit. Increasing quality issues by rushing out orders that were late by months have plagued Industry Nine with some growing pains while Chris King continues to put out an exceptional product. If Industry Nine wants to truly be the best wheelset on the market, they need to tighten up on their business practices and quality. They have the ability to be one of the best manufacturers in the industry, but they need to tighten up some.
Chris King…you still hold the best hubs on the market due to industry leading performance, reliability and exceptional customer service.
Note: Many of the comments left on this post were previous to the revision. This post was not changed due to the comments left…a difference in opinion by Mountain Biking by 198 readers is always welcomed and encouraged. The reason for the revision was due to different circumstances from the original article date.
Which hub do you think wins the match-up?  Submit your comments below and vote in the poll.
[poll id="7″]
Resources:
Special thanks to Trailadvent for chipping in with this article – Heal up quick.