Mountain Biking by 198 held a contest for the best trail review that won a Mountain Cycle Fury frame and other prizes. This is the winning entry for the frame by Tomasz Korwel. Lets take a journey through Sugar Bottom in Iowa
Mountain Bike Trail Review
Sugar Bottom in Iowa
Review written by Tomasz Korwel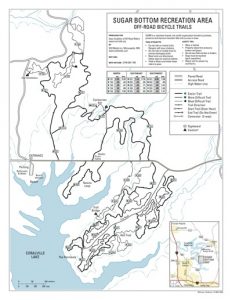 "What a beautiful morning!" The voice could be heard from the kitchen. It was Tom. Like most Saturdays he was making noises (that couldn't be called singing even with great amounts of good will) while preparing a breakfast. Also as usual there was a plan developing in his mind how to spend the rest of this day.
"Let me see. It would be a shame to waste such a nice day inside. Let's go out!"
Quick look at the weather forecast confirmed his predictions, weather will hold at least till late afternoon, there is a front coming but it's still way down in Kansas and it won't actually get here before midnight.
"What could we do?"
It was quite cool so active way of spending time outside was in order.
"I know – let's go to Sugar Bottom!"
The usual Saturday chores took him most of the morning. Being done with them Tom quickly ate his lunch, packed the Jeep and headed for the bike trail. Sugar Bottom trail head is located just 4 miles out of North Liberty. And he was living on the correct side of this small Iowa town. Usually he would just ride a bike to the trail head, not needing his gas guzzler. Today though he decided to spend as much time as possible on the trail itself, pleasing himself with slow, peaceful ride without rising his pulse too much. This ride was meant to be special. He knew that trail won't mind him taking car this time.
Clear markings pointed him directly to the trailhead. Army Corps of Engineering people put trail signs clearly showing when the trail is open that day so in case he shouldn't ride Tom can save himself at least two miles.
"Thankfully it's open today" he thought. Usually he would have checked the icorrmtb.org website but today he wanted to rush things and went out without doing so.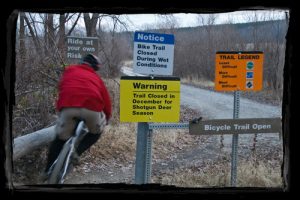 When he arrived at the trailhead new signs welcomed him. "Ride at your own risk!" and "Bike trail closed during wet conditions" were accompanied this time with "Warning! Trail closed in December for shotgun deer season." He knew that was coming. Sugar Bottom recreation area, owned by Army Corps of Engineering were created and maintained as a multi use recreation place for Iowa City neighborhood. Bikers were sharing this place with hikers, boaters and campers, and in December whole area was given to the hunters to let them relieve their steam. Nobody would like to be a moving target at that time, so the sign was put there to remind those who are calendar challenged to check the day and stay away.
But it was late November, hunters still a week away didn't pose any real danger now. Tom started slowly to reel in track on his wheel. The area looked different than he was used to. Autumn grabbed whole area into it's hands, turning green into brown and hiding trails from the eye under deep layer of fallen leaves. That was something new to him, he never saw the trail like this before. It was no surprise though as everything was new to him this first year as mountain biker.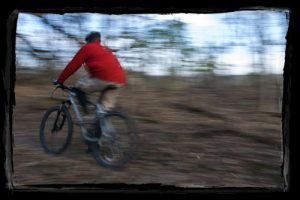 Him, once very active youth road biker, later carried away by life, finally managed to get his first mountain bike early this year. Everything was fresh and new. His last road bike had 10 speeds, non indexed shifters strapped down to the frame tube and skinny 700cc tires pumped up to unbelievable pressures. His new bike was different. Suspension fork, knobby 2.35" tires, 27 speeds. It wasn't much road worthy, but it was great for MTB beginner he was. And most important it was 29'er. He wasn't scared by the flame wars in MTB world. For him only 29'er could do after all those years of riding road bikes. All together made good, reliable base for any type of riding he could imagine himself doing.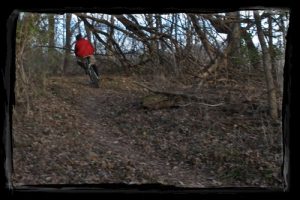 Flowing through curvy piece of trail brought up memories of the very first ride there. It was April this year, when the great 500 years flood came and took away most of the area. Somehow Southeastern parts of trail system were unaffected and thanks to back gate were still accessible to riders.
He remembered how he felt a little bit intimidated by Sugar Bottom at first. The trail was well known on every forum and every page there is on the Internet about mountain biking as one of the very best cross country trails in the Midwest with plenty of 'ohs' and 'ahs' about it's technical capabilities. He, the guy who month earlier didn't know what singletrack means, not sure if "eggbeater" is not a way to call him an idiot was going to ride on one of the best trails in the area just because it was so close.
"Oh that can't be good."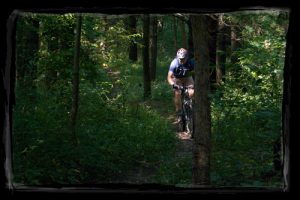 But he survived. It turned out that unique way the trails were laid, with green trails leading the way and harder blue and black trails leaving them just to make loops and come back merely fifty feet later made it great learning system for a greenhorn he was. The only adventure that green trail posed to him were some roots standing out. Iowa City area isn't gifted with many trails, so Sugar Bottom sees a lot of traffic and that in conjunction with soil type leads to much faster than in other places soil erosion. Local folks from ICORR try to do their best keeping trails closed when it's wet, cleaning it up and rerouting parts, when erosion goes beyond acceptance but still in many places the trail is very uneven and shaky.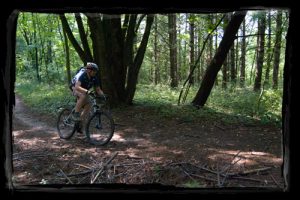 Slowly learning all basics, riding only green, almost straight trails numbered 201 and 301 he started to gain some confidence and build some endurance. Later the time has come to add blue. It turned out that blue trails 202, 203 and205 are not that bad. In many cases they were even better than green! Apparently folks scared away by blue trail didn't ride there that often. It was more challenging, but mostly in an aerobic way – technical aspect of blue trails wasn't much more harder than green one. And more demanding places were rewarded by lack of roots and stones making the ride much smoother. Nice thing about those three was, that after you finally climbed up there to the highest point you were rewarded with nice downhill flowy sections allowing to gain some speed and really feel the ride.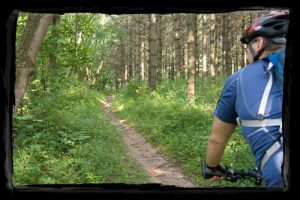 Blue 302 and 303 followed closely after. Those two were a little bit different. Slower, more technical with some nice, curvy climbs made great endurance builders. He spent there countless hours this spring, often riding himself almost to his limits. And boy he loved it. Every time he came home his face was grinning no matter how exhausted he was. There definitely was something special in this place.
Today though Tom wasn't going to ride Southeastern part of those trails. He decided to take his time and slowly ride through the part he knew a little bit less due to flood closures. Northwestern part of the park was closed for so long time. Most of the trails are laid on hills and weren't under the water but they were inaccessible simply because there was no way to get to them. When water isn't that high there is a special high water access to the Northern parts of the trail system which accompanied by some trail reversals (all trails at Sugar Bottom are one way) made up some additional routes to ride before water went down.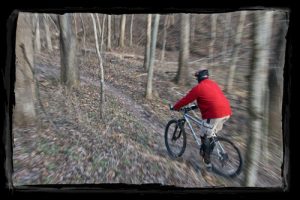 Tom couldn't remember the exact date when whole trail system was opened for first time this year but it had to be well into June or even July when he was able to ride trail 101 for the very first time. This one trail was a quintessence of the whole system. Like frozen juice concentrate. Nice, smooth and calm sections, steep climbs, lots and lots of turns and great downhill section which, if you knew what was coming, allowed you to ride for nearly a mile almost without braking. And it wasn't by any mean slow ride. This trail is truly 101 of Sugar Bottom.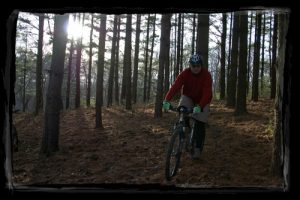 All those trails Tom was exploring at Sugar Bottom so far turned out to be just a warm up when he finally decided to get to know black ones. There are four black trails at the park: 102,103,104, 204 and 304. Each of them is different, each with it's own perks. 102, probably the easiest one had only one really challenging part, strong, rooty climb after tight turn when you have no speed and no place to gain it. This remained walker for him even when he was able to ride more challenging parts. Simply not enough power. Trail 103 was completely different. No really demanding spots, just evenly tough and demanding ride. This one quickly became his second favorite after blue two hundreds when he wanted to work on his endurance.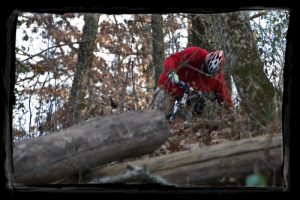 Completely different thing was with black 104. Slowly rolling forward on the steep, rocky part of this trail, Tom recalled his vague memories of his first ride there. Or rather walk as he was mostly off bike the first time. For him it was the king of trails at his current skill level. It took him almost 10 tries before he was able to ride whole trail without stopping. Couple of steep descents with turns in the middle, one or two rocky drops and long fast descent ending with steep rocky climb made this one real winner in Tom's book. And it stayed there till the very end of this season. Will it be there by the end of another?
Again as with Southern part all together trails were laid as a loops around green 101. Tom again thought how great idea it was. Many times when groups of riders with different skill levels were riding together they were able to split into two groups with one following harder trail and another one slowly making it's way on green one for a second to be quickly caught by the rest one merely feet later to continue together again. Real masterpiece.
Slowly finishing 105 Tom ended up at picnic area.
"Here is were I lost the Scramble."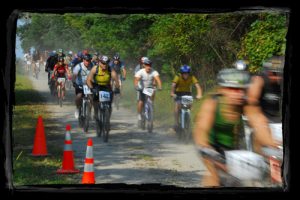 It's been just two months since he entered his very first MTB (and as a matter of fact first of any kind) race. It was a first time for him, but Sugar Bottom scramble has a long tradition. This year it was its fifteenth and during all those years it became well known around, attracting folks not only form Iowa but form all neighbor states as well. All that made him only more determined. He remembered how he was training very hard for it, riding himself to the edge secretly hoping that he, with his el cheapo bike and still 250 pounds, won't come the last one in beginners category.
He got up that nice nice Sunday morning and drove to the trail head, put his bright yellow shirt on, registered as first timer, clicked into eggbeaters and waited for start signal. Guys that laid the course this year did great job. Like in Hitchcock's movies they started on the very high note with steep gravel road intended to break the peleton to throw harder and harder parts of Sugar Bottom at riders wheels.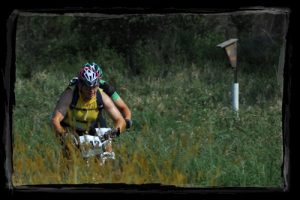 When he saw the course he knew that he has to do three things to come out high in the classification. To not let others escape him in the first third of the course, to not exhaust himself in second and to get as much advantage as possible in the last third where the trail knowledge could give him the greatest advantage. He made the plan almost completely coming eight out of 31 exequo with one more experienced rider who was much smarter and did not start to finish until it was really time. Tom started his about 300 feet too soon and even his furious attempts and speed closing 30 mph didn't safe him from being taken over on the very last inch of course. For Tom it was personal loss.
"I should have known better, I got carried away by emotions." He reprimanded himself.
"Next time I'll do much, much better," he promised himself and went home that day.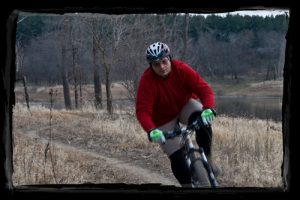 "What a day that was" run through his mind when he was slowly pedaling further down the trail. Heading toward the easiest part of the system, trail 305 called the "Novice loop". Despite his name it was the very last trail he was able to ride at Sugar Bottom. Due to it's lowest localization it was the last one to dry and it was also in the worst shape with literally tons of debris cluttering the trail. It took couple of trail work days to clean this one up. But then riders were rewarded with very nice addition to the system. Despite it's name this trail is truly for everyone. Beginners can learn how to ride mountain bike there. Little more advanced riders, like he himself was can use it as a worm up lap or place to refine their skills. More advanced riders can use it as a cool down place before heading back. It was the end of the ride for him today. Although trails he was riding on today weren't even 5 miles long he spent almost four hours here and as on every late November day sun was already setting down. He stopped for a second and smiled to himself.
"It was a great day!" he thought. Weather held beautifully. Temperature didn't even start dropping till just minutes ago, wind was completely calm. Perfect ending of a perfect year at Sugar Bottom.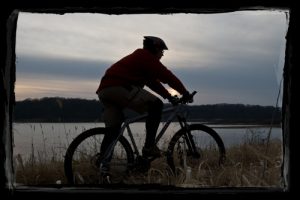 Making some noises only he could claim were songs he slowly pedaled to the parking lot to get home for very well deserved dinner.
"This was a very good one. See you next year, Sugar Bottom!"