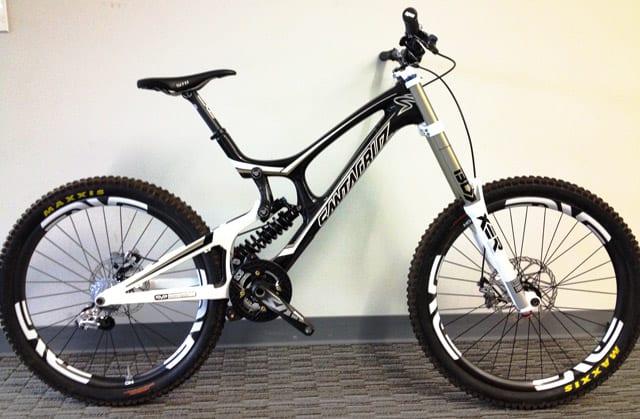 ENVE Composites new release of the full carbon DH mountain bike rim should be no surprise to anyone. The writing was on the wall with riders like Steve Peat rocking a set on the World Cup DH circuit. It was then up to ENVE to bring it to the mainstream in a product that was ready for non-sponsored riders to drool over.
ENVE's latest product, being the first of its kind, is a race‐bred design that was developed in conjunction with local pro riders and Santa Cruz Bicycles' Syndicate race program. The full carbon DH rim provides true performance benefits; most notable are the vast increases in durability over the traditional alloy offerings on the market. Advancements made to the carbon DH rim throughout the 2010 season, resulted in Steve Peat being able to race on the same pair of race wheels for the entire 2011 season. According to ENVE's Jake Pantone, "this success, along with those of other test riders was the trigger that set into action our plan to release this highly specialized factory race rim for public consumption."
The ENVE DH rim features a 21mm inner bead on a 31mm deep rim that weighs in at 475 grams per rim. Those are pretty impressive specs out of a rim that is built for the abuse of your typical downhill mountain biker and racer.
The bad news?
It is going to cost you a grand each to get into these. You can also order a set pre-built on Chris King hubs and DT Swiss spokes for a cool $2,750. Obviously, these are going to be targeted to riders who want the best of the best or racers that need that extra edge to get to the podium. They do look pretty sick when bolted up to the bike so you will definitely attract some attention on the lift.
Full Press Release and Spec Sheet (click to download)